An 8-year-old Argentinian boy swallowed part of a children's toy horn and started honking
A video of the boy squeaking has been shared almost 100,000 times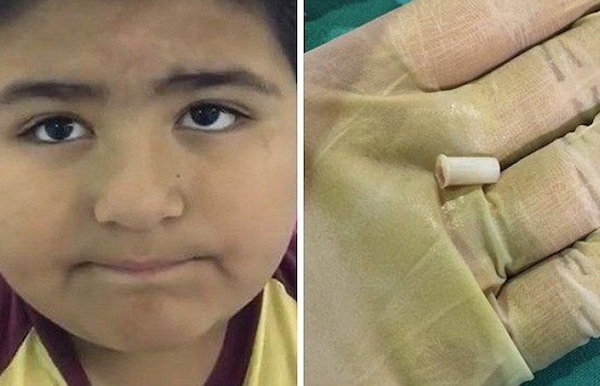 Little kids will put anything in their mouths, and the consequences can range from carrying the swallowed object around in your body for several decades to the unthinkable. For one little Argentinian boy, however, his swallowed toy had a different effect—it gave him a little "squeak."
The anonymous young boy (not a toddler by the way) in Tucuman, Argentina, swallowed a piece of plastic from a toy horn and the results, while cute, were also alarming—at least to the boy's mother. When he breathed in through his mouth, he let out a little "bleat."
The video was taken in the emergency room of a children's hospital by Dr. Santiago Gomez Zuviria and shows the unnamed (and seemingly unfazed) 8-year-old opening his mouth and squeaking up a storm.
"The whistle was stuck between the larynx and the pharynx," Zuviria told the press, as the video went viral. "His mother was more scared than he was," the doctor said. "It was a tragi-comic situation, to be honest. I (have) never seen or heard about a case like this in my life."
In an effort to warn people of the dangers of swallowing things, Zuviria posted the video, a photo of the family the waiting room, and a third photo of the tiny contraption that made the boy sound like a like a horn after he had it surgically removed by doctors.
Facebook commenters could not contain their laughter, however. Zuviria, not happy with some of the less compassionate responses, posted again just a few days later saying, "'I want to ask your help. A few days ago I shared a video of a little boy who had an accident with a toy horn. My only intention was to make friends aware of the risk that small children are exposed to when playing with toys. To date, the video has almost nine million views, a number that continues to rise. Unfortunately, there are those who have used the video maliciously, so I'm asking all my friends and contacts to report these posts, extracted from the video in question, that seek to ridicule the situation the little guy went through. Let us make this online community a healthy and respectful place for all. Thank you very much."
The boy has since recovered.