Gal Vallerius, 38, was arrested in Atlanta while traveling his home base in France to a best beard contest in Austin
Officials found evidence of illegal drug sales on his laptop
He faces a possible life sentence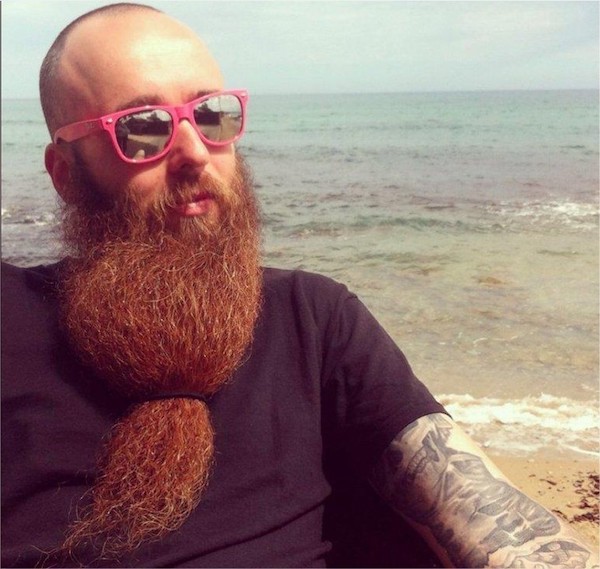 Beard contests have been all the rage for the last few years, with interested parties traveling to different states, countries, and sometimes even continents, to enter. One potential contestant considered his facial hair to be such that he risked everything to travel from his home in France to the contest in Austin.
And how did he do, you ask?
He never made the competition. Instead, his laptop was confiscated, and he was arrested at the Atlanta International Airport,
Gal Vallerius, 38, is a virtual drug dealer who conducts illegal transactions on the "dark web." It is there, on a website called Dream Market, he's known as "OxyMonster." (Obviously, Vallerius specializes in Oxycodone, but buyers and sellers on Dream Market deal in every drug under the sun including methamphetamines, heroin, and cocaine, which are openly advertised and sold on the platform.) When DEA officials searched his laptop, they found the Tor browser—which conceals users' IP addresses, allowing them to operate anonymously— his username for Dream Market, and about $500,000 worth of bitcoin—the currency used to complete the transactions. A deeper investigation revealed that he was a senior moderator on the website as well as a vendor and sold Schedule II controlled substances like Oxy and Ritalin. His profile also listed 70 verified sales and positive buyer reviews.
With all the evidence at hand, Vallerius chose not to contest his identity and detention at a court hearing in Atlanta. He is soon expected to be transferred to Miami to face a new conspiracy indictment that carries up to life in prison.
Bryan Nelson, the co-founder of the Austin Facial Hair Club, which hosted this year's championships, said he and his friend, and his friend MJ Johnson, were familiar with Vallerius through an app called "Beard Wars." There, players would bet chips on their own beard versus someone else's beard and other people would vote for the best one.
Regardless of his alleged crimes, Johnson is still pretty impressed by Valerius' facial hair. "I don't know anything about what other stuff he did, but as far as his beard goes, it's really awesome, long and bright red."
FOLLOW ODDEE ON FACEBOOK AND TWITTER.