A German man parked his McLaren 650S Spider too close to a donkey
The hungry ass took a massive bite out of the car's fender
The donkey's owner still hasn't paid for damages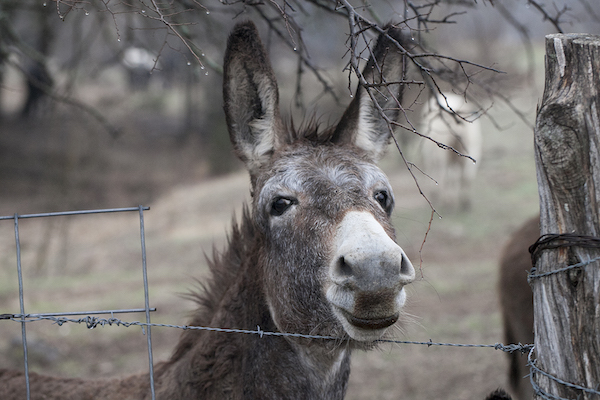 If an animal is hungry enough, he'll eat that looks like food. Even a $300K sports car.
Markus Zahn took his pride and joy, a McLaren 650S Spider, out for a spin last year in Germany. He parked his car in what he assumed was a safe spot. The last thing he wanted was another car to hit his orange speedster. But what Zahn didn't count on was an incredibly hungry donkey. A donkey who might also need some glasses.
"I looked into the rear-view mirror and suddenly saw a pair of fluffy ears," Zahn told the Metro UK," "and then I heard a strange sound. The sound came from a donkey, who was gnawing at my fender."
The donkey mistook Zahn's more than quarter-of-million-dollar sports car for a massive carrot. A carrot…on wheels. The famished ass did significant damage to the car, damaging the paint and the carbon-fiber fender.
Zahn took the donkey's owner to court to cover the damage to the McLauren. Zahn had to pay 5,800 Euros ($6,851 American) for the damage. His insurance company covered the rest of the over $34,000 in repair costs. Zahn won his case, but the owner of the four-legged vehicle chomper is yet to pay off the debt.
The car eating donkey is the only animal to ingest things by mistake. These amazing animal x-rays show just how far animals will go if they're hungry including a golden retriever that ate an entire lightbulb and a 2-month-old rat terrier that ate a bra.
According to this handy guide to feeding donkeys, a $300K sports car is not suggested. The donkey should stick to his diet or end up as obese as these creatures. Even if your vehicle isn't worth $300K, you might be wondering how much your car will be valued on the open market. Fear not! You can visit AutoUncle to discover how much your vehicle is worth – especially if it's not been bitten by a hungry donkey recently.
Zahn told Metro he's "not mad" at the donkey for taking a bite of his precious vehicle. The donkey is yet to apologize.
FOLLOW ODDEE ON FACEBOOK AND TWITTER.