"Rich Uncle Pennybags," aka, the "Monopoly Man," stole the show at the Equifax Senate hearing
Pennybags has been identified as Amanda Werner of the advocacy group Public Citizen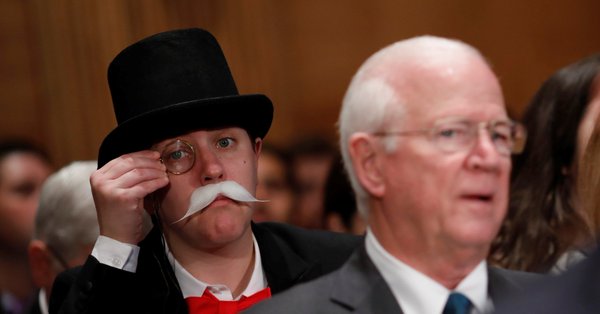 Often, there's nothing more boring than watching a Senate hearing in real time on CNBC, but a real-life Monopoly game piece has stolen the show.
Enter Rich Uncle Pennybags.
While Equifax CEO Richard Smith testified as to what he knew about the massive hack that compromised half of the U.S. population's personal data, Pennybags, replete in top hat and tails, sat over his shoulder, twirling his long, white mustache, while counting his bag of money.
Needless to say, the Internet loved every minute.
SCREAMING. A+ troll

h/t @EvanSparks via #equifaxbreach hearing https://t.co/rggknj8hlw pic.twitter.com/3Hawi3RmGh

— Shoshana Weissmann (@senatorshoshana) October 4, 2017
Pennybags is really Amanda Werner,  a consumer protection advocate for Public Citizen and Americans for Financial Reform, and despite the hilarity of stunt, her presence was no joke. Her goal was to raise awareness about forced arbitration clauses and their effects on consumers. She and her fellow colleagues decided they would launch a campaign on Capitol Hill during the hearings to raise awareness about a Consumer Financial Protection Bureau rule that some congressional reps are trying to overturn. At first, the group handed out  "get out of jail free cards" but instead felt the Monopoly Man's appearance at the hearing would garner more attention.
It did. Pennybags is indeed viral.
Werner sat two rows behind Smith, surrounded by Equifax execs and representatives who were not at all happy about her silent but apparent protest. "I was getting a lot of dirty looks, and folks were very uncomfortable with the fact that I was in the room," she said. "I think honestly they kept waiting for me to do something that was going to get me kicked out, but luckily I did my homework, I knew what I was allowed to do and not do."
Pennybags went over so well with the general public, we may see him at future hearings and protests.
"Ironically, today, Rich Uncle Pennybags represented the majority of Americans who were, in fact, affected by the Equifax breach," Werner said. "My personal information was hacked in that breach. And so I'm glad that by kind of mocking the out-of-touch CEOs that have been testifying to Congress, we were actually channeling the voice of the people who want to see real justice done here."