Some was consumed raw and some was fed to the dog, but I sure hope it wasn't her dog.
Originally arrested in February 2019, Spain man Alberto Sanchez Gomez allegedly killed his mother, cut her up, and then ate her. Police went to the home of his 69-year-old mother following concerns from a friend.
What they found was nothing less than disturbing. There were body parts scattered around the apartment, and some were kept in plastic containers.
It wouldn't surprise you to hear that Gomez is known as the "cannibal of Ventas." Police found the blood-stained flat in this district with the grisly remains.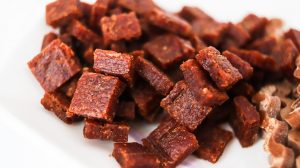 According to what he told the court, he doesn't remember dismembering or eating his mom. He reported that he had been suffering from a personality disorder and that he also had a drug habit before he was arrested.
Apparently he was known to police with regards to his violence towards his mother. At the time, Gomez was breaching a restraining order that Maria Soledad Gomez had against her son when he was arrested.
He and his mother had a confrontation that ended with his strangling her and dragging her to the bedroom. From there, he used a saw and two kitchen knives to cut her up, "in order to get rid of the body."
"Once he had started cutting up the body, he began eating the remains over the course of about 15 days, storing other parts in various plastic containers around the house and in the fridge," it said.
The court was aware of the macabre scene police found when they went to her home in Eastern Madrid in February 2019. Some of the human remains were in the process of being cooked, while others were just being stored in containers by Spain man.
Gomez was 26 at the time of the murder and arrest. He did confess to strangling his mother. How much time do you think he should get?
RIP Mama Gomez