Feeling hungry? Well, here's some stuff on which to gorge yourself.
Imagine the biggest serving of food you've ever had. Now, super-size it.
Whatever is in your head still pales in comparison to these ginormous dishes. Here are some of the largest dishes and foods mankind has ever cooked.
The only question is, how many people could you feed with each of these monstrosities?
1) The Largest Salad – 44,312 pounds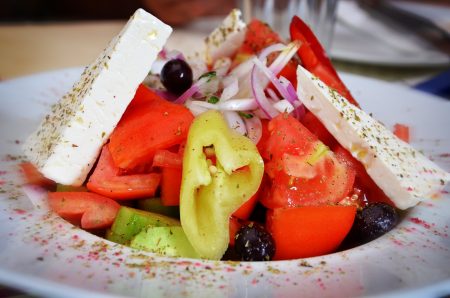 Let's start things off with something healthy, shall we? The current record holder for the largest salad is a Greek salad that weighed more than 44,000 pounds.
It was prepared in December 2016 by Greek chef Petros Lambrinidis with the help of 1,200 volunteers at the Red Square in Moscow, Russia. The salad included seven tons each of cucumbers and tomatoes, two tons of olives, a ton of onions, two and half tons of feta cheese, half a ton of olive oil, and 22 pounds of salt, pepper, and oregano each.
The salad bowl 30 feet in length, 10 feet in width, and it was roughly 3 feet deep. Salad bow, more like a salad pool.
2) The Largest Steak – 72 ounces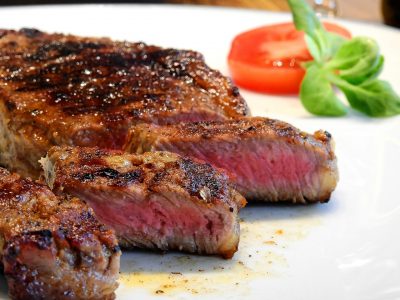 It's hard to make a steak as stupidly big as some of the other entries on this list. After all, the steak has to come from a single animal.
Still, the biggest regularly available steak in the world weighs in at a whopping 72 ounces – or four and a half pounds. It's served by the Big Texan Steak Ranch restaurant in – you guessed it – Amarillo, Texas.
The steak, alongside a bread roll with butter, a shrimp cocktail, a baked potato, and a side salad, costs $72. But you can eat it all for free if you can finish the entire meal in less than an hour.
More than 9,800 people have succeeded in the challenge. Will you be the next steak champion?
3) The Largest Pasta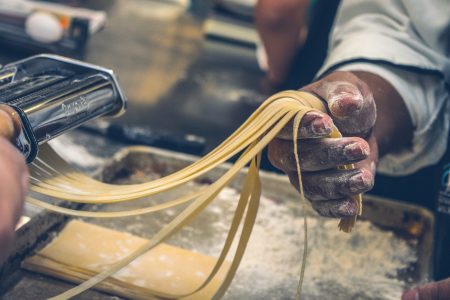 We're double-sizing this entry and covering two records in one. The first is the longest pasta noodle in the world.
The record was set in 2010 in Japan, with a continuous noodle that measured 2.3 miles. After being prepared the entire noodle was cooked. Wonder how many meals they got out of it.
The largest bowl of pasta, however, was cooked in 2015 in Poland. A total of 40 chefs from three different restaurant slaved over a hot stove for 19 hours to create a 17,416-pound bowl of pasta with Bolognese sauce.
The whole meal was served to more than 10,000 people who had gathered to watch an annual half-marathon in Krakow.
4) The Largest Sushi Roll – 13 pounds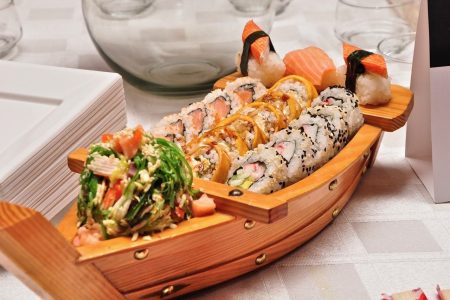 You can order the largest single-serving sushi roll in the world at the Umewaka Restaurant in Anjo, Japan. For the affordable price of around $200, you'll be served a monstrous creation, measuring 10 inches in diameter and weighing more than 13 pounds.
The Godzilla of sushi rolls contains 24 ingredients, including several different types of fish, shellfish, and vegetables. The contents are wrapped in 6.5 feet of rice and seaweed.
But that's nothing compared to the longest sushi roll ever. Also prepared in Japan in 2016, this roll measured nearly 1.8 miles in length.
5) The Largest Bowl of Soup – 7,000 gallons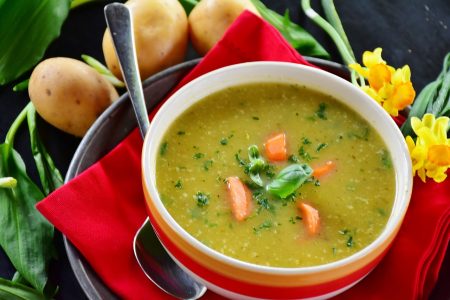 This is a bit of an older record, dating to 2009. Clearly no one has dared to defy the laws of reality by trying to cook a bigger soup.
The record-breaking bowl – cooked in Poeldijk, the Netherlands – contained just over 7,000 gallons of vegetable soup. The ingredients included 4,600 gallons of water, 16,500 pounds of tomatoes, 2,700 pounds of cucumbers, and almost 1,000 pounds of bell peppers.
Into the pot also went similarly ridiculous amounts of garlic, tomato paste, parsley, salt, pepper, olive oil, and basil cress. The enormous pot in which the soup was cooked required six people at a time to stir it.
6) The Largest Pizza – 26,883 pounds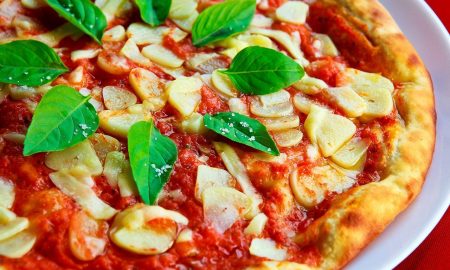 To find the largest pizza, we need to go even further back to the past. It was cooked in Norwood, South Africa, in 1990.
The pizza measured 122 feet and 8 inches in diameter, and weighed a grand total of 26,883 pounds. As toppings, it had 3,960 pounds of cheese, 1,763 pounds of mushrooms, and 1,984 pounds each of tomato puree and chopped tomatoes.
But not every pizza is a round pie, and there's a separate record for the longest pizza in the world. That was cooked in Tomelloso, Spain, in 2011 and measured 3,745 feet in length.
This pizza was cooked in a special custom-built oven. That actually begs the question – how the heck did they cook the first pizza?
7) The Largest Hamburger – 2,566 pounds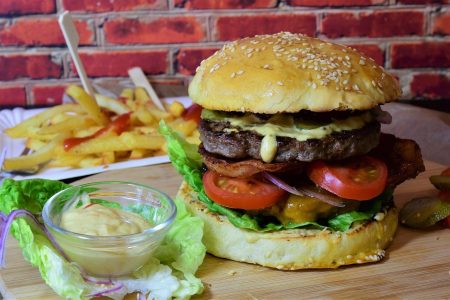 If you thought the biggest hamburger ever would come from America, you're sorely mistaken. In 2017, Germany one-upped the U.S. when six chefs and 300 volunteers cooked a 2,566-pound hamburger in Pilsting.
The record burger had three meat patties, tomatoes, lettuce, cucumbers, onions, and hamburger sauce between two gigantic buns. After the cooking, the entire burger was sold off in slices and the proceeds donated to charity.
But the largest commercially sold burger is located in America. Mallie's Sports Grill & Bar in Detroit sells the a 1,749-pound burger that's a permanent item on their menu.
You'll have to cough up some dough to buy the vein-clogger. The enormous burger costs $7,799 and requires a three-day advance order.
8) The Largest Apple Pie – 34,438 pounds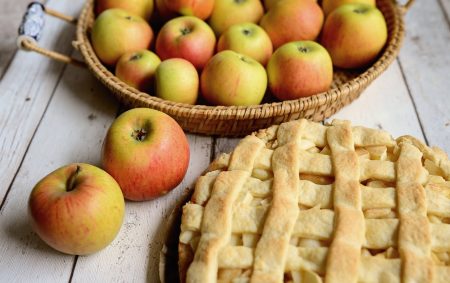 Got room for dessert? We hope so, because this massive pie isn't going to eat itself.
In 1997, the residents of Wenatchee, Washington, came together to bake a 34,438-pound apple pie. It beat the previous record – set in 1982 in the UK – by two tons.
The chefs dumped 37,000 pounds of apples onto a crusted pan that spanned 1,056 square feet. The pie lost some moisture weight when it was cooked for five hours in a custom-built convection oven.