How many times does this bear need to run away before they just go "eh, not going to bother with it anymore"?
There are some who won't be held back by authority. Whether they use a silver tongue, crafty tricks, or just plain determination and brute force, these people will escape captivity time and time again.
For an example, you could read our recent story about two flat-earthers in Italy who escaped the police on a boat after they were caught violating quarantine rules.
But the couple in question only escaped once and was caught in less than three hours, so maybe they're not the greatest demonstration of impeccable escape skills. Luckily, we don't need to even leave Italy to find a master escapee.
Enter Papillon, officially known as M49, has broken from his prison several times. If the name sounds weird to you, it might be worth noting that Papillon is a bear.
Christened after a famous prison escape novel, Papillon is living up to his name. He was caught just this week after his latest prison break from Casteller wildlife park in Trentino on July 27.
Somehow, he managed to get through three electrified fences and a metal barrier, wrote UPI. Maybe they should've named him Houdini instead, because that's genuinely impressive
Having spent 42 days of evading both animal control and law enforcement forces, Papillon was finally captured on September 7. The bear crawled into a tube trap that sealed his fate… For now.
According to the provincial government, Papillon had lost 88 pounds during his freedom. That had allowed him to slip out of his GPS tracking collar, making his recapture even more difficult.
Currently, Papillon resides again in Casteller, where the park staff is hard at work reinforcing his enclosure.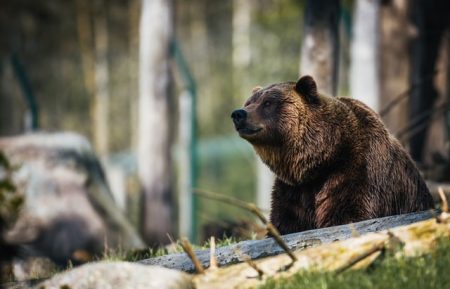 The Shawshank Bear-demption
The Casteller staff better do a good job about it too, since previous attempts to hold Papillon have failed miserably. This latest escape was the third the bear has executed just this year.
Papillon was originally caught in the wild in 2019. In June of that year, Maurizio Fugatti, president of the Trento region in Italy, issued on order for his capture, wrote The Guardian.
According to Fugatti, the bear, who had killed livestock, was a threat to people. Acting on his orders, the authorities captured Papillon only to have him escape for the first time in July 2019.
At the time, wildlife rangers were given permission to shoot to kill if M49 – as he was called back then – approached human habitation.
"The fact that the bear managed to climb over an electric fence with seven wires at 7,000 volts demonstrates that this specimen is dangerous and a public safety problem," Fugatti said at the time.
After leading his pursuers on a wild goose chase for months on end, M49 was finally recaptured on April 29, 2020. However, he managed to escape again only hours later, this time with a female bear.
Fast-forward two months, and Papillon – as he was now called – was again in the clutches of rangers. This was when he received the radar collar in case he ran off once more.
And, as we already know, last July he did. It remains to be seen when the bear makes his next great escape.
Unbearable Losses
But Papillon and his continued escape attempts are part of a wider bear-centric debate going on in Italy. The presence of brown bears has pitted environmental groups against farmers and local authorities.
Brown bears hadn't lived in the Trento region of Italy for ages. In 2019, the Life Ursus project reintroduced 100 bears into the area, according to CNN.
The project – managed by the National Institute of Wild Fauna – aims to preserve the brown bear in the European Alps. It's a noble endeavor, but it hasn't exactly gone according to plan.
The Life Ursus project assumed that the bears would soon wander all around northern Italy to establish their own territories. This never happened, and the 100 released bears all decided to hang around the Trento region.
According to the local government, the bears don't fear humans. They have attacked and killed livestock, including cows, donkeys, and goats.
In August, one bear even assaulted a police officer, said The Guardian. In an unprovoked attacked, the young male bear pounced on the officer. Luckily, the officer survived.
'Save These Bears'
So, it's understandable why farmers and official are less than excited about the animals. Environmental groups, however, say that Papillon has not attacked humans and should live in the wild.
The World Wildlife Foundation claimed that Papillon was not at all dangerous, despite his history of attacking animals.
"Papillon is an animal which in the past has only caused damage to infrastructure at the zoo, and for this reason it needs to be monitored, not locked up," WWF said.
Another group has gone even further. Ornella Dogatti, the Trento area representative of the International Organization for Animal Protection, has gone on a hunger strike until Papillon is freed.
"We must save these bears. We are their voice, and we will fight until M49 is free," she told The Guardian.
The animal enthusiasts might not have to wait long for Papillon to return to the wild, though. Looking at his history, he probably won't stick around all too long in his enclosure.
Maybe he just can't bear staying in captivity.