Oregon elk goes on a revenge spree, killing the bow hunter who injured him the day before.
Big game hunting brings out passionate opinions in people. But both sides of the issue can agree that wounding an animal and leaving it to suffer is the least ideal outcome of a hunt. Not only are they injured and vulnerable, but you leave them with time to plot their revenge. At least, that's what happened last week in Tillamook, Oregon.
Elks Gets Revenge in the End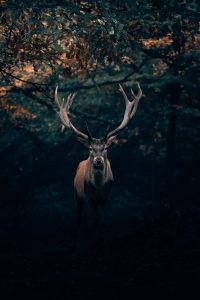 Thomas Alexander, an experienced hunter from Arkansas, was bow-hunting elk on private property. He shot a 5×5 elk–a bull with five points on both his antlers. But his shot only wounded the animal, not killing it. "Wounding," as hunters call it, is whenever a clean-kill situation doesn't happen. The suffering of injured animals is one of the dark sides of hunting. In cases of wounding, hunters go to great pains to track and kill the animal.
Alexander couldn't find the wounded elk before nightfall. The next morning he, along with the property owner, went out to try again. They located the bull, but when the 66-year-old hunter approached, the animal got to its feet and gored him. Alexander had time to call his wife and an ambulance but was declared dead at the hospital. A spokesperson for the Game and Fish Commission wondered if there was an underlying medical cause for his death. "There's not going to be an autopsy, so we may never know actually happened," he told MEA Worldwide News.
Hunting is Dangerous for Everyone Involved
No disrespect for the commission, but it seems like "what happened" was a wounded animal fighting for its life went on the offense and put a bunch of holes into his attacker. Tillamook police apprehended the elk, killed it, and donated the meat to the county jail.
It's unusual for herbivores to pose a physical threat to hunters–not with the same frequency as, you know, bears, lions, and leopards. Bighorn sheep are one of the deadliest animals to hunt, but that's because hunters fall right off the sheer rock faces where sheep live. But those antlers are no joke–they're basically spears strapped to 700 pounds of desperate elk.
When you head into the wilderness to do some killing, you risk getting killed instead.