Hey babe, gimme some sugar. Watch the fangs, though.
There's a whole bunch of fatally venomous animals living somewhere in the wilds. Among the most toxic of them are sea snakes.
In case you didn't know, sea snakes are snakes (oh really?) that breathe air and spend their entire lives in the ocean. And open water really isn't the kind of place where you want to get a snakebite.
It's not hard to imagine why. You're underwater or on a boat, potentially miles away from the shore, when your muscles stop working and your nervous system starts turning off the lights.
The worst part of the snakes is that sometimes they just attack divers and fishermen for no reason. Places like Australia's Great Barrier Reef are notorious for their snakes that suddenly rush at divers out of the depths.
Among the most common offenders is the olive sea snake. Their venom is drop-by-drop the most potent of all sea snakes, since it attacks both your muscles and nerves at the same time.
Luckily, these encounters rarely result in bites. Still, if you're a diver, you'll have a potentially deadly animal zig-zagging around you, looking for an opening.
But now, a new study — published in Scientific Reports — has shed light on why these snakes suddenly attacks people. It turns out, they're not being aggressive or angry at all.
They're just looking for some sweet, sweet love.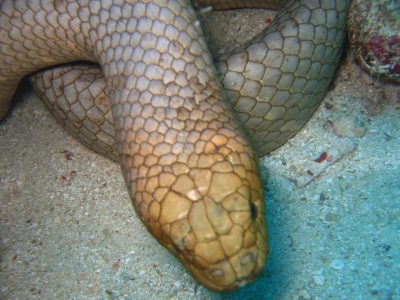 The Question Why
The study's lead author Rick Shine, an evolutionary biologist at Macquarie University in Australia, got interested in the snakes because their behavior seemingly defied common animal characteristics.
"Wild animals don't attack people without good reason," Shine told Smithsonian Magazine. "Snakes on land almost never attack people but there were all these stories about sea snakes doing it."
In Shine's mind, this bizarre behavior begged for someone to ask a certain question, and he asked it: "Why the hell would a sea snake race towards a person underwater?"
Shine himself may have been at a loss on how to start studying the snakes. Lucky for him, he knew someone who had plenty of experience with olive sea snakes.
Tim Lynch, the study's co-author and a scientist with Australia's Commonwealth Scientific and Industrial Research Organization, is an experienced diver. Back in 1994, he spent 250 hours underwater at the Great Barrier Reef studying olive sea snakes for his PhD thesis.
He recorded his encounters with the snakes, including how many he saw and whether they approached him. Years ago, Shine had read Lynch's thesis, but it was never published in a peer-reviewed journal.
Then, the COVID-19 pandemic hit and brought practically all field research to a halt. That also meant that Shine couldn't go and study snakes on his own.
That was when he remembered Lynch and his results. He contacted his fellow scientists and suggested they dust off the decades-old thesis to look for a possible explanation.
Lynch was all too happy to participate. Together, the duo got to work.
Too Horny to Think Straight
Once they started reviewing the data on olive sea snakes. As they did so, they noticed a clear pattern.
In total, Lynch had recorded 158 snake encounters, out of which 74 had started with the snake approaching Lynch. Furthermore, of those 74 encounters, 13 involved the snake charging Lynch.
Curiously, all the charges occurred between May and August — the olive sea snake mating season. Additionally, every time a snake charged Lynch, it had just before that engaged in mating-related behavior.
Male snakes that had charged Lynch had been either squaring off against another male or chasing a female that got away. Female snakes, on the other hand, had been escaping unwelcome amorous advances.
Some of the males had even tried to get busy with Lynch. He recalled that a few of them had started coiling around his flippers, as snakes do when they down and dirty.
The scientists combined these patterns with previous research on olive sea snakes. They can't see all that well underwater, and they ended up concluding that the male snakes had simply mistaken Lynch for a sexy lady snake.
Suppose that's a compliment.
The Only Solution is Heartbreak
According to Shine, it's difficult for male snakes to find a girl to woo in the first place. And when the object of their affection escapes, they might dart towards the nearest shape they can see in a hormone-induced mating frenzy.
"Then, once the snake gets there it takes him a little while to realize the large object isn't the girl he was pursuing," Shine explained.
Female snakes, on the other hand, often go looking for a safe place to hide when they getting unwanted attention. Male olive sea snakes are – as you've no doubt realized – very persistent, so hiding is often the only option for the females.
While the scientists' results can't explain every snake attack, they believe that many divers have simply misinterpreted the snakes' behavior.
"People almost universally interpreted these behaviors as aggression. Snakes are often seen as these malevolent beings intent on mayhem, but in this case really they're just looking for love," said Shine.
Shine and Lynch hope that their study can help recreational divers avoid the snakes' potentially lethal love bite. They advise divers to not attempt swimming away from the snake — it will catch up to a clumsy human.
"Don't try to hit the snake or fend it off because that could upset it. Just give the snake a chance to figure out who you are and once they do, they will likely head off," instructed Shine.
Apparently, the only solution is to break the lovelorn snake's heart.