Don't underestimate an animal just because it looks like a wimp.
Thinking in evolutionary terms, being incredibly poisonous (or venomous) is amazing. It's much easier to catch food and nobody will want to mess with you.
But it gets even better when nobody realizes you're toxic. You can seem like the most harmless, unassuming thing, safe with the knowledge that if someone starts acting up, they're soon going to be dead.
Here are the most toxic animals currently living on the planet that you really never thought could be dangerous.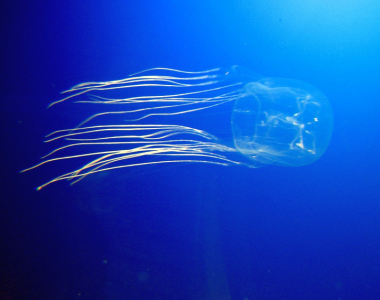 1) Southern Short-Tailed Shrew
You don't usually think of mammals as toxic. The southern short-tailed shrew is here to put your priorities in order.
Granted, this three-inch-long little creature isn't lethal to humans. Its toxin-laden saliva will just leave you in horrendous pain and with muscle spasms that can last for hours.
But god forbid a mouse comes across this shrew – or 200. That's how many of them it can kill before it needs to take a break.
The southern short-tailed shrew is fairly common in the southeastern U.S. If you find a mouse genocide happening in your yard, don't try to catch the perpetrator.
2) Hawksbill Sea Turtle
The critically endangered hawksbill sea turtle never intended to become poisonous. It's just a side effect of what it eats.
You see, the hawksbill loves snacking on sponges, algae, and cnidarians – that is jellyfish and polyps. A good portion of the things it eats are toxic as all hell.
The turtle doesn't really give a hoot or a holler about the various poisons and venoms it gulps down. It just packs all that stuff into its flesh as a wonderful little surprise for anyone trying to eat it.
Should you decide to have a little turtle snack, you can expect to violently empty your guts from both ends. If you don't get treated for the explosive vomiting and diarrhea, you just may s*** yourself to death.
3) Striated Surgeonfish
This seven-inch-long tropical fish looks like any colorful creature you might encounter at the aquarium or while snorkeling. If you're ignorant enough, you might even try to eat one.
But the striated surgeonfish is just like the hawksbill sea turtle. Its favorite dishes all include algae of different toxicity, and all those poisons stay in the fish.
The surgeonfish's poison is much more sinister, though. Sure, in a few hours to a couple of days you'll start pooping and vomiting, but that's just the beginning of ciguatera fish poisoning.
Once the symptoms start, they won't stop. The poisoning can last from months to even years, and over that time the toxins will slowly but surely completely ruin your nervous system.
Ciguatera poisoning can be so severe that it's been misdiagnosed as multiple sclerosis on several occasions. An estimated 20,000 to 50,000 people suffer from it every single year.
4) Duck-Billed Platypus
The platypus looks like an adorable little freak of nature. But with the duck's bill, otter's body, and a beaver-like tail, are really all that surprised that this Frankenstein's monster is venomous?
Both male and female platypuses have spurs on the backs of their ankles. But only the male is able to squirt out a lovely dose of toxins out of them.
The good news is that the poison isn't lethal to humans, in case you got stung while cuddling with a platypus. The bad news is that you'll be in excruciating, searing pain for that can last for weeks.
An Australian Army veteran got stung by a platypus once. He reportedly said that if he had to pick between getting hit by grenade shrapnel and another platypus encounter, he'd go for the grenade – it hurts a lot less.
Oh, and something in the venom makes you immune the pain-relieving effects of morphine. That means there's a good chance that you'll just have to live through the agony.
And we didn't even mention the swelling yet. Yeah, don't mess with platypuses.
5) Catfish
Who doesn't like catfish? Boil it, steam it, fry it… These guys are delicious.
Maybe they're aware of just how good they taste, because they're also venomous. Their fins have thick, hollow spines that inject a highly potent venom.
If you get stung by a catfish, you will once again be in agonizing pain. In some species, the venom is so strong that you should get to the hospital to deal with the pain.
But there's also the striped eel catfish. This fish doesn't kid around – it just might kill you.
6) Cone Snail
When you think of a helpless animal, you can't get much worse than a snail. They have their shells, sure, but apart from that they're slow and pretty pathetic… Right?
Not so much with cone snails. These sea snails have modified mouth parts that can inject a lethal toxin even through a wetsuit.
And when we say lethal, we mean it. One snail can secrete enough venom to kill 20 healthy adult humans.
You might even know you got bit by one – the symptoms can take several days to kick in. But once they do, you can expect pain, vomiting, paralysis, and respiratory failure.
It could take days to happen, or it could be pretty much immediate. You just don't know until you're floating paralyzed in the ocean while your lungs hang up an "out of order" sign.
7) Box Jellyfish
Let's say you got stung by the cone nail and pulled through. Let's also say that you learned nothing from the experience and went back into the ocean.
That's when a box jellyfish happens to swim by. Well, actually, it doesn't even need to come particularly close to you – their stinging tentacles can grow up to 10 feet in length.
The jellyfish itself is a fairly small, transparent blob. We suppose you don't need to look like much when you're the most venomous animal on the entire planet.
Immediately following the sting, you'll be in extreme pain. Within a few minutes, you'll go into shock, followed by paralysis and cardiac arrest.
There's an antitoxin, but it needs to be administered within 15 minutes of being stung. If you didn't happen to have it with you at the beach, well…
Maybe you should've learned from the cone snail.