Or he orders snacks, or at least he tries to.
Rocco the parrot loves his Alexa. He converses with her all day long, up to 40s times a day.
Alexa happily plays Rocco's favorite music and tells him jokes. Alexa and her are friends. But we cannot say the same for everyone.
Rocco was kicked out of an animal sanctuary for his bad mouth. But he and Alexa get along just fine.
Then again, if someone was playing your jams and making you laugh, why wouldn't you get along with them? The foul-mouthed parrot wanted more from Alexa though, he wanted snacks.
The parrot did order some food from Alexa but the parental controls stopped him from actually purchasing the goods.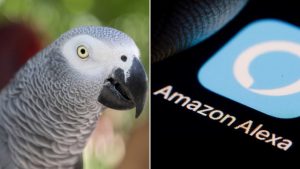 Included in is order was strawberries, ice cream, and a kettle.
Marion Wischnewski, owner of the animal sanctuary operated by UK's National Animal Welfare Trust says that she took the clever parrot in after he was removed from the shelter for swearing too much.
Is it just me or does this parrot sound like a hoot? But I guess not everyone likes that.
Rocco, who was taught to swear by a previous owner is loving his new living arrangements. Him and Alexa hang out all day and Rocco continues to learn. He's mastered almost every household sound.
"He knows the telephone and can make different mobile ringtones. He can do the microwave or the squeaking door on my fridge. He can do the ice cream van in the summer, and a truck reversing so loud you think it's in your living room."
Personally this parrot would be fun to hang out with but maybe not to own? Totally want to meet him and have drinks though. And we could enjoy ice cream together and have a good swear fest.
Maybe we will hear more of Rocco and his adventures in the future, at least I hope we do.
Want to tell your strange story?
Tell us about it
and it could be featured on Oddee. You can remain fully anonymous.