But unlike those McDonald's burgers that never rot, this lunch has been kept in a freezer
We, the people, like to process history through anniversaries. For one reason or another, we tend to put special emphasis on how many years it's been since something happened.
Not that there's anything wrong with the practice. When it comes to big anniversaries, 2020 has some good ones.
For instance, this August marked the 75th anniversary of the end of World War II. In January, the World Trade Organization celebrated its 25th birthday.
Meanwhile 2500 years ago – in 480 B.C. – King Leonidas of Sparta led 300 warriors against the might of the Persian Empire in the Battle of Thermopylae. What, did you think it was just a movie?
But in addition to history-shaping wars, 2020 also marks the anniversary of a slightly less significant event. More precisely, 60 years ago today – on September 22, 1960 – then-presidential candidate and later US President Richard Nixon didn't finish his sandwich.
We know this because an Illinois man has preserved the half-eaten bison barbeque sandwich. It has sat in his freezer ever since Nixon walked away from his lunch decades ago.
The man in question is Steve Jenne, 74, of Sullivan, Illinois. This is his story – his, and Nixon's partially consumed sandwich.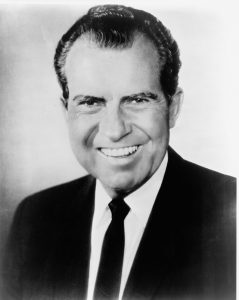 A Trip Down the Memory Lane
But how come Jenne came to possess the lunch of Nixon, whose legacy would years later become forever tarnished in the Watergate scandal?
For answers, let's accelerate to 88 mph and take a trip back in time. We find ourselves in the city of Sullivan on that more or less fateful date: 9/22/1960.
In case any Europeans are reading this, that'll be 22/9/1960. Don't get too confused, now.
On this date, Nixon was out on his presidential campaign. He was running against a Massachusetts senator, one John F. Kennedy.
As we know from history, a couple months later Kennedy would win the presidency. Nixon would have to wait until 1969 for his turn in the White House.
But on this September day, Nixon was in Sullivan on a campaign trip. For lunch, he was served the aforementioned bison barbeque sandwich.
Whether he wasn't all that hungry or just straight-up didn't like the sandwich has been lost to history. The facts are that he ate about half of it before proceeding to the park where he was supposed to debate Kennedy. However, Kennedy failed to show up, so Nixon took the chance to give a speech of his own.
While he was speaking, Steve Jenne – then a 14-year-old Boy Scout – kept an eye on the Senator's unfinished lunch.
"Being the good Boy Scout that I was, I stood there and guarded that sandwich," Jenne recounted to the University of Illinois.
Eventually, though, it became clear to Jenne that Nixon wasn't coming back to clean his plate.
"I looked around and thought, 'If no one else was going to take it, I am going to take it,'" Jenne told Herald & Review in a separate interview.
And so he did. The sandwich ended up in a glass jar in the Jennes' freezer.
Onto the TV Screen
From Sullivan, the sandwich eventually relocated to Springfield when the Jennes moved house. When Steve Jenne eventually left his parents' home to start a life of his own, the sandwich went with him.
In 1988, the aforementioned Herald & Review wrote a story of the sandwich, which at the time was of the ripe age of 28. The story went viral (or whatever the 1988 equivalent is), and Jenne ended up showcasing his artifact on The Tonight Show with Johnny Carson.
The famous comedian Steve Martin was also a guest on the show that night. Always ready to crack a joke, Martin signed a paper plate he had eaten a chicken salad sandwich off of and handed it to Jenne.
Probably to everyone's surprise, Jenne happily accepted the plate. He still owns it.
A Memento for the Ages
Let's zoom back to the present day. Nixon's sandwich and Martin's plate are today part of a collection that has expanded to include scrap food from musicians Tiny Tim and Henny Youngman.
Jenne said that he never wanted to become famous by preserving celebrities' half-finished snacks. It's just a fun quirk, and undoubtedly a great conversation opener.
He has enjoyed the opportunities Nixon's unfinished lunch has opened for him, though. In addition to The Tonight Show, the sandwich has brought Jenne into contact with other famous people and even an appearance on the I've Got a Secret game show in the 2000s.
With the sandwich's 60th anniversary, he hopes that it will draw attention to the Nixon visit plaque in Sullivan's Wyman Park. Maybe the city could use some extra tourist income.
When it comes to the sandwich itself, Jenne has no plans on getting rid of it.
"As long as I am living, that sandwich will be stored in my freezer in a container that is labeled, 'Save, don't throw away,' " Jenne said.
And really, why would Jenne throw the thing away? It's come in handy enough in these past 60 years, so who knows what tomorrow might bring.
Actually, it's election season right now. Wonder what Trump's or Biden's lunch would be worth in a few decades…