5-year-old bunny set new record for slam dunks
Owner credits hours of training and practice
Bini the bunny is also an accomplished painter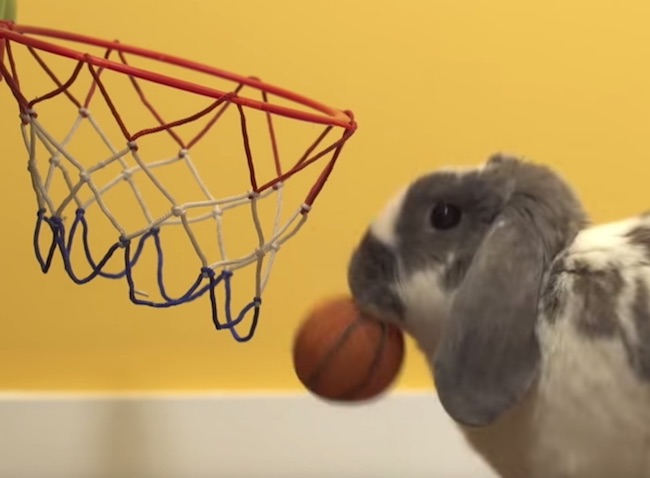 Some pets are willing to be trained and go the extra mile to excel at tricks. Bini, a 5-year-old Holland Lop rabbit, is not only eager to work toward his goals but put in the time needed to become a world record holder.
The caged resident of Los Angeles, California set the Guinness World Record for putting a miniature basketball through a hoop. The white-haired basketball prodigy hit seven shots in sixty seconds.
Shai Asor, Bini's owner and personal trainer, jokes that Bini developed an interest in basketball thanks to the practice he and the rabbit put in every night before bed.
So how did Asor figure out Bini had the talent of LeBron? By accident.
"One day, Shai noticed that Bini was playing with a ball and a box and that he kept pushing the ball towards the box. From this, he realized he could train Bini to perform basketball movements—and they practiced until the clever cottontail became a pro."
Bini joins an extensive list of animals with recognized world records in the world of sports. Skipper Blue the Macaw holds the record for the most rings placed on a target by a parrot in one minute, Purin and her owner Makoto Kumagai set the mark for most balls caught by a dog, Caspa the llama jumped a 3 ft 8.5-inch bar and Bertie is the fastest known tortoise on earth.
When Bini the bunny isn't banking shots on the basketball court, he's painting, combing hair, or playing arcade games.
Check out even more strange and fascinating animals in our archives.
[Source]
FOLLOW ODDEE ON FACEBOOK AND TWITTER.