Pizza is as American as hotdogs and baseball, and the fact that 93% of us have eaten pizza within the last month only goes to show how we feel about it. Here are a bunch of other pizza fun facts.
In 2001, Pizza Hut delivered a six-inch salami pizza to the International Space Station. This was the first pizza delivered in outer space.
In 2013, a group of NASA-funded scientists invented a 3D printer that could cook pizza in just 70 seconds. It has a sprayed on flavor, smell and micronutrients. 
Spinning pizza dough is a whole art. Don't believe me? Dough-spinning has its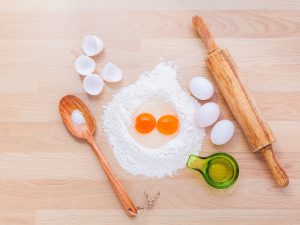 own professional-level sporting event. Pizza teams compete at the World Pizza Championships in acrobatic dough-spinning contests.
Bagel Bites were invented by Bob Mosher and Stanley Garkzynski and it's said that they got the inspiration for their first recipe from the back of a Lender's bagel bag. 
Pizza played a role in helping police catch an alleged serial killer known as the "grim sleeper" in 2010. An undercover officer took DNA from a slice of pizza that the killer was snacking on at a family birthday party. Yike, busted. 
About 3 billion pizzas are sold worldwide each year. That is a lot of pizza.
National Pizza Month is celebrated every year in October.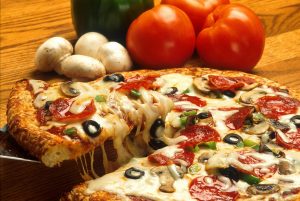 Americanized Italian food is the most popular ethnic food enjoyed in America. 
When it comes to the toppings, Americans are divided. Surprise, Surprise. 62% of American's choose meat toppings where as 38% pick vegetables.
The most popular dough selection is thin crust, preferred and enjoyed by 61% of the population. A much smaller 14% want deep-dish, and 11% prefer extra thin crust.
Off all the nights of the week, Saturday is the most popular night to eat pizza. 
According to pizza deliverers, women are better tippers. 
The most popular cheese for a pizza is mozzarella. In the US, mozzarella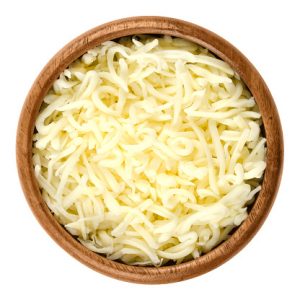 cheese accounts for nearly 80% of Italian cheese production.
The word "pizza" is an old word. It dates back thousands of years to whenit was first mentioned in latin text. The text dates back to Southern Italy circa 997 CE.
America's first pizza place was in Lombardi's in New York City. Lombardi's was originally a grocery store, but started selling pizza in 1905.
Humans aren't the only species in love with pizza. Dogs love pizza too and there is a brand made especially for them. The dog pizza is called "Heaven Scent Pizza" and is made of flour, carrots, celery, and Parmesan cheese. 
There are approximately 61,269 pizzerias in the United States. That is a lot of pizza places to choose from. Yum.
Gourmet toppings for pizza come in all shapes but most popular are chicken, crayfish, oysters, dandelions, eggplant, artichoke hearts, tuna, sprouts, cajun shrimp, truffle mac and cheese.
Americans eat about 100 acres of pizza a day. That breaks down into 350 slices per second. 
The typical American eats 46 slices of pizza every year.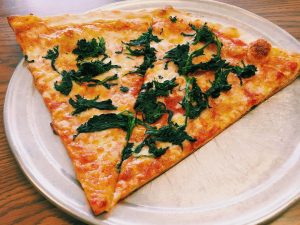 The kids love the pizza. Kids aged 3-11, prefer pizza over any other food group. Of course they do, and ha, since when is pizza a food group? Oh, and they like this meal for both lunch and dinner.
The world leader in delivery is, drumroll please… Dominoes. This is a solid fun fact to share, impressive even. 
Pizza Hut has a surprisingly high amount of stores, 17,639 as of 2020. They have Pizza Huts worldwide too, in 110 countries. 
The world's fastest pizza maker can make 14 pizzas in 2 minutes and 35 seconds. 
Pizza for breakfast? Not only do people love pizza for breakfast, but 36% think pizza is the perfect breakfast.
When it comes to toppings, the sexes are divided. Women are twice as likely as men to pick vegetables for their pizza toppings.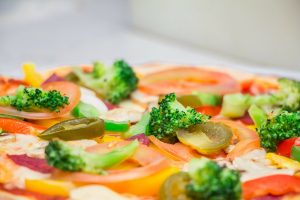 The most popular pizza size in America is 14" in diameter, and sliced into 8 pieces. 
The story behind Hawaiian pizza is this, it was invented by Sam Panopoulos in 1962. Panopoulos is a native of Greece, who ran a pizza place in Canada. This is one of the craziest pizza fun facts yet.
You know when you eat a soggy slice of pizza, and there's that slimy, almost gross layer in between the toppings? Ya, that's called te "gum line" and it's dreaded by pizza chefs. 
"Gum line" is caused by one of three things including undercooked dough, or sauce or cheese that's too cold and hasn't been brought to room temp before being put on the pizza.
People love pizza so much, that pizza-flavored products have come out over the years. These products include potato chips, condoms, beer, cigarettes, and even ice cream. Am I the only one who only wants to try the pizza potato chips? This is quite the pizza fun fact. 
Is there one pizza fun fact you like more than another? What's not to love about all of these fun facts?