What a squirrely situation.
People often stage all manner of creative stunts to try and escape the long arm of the law. This New York had clearly taken some lessons from squirrels — or maybe a cat.
Roody Thomas, 44, climbed up a tree in his yard on October 6 to avoid cops who had come to arrest him. By the time he came down on October 8, he had spent nearly three days among the branches.
The bizarre episode began on Wednesday around 2 p.m., when Thomas' mother called the police to his home. According to CBS New York, Thomas was threatening her with violence, on top of having an outstanding warrant for punching his girlfriend.
When the cops arrived at the house, Thomas wasn't about to surrender without a fight. But instead of attacking the officers, he opted for a battle of perseverance.
The man initially climbed up onto the roof of his house. As the cops tried to get him to come down, he moved over to the nearby tall tree growing in his yard and nimbly climbed up the branched.
Once he'd found a comfortable spot, he refused to come down. If the cops tried to force him down, he threatened he would jump and plunge dozens of feet to his likely death.
"My name is Roody Thomas… I currently have a lawsuit against NYPD, DOC, Rikers Island," he reportedly shouted from the tree.
And so, the game was on.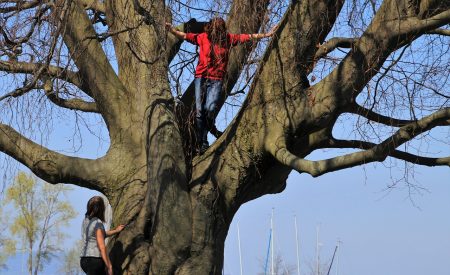 Up the Tree
Perhaps understandably, the cops weren't exactly sure how they were going to deal with their suspect's outlandish behavior. They couldn't exactly just chop the tree down, since they may have just as well ended up killing Thomas.
That said, they didn't want to let him get away scot free by just climbing up a tree. So, they began to employ various methods to try and get Thomas to come down.
The cops called in professional hostage negotiators, but they were unable to persuade Thomas to descend. So, the cops figured that if they made staying up the tree as uncomfortable as possible, he might give it up.
According to media reports, the police employed drones to fly by Thomas. They also blared loud sirens at him, day and night.
Man, are we sorry for his neighbors.
But no matter what they tried, Thomas wouldn't budge. Reportedly, he covered himself with blankets that his neighbors delivered to him, and cleaned his teeth with flossers.
When nature called, he would simply pee down from his branch. When it was time to sleep, he'd shove cotton balls into his ears to drown out the noise of the sirens.
Eventually, even the cops started feeling sorry for the clearly troubled man. They placed air mattresses below the tree in case Thomas fell, and delivered a small package of food and glucose packs to him.
"We're trying take care of him, make sure he's safe as well as his neighbors," an NYPD officer told the neighbors according to CBS New York.
But still, it's tough being all alone up a tree. At one point, the neighbors reportedly saw him eating leaves.
Third Day's the Charm
By the dawn of his third day up the tree, the cops were clearly starting to get desperate. In an attempt to appease Thomas, they backed away from the street his house is on.
Seeing the police retreat convinced Thomas to get down from the tree and back to the roof of his home. The cops then sent in a local pastor to try and talk to him.
Finally, the efforts bore fruit. After the pastor told Thomas that the police weren't going to hurt him and were worried about his mental health, he got down from the roof.
Still, he didn't exactly trust the cops. According to reports, he shouted insults at the cops, referencing his previous arrests, on top of all kinds of homophobic drivel.
Thomas then walked back into his house and shut the door. He told the authorities that he'd agree to come with them for psychiatric evaluation if they parked an orange van in front of his house.
At the time of writing this article, the cops hadn't yet taken Thomas into custody. We'll have to see if the orange van works.
Inappropriate Methods?
As unusual as the Thomas' tree-climbing stunt is, it's not the first time he's impersonated a squirrel. According to his neighbors, the man is mentally unstable and needs help.
"Before, he's been up there about three or four days at a time. This is only the first time that the police have actually been called," one neighbor said.
Some of the neighbors questioned the methods the police used while trying to get Thomas down.
"I would think that it is a sensitive situation, and that it needs people or personnel who have experience in such things," another neighbor said.
Sabine France, a public advocate, agreed with the neighbors. She said someone other than the cops should've been called in to deal with Thomas.
"It's a person who's in crisis. That's a sign of trauma, and I don't feel as if this situation is being handled as a person who is currently suffering from mental illness," France said as the situation was still ongoing.
Despite his issues, Thomas' neighbors still clearly care about him. Hopefully he'll be able to get the help he needs.