If these guys aren't husband material, we don't know who is.
They say a happy wife equals a happy life. For most people, that might entail listening to her worries, with the occasional flowers and a fancy dinner.
But that's not good enough for everybody. Here are five men who went above and beyond to make sure their wives had mind-blowing places to live in.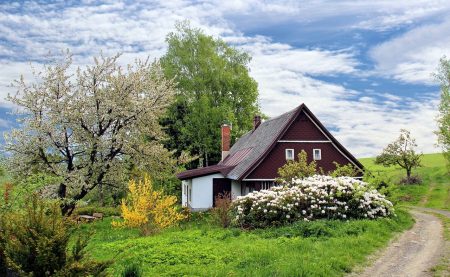 1) A Rotating House
Vojin Kusic, 72, built his first house years ago. There wasn't anything particularly special about this home, but it was good enough for him and his wife to raise three children in it.
But over the years, Kusic's wife started wishing she had a better view from the windows. The man did his best to please his spouse, completely remodeling the house, but she came up with a problem with the new view as well.
Six years ago, their last son got married, and the aging couple decided to let his family move to the top floor of his childhood home. That called for new renovations, and Kusic decided that this time, his wife couldn't complain about the scenery.
Without any higher education, Kusic mounted his house on a rotating platform built out of decommissioned military vehicles. Whether his wife wants to see the surrounding fields or the front yard from the living room windows, all she needs to do is fire up the motor and turn the house.
As an added bonus, the house is now more resistant to earthquake damage than a conventional building.
"After I reached an advanced age and after my children took over the family business, I finally had enough time to task myself with granting my wife her wish," Kusic said.
2) An Indian Palace
Mr. Kanagavel and his wife Banu live in Puduchery on India's southeastern coast. Some years ago, Banu mentioned to her husband that she had a dream of living in a truly unique home.
The thought stuck with Mr. Kanagavel, who works in construction, and he decided to get to work. Two years and his entire life savings later, he fulfilled his wife's dream with nothing short of an ancient Indian palace.
The bright red house, with its turrets and balconies, is already impressive from the outside. But once you step in, the residence gets even more luxurious.
Once you walk in through the magnificent front door, you'll come face to face with an embedded 3D statue of Buddha, complete with a fountain. Mr. Kanagavel lined the main hall with ornate columns containing hidden speakers that play music.
In the bedroom, the large bed can move while a fan consisting of an intricate tapestry keeps the couple cool. And then there's the bathroom with an enormous candle-lined tub featuring waterfall-style faucets.
The house is so impressive that Mr. Kanagavel has invited local architecture students to tour the house and learn from its construction.
3) An Airplane House
Said Jammal's wife, Liza, loves to travel. To give his wife a taste of traveling even at home, Jammal decided to build a custom three-story home for his family in Abuja, Nigeria — with an airplane on the roof.
Jammal didn't take the easy route and incorporate a decommissioned plane to his house. Instead, the plane structure is a concrete shell that looks deceptively like the real thing, complete with the Nigerian flag on the tail fin.
The house isn't just about the plane, either. It features multiple living rooms, bedrooms, and even a throne room for some reason.
Even though he works in construction, building the massive home was a real undertaking. Construction began in 1999, and the house still isn't fully complete.
Jammal hasn't had to build the house alone, though. The family's six children helped their father whenever they weren't busy at school — and of course, after they finished school long ago.
But clearly, good things come to those who wait. Jammal hopes that the airplane home, once completed, will become a tourist attraction for the city of Abuja.
4) Diagon Alley and Hogwarts from Harry Potter
In 2017, Joel Pace's wife, Amanda, was diagnosed with breast cancer. To cheer up his recovering spouse, Pace built him a replica of the flying Ford Anglia from the Harry Potter series.
And then the project just kept going. Pace said that the Harry Potter-themed customizations made Amanda happy, so he added more and more until their Austin, Texas, house resembled a shop as you would see on Diagon Alley, the magical merchant street seen in the books and movies.
On Halloween 2019, the couple opened their house to the public. They allowed visitors to walk through the house and marvel at all things Harry Potter Pace had built.
In 2020, when the pandemic struck, the Paces converted their house to Hogwarts Castle to deal with the boredom of quarantine. They didn't let people into the house last Halloween, but they did allow them to drive by and take photos.
This year, according to their Facebook page, they'll set up the Hogwarts display again. And at Christmas, they're planning to dress everything up again in the theme of a Yule Ball at Hogwarts.
5) A Miniature Dream Home
The house in Farmington, Utah, that Larry Elkins built for his wife Linda isn't big enough to house actual human beings. But his wife is no longer able to live in it, anyway.
The Elkinses had big plans following Linda's retirement. "I want you to build me a house," she told her husband, and they got to work.
Unfortunately, Linda suddenly died of a heart attack in 2010. After she passed away, Elkins demolished what they had built so far.
However, the man had delighted in doing things for his wife. The impulse didn't leave with her, and so he decided to rebuild their dream home, only in a smaller scale.
Bushes of hortensias line the yard of the two-story dollhouse. On the top story deck there are two lounge chairs and a table laden with cookies and Diet Coke bottles, waiting for visitors.
The bedroom has two beds for twins, the couple's grandchildren. Neatly folded on the living room couch is a tiny blanket, just like the once Linda used to crochet.
"Just 'cause they die, doesn't mean they're gone. I want to continue doing things for her as long as I can, because that's what we do," said Elkins.