An A for effort, but maybe they should've just studied more.
If you were to cheat on an exam, how would you do it? Would you sneak in a cheat sheet, or maybe try to have your phone on your lap?
Whatever your answer, it probably didn't involve surgical procedures. But these students were ready to go to any lengths to get into the school if his choice.
Two Indian medical students recently got busted for trying to cheat in the entrance exam at the Mahatma Gandhi Memorial Medical College in Indore. Supervisors discovered tiny Bluetooth speakers surgically implanted in their ear canal.
"[The students were] taking the General Medicine exam with 13 others when a university squad of the Devi Ahilya Bai University came for a surprise check," Dr. Sanjay Dixit, dean of the medical college, explained to The Independent.
"They found one student with a mobile phone and another with some Bluetooth device," he said.
The Bluetooth speaker was the same color as the students' skin. Upon questioning, they revealed that ENT surgeons had implanted the devices in their ears.
In one of the students' case, though, it might be understandable why he resorted to such extreme measures. He had been trying to get into the medical school for 11 years and this was his last shot.
Perhaps there might've been another career option.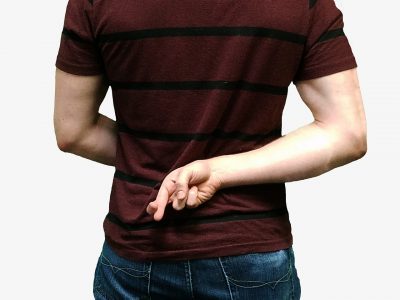 Do We Need to Get the Cops?
It seems that the college dreams of these two applicants have been dashed for good. Dr. Dixit said the electronic devices and answer sheets they used were confiscated.
Their cases have been sent to invigilators for further consideration. According to Dr. Dixit, the students clearly intended to cheat as they had purposefully concealed the Bluetooth devices.
"We think these microphones were surgically fitted in the ears of both the students. Cases have been prepared against both the students. A committee of DAVV will take a decision in this regard," said Renu Jain, vice chancellor of the invigilator squad that busted the students.
The students, on their part, deny the accusations — at least in part. One of them claims that the Bluetooth speaker wasn't surgically implanted and could be removed with a pin.
We're sure that makes a whole lot of difference.
The duo's fraudulent ways could earn them more punishment than getting kicked out of an entrance exam. They could even get in legal trouble, as using unlawful means in an exam could constitute a crime in India.
The medical university is currently performing an internal investigation into the incident. Once that investigation concludes, they will determine whether they need to get the police involved.
Nothing Unusual
Cheating in major entrance exams is fairly common in India. There's a reason for that, though — India has a massive population and there are only so many openings for new students or employees, so competition is cutthroat.
As a result, desperate would-be students often resort to creative means to get an edge in entrance exams. Apparently, surgically implanted speakers aren't all that rare.
"It is very easy to get Bluetooth fitted in the ears. It is attached to the ear temporarily and can be removed," said Dr. Anand Rai.
"Such a technique was used by a Vyapam scam accused too to clear his medical exam eight years ago."
Wait, what Vyapam scam? Well, just one of the largest cheating scandals in Indian history.
Between 2008 and 2013, multiple people — including doctors — participated in mass university exam cheating. On top of implanted speakers, the methods used in the scam included leaked exam papers, rigged answer sheets, and hired proxies to sit in for the exams.
In total, the Indian Supreme Court canceled the licenses of 634 doctors they determined had played a part in the scandal.
In another case from 2015, in Bihar, parents and relatives of students taking an entrance exam climbed the buildings walls to help their children. As a result, hundreds of people were arrested, and the school expelled more than 750 students.