To eat Doritos, to say he did it? No one may ever know.
On the morning of March 21st, Joshua Karpe, 34, stole a Doritos delivery truck. The vehicle was left idling outside of a gas station while the delivery driver ran inside, and Karpe took his chance, and swiped the truck. 
The Frito Lay employee noticed the truck was across the street in another parking lot, and when he approached the vehicle, Karpe drove away.
Karpe led the police on a slow chase, and both Oklahoma Patrol and Garfield Sheriff's Office helped assist in the incident. Karpe smashed into several law enforcement vehicles and as the chase continued, Backup policemen from Enid came to help as the chase went on for more than 100 miles. . 
They tried to put down spike strips to slow the vehicle but Karpe just drove around them. They set up a roadblock too but he just drove the truck and went in a different direction. 
Eventually an officer shot out the from driver's tire on the Doritos truck. Karpe was forced to stop with the chase ending just before the Enid city limits. 
No one was harmed during the ordeal and there is no information as to how many chips were consumed throughout the chase, or if that's why he even took the truck in the first place.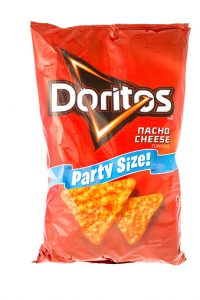 Captain Jeff Sprull of the Oklahoma City Police wants to know why the delivery truck was chosen as the getaway vehicle. It sticks out like a sore thumb making it easy to find.
"I want to know the motivation to steal a truck that is very easy to find and doesn't go very fast," he added, "what do you think you're going to do with a truck like this: Is it? "
Karpe is facing three felony assault and battery with a deadly weapon complaints, and because his chase went through three counties, more charges could be coming.