Not that there is any good reason to start your neighbor's house on fire.
Love thy neighbor, right? Or if you can't love them, at least do them no harm?This neighbor didn't exactly feel this way. So much so he did actually attempt harm in the form of a fire.
An Iowa man set his neighbor's house a blaze on Saturday, and not because of something they did, but because of something they didn't do. Really.
He was mad because they didn't mow his lawn.
Police were called to the house around 6:00 p.m. because of the flames. Lee Bowman, 53, of Sioux City, admitted that he was upset because he had asked his neighbors to mow his lawn on Saturday, and they hadn't.
By Sunday, they still had not cut his grass. So he went over and asked again when they would mow.
Surveillance videos show he tried to take a registration sticker off of one of their vehicles.
The fire was discovered by a neighbor. That neighbor banged on their door, alerting them to the situation. The corner of the home was burned, causing an estimated $3,000 in damage.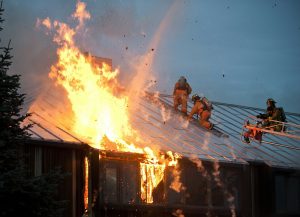 After investigating, it was determined that the cause of the fire was arson, and that sticks and plywood propped against the house were lit with an accelerant and that's what started the fire.
Bowman was arrested and charged with first-degree arson and criminal mischief, and is in jail on $20,000 bail.
This isn't the only case of houses setting fire. Earlier this May, a Richland man's neighbor's house set on fire while he was burning weeds.
The fire spread to the neighbor's attic, badly damaging the attic and the roof. Firefighters kept the fire from destroying the rest of the house.
The man burning the weeds was monitoring the situation but didn't realize how fast the flames would spread or how dangerous the dry climate could be.
Don't start a forest fire, y'all. And especially don't start fires over petty bullshit.