This is one horrendous case of abuse and neglect.
Forced amputation is something you'd only expect to see in horror movies. But the horrifying concept turned into reality at a Wisconsin nursing home.
A nurse at Spring Valley Health and Rehab Center (SVHRC) stands accused of cutting off a resident man's foot. According to media reports, the man never consented to the operation — and died shortly afterward.
But that's not the worst part. The whole story gets worse once you learn what the nurse planned to do with the severed foot.
Witnesses claim Mary K. Brown, 38, placed the foot in a freezer after removing it. Brown allegedly intended to have the limb preserved at her family's taxidermy shop and use it to scare children into wearing their winter boots.
That sounds like the kind of thing a responsible, professional nurse would do.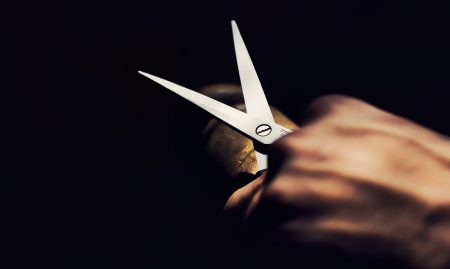 Fallen and Unable to Get Up
Before you read further, let us give you a warning out of common courtesy. If you're sensitive to gruesome medical details, stop now and go read something about cute animals instead.
Still with us? Very well, let's get into the horror.
The 62-year-old resident arrived at SVHRC in March 2022. Even at the time he arrived, he was not in great condition.
The man, who had been living alone, had fallen in his home and been unable to get up. It's unknown how long he spent on the floor, but it must've been a considerable amount of time.
We're saying that because by the time he was discovered, his foot was dead. The heat in his home had been turned off, so his foot had succumbed to frostbite and become necrotic.
So, in all honesty, the foot was never going to make it and would've needed amputation. But not like this. Just, not like this.
Delirious and Incoherent
So, the man was admitted to SVHRC in March. But for some reason, the nursing home decided to do absolutely nothing about his dead foot.
The necrosis only kept advancing and eating away at his flesh. According to the Milwaukee Journal Sentinel, by late May, the man's foot was hanging on only by a single tendon and a two-inch thick strip of skin.
The extreme necrosis was also causing him other problems. An inspection report noted that he was so delirious and incoherent that he couldn't even take his morphine painkillers.
Not only that, he had managed to fall from his bed shortly before his foot was cut off. In the incident, he injured the already dead foot even further.
Despite that, one nurse noted that the man was still "able to wiggle his toes." That was on the morning of May 27.
And that would be the last wiggle the man's toes did. Later that day, Brown would cut off the foot for good.
'He Felt Everything'
According to a criminal complaint, Brown told of her plan to remove the man's foot to two other nurses. By her own admission, she knew she wasn't qualified or authorized to carry out the procedure, but she insisted on doing it for the man's "comfort."
The other nurses told Brown off and asked her to "leave the foot attached." Shortly afterward, Brown and two other nursing assistants entered the man's room to change his bandages.
But instead of doing her supposed duty, Brown produced a pair of bandage scissors. Using them, she cut through the skin and tendon, severing the man's foot.
One of the nurses present said the man didn't appear to mind or necessarily even notice having his foot chopped off. This contradicts the account of another nurse, who said the man told him that "he felt everything and it hurt very bad."
After the amputation, Brown placed the foot into a biohazard bag and stuffed it in a freezer. But she wasn't planning to leave it there.
Testimony from one nursing assistant claims that Brown asked her to retrieve the foot so she could take it to her family's taxidermy shop. She wanted to get it preserved and place it on display with a sign reading, "Wear your boots, kids."
The man passed away within a few days of the amputation. At the moment, there's no official indication that removing the foot hastened his death, but nurses say his condition deteriorated rapidly after the procedure.
A History of Neglect
Fortunately, Brown's sick plan never came to fruition — though no thanks to swift action. It took two days before one of the nursing assistants present at the amputation informed Tracy Reitz, SVHRC's director of nursing, about what had happened.
SVHRC informed the authorities finally a week later. But it was an anonymous tip-off that launched an investigation into the nursing home.
As it turns out, SVHRC has an impressive list of safety and regulation violations.
Not only has the amputation incident resulted in citations for five different reporting and healthcare infractions. The nursing home has a long history of other violations as well, including a failure to report and investigate a sexual assault and a patient's head injury after falling from a wheelchair.
For many of the federal felony violations, the maximum penalties include $100,000 fines and up to 40 years in prison. Let's hope anyone guilty of neglect at the place gets what's coming to them.