As long as human beings have been on the planet, they have expressed their ideas through art. Whether it is cave paintings, sculptures or more esoteric forms, art has been a constant in our world.
Most of us know about the traditional mediums used in art such as canvas, marble etc but there are more platforms for unleashing your creativity than you think. Fruit carving is an intricate and beautiful form of art where talented people sculpt forms and figures from fruits.
Due to the insane variety of colors and texture available, they are a dream canvas for artists worldwide. When you think of fruit carving, certain images of ornate sculptures may come into your mind but in reality, some of these works will astonish you.
From iconic villains to animation characters and even hyper realistic portraits, there seems to be nothing that is impossible for these highly creative artists. Here are some of the craziest fruit carvings that will blow your mind.
1

Jaws X – The attack of the melon shark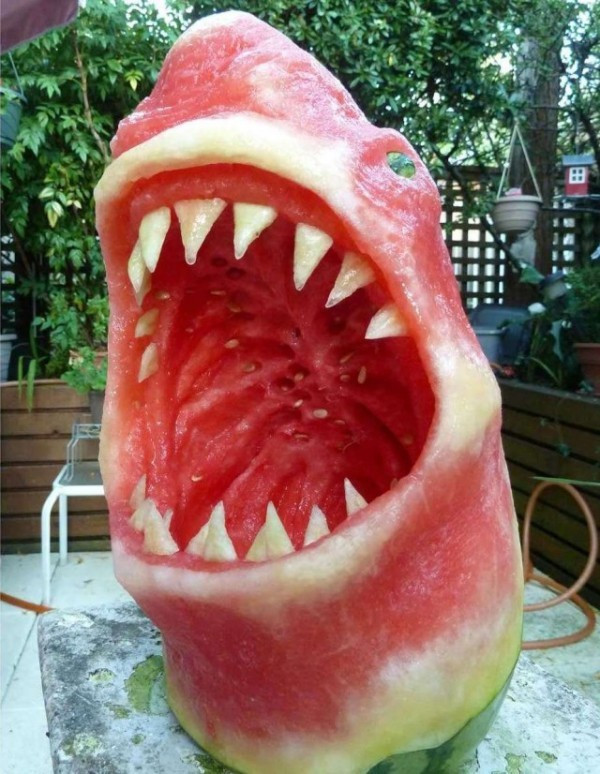 When Jaws came out, hundreds of thousands of people all over the world stopped swimming in the ocean. Hell! The bathroom itself became a nightmarish place to go to. Where there is water, there might be a great white after all. It took decades and several bad movies to finally get rid of the terror that lurks in the waters of our mind.
But now someone has done it again. Only this time, people might stop buying fruits.
Clive Cooper is an insanely talented artist who just couldn't help himself when he created the terrifying but stunning watermelon based shark carving. The sheer size and rage he managed to capture on his melon sculpture has to be applauded. Sigh! Just when I started to enjoy watermelons!
2

Pumpkin of Doom – Creating villains from pumpkins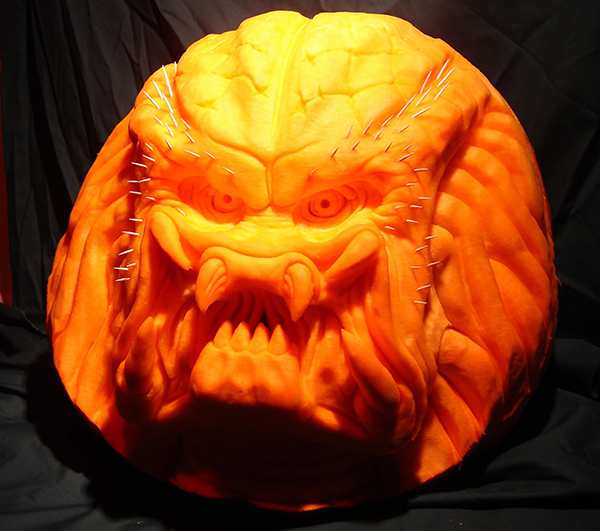 Let's all agree first that the pumpkin is the go to fruit for evil and scary concepts. As the brand fruit ambassador of Halloween, it is only appropriate that we perceive the fruit to be diabolical in nature.
Well! Scott Cummins is one artist who agrees. However, what sparked in his mind was an ingenious idea to take the diabolical nature of pumpkins into a whole new direction. He used the fruit as a template to create the biggest villains and monsters of fiction. From Frankenstein and Gremlins to Darth Vader and the Devil himself, Scott's creations are filled with detail and horror.
You can take a look at his gallery from the link below. He also focuses a lot on pop culture for his works but his horror based works are some of the most striking ones.
3

The Fun Banana – Amazing Japanese banana carvings that will make you go awww!!!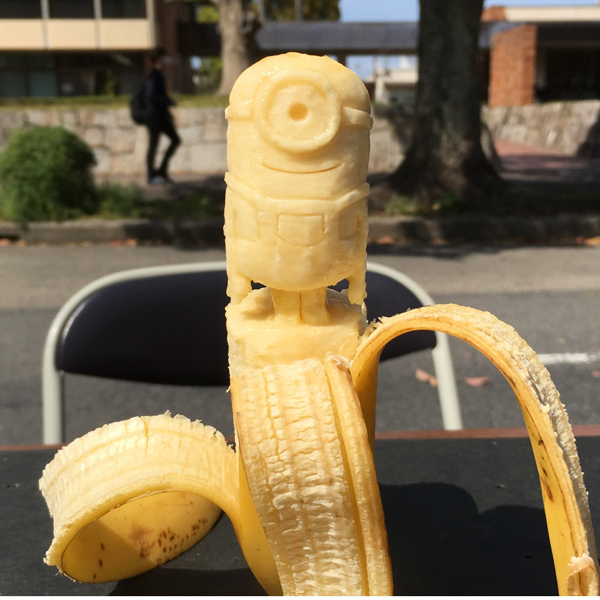 Japanese people are just awesome! In everything they do, they innovate and shamelessly create revolutions in terms of what we perceive to be artful. What happens when you hand a banana to Suu, the hyper talented Japanese fruit carver? You get an epic series of stunning mini banana sculptures. Sculpting bananas is harder than you think because the firmness or softness of the fruit greatly influences the type of sculptures you can make. Unripe bananas are more firm but lack luster whereas ripe bananas are soft but have a rich wet texture. So if you want a highly intricate sculpture, an unripe banana is the best bet. But if you want both detail and texture, then you need to pick the perfect one with the right amount of firmness and luster. You can take a look at Suu's amazingly cute and intricate carvings to see the potential of this medium.
4

The melondile – When the shark melon sculpture wasn't scary enough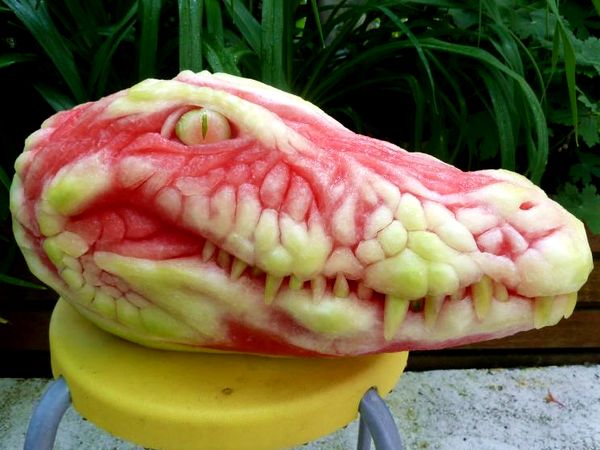 Clive Cooper creates another terrifying but dazzling sculpture from a watermelon and this time it's a whole another monster. The melondile or melon crocodile is frightening in every sense of the word. What really is amazing about this particular sculpture is the expression Clive managed to capture. The eyes of the croc look extremely realistic and showcase an animal that is on the prowl. The soft but chunky texture of the watermelon really lends itself to the pebbled texture of the amphibious creature. Moreover, he did an amazing job with the teeth too because it looks menacing as hell. So now, I'm afraid of both water and watermelons.
5

The Melon King – Valeriano Fatica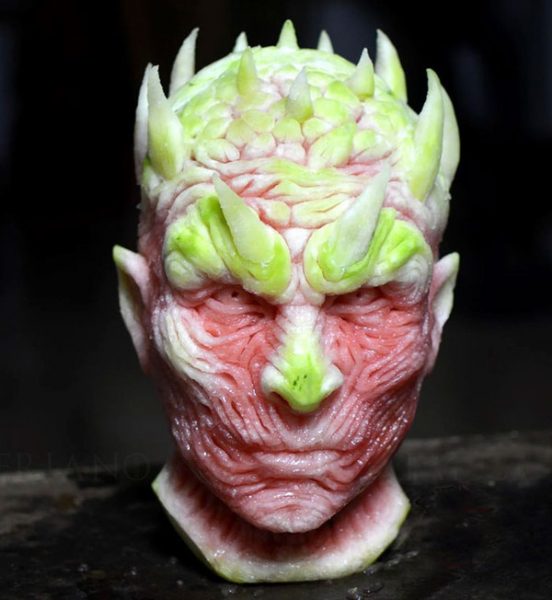 Clive Cooper is undoubtedly an extremely talented fruit carver but the king of watermelon carvings is Valeriano Fatica. Born in 1988 in Oratino, Italy, he is known for creating almost hyper realistic sculptures from watermelons. While working at the family restaurant in 2011, he started carving watermelons for buffets and started getting more interested in the artistic side of it. His brother who also used to carve fruits influenced him a lot in his childhood. You can go through his website to see his amazing creations. From turtles, dragonball z characters to the Night King himself. The amount of detail he achieves in his fruit sculptures is astonishing.
6

The Pumpkin King – When Stan Winston meets fruit carvings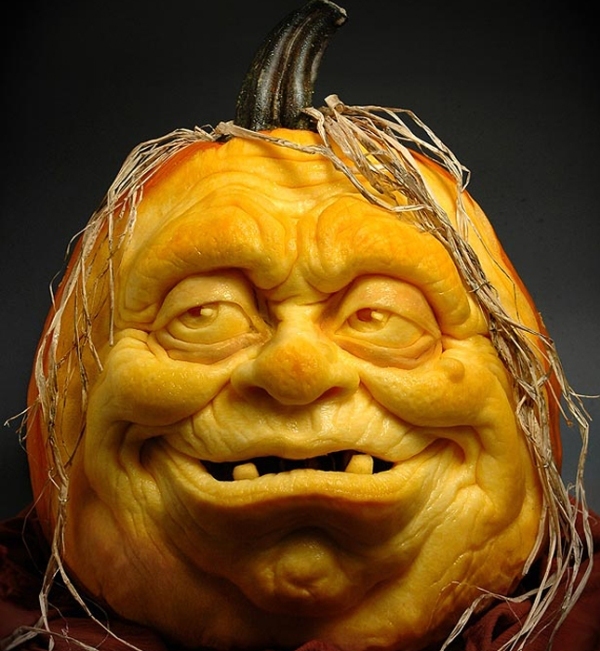 Andy Bergholtz is a professional sculptor and creature designer who has worked on numerous projects ranging from toys to Disney, Marvel, DC comics and many more. He also teaches sculpture at Stan Winston's School which is the most prestigious special effects company in the world. His fruit carvings are on a completely different level. If you see some of his pumpkin carvings, you will find it hard to believe that a fruit was used at all. What's really cool about his works is how he uses the natural parts of the fruit like the stem or leaves to accentuate the design of his sculpture. Check out his gallery and be prepared to be mesmerized.
7

Master of Fruit Horror – Ray Villafane and pumpkin madness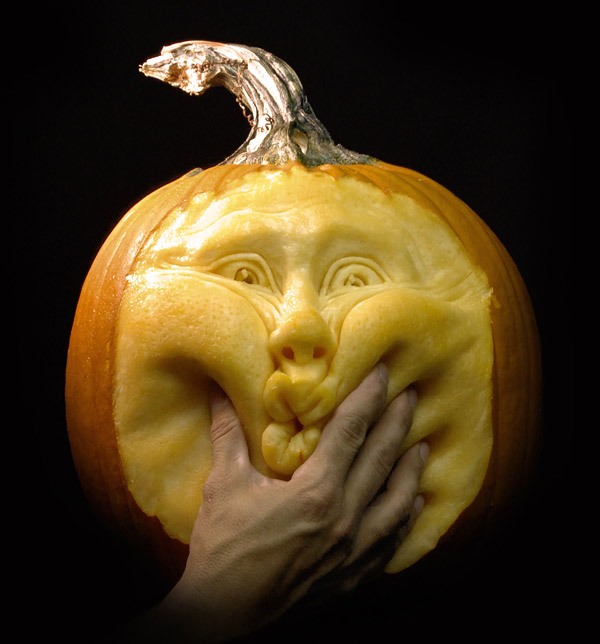 Ray Villafane is another master sculptor at the level of Andy Bergholtz. Born in Queens, New York, his mother encouraged him to set off on art career when he was a child. After graduating from the School of Visual Arts in 1991, he found himself on the path of teaching due to his passion for learning and children. It is during this time, he started dabbling in pumpkin carvings and the rest as they say is history. He specializes in more horror based sculptures on pumpkins. You can almost say that he is the Tim Burton of fruit carving because his designs are menacingly creepy and fun to look at. More than gore and obvious horror, his works are more "Goosebumps" than "Pinhead". What really stands out in his work is the way he distorts the shape and texture of the pumpkin to create amazing works of art. Who needs a computer when you can create entire worlds on pumpkins?
8

The Master Carver – Jon Neil's stunning pumpkin masterpieces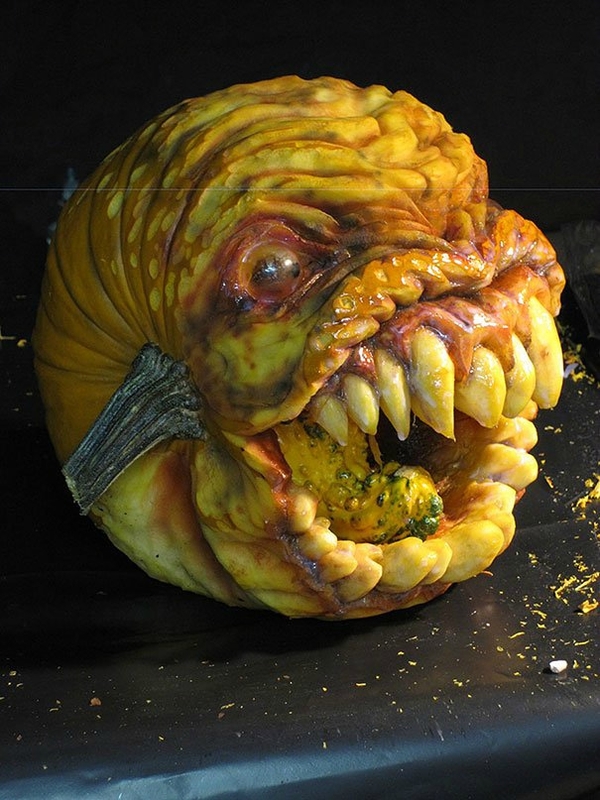 The pumpkin seems to be a favorite choice for most master fruit carvers. The size, texture and color add a lot of versatility to what one can create as far as carvings are concerned. Jon Neil is a master sculptor who has had a very successful career as a senior illustrator in the film industry having worked on Michael Jackson's Ghosts and Lost World: Jurassic Park. While his illustrations are spectacular, he is a master pumpkin carver too. Like many others, he dabbles in mostly horror elements and does it very successfully. He utilizes the texture of the fruit in very creative ways to make his monsters hideous and very scary. The only thing scarier is the fact that people like Jon are able to manifest such brilliant works of art from mere fruits.