1

Couple uses windshield wiper fluid to keep their care from catching fire as they escape the flames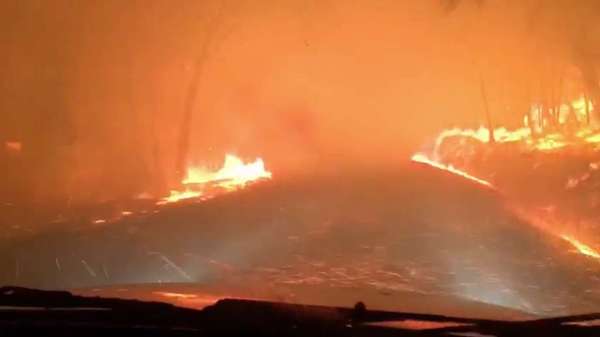 Redwood Valley residents Andre Epstein and Neda Monshat woke up in the middle of the night to banging on their door and were informed that the wildfire was cresting a nearby hill and heading towards their home. They quickly packed up their essential valuables, but could not find their car keys.
It took about 20 minutes, but they finally loaded up their car and took off.
The next 10 minutes were treacherous, as the couple found themselves surrounded by fire on both sides of the roadway.
Thick smoke only allowed them to see a couple of feet down the road as embers sprayed their windshield. "I was just worried the car was going to blow up," Monshat said, so he repeatedly activated the windshield wipers, hoping the wiper fluid would do some small part in preventing the car from catching fire.

2

Peanuts' creator's home burns in Santa Rosa fire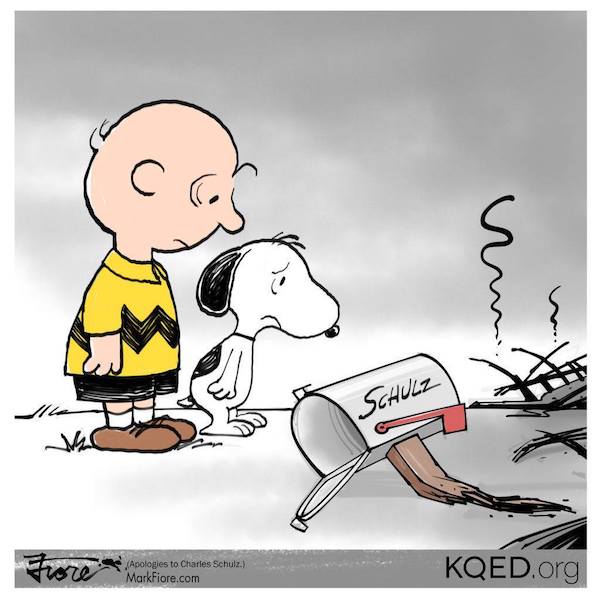 The home of "Peanuts" creator Charles Schulz burned to the ground in the wildfires.
The Schulzes built the California split-level home in the 1970s, and the cartoonist lived there with his wife Jean, now 78, until his death in 2000.
"It's the house he died in. All of their memorabilia and everything is all gone. The fire came by at, like, two in the morning. Everything's gone." son Monte Schulz said.
Schulz's widow, Jean, evacuated before flames engulfed the home and is staying with her daughter. While Monte is grateful his stepmother made it out alive, the loss of the house itself is painful. "I had memories of being in that house. I never lived there, but I visited all the time," he said. "That time of our lives is now completely erased."
3

The couple that survived in a pool as fire raged around them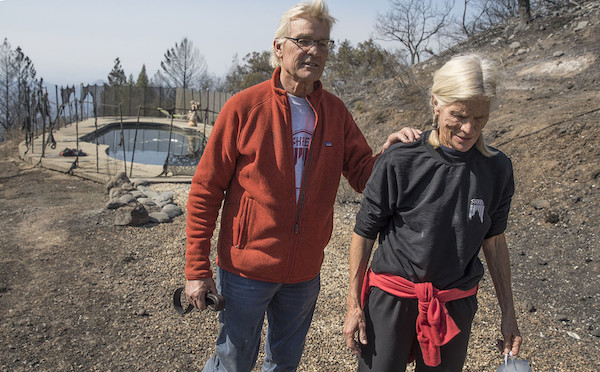 Jan Pascoe, 65, and her husband, John, 70, waited out the fire trapped in a nearby pool.
They had tried to flee their Santa Rosa neighborhood by car, but couldn't escape. They had to think fast and decided on their neighbor's house because they had a pool. As his home also went up in flames, they jumped in and waited six hours for rescue. They used t-shirts to cover their faces from smoke and embers as they bobbed up and down in the water.
At dawn, when the fire died down, they climbed out and surveyed the area—everything around them was gone between their home and Highway 101, a distance of about five miles. Today, they're just grateful to be alive.
4

A mailman still delivers to neighborhood that's no longer there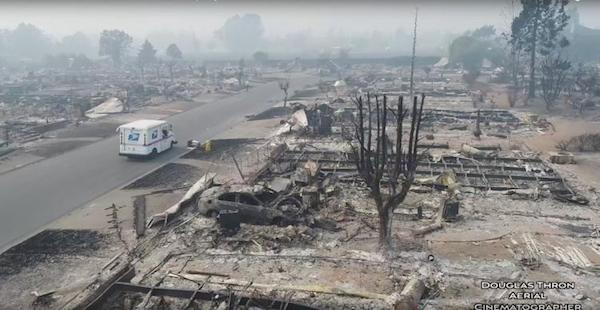 This stirring video was taken by a drone over a Santa Rosa neighborhood last week. It shows a lone U.S. Postal Service truck still making its rounds delivering mail past razed homes and burned-out vehicles. When it comes upon a mailbox that's still standing, the postal worker stops and dispenses the mail.
Douglas Thron, a professional drone pilot and cinematographer, first caught sight of the USPS driver. "I thought he was taking pictures with his cell phone, but then I saw that he was actually delivering mail. It was just so surreal looking like he was the only form of normalcy in this whole aftermath, so it kind of stuck out."
USPS San Francisco district manager Noemi Luna said the employee was fulfilling a request made by some of the evacuees. "This is an example of the long-standing relationship that has been established between our carriers and their customers based on trust. The carrier in question was honoring a request by a few customers who were being let back in the fire zone to retrieve personal items. A few customers asked the carrier to leave their mail if the mailbox was still standing because they could not get to the [mail distribution center] to retrieve it."

5

Family dog found alive and unharmed after fire destroys family's home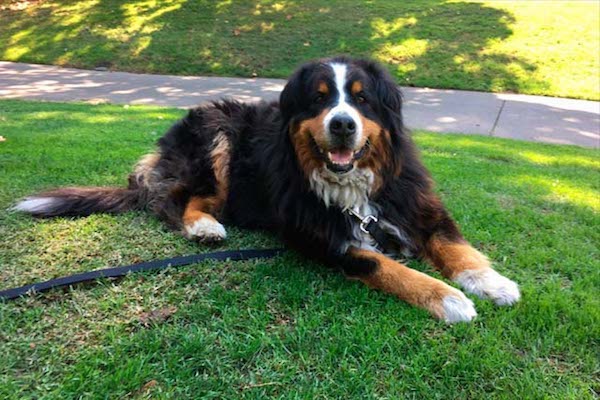 The Weaver family were forced to flee their home as a ferocious wildfire descended on their Santa Rosa neighborhood. Amid all of the chaos, the family's 4-year-old Bernese mountain dog, Izzy, got away from them, and the family couldn't chase after the pup without putting their own lives at risk.
Instead, they drove through walls of flames and across a burning bridge to get to safety. They lost everything, but the possible loss of Izzy was the most devastating. A day and a half later, while surveying their property, Jack Weaver, and son-in-law, Patrick Widen, decided to head back to the house to "see if by some miracle Izzy survived," their Facebook post says. They walked almost 3 miles around police barricades, through a creek, and up treacherous roads.
While their house was destroyed, a few minutes later, Izzy came running out, changing the mood from somber to ecstatic.
Izzy was apparently fine—a veterinarian said her thick coat likely kept her insulated from the fire. Watch the video of the happy reunion below.
6

Napa couple married 75 years dies in wildfire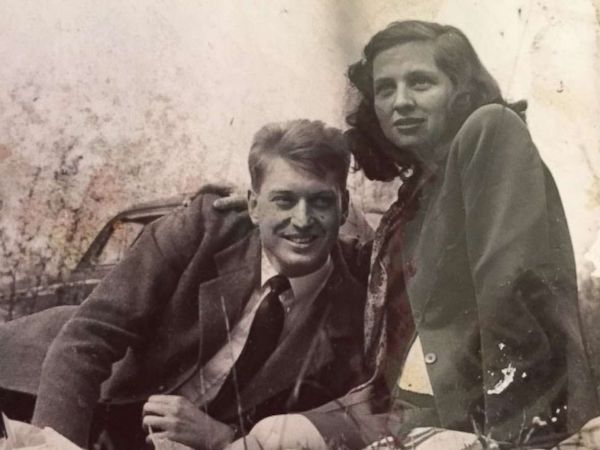 An elderly Napa County couple, Charles,100, and Sara Rippey, 98, died as the devastating wildfires swept their neighborhood. They had recently celebrated their 75th wedding anniversary.
Mike Rippey, the oldest of five siblings, said his mother "was paralyzed, she had a stroke about five years ago, and there was no way she was getting out of this fire. And my father was sleeping in a different room, and we found him halfway to her room. And so he never made it to her room. But even if he had made it, there was no way he was gonna leave her. So neither one of them was getting out."
The couple, who met when they were kids, spent 89 years together, including their final moments in their Napa home.
Mike Rippey also said of his parents, "They lived a long life. It was a great life, and they were happy right up until the last minute. And you just have to look at that and just, you know, be happy that that's what happened and they died together, and they never wanted to leave each other," he added. "So it was almost impossible for any of us to visualize one of them dying first."
7

Roommates capture video as they narrowly escape the wildfires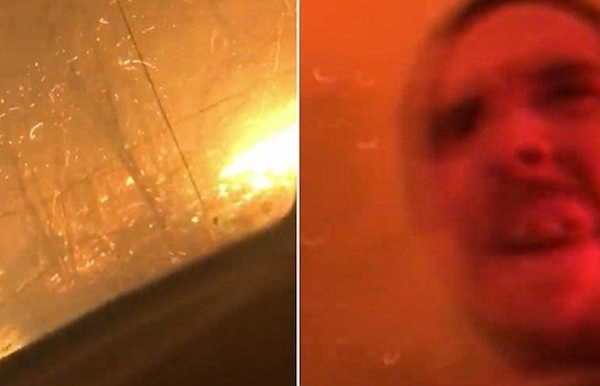 Two roommates didn't realize they were in danger until they saw fire's flames closing in on them. With just the clothes on their back and their pets in tow, they recorded the dramatic minutes as they tried to make it out alive.
Their panic and terror is evident in the video. As they drove away, they were blocked by a gate. One of the men, Mike Vien, got out to open it and was swarmed by embers flying from all directions. At one point he screams to his roommate that they will die if they don't get out of the area fast.
Vien said, "I did think that we weren't going to get through it for a minute." He described the situation as the scariest three minutes of his life. Even in the chaos and fear, he and his roommate decided to record the entire experience. "So everyone can get a better perspective of what a fire could really do to someone and what it could to the property around and how fast it really moves," said Vien.
8

First responder's bodycam reveals daring rescue during the firestorm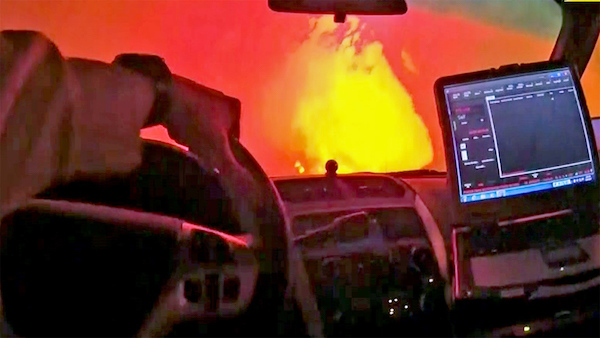 A Sonoma County Sheriff's deputy shared the harrowing body cam video of him and another deputy responding to a rescue as the Tubbs Fire ripped through a residential area. With embers and smoke filling the air and fire appearing like it is in every direction, the officer and his colleagues run door to door trying to evacuate people. The soon come across another deputy dragging a disabled woman from a burning home.
"This is a video of one deputy's rescue efforts the first night of the Tubbs Fire," the department's Facebook page read. "While it's only one deputy's video, it is representative of all the deputies who helped evacuate people that night. "

9

Tree burns from inside out during California wildfires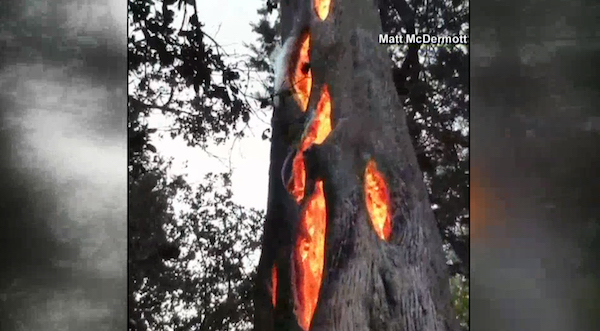 As Matthew McDermott drove through Wine Country, scouting escape routes from his hometown of Sonoma, he glimpsed a tree that was burning from the inside out near the town of Schellville. He could see the flames through gaps in the trunk as the fire roared up its hollowed-out length.
"I've definitely not seen anything like this before," McDermott said. "We wanted to know the escape routes in case we needed them. The route to Paloma was open. I just stopped on the side of the road, and the whole ridge is on fire."

10

Woman flees wildfire on bike with her 70-pound dog in a dufflebag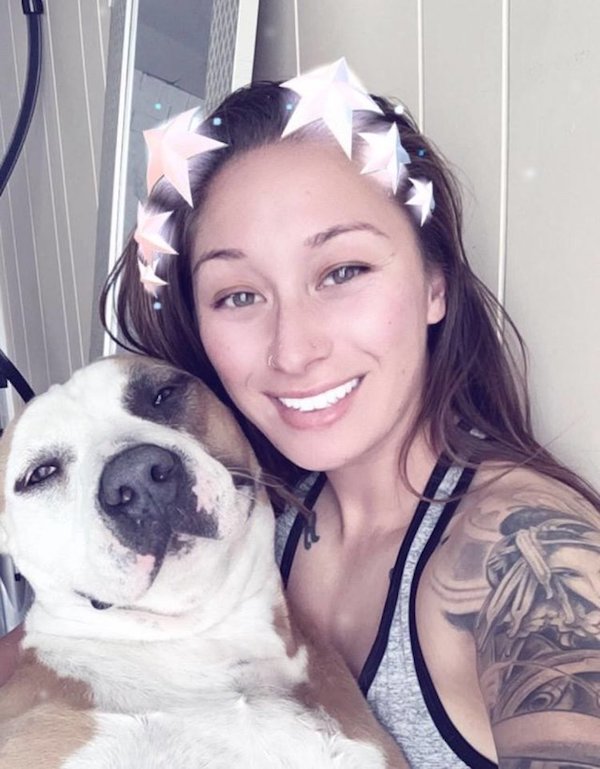 In an emergency situation, some people are forced to leave their pets behind, but Natasha Wallace was not about to let that happen.
Wallace, a Santa Rosa Junior College student, was studying until nearly 2 am. While driving home, she saw the fire from the freeway and immediately realized she needed to evacuate. She shoved her 4-year-old pit bull, Bentley, into her Honda and drove, but was stuck in traffic within minutes. So she abandoned the car and went back for her bike. She grabbed a duffel bag to use a makeshift sidecar for her 70-pound best friend. "I grabbed my dog, and I told him, 'Hey man this is serious, you need to just sit in the bag.' And he, he hopped right in," Wallace said.
After Wallace made it down the road a few miles ahead of the fire, a man in a truck pulled over and took her and Bentley the rest of the way out.