They call it First Fridays and it's all the art you could ever want. Plus food and drinks, I mean, what else is there in life? Here is all the Vegas art, also known as weird art, in its full glory.
First cows! Well, and maybe a dog, some crayons that are not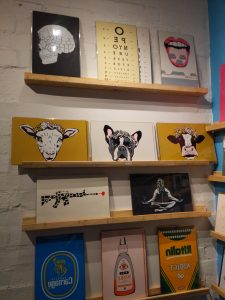 regular, and even an eye seeing chart? Well I told you this was weird Vegas art, and I didn't lie!
Here's some more weirdness, in the form of, ad work? There're cigarettes, bees, butter from a company with a different name, and other strange pictures? If you would even call them that?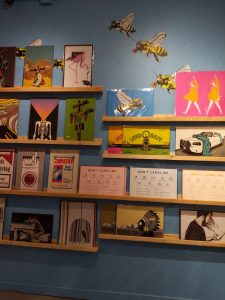 Then there is the Roundup man, spraying the "ground," also known as a baby. But if this doesn't speak volumes to people, I don't know what will. **Please can we STOP using roundup, for the love of God. Please?**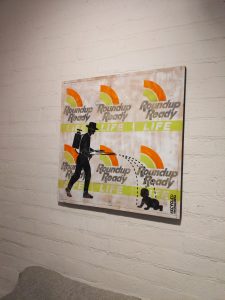 Then there is a statue of a gold man sitting on a gold couch, or is that a gold blanket? Well, I can tell you one thing for sure. The wall behind him is brick, and it's painted white, so it's a white brick wall. And on that wall is a storm trooper, so that's pretty awesome right there.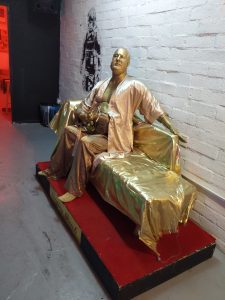 Weird art alert: a stop and go light, with two yellow arrows. Is this a thing?? I feel pretty confident that this is not normal but I guess I may have missed something. Anyone?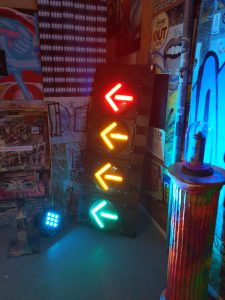 And then someone (all of America?) is talking about Trump with this quote. I mean, am I right, or am I right?
More weird but meant to make you think art? Lab-made raisins, how sad is this. Raisins are just supposed to be dried out grapes, but no it seems they are not. Really.sad.day. The whole beer can fish thing makes sense, as we are killing wildlife and the oceans, and all. And then there is the bar code that is almost made to look like a fingerprint?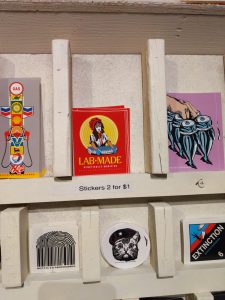 Instagram as a drug? Yes! I can barely put it down as I write this article. And sadly, yes, I am serious. And so is everyone else. That is, seriously addicted to the social media, phones, and really technology as a whole.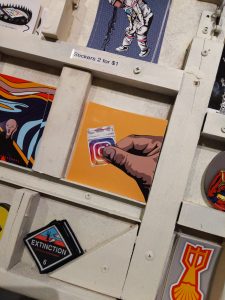 And here is more ad art, definitely weird art or whatever it is actually known as. Art as packaging? These would all be pretty good for a class discussion about the break down of America in total. Art really does speak volumes.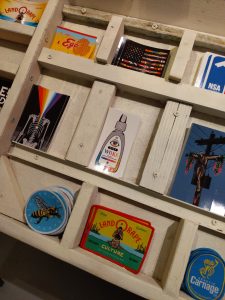 And here is some more..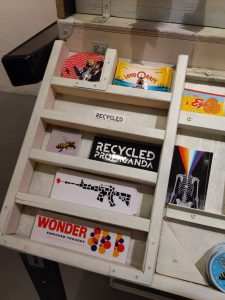 But then, a beautiful glass of wine. A wine barrel with some grapes and all in black and white. Well all black and white besides the dark but colorful, rich, and delicious red wine in the glass.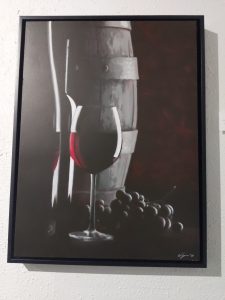 And here's some bikes, and some cultural looking art. Not necessarily weird, but also not just art for the sake of art. The way I see it anyway, and to be honest, I'm not very arty. (If you couldn't tell already, HA.)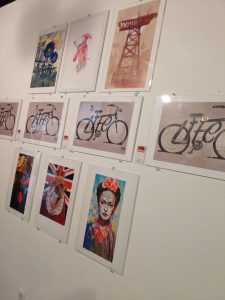 Here are some arty dogs, animals, and flowers? Cute, cool, and definitely hang worthy. Weird art? Ya, probably a little.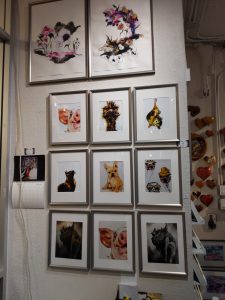 Then a woman in a long dress with a beautiful moon, so pretty! And below a nature scene with a tree and spirits, colors, and maybe a storm? That's what I see anyways. What's your take?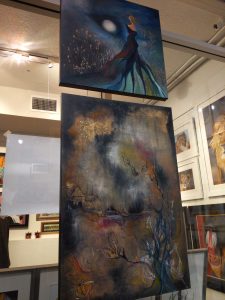 This is the cutest robot I ever did see. That is all.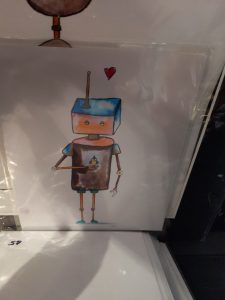 Until the next! These are the two cutest robots, of all time. Hands down.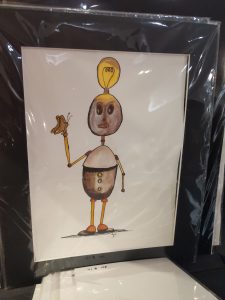 The ultimate art, if you ask me, is sunsets, sunrises, clouds, colors, landscapes, water, and anything that looks are gorgeous and colorful as this art does!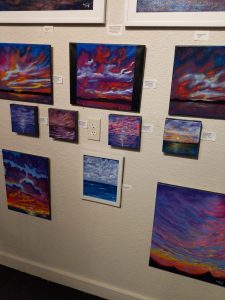 Most of this looks like kid art, but it's pretty awesome really! The giraffes are the best but there is also what looks like a ceremonial dance, some scary guy on a bike, and a dragon with huge wings that has just swooped down. This is what I see.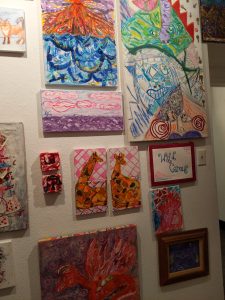 This is the thing about some art, I could do it. And I am not an 'art' person. My art comes from the kitchen. But really? Playing cards and glitter. What am I missing?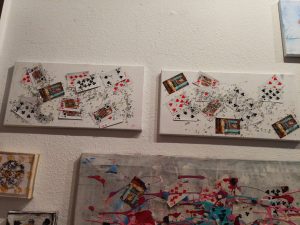 Then there is this tie-dye, old school, Bob Marley looking art. And a lot of it, in case you are in the market for some.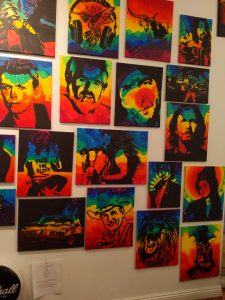 Elephante! And to the left, someone I feel like I should really know who it is. Because I love pop culture and singers and all that but not sure who anyone is. Lenny Kravitz?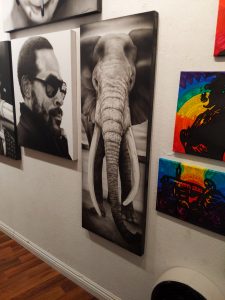 This giraffe picture is the best. It's my favorite and I love it.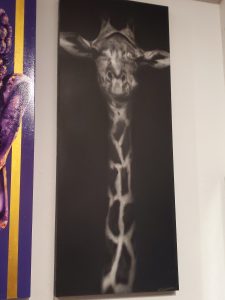 Then there is the colored and very mad looking giraffe. He is beautiful too though, like all giraffes are.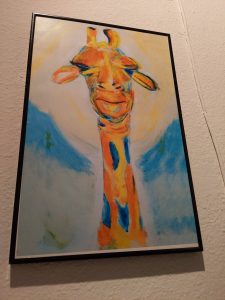 Then there is Bart art.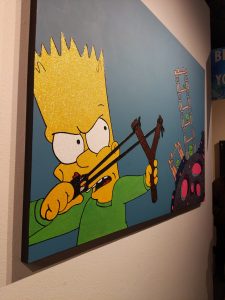 And that's it! Or all the pictures that were taken at least. What is the more weird art you saw in here. Your favorite? Let me know in the comments!