It's going to be like the Jetsons soon.
We're already living in the future in many ways. We have incredible powerful pocket-sized computers, can contact people on the other side of the world in the blink of an eye, and even 3D print physical objects out of thin air (and some plastic filament).
But there's one thing missing. Flying cars! Everybody knows it's not really the future until there's flying cars.
Actually, the future might be fast approaching. A Japanese company tested its flying car concept earlier this week – and it worked.
Well, the thing took off the ground and circled a 2.5-acre Toyota test field for about four minutes. But hey, there was an actual pilot on onboard.
Or is it a driver since it's supposed to be a flying car? Anyway, moving on…
The vehicle, titled SD-03, is developed by SkyDrive, a Japanese "urban air mobility solutions" firm. The company was founded just two years ago, and has already taken flight with their invention.
"We are extremely excited to have achieved Japan's first-ever manned flight of a flying car in the two years since we founded SkyDrive in 2018 with the goal of commercializing such aircraft," SkyDrive CEO Tomohiro Fukuzawa said in an announcement.
"We aim to take our social experiment to the next level in 2023 and to that end we will be accelerating our technological development and our business development."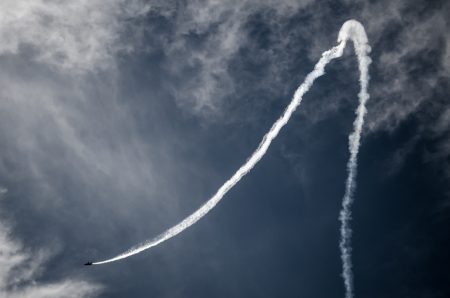 The SD-03 is, according to SkyDrive, the world's smallest electric Vertical Take-Off and Landing (eVTOL) vehicle. It's roughly the size of two parked regular cars, and is powered by eight electric motors attached to its four rotors.
"The use of eight motors is a means of ensuring safety in emergency situations during flight and as such aims to address compliance standards and allay potential regulatory concerns," the company says.
A human pilot was at the controls during the test flight, but SkyDrive says that a computer-assisted control system helped ensure flight stability and safety.
Of course it did. Even normal, ground-based cars have all kinds of computer-driven gizmos these days. It only makes sense that a flying one would have even more.
"Of the world's more than 100 flying car projects, only a handful has succeeded with a person on board," Fukuzawa told Associated Press.
He added that although the SD-03 can at the moment only fly for five to ten minutes, the company is looking to extend that time to 30 minutes. Success in extending the flying life could open export markets in places like China, Fukuzawa hopes.
SkyDrive is of course hopeful about the future of its flying car. If car-sized eVTOLs become commonplace, they could solve many current air traffic issues, the company says.
They would offer faster travel from point A to point B. Additionally, flying cars could remove the need to go stand in line for hours on end at an airport, and they might relieve traffic jams on major roads and in cities.
However, Sanjiv Singh, professor at the Robotics Institute at Carnegie Mellon University, told AP that flying cars still face many obstacles. The most important ones are battery size, air traffic control, and other infrastructure issues.
"Many things have to happen. If they cost $10 million, no one is going to buy them," he said. " If they fly for five minutes, no one is going to buy them."
That's a lot of "no one's". And Singh is not wrong. There definitely needs to be extensive air traffic rules in place if these things become everyday life.
Careless drivers are already a big enough issue. Imagine them at the helm of a small aircraft, falling out of the sky every few minutes.
But the Japanese government believes in SkyDrive. The company recently received $37 million in funding, the sponsors including the Development Bank of Japan.
The Japanese authorities plan to have flying cars undertaking business services by 2023, and expand to other commercial uses by 2030. In 2018, in fact, the government of Japan enlisted 21 companies – among them Uber, Airbus and Boeing – to make flying cars reality, wrote the Observer.
"The Japanese government will provide appropriate support to help realize the concept of flying cars, such as creation of acceptable rules," the government said.
Uber in particular is serious about taking to the air. The company has partnered with NASA and invested $23 million into a Parisian research and development center to create Elevate, a flying taxi.
Other companies currently working on flying cars Lilium from Germany, whose alien-looking five-seater plane hit 62 mph speed in 2019, and Wisk, a joint venture between Boeing and Kitty Hawk.
We're not there quite yet, but slowly and surely the flying cars are getting here. Then we can all finally agree that the future has come.