Of course they had to shoehorn weed into it. Those wacky Dutch.
Name two thing that first pop into your mind when you hear the name Amsterdam. If you thought of pot and the Red Light District, you're like most people.
Well, you can now add public peeing to that list. With the coronavirus closing most bars and other public places, people have been left to relieve themselves all over Amsterdam.
Then, when the city opened to the public again, rowdy revelers on their way home after having a few drinks started peeing around even more.
It's gotten so bad that the city officials had to do something about it. So, they invested nearly $60,000 in a very Amsterdam-y solution – plant pot urinals filled with pot.
Well, it's really industrial hemp. But you'll excuse the author for twisting the truth just a bit for wordplay.
A total of 12 GreenPee urinals – manufactured by a Dutch company of the same name – have been installed in the Red Light District and other tourist attractions.
GreenPee's inventor Richard de Vries told the Independent that the urinal was born out of a concern for both the city and the environment.
"Peeing against a wall is going to damage historic buildings. It is dirty, unhygienic and attracts flies," said de Vries.
"We came up with the idea of a planter to help keep the city green and provide something we can make fertilizer from."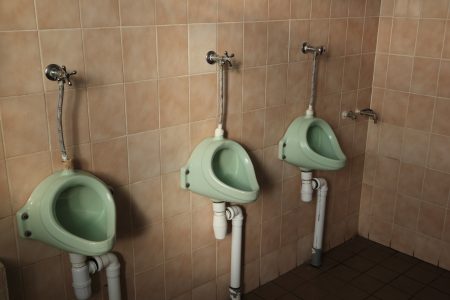 From Harvesting Pee to Harvesting Peas
Indeed, the GreenPees provide a useful fertilizer that can be used in agriculture. And it's produced through all-natural, pee-powered processes.
As the user relieves himself (or herself, adventurous ladies may use the urinals too) the pee runs into an internal tank, says the GreenPee company. This tank is filled with hemp fibers from the plants growing on it.
The hemp acts as an odor neutralizer, which keeps the GreenPee smelling nature fresh at all times. Once the tank is filled, the mixture of pee and hemp fibers is removed from the tank.
"After composting, the hemp-urine-mixture becomes an organic fertilizer rich in sulphates," the company says.
Most importantly the fertilizer contains plenty of phosphate. It is an incredibly important mineral for agricultural plants, with farmers using it worldwide.
However, the largest phosphate mining areas in China and Morocco are gradually starting to run empty, says GreenPee. Therefore, the plant-based urinal answers an urgent need to relieve the world's lack of phosphate.
"Several African farmers have already tested the potential benefits of urine-enriched fertilizers with very positive results," says GreenPee.
"Their vegetable yield was twice as high as when using a regular fertilizer without urine."
Great Ambitions
The GreenPee seems to be making a positive impact on more than African agriculture too. During an initial test run with four GreenPee urinals, public urination in Amsterdam's Rembrandtplein square decreased by 49%, reports DutchNews.nl.
"A study showed that GreenPees don't create smell problems. The new GreenPees have also been further developed and improved in terms of sustainability, user privacy, recognition, and discoverability," the City of Amsterdam said in a press release.
Saïd Arabi, who runs the Euro Super Clean company that helped install the urinals told DutchNews.nl that he was excited about the new green urinals.
"It's a good solution to wild peeing. The city of Arnhem is also interested. It's a plant pot and the urinal is only open in the evening when it's dark. It's perfect," Arabi said.
De Vries probably welcomes the news the interest from other cities in his product. After all, he has big plans for it.
"My ambition is to place these in different cities and carry on innovating. We can make electricity with urine and it would be good if it could power a light. Maybe it could be a city announcement board for public health messages too," he told DutchNews.nl.
Stiff Competition
But if de Vries wants a bigger slice of the public urinal pie… Actually, let me rephrase. That's disgusting.
If de Vries wants a bigger market share for his product, he'd better hurry up. Other companies are expanding elsewhere in the world, and there's only so many urinals that can fit in one city.
Danish company Lapee is expanding rapidly in France. If their name didn't tip you off, Lapee is competing with GreenPee with innovative public urinals.
In June, the city of Rennes in northwest France installed Lapee's urinals aimed for women, wrote Dezeen. Talk about inclusivity.
"Lapee fits perfectly with the summertime and COVID-19 hygiene regulations," said Lapee co-founder, architect Gina Périer.
French design studio Faltazi also installed its Uritrottoir composting urinals Chambéry earlier this summer. Like GreenPee, these urinals produce a mix of plant matter and pee that can be further processed.
They also caused a scene when they were installed in Paris in 2018. Locals called the public urinals "immodest" and claimed they "encouraged exhibitionism".
"Our outdoor urinals respond perfectly to this problem of distancing," said Faltazi's co-founder Laurent Lebot.
Leave to the Europeans to take us a new, fresh-smelling age of environmentally friendly peeing.