1

80 Falcons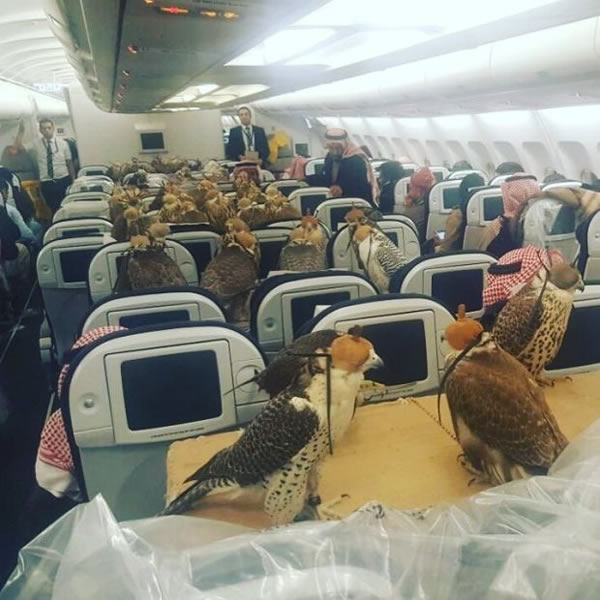 Reddit user lensoo posted a picture of an airplane brimming with a ridiculous amount of birds,
The post "My captain friend sent me this photo. Saudi prince bought tickets for his 80 hawks," has since gone crazy viral. Business Insider notes that the birds are likely falcons, not hawks. The falcon is the national bird of the United Arab Emirates, and falconry is a favorite pursuit of the wealthy.
2

Snake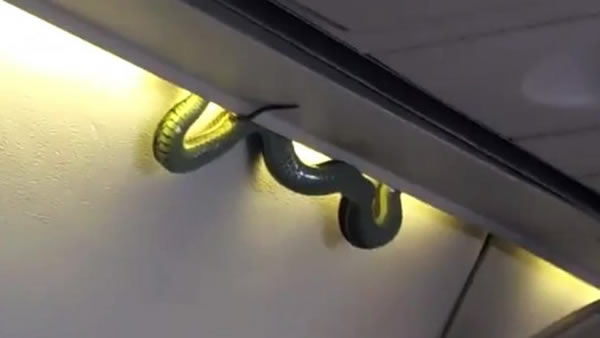 In a video clip that wouldn't be out of place in the Hollywood blockbuster Snakes on a Plane, passengers on a flight in Mexico were shocked to see a bright green serpent dropping into the cabin from the overhead luggage compartment. Aeromexico said the snake was found during a flight from Torreon to Mexico City. The plane was given priority landing and workers "secured the reptile." The airline is investigating how it managed to get onto the flight in the first place.
La vibora voladora...ja ja ja. Una experiencia única en el Vuelo Torreón-México, vuelo 231 de Aeroméxico. Eso si...Prioridad en aterrizaje. pic.twitter.com/qwDk6Wtszw

— Indalecio Medina (@Inda_medina) November 6, 2016
3

Emotional support duck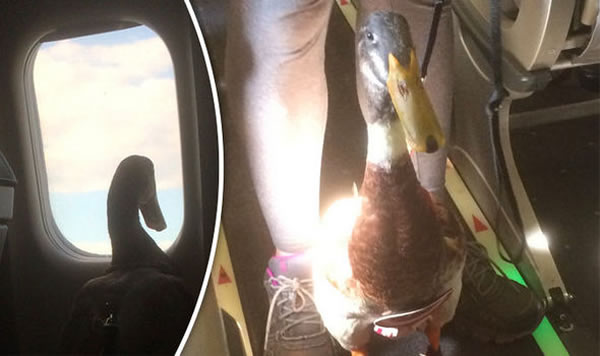 A duck named Daniel became a most unlikely travel companion for passengers on board a flight in North Carolina. The four-year-old Indian Runner is an emotional support animal provided by medical professionals to people with disabilities.
Young Daniel boarded the flight from Charlotte to Asheville wearing a red Captain America diaper. He also sported a pair of red shoes (to protect his webbed feet) and a leash.
4

Hamlet the Pig
Virgin Islands resident Megan Peabody, 28, shared pictures of her support pig Hamlet's trip on an American Airlines flight in 2016. The pig is one seasoned traveler—he was traveling back home via San Juan, Puerto Rico, after spending Christmas with family in Boston.
Megan is allowed to take Hamlet into the cabin as a comfort animal on some US airlines, with the appropriate documentation, because she is a nervous flyer. She says Hamlet provides "a lovely distraction."
5

Koalas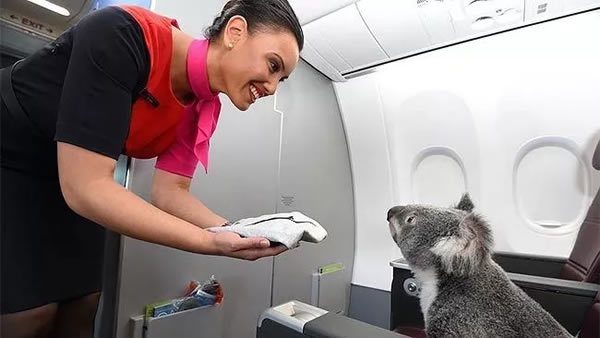 Four koalas took to the skies in Qantas Airways' business class for a posh trip from Australia to Singapore. The koalas—Paddle, Pellita, Chan, and Idalia—were sent to Singapore to mark that country's 50th anniversary of independence. The airline photographed the cute foursome being served eucalyptus and other refreshments by flight attendants before they were safely returned to their specially built climate-controlled containers for the actual trip.
6

Miniature Horse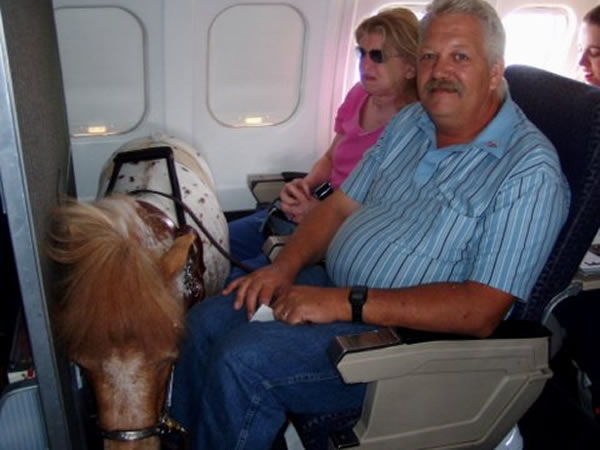 Cheryl Spencer, from Jacksonville, Florida, lost her sight after an eye infection. After losing two guide dogs to old age, Spencer now relies on Confetti—a miniature Appaloosa horse. The horse was given to Spencer by JBR Ranch in Christmas, Florida after Confetti's owner decided she'd make a better guide horse than a pet. In 2014, the guide animal took its first airplane ride—Confetti flew with Cheryl and her husband and stood in the bulkhead seat area.
7

Tarantulas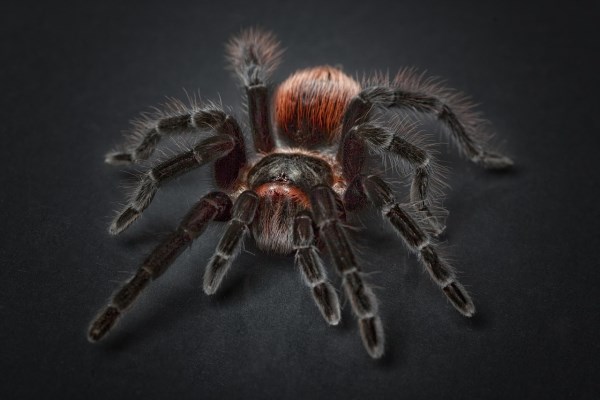 The sight of tarantulas scurrying through the cabin on a Canada-bound flight left passengers screaming and standing on their seats, as flight attendants warned them to keep their ankles covered.
The two hairy spiders were spotted towards the end of an Air Transat flight from Punta Cana, in the Dominican Republic, to Montreal in April 2016. One of the spiders was captured during the trip. The second continued to roam the interior of the plane until the flight landed in Montreal, where a federal agent trapped it.
The tarantulas were likely Phormictopus cancerides, a species common to the Dominican Republic, Montreal-based entomologist Étienne Normandin told Radio-Canada. The spider, which ranges in length between 10cm and 20cm, has fangs that can grow to 2cm or more.
8

Baby Kangaroo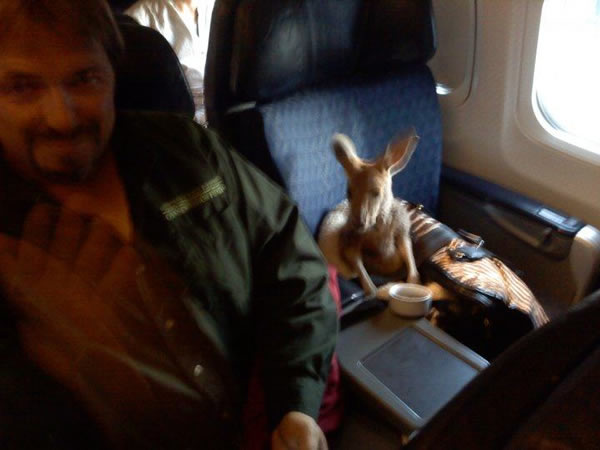 Some people complain that passengers have taken the support animal thing way too far, but wouldn't you love to fly next to a baby kangaroo?