1

A T-Rex feeds a 500 pound alligator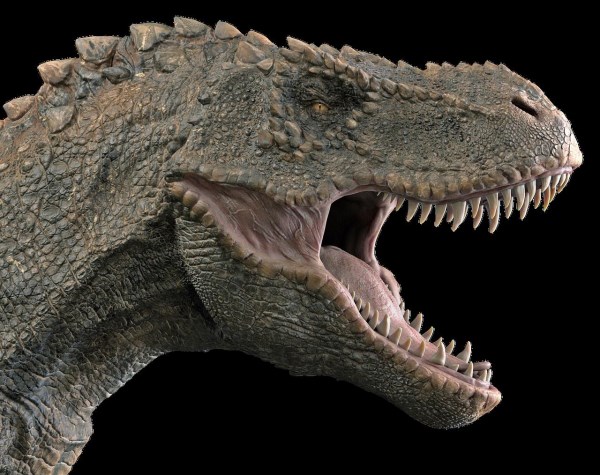 In October 2016, Jason McDonald, 35, who works at the Colorado Gators Reptile Park, disguised himself as a T-Rex to taunt a 500 lb alligator with fish. But why? Well, for fun, and the park worker insists he was making Morris, as the reptile is known, "work for his food" because he had gotten "chunky."
Adams later admitted he couldn't see in the costume and joked he'd be having a "bad day" if the predator came out of the water. Morris, however, is used to humans and is a trained movie star in his own right, who has appeared in Dr. Dolittle with Eddie Murphy and Happy Gilmore starring Adam Sandler.
2

A T-Rex becomes homecoming queen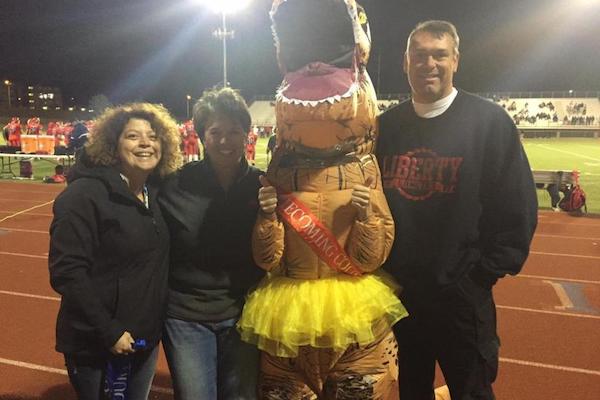 In 2016, high school senior Sarah MacDonald attended spirit day at Colorado Springs Liberty High wearing a T-Rex costume which flops about hilariously as she runs in the video below. She was crowned homecoming queen while dressed as the behemoth and said it was an "amazing and hilarious experience."

3

A helpful dinosaur battles the elements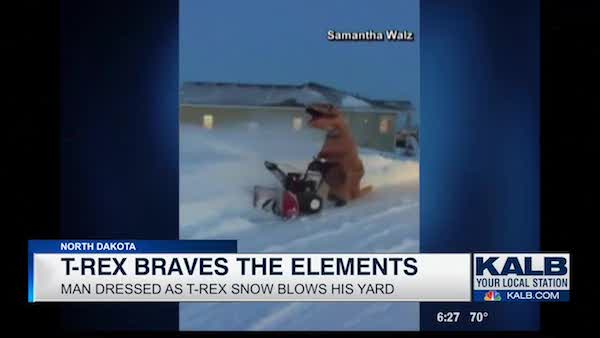 In December 2016, North Dakotan Samantha Walz captured video of her husband wearing a T-Rex costume while using their snowblower to clear the driveway.
The dutiful dinosaur was a big hit with the neighbors, despite the daunting task at hand—about 40 inches of snow fell in the area of their Bismarck home.

4

A man and his dinosaur bride star in a hilarious "first look" video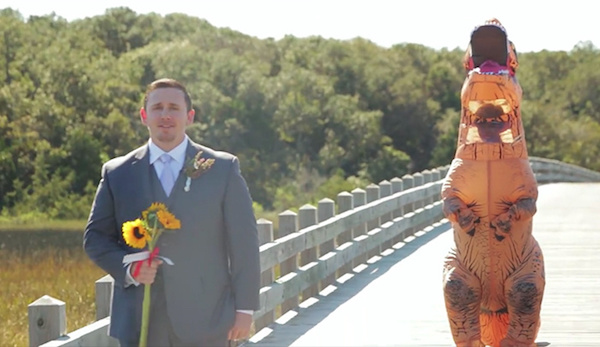 Beth and Tom Gardner were married in November 2016 in Bald Head Island, North Carolina. Filmed by Jon Clark Weddings and Paul Seiler Photography, videographer Jon Murray knew something special was brewing when he discovered the bride wanted to do the couple's "first look" video in a T-Rex costume. She nailed it, and we think this duo's charming sense of humor guarantees them a long, healthy marriage!
5

A T-Rex couple's romantic engagement photos go viral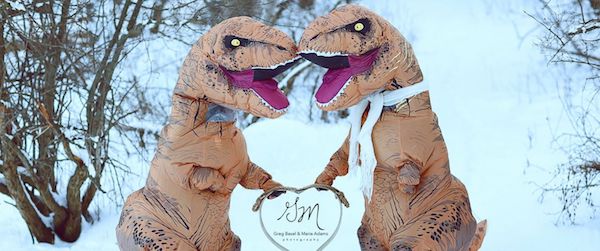 Photographers Greg Basel and Maria Adams typically shoot weddings, families, and events, but headed to Mirabeau Park in Spokane Valley, Washington for a snowy engagement shoot with T-Rexes.
"We came up with the idea when we saw a lot of videos of the T-rexes, but no photos like ours," Basel and Adams said. "So, we decided to take advantage of this opportunity and create engagement photos." They are amazing and, of course, going viral.
6

A T-Rex kicks it as an NFL cheerleader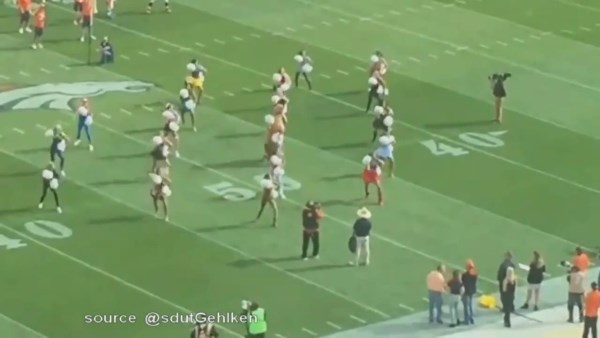 For Halloween 2016, Denver Broncos cheerleader Romi Bean donned a T-Rex costume for the team's game against the Chargers—and she worked it better than anyone has ever worked a Halloween costume before. Check out her moves below!

7

A T-Rex becomes viral rodeo star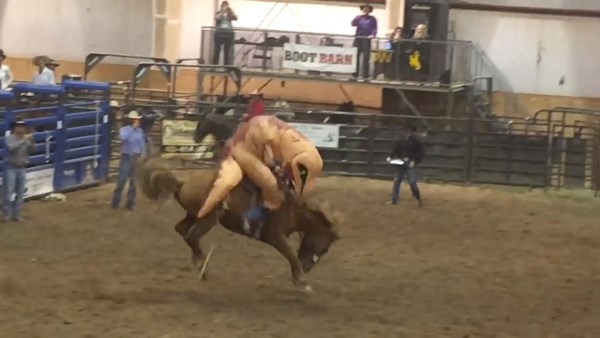 Ever seen a T-Rex ride a bucking bronco? Well, look no further—the crazy clip below is from a Halloween 2016 rodeo in Wyoming. It might just distract you—if only for a moment—from the impending apocalypse.

8

A duo of brave dinosaurs frolic during Hurricane Matthew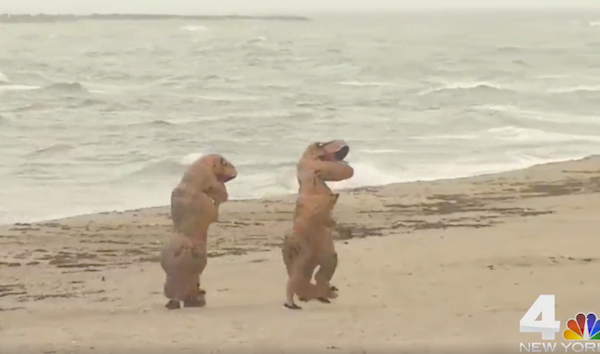 Have they learned nothing from the extinction of their ancestors millions of years ago? As Florida residents either evacuated or hunkered down to protect themselves from the onslaught of Hurricane Matthew in October 2016, cameras caught two dinosaurs frolicking in the high winds. Here's hoping they got to shelter safely.
This strange sight was spotted on a Florida beach as most residents prepared for Hurricane Matthew https://t.co/iYjrHuzCrk pic.twitter.com/OkZ8DiQyIF

— NBC New York (@NBCNewYork) October 7, 2016
This strange sight was spotted on a Florida beach as most residents prepared for Hurricane Matthew https://t.co/iYjrHuzCrk pic.twitter.com/OkZ8DiQyIF

— NBC New York (@NBCNewYork) October 7, 2016
9

T-Rexes protest a nominee for Secretary of State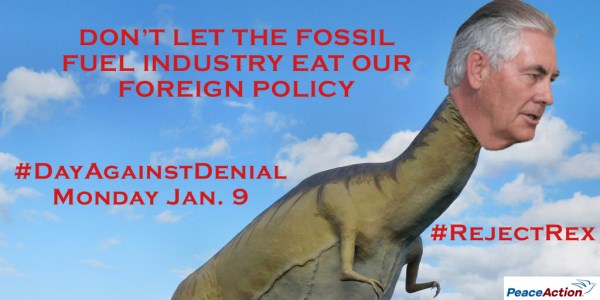 In January 2017, environmental activists marched through Washington, D.C. dressed as T-Rexes to show their disdain for Rex Tillerson, the former CEO of ExxonMobil and Donald Trump's nominee for secretary of state.
"We won't allow our climate diplomacy to be in the hands of a dinosaur like Rex Tillerson," May Boeve, executive director of 350.org, the grassroots environmental group, said. "By tapping Rex Tillerson as Secretary of State, Donald Trump is essentially declaring war on our planet and betting against a livable future."
As of this writing, the Senate committee has approved Tillerson's cabinet nod. A final confirmation is expected shortly.
10

Authorities look for a Wisconsin dinosaur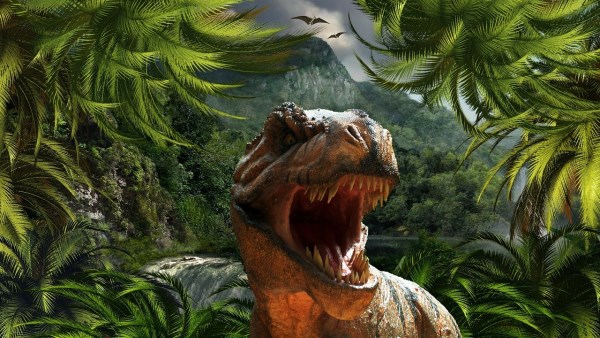 Have you seen a T-Rex roaming the streets of Oak Creek, Wisconsin? If you have, please call the authorities!
No, the dinosaur is not a criminal—the city is looking for a child who wore a T-rex costume during Halloween 2016, in the area of Drexel Avenue and 13th Street. The child was recorded having a play "fight" with another T-rex, and that video caught the attention of America's Funniest Home Videos. Before AFV airs the video, however, they need to get consent from the other T-Rex.
We've been told the mystery T-Rex has been located and we'll soon see a battle between the candy-loving prehistoric giants on TV in short order!