Thanksgiving 2017 is quickly approaching. If you're not sure how to make the holiday memorable this year, try and take these past stories as an example of how to spend the holiday.
1

Keep the living room clean for the holiday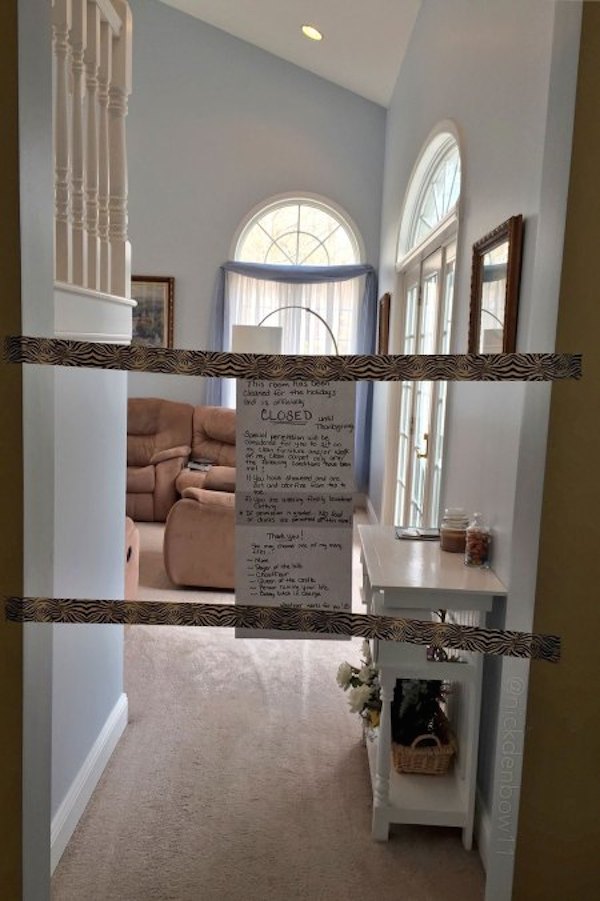 Mom Michele Keylor is attempting to avoid the stress of having to get the house ready for Thanksgiving, only to have her kids mess it up before the guests even arrive. So, she decided to do something unconventional — on November 5, she cleaned the living room, then blocked it off with tape and a well-placed sign which reads, "This room has been cleaned for the holidays and is officially CLOSED until Thanksgiving."
Her son, Nick Denbow, 17, tweeted an image of the barricaded room with the caption, "Okay how (is) my mom just gonna close down the living room for a month?" It quickly became a viral hit, with over 35,000 likes and counting.
2

Invite a stranger to Thanksgiving dinner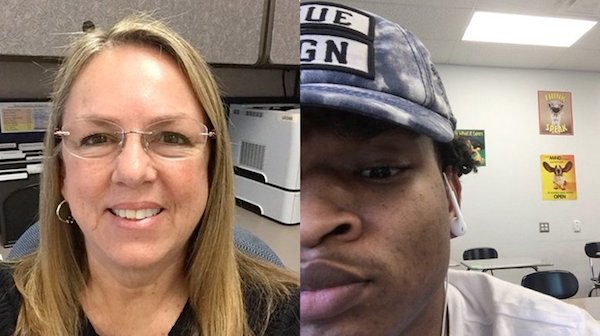 Give thanks and share the bounty with a perfect stranger, like this grandmother plans to do after sending an accidental text.
17-year-old Jamil Hinton received a text from an unknown number inviting him to to celebrate Thanksgiving dinner with "Amanda" and "Justin," but when he asked who the text was from, the sender (Wanda Dench) just identified herself as "your grandma."
Jamil thought it was HIS grandma, but asked for a photo to verify. What he received as a bit of a surprise — the photo was of someone else's grandma, so he responded with his own selfie and a cheeky, "You not my grandma. Can I still get a plate tho?" He received an unexpected reply: "Of course you can. That's what grandma's do...feed everyone."
Dench had no clue Jamil had posted their exchange online. It went viral and she had to change her number after receiving more than 600 text messages and dozens of voicemails. "At first I thought, 'Well, this is annoying,' until I started reading some of the people's texts. Strangers wrote, 'Thank you so much, you're such a kind person to let this young man into your home,' she said. "I thought 'Oh, my gosh! I think this may be a little more important than what I thought it was.'"
The duo met in person and Dench formally invited Jamil and his family to Thanksgiving dinner. He accepted.
3

Create a family heirloom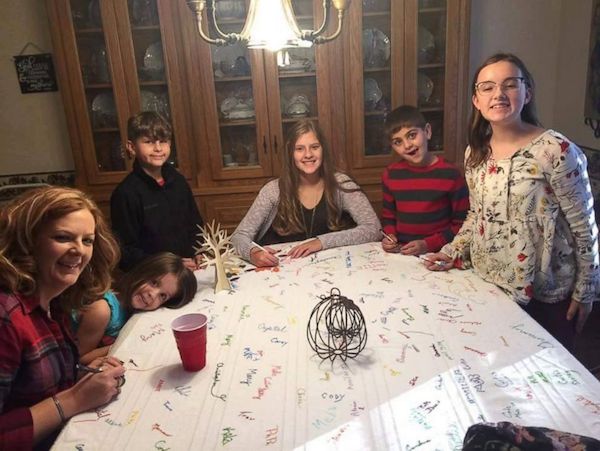 In 2000, Deb Mills of Clinton, Missouri began the holiday tradition of having each person who joins her family's Thanksgiving dinner sign her white tablecloth. Mills said of the tradition, "Back in 2000, I got out this plain white tablecloth and put it on the table, and my teenage kids looked at me like I was crazy when I said, 'I want you to sign it.' Then a few years later, the [grandchildren] came along, and now we have 16 years of memories on the tablecloth."
One memory that is most sacred and special —the signature of the Mills' daughter Mary, who died suddenly of a ruptured aneurysm in 2013 at the age of 44.
4

Feed those less fortunate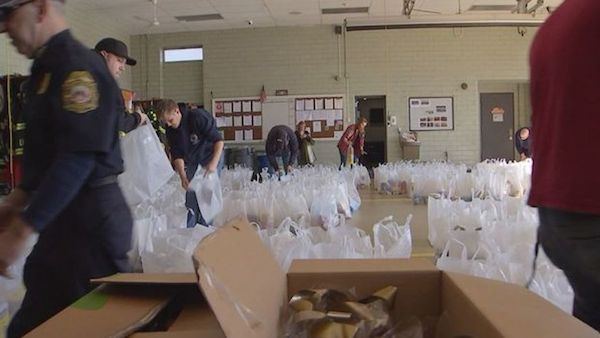 A Montgomery County, Pennsylvania mystery man and a team of volunteers spent the weekend before Thanksgiving 2016 dropping off bags of groceries to feed 150 needy families. The anonymous donor told Fox 29 News, "We started the first year in 2008 with 30 families….this year we're at 150 families, 3,000 pounds of turkey, and $22,000 worth of groceries."
The Kelly Anne Dolan Memorial Fund, with the help of the Wissahickon Fire Company, coordinates the grocery drop-offs to families, most of whom are caring for sick children.
5

Eat a one-of-a-kind feast — for $50,000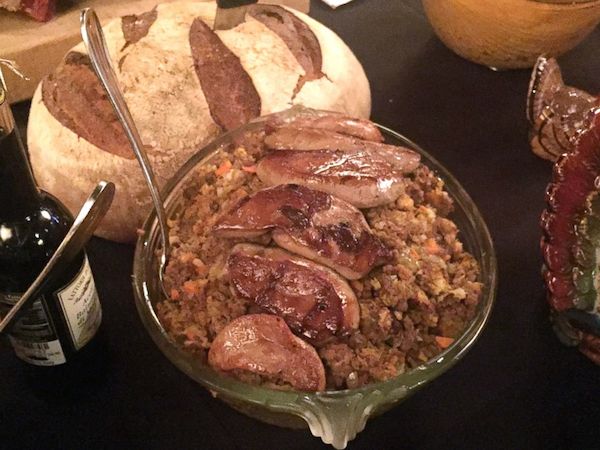 New York City steakhouse Old Homestead is hosting a Thanksgiving dinner this year to the tune of $50,000 per person. Yes, you read that right.
What do you get for that kind of scratch? For starters, a 20-pound free-range turkey basted in extra-virgin olive oil from Italy, a $465-per-pound piece of Wagyu beef imported from Japan, $54-per-pound of Foie gras, sweet potatoes garnished with $1,600-per-ounce caviar, and pumpkin ice cream made with $4,200 eggnog sauce.
Still, that's not close to 50k. Purchasers of this holiday experience also receive four tickets to an upcoming Giants game (valued at $10,000); a night at the Waldorf with room service and breakfast in bed (valued at $5,000); limousine transportation while in NYC (around $2,000); and a Fifth Avenue shopping spree (totaling $7,500). You'll also be able to take a horse-drawn carriage ride through Central Park.
We don't know who will take the 100-year-old restaurant up on this ostentatious offer, but we can't wait to find out!
6

Pet a turkey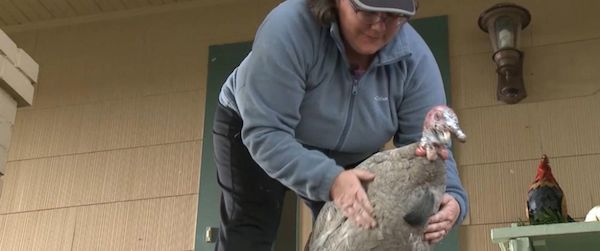 Leon the turkey, who lives at the Harvest Home Animal Sanctuary in Stockton, California, is best described as a dog in a bird's body — he loves kisses, hugs and belly rubs.
Leon was at a shelter before being taken in by Harvest Home. He adores affection and likes being stroked and carried, leading people to wonder whether he was ever someone's pet. This lucky bird has been granted a forever home at the sanctuary and potentially a job as a therapy turkey.
7

Paint your nails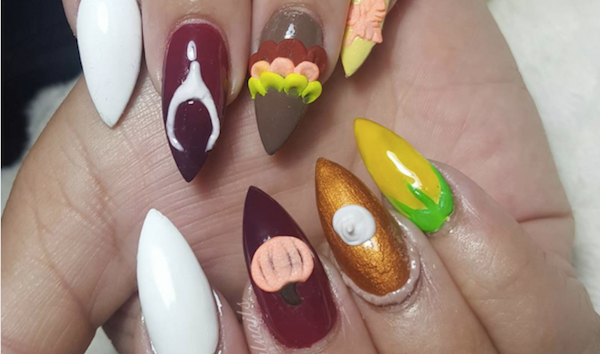 If there ever was the perfect opportunity to get quirky and colorful with your nails, Thanksgiving is it. The holiday comes with plenty of inspiration for some amazing nail art. Between the rich colors of fall leaves, historical references, and the delicious food soon to be filling your belly, there are plenty of designs to showcase your love for all things Thanksgiving.