1

Riverside, California's famous Halloween house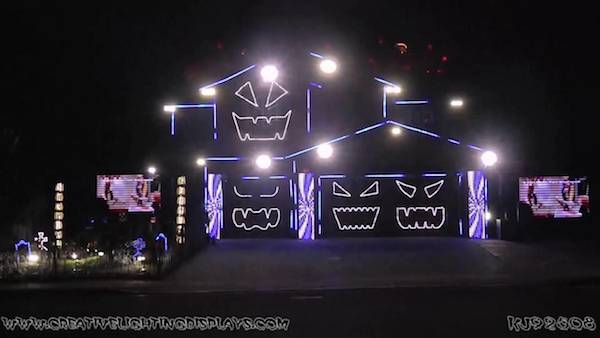 If you don't usually watch the videos attached to these lists, we insist you do today — you will not be disappointed. Riverside, California's famous Halloween light show is back for its eighth year, and it's better than ever.
This year's display involves 400,000 LED lights that dance and flash for the duration of seven songs blasted over loudspeakers. Words to the songs pop up karaoke-style via two flat screens on either side of the house, facilitating a sing-along element. It's so popular there are now multiple shows a night, four nights a week. Check out the Rocky Horror Picture Show's "Time Warp" below.

2

The Halloween fanatic in Astoria, Queens that collects decorations all year around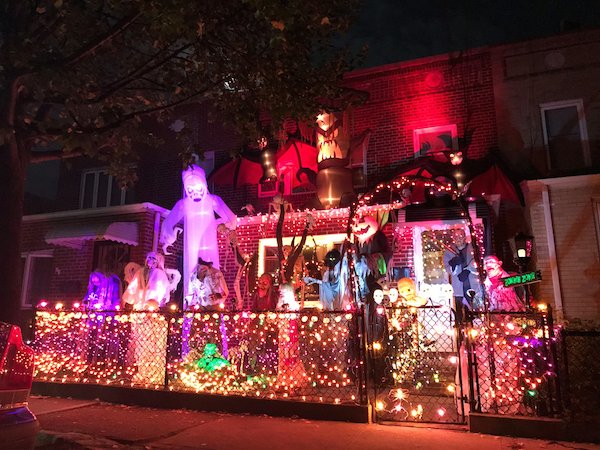 Located at 22-13 26th St. in Queens, this house is a force to be reckoned with when it comes to Halloween. The homeowner, Vicky Poumpouridis, has spent years collecting and curating her spooky decorations. She looks for them all year round and lays out the overall design, including animatronics, props, and lighting, way before the holiday. The results are amazing, rivaling the design of Disney's "Tower of Terror." Poumpouridis' spooktacular home is ready to welcome all trick-or-treaters who dare to approach her house.
3

A homeower recreates the Halloween home of Michael Myers
Reddit user MadVillainousDave posted images of this house, which bears a facade similar to Michael Myers' house in the classic horror film Halloween, to Imgur. It immediately went viral, and has been viewed 190,000 times!
The windows of the old, decaying house have been barred with wooden planks, the front porch is nearly covered in brambles that are growing to the front door, and creepiest of all, Michael Myers stands menacingly on the porch roof!
4

23 giant inflatables make up this Halloween display in North Dakota
On Halloween, ghouls, ghosts, an undead bride, and even a singing pumpkin take over Main Street in Glen Ullin, North Dakota. Homeowner Cindy Sturre puts up the 23 inflatables herself and says it takes her about a month and a half before all the decorations are complete. She says it's not cheap, but the labor of love is worth it. "Watching kids go by and the smiles it brings.... I do it for is the kids in town. You know, they love it."
Sturre says she goes bargain hunting every January to make sure the tradition continues to grow.
5

The California home that was turned into a many-eyed monster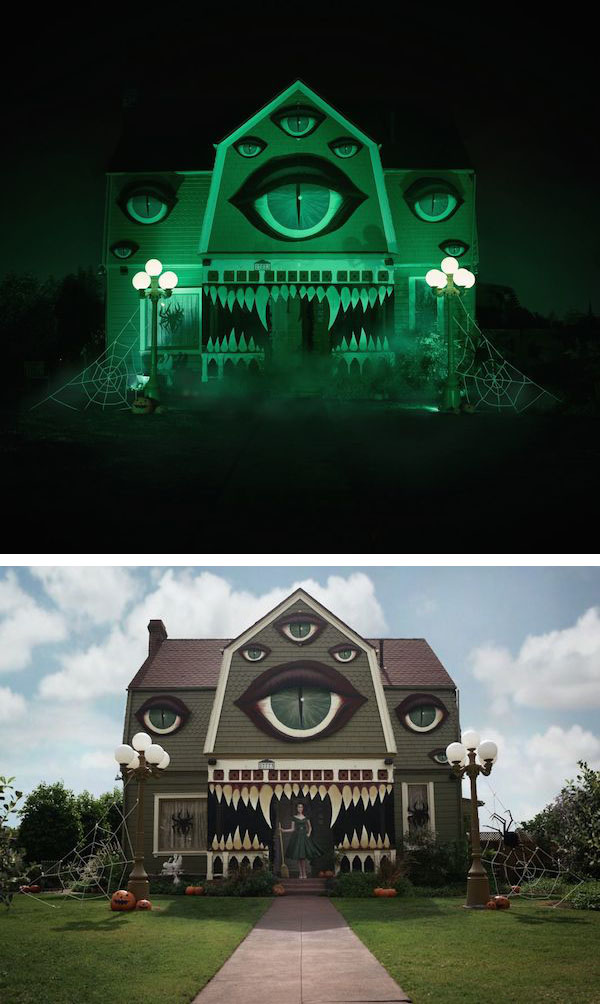 Created for Halloween 2015, this house from Los Angeles–based artist and photographer Christine McConnell has a hauntingly surreal, creepily head-turning quality. The design was inspired by McConnell's recent viewing of the 2006 computer-animated children's horror movie Monster House, about three young friends who discover that their neighbor's house is a living, breathing, scary monster.
6

Trump's border wall decorates this house in Connecticut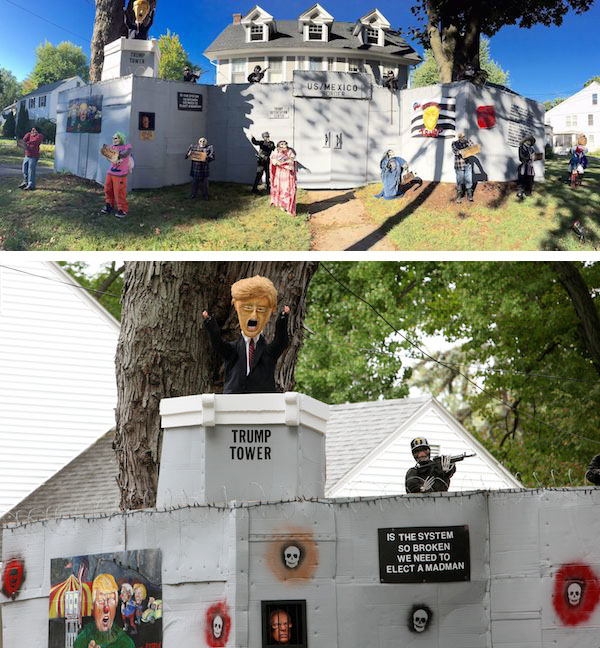 West Hartford, Connecticut resident Matt Warshauer chose to focus his controversial Halloween display on the 2016 presidential election.
Warshauer, a political history professor at Central Connecticut State University, built a 60-foot long, 8-foot high cardboard wall outside his house to replicate Donald Trump's proposed wall between the U.S. and Mexico. "Each year I do a political or historical theme and this year was a no-brainer. How could you not do the 'Trump Wall?'"
Warshauer's display features skeletons around the wall holding signs like "I'm not a criminal," and "We are all immigrants." Hillary Clinton and Bernie Sanders are also featured — she is dressed in red, white and blue on a donkey using reins made of chains, and here, the Democratic National Committee has jailed the Vermont senator.
7

The "monster garage" that went viral on Facebook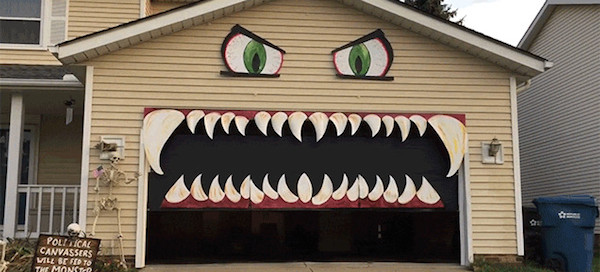 The "monster garage" YouTube video has gone viral on Facebook with over 100,000 views. Homeowner Amanda Destro Pierson transformed her garage into the mouth of a monster so every time it opens, it looks like it's gulping down a car. It's pretty clever and a lot of fun, exactly what Halloween should be.

8

The army of creeping skeletons that descend upon this Texas home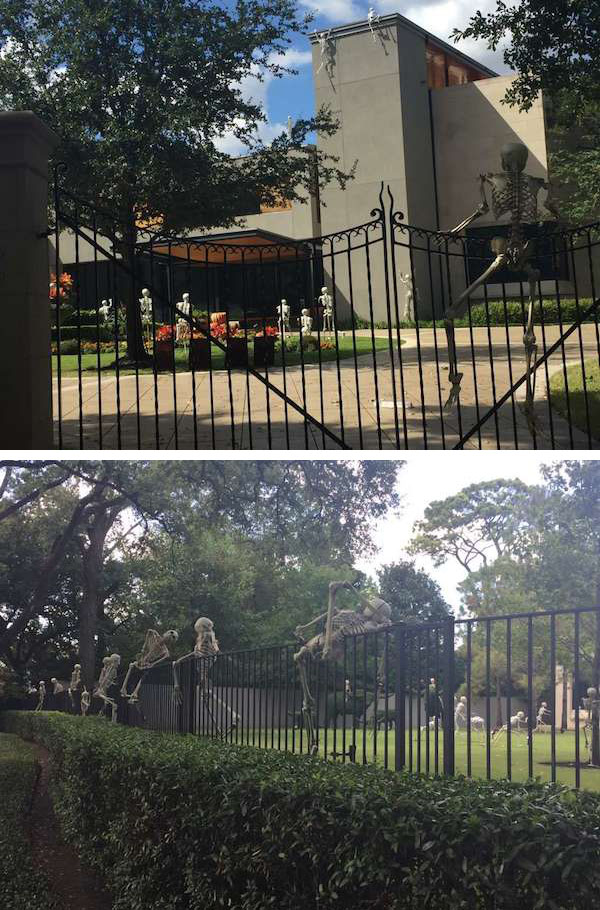 An army of marauding skeletons creeps towards this home in Katy, Texas. The owners strategically placed the spooky figures all around their yard and on their home's roof. We aren't entirely sure if this is meant to frighten folks passing by the home, or the homeowners themselves, but regardless, it looks really cool.
9

The life-sized sandworm that inhabits the yard of a Cleveland homeowner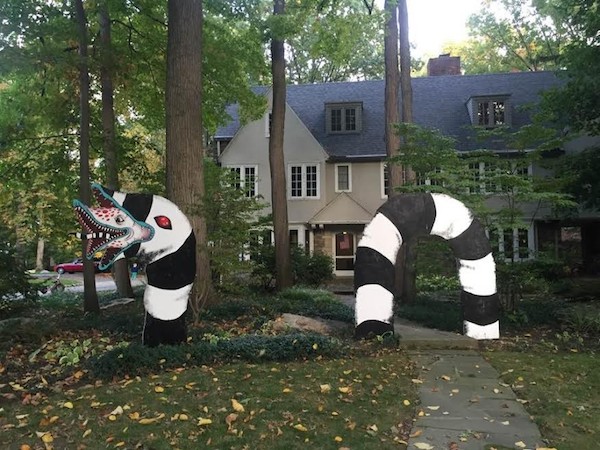 Cleveland artist Heather Lee McClellan may have the coolest Halloween display in town — she created this life-sized sandworm from the film Beetlejuice in her front yard.
The worm's body comes out of the ground in four parts — a highly rendered and expressive head, a tail and two separate body pieces that create an archway over the path to the home's front door. Trick-or-treater will have to pass through on their way to and from the house on Halloween. "I've always loved the movie Beetlejuice, and Halloween is the perfect time of year to feature all of its creative glory," McClellan explains. "My dad has since passed away, but when I was young, he would make lawn characters for Christmas. He'd cut them out of wood, and I'd help him paint the Looney Tunes or Disney characters. I think of it a little like I'm carrying on his tradition."