A while ago, we wrote an article on the coolest Mona Lisa parodies. Our friend and reader Jack Schofield recently visited an ongoing exhibit at the Victoria and Albert Museum in London called Botticelli Reimagined featuring several generations of artists who have repurposed Botticelli's Birth of Venus (painted in 1485) and suggested we did the same with "the most beautiful naked woman."
If you want to check out Botticelli Reimagined at the V&A, hurry up—the exhibition ends on July 3, 2016.
1

Lady Gaga as Venus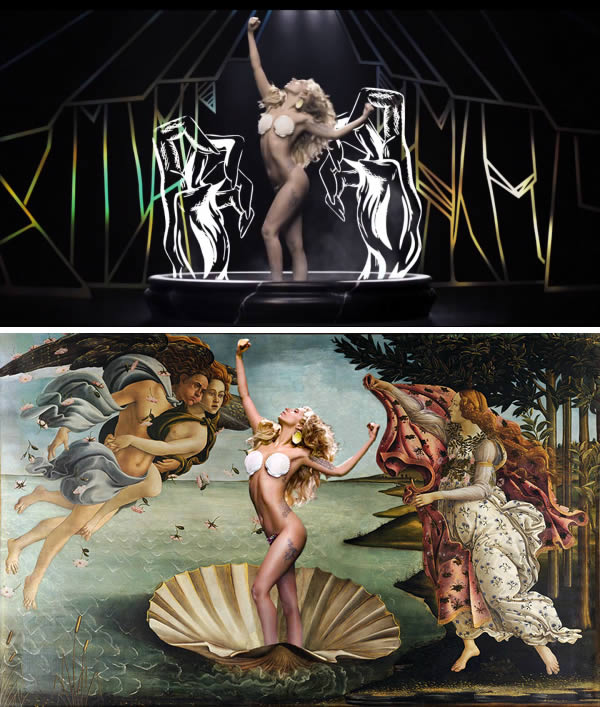 In 2013, Lady Gaga posed naked with an open clam for her song, "Venus." "Venus" is a synthpop and dance tune from her third studio album, Artpop. The song's hooks lyrically present Gaga as the goddess of love. She also rocked a Venus look for her "Applause" video, directed by Inez & Vinoodh.
2

Angela Strassheim's Birth of Venus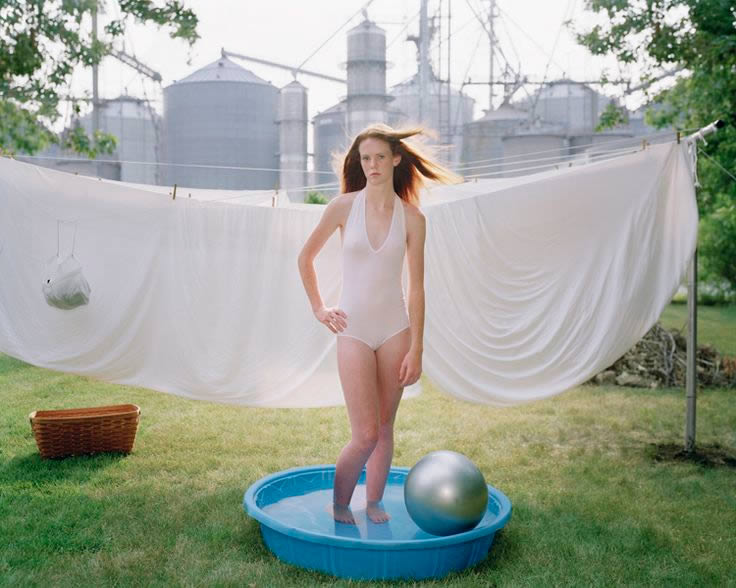 Angela Strassheim captures the most intimate and uncomfortable moments of family life with an unflinching eye—whether it's a father spanking his adolescent daughter or a family saying grace over sausage and eggs.
In this photo, a young girl stands in an inflatable pool in a backyard overshadowed by grain silos and the scene is staged to look like the famous Italian Renaissance painting The Birth of Venus. New York Times critic Michael Kimmelman described Strassheim's pictures as "surreal, candy-colored and strangely loving."
3

The Renaissance of Heather by Jonathan Thorpe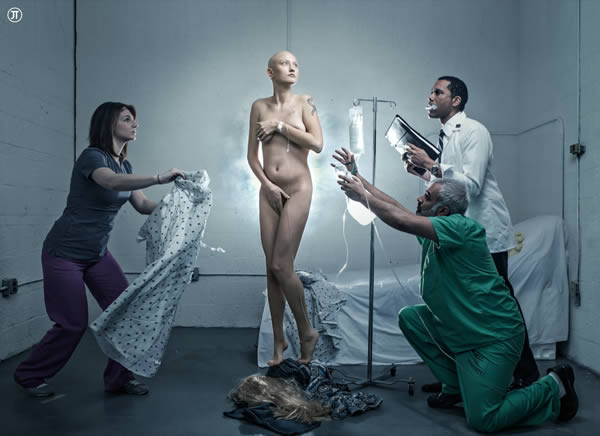 When Washington, D.C. photographer Jonathan Thorpe first saw model Heather Byrd, he wanted to photograph her, but when he found out she was suffering from leukemia, he knew that no ordinary shoot would tell Byrd's story. Byrd was suffering a third relapse of leukemia—she battled it in 2007 and again in 2011.
Thorpe took the famous Birth of Venus and reinterpreted it with a powerful twist that resulted in a shot he called The Renaissance of Heather.
Unfortunately, Heather lost her battle to cancer on December 29th 2015. Her ashes were spread on her birthday on April 20th 2016 in Hawaii by her close family.
4

The Rebirth of Venus by David LaChapelle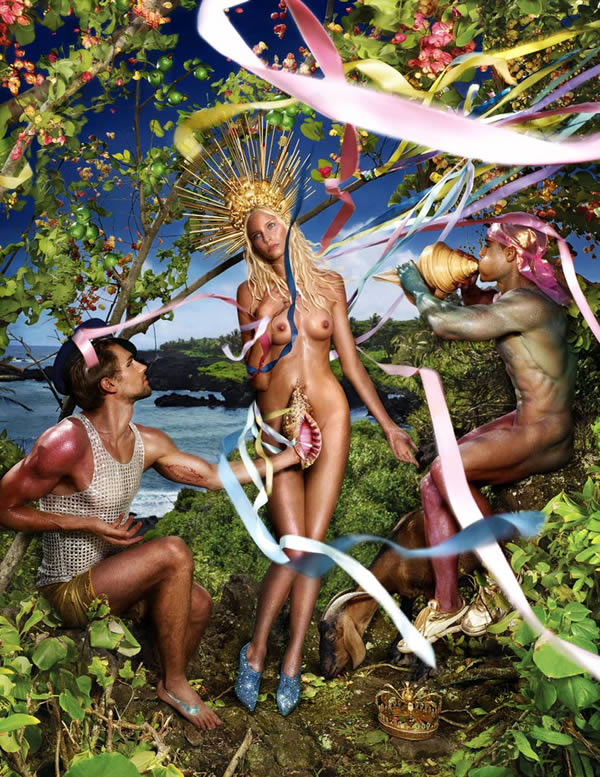 U.S. photographer and director David LaChapelle often borrows motifs from an earlier age for his vibrantly colored photographs, some which draw on works by Botticelli. This 2009 piece, The Rebirth of Venus, illustrates how Botticelli's famous picture has acquired the status of pop art. In it, LaChapelle employs a technique shared by Botticelli, that of denaturalizing the relationship between the subjects and their setting.
5

The Birth Of Black Widow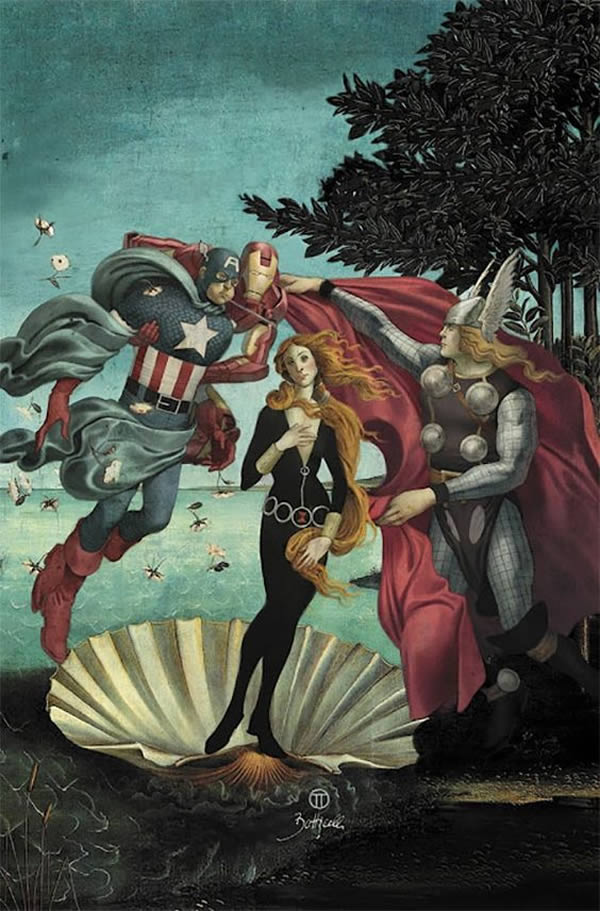 The Avengers are such iconic superheroes that it only seems fitting that they should be celebrated by working them into an iconic painting. Argentinian artist Julian Totino Tedesco showed his love for the comic book characters with his piece The Birth Of Black Widow which is based on Botticelli's masterpiece and was used as the alternate cover art for Fantastic Four #17.
6

Andy Warhol's Details of Renaissance Paintings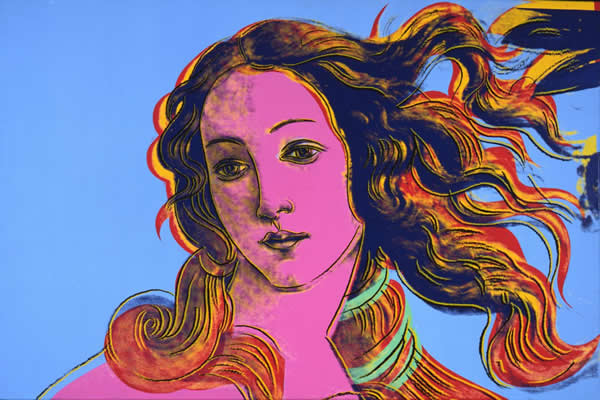 In 1984, Andy Warhol produced a series of prints entitled Details of Renaissance, featuring images from classical Renaissance art. In this particular silkscreen, Warhol raids the sacred bastions of art history to appropriate Sandro Botticelli's painting. Instead of portraying Venus standing on an open seashell, Warhol focuses on her face and flowing hair. He printed four variations of this image, each in a different color palette and Venus is portrayed like a photo-negative or "Black Venus." Warhol's iconoclastic irreverence is evident in the work's poster-like style and bold color while simultaneously paying homage to the classics.
The series is currently on display at the V & A exhibition.
7

The Birth of Venus with Baci, Esselunga, Barilla, PSP and EasyJet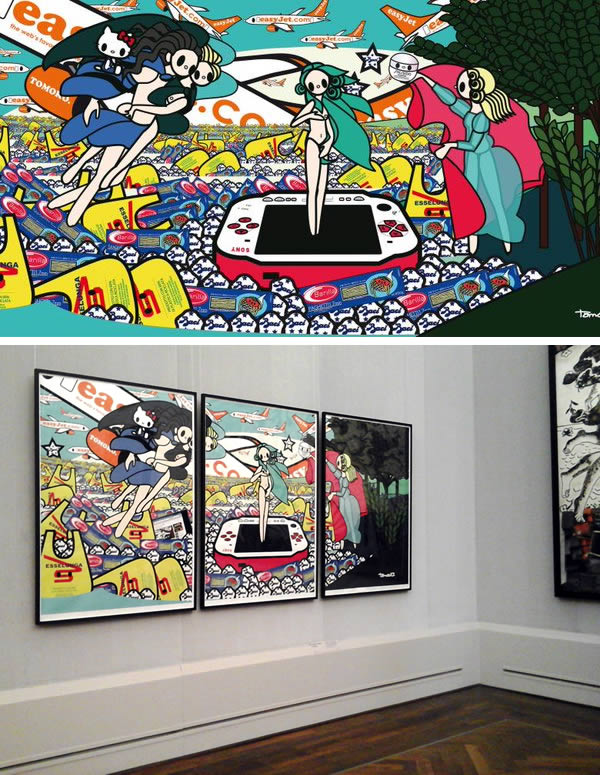 In her digital prints, Japanese artist Tomoko Nagao has transposed Botticelli's Birth of Venus into a world of material things endlessly promoted by the advertising industry and added an alienation aspect through references to computer games. In the piece, Venus emerges not from a seashell, as Botticelli has her doing, but from a portable gaming console surrounded by consumer brands such as EasyJet and Barilla.
8

The Photoshopped Birth of Venus
Western aesthetic traditions did not always demand that women must fit into size 0 outfits to be icons of beauty, Past centuries of female nudes in Western art show society's acceptance of a few healthy pounds.
Of course, the women depicted in fashion magazines do not always themselves fit into such tiny sizes—they are Photoshopped that way, often ridiculously. To mock this tendency, Lauren Wade, a photographic editor, altered eight classic beauties, such as Sandro Botticelli's Venus, in the manner of the fashion industry.
9

The Postmodern Birth of Venus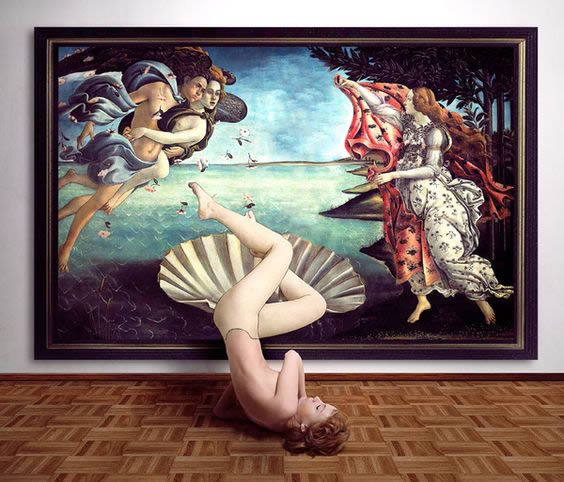 At just 20, Flora Borsi, a Hungarian artist, is quite well known for her excellent photo manipulations and is capable of creating series of works that are both original and surprising.
In one of her most popular series, The Real Life Models, she recreates paintings from famous artists like Picasso in reality, modified with Photoshop to resemble traditional works of art. Fascinated by those great experts from the past, she uses her persona to replicate them in the flesh.
10

Birth of Venus in Arigami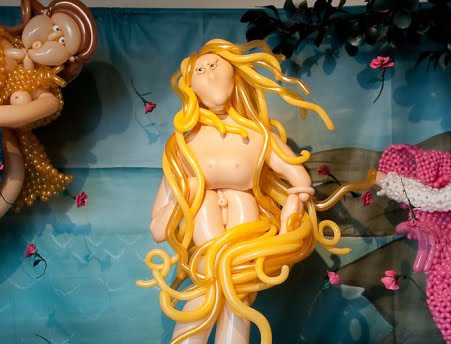 In 2009, Rochester's well-known "Airigamist," Larry Moss hit the road to Grand Rapids, Michigan to create and install this piece for ArtPrize 2009. Larry is known as the creator of Balloon Manor. His work has been seen on The Martha Stewart Show and has been requisitioned by even The White House.
Several large-scale creations conceived, designed and produced by Airigami (Moss' company) have appeared in promotional videos, award-winning illustrations, animation formats, and TV programs. The company's air-filled recreations of masterworks like Girl with a Pearl Earring by Johannes Vermeer and American Gothic by Grant Wood helped distinguish Moss as a master in his own right.
11

Hair Dyeing Interpretations of The Birth of Venus
Ursula Goff makes amazing images by coloring her hair. Lately, she's been dying in patterns to imitate famous works of art, including pieces by Andy Warhol, Sandro Botticelli, and Edvard Munch. She provides an art education in the process, too. With each hairstyle, she gives a detailed explanation of the meaning and significance of the particular work of art.