1

This Kolossal Kat, that Massive MOG: Mark Leckey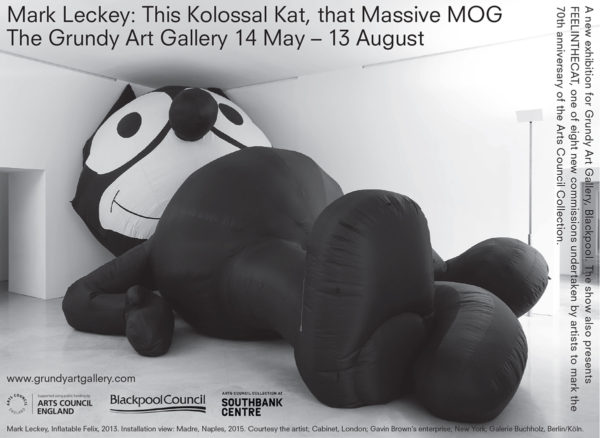 If you're a fan of Felix the Cat, look no further than the Grundy Art Gallery in Blackpool, Lancashire. Artist Mark Leckey's This Kolossal Kat, that Massive MOG is featured in a new art installation titled FEELINTHECAT which was commissioned by the Arts Council Collection to mark its 70th anniversary.
The artist's giant inflatable Felix and his 2008 16mm film of the cat's tail are showcased in the show. Felix takes on a number of roles in Leckey's work, including as a motif for broadcasting, and as an avatar for the artist, for whom the idea of turning into a cat is something that incites both fear and desire.
The show runs until August 13, 2016.
2

The RedBall Project: Kurt Perschke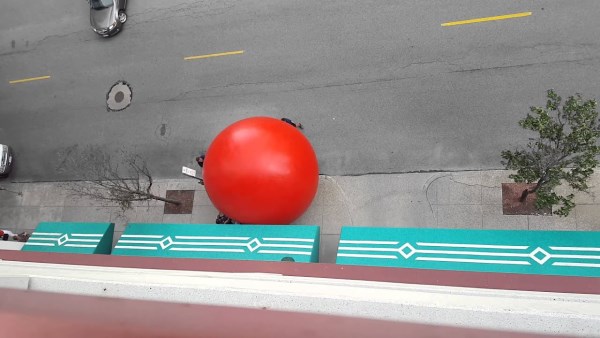 Considered "the world's longest-running street artwork," Perschke's RedBall Project consists of a 15 ft inflated red ball wedged in different spaces in various cities around the world. The installations last 1-2 weeks, with each particular site lasting only one day.
In August 2015, the giant, 250-pound red ball came loose during a rainstorm in Toledo, Ohio and started rolling down a street lined with parked cars. Watch below as minders race to catch it before it does any real damage:
3

Tree: Paul McCarthy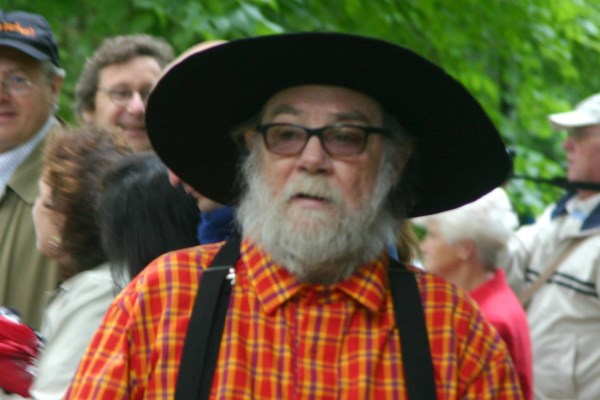 No inflatable sculpture has ever divided a city more than this abstract Christmas tree that looked disconcertingly like a butt plug.
McCarthy, an LA-based artist and provocateur, installed the inflatable sculpture in the middle of Paris's elegant Place Vendôme in 2014. It stood for less than a day, a victim of the conservative populist backlash that has recently upended French politics.
First, the attackers unhooked the sculpture from its air source, then, while a security guard was reattaching it, severed the work's support cables. McCarthy, who was also slapped in the face by an anonymous man three times during the tree's inauguration, decided not to resurrect it. He said, "I don't want to be mixed up in this type of controversy and physical violence, or even to keep taking the risks associated with this work."
4

Intrude: Amanda Parer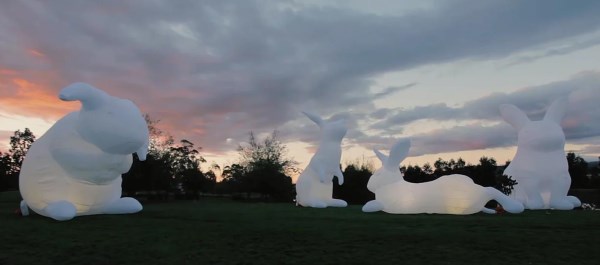 Currently on display in Downtown LA—giant glow-in-the-dark rabbits!
The bunnies are part of Intrude , a public installation by Australian artist Amanda Parer. These behemoths each stand more than two stories high, with the tallest sculpture measuring in at 39 feet.
Parer is hoping spectators will be able to appreciate a larger significance than the obvious social media photo op. In Australia, rabbits have wreaked havoc on the nation's ecosystem to the point that an enormous fence was constructed to keep the population under control. She says, "I expect people will be drawn to the rabbits' playful appearance, and I hope they will also take the time to understand the deeper meaning in the work and discuss how our actions impact the environment."
5

Breathing Flower: Choi Jeong Hwa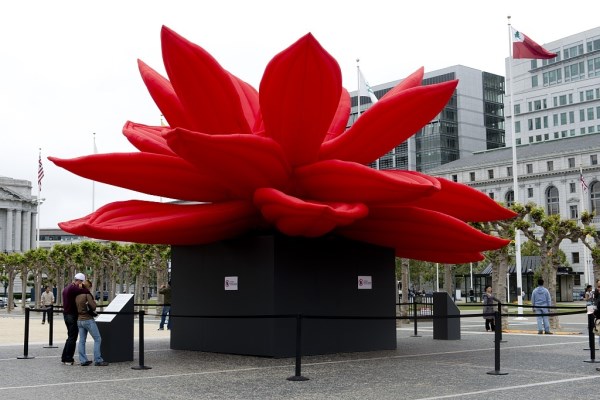 Spring is here, and the flowers are blooming, particularly in front of The Museum of Fine Arts (MFA) in Boston, Massachusetts. In March 2016, Seoul-based artist Choi Jeong Hwa's Breathing Flower put down roots near the museum's Huntington Avenue entrance.
The 20-foot-wide lotus flower gently sways and glows, and its petals seemingly "breathe." In some Asian cultures, the lotus represents purity, and red is often associated with good fortune. For Choi, Breathing Flower is also meant to illustrate the beauty found in the natural world.
6

Alpha Turtle: BJ Price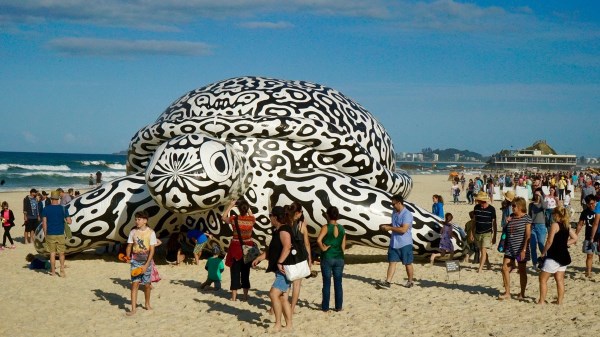 A 5-meter tall, 15-meter long floating turtle impressed onlookers as it cruised past the Sydney Opera House and Harbour Bridge into Cockle Bay in 2014.
The sculpture was commissioned in celebration of an underwater art exhibit unveiled at SEA LIFE Sydney Aquarium. Artist BJ Price said, "The Alpha Turtle was a huge hit at the World's First Undersea Art Exhibition, Great Barrier Reef and I decided to bring him along to support our exhibition in Sydney. It brings the organic abstract style of my painting to everyone through wrapping a familiar shape—the shape of a sea turtle—in a complex design. As "Alphie" floats upon the sea, it opens people's minds to innovative and creative ways of thinking."
7

Oiwa Island 2: Oscar Oiwa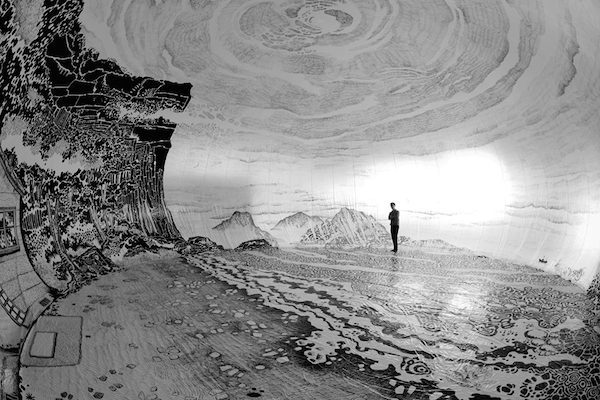 On March 20, 2016, painter Oscar Oiwa, the Brazilian-born Japanese artist known for his large-scale works, introduced Oiwa Island 2, an immersive painting created on an inflatable vinyl dome.
Built for the 2016 Setouchi Triennale Art Festival in Japan, Oiwa Island 2 was installed within a building once used as a soy sauce warehouse. The audience was allowed to walk inside the sculpture—essentially a massive, 360-degree drawing made with permanent marker on a 40-ft diameter inflatable vinyl dome.
8

Sacrilege: Jeremy Deller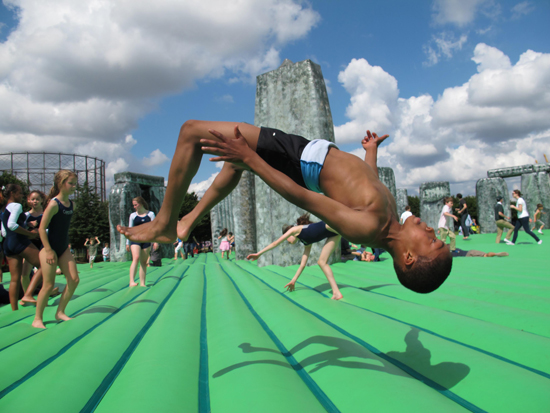 How cool is this? In 2013, UK artist Jeremy Deller created a Stonehenge "bounce house" which went on display in Hong Kong. The 20ft-high structure was massively successful when it was opened to the public as part of the 18-day Glasgow International Festival of Visual Arts the year before.
The sculpture was created by using detailed plans of the Salisbury monument. It took two months to make thanks to the efforts of workers at Inflatable World Leisure, who built the first ever bounce houses in the UK.
9

Rubber Duck: Florentijn Hofman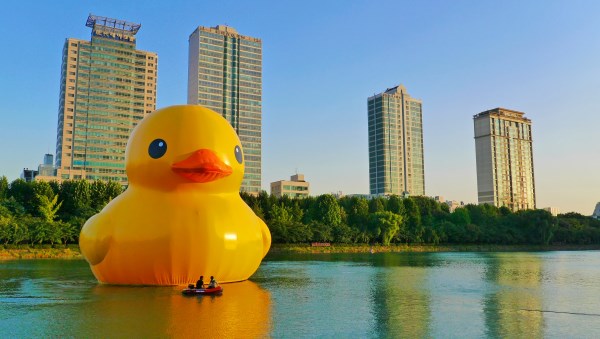 Rubber Duck has been exhibited around the world and continues to delight people from all walks of life.
The sizes of the ducks are varied (there's more than one)—the largest measures 26x20x32m. They are made of PVC, and all the pieces are connected by hand with sewing machines. The sculpture is then kept inflated by fans on a supporting barge.
Hofman hopes his ducks evoke joy, love and peace by reminding people of childhood memories. But he also has a wider aim. He says, "I kidnap public space for a while … [The artwork] changes the volume of a public space. I really want people to look, to see it from a different perspective."
10

HippopoThames: Florentijn Hofman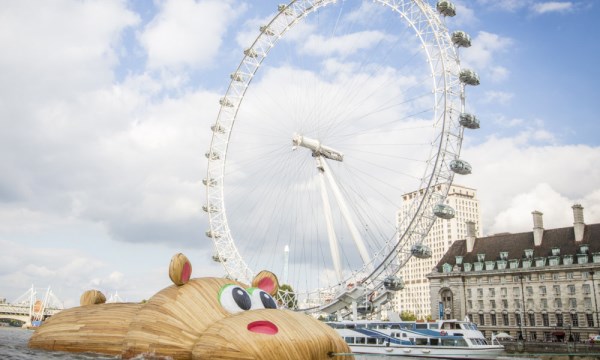 In 2014, Florentijn Hofman struck again, this time in London. Three humps of an enormous hippo appeared from the Thames' murky depths.
The artist was asked to create a sculpture by the organizers of Totally Thames, an annual festival that celebrates London's famous river. When he researched the history of the river, he came across studies that revealed its waters were awash with hippos hundreds of thousands of years ago. This resulted in a sculpture he christened HippopoThames.