1

The MIT student who posed in romantic photos with his thesis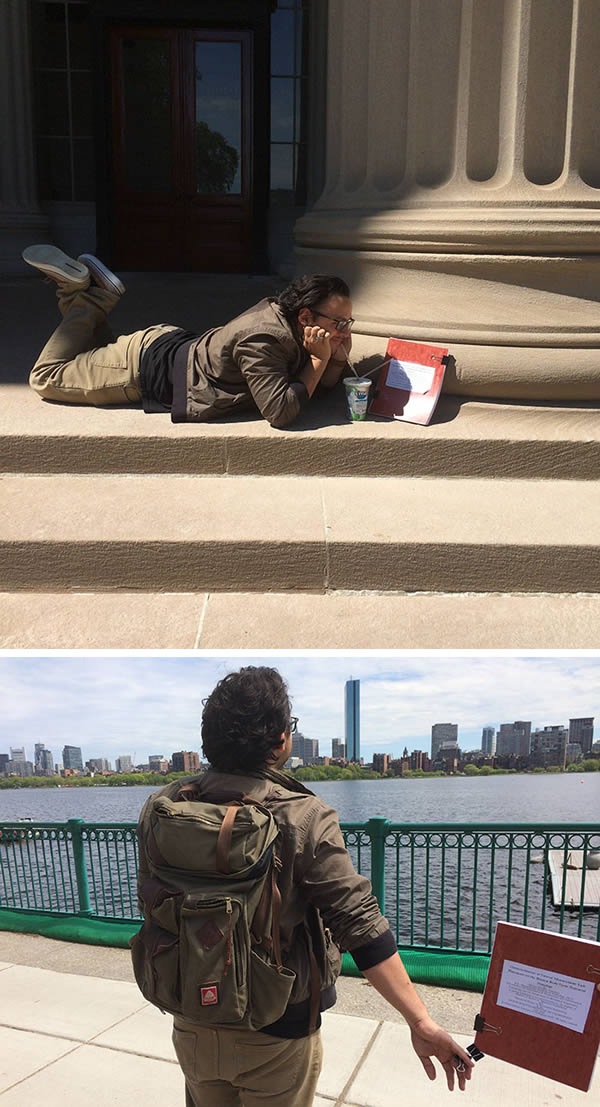 As any graduate student will tell you, a thesis isn't just a paper. It's the physical manifestation of several months of your life, and during that time, both you and your thesis develop a close-knit bond. It's only natural—but there's a limit. And as you can see from these pictures, this guy went beyond that limit.
26-year-old Morris Vanegas, a student at MIT with a dual Masters in Aerospace and Mechanical Engineering, decided that he couldn't bear to part with his thesis without some fond farewell and chose to say goodbye with a romantic photoshoot—obviously. "To my lovely thesis, whom I had to turn into MIT today," wrote Vanegas. "You made me a better person, pushing me through all obstacles when I felt weak. Your sense of humor is just like mine. It's like we were always on the same page. I hope to see your face again soon, in the references section of future works on space suits." Anybody got a tissue?
2

A man who took engagement photos with a burrito
David Sikorski, a San Francisco–based writer, had a problem we can all relate to—he was getting a little tired of the constant stream of wedding and baby photos on his Facebook feed. He decided to take a set of cheesy engagement photos alongside his "one true love"—a burrito. Sikorski's betrothed is a carne asada burrito from Taqueria La Cumbre in the Mission District.
The happy couple posed for pics at San Francisco landmarks like the Golden Gate Bridge, Golden Gate Park and at the beach.
3

The student whose ultra romantic photos celebrated her love of pizza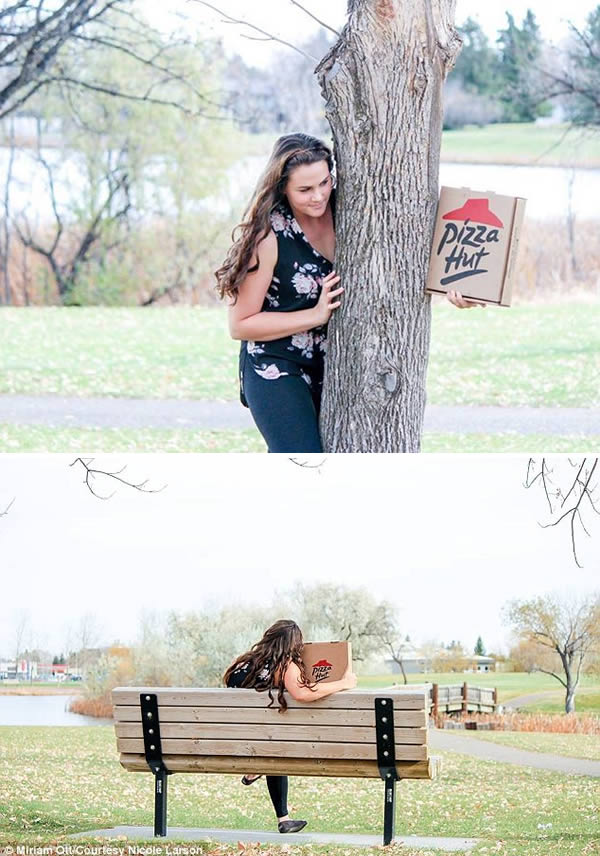 Love truly knows no bounds. When a 19-year-old University of Lethbridge student, Nicole Larson, decided that she wanted to take the next step with a medium cheese pizza, Larson's friend, and photographer, Miriam Ott, helped make her dreams of spending eternity with her true love come to pass.
4

A man and his pug showed their love for each other in an engagement-style photo shoot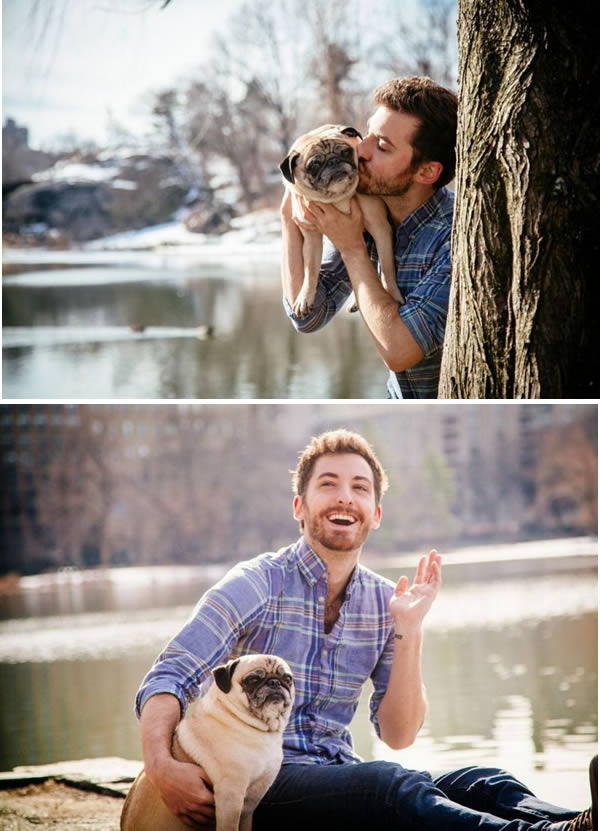 For Valentine's Day, one man decided to celebrate his love for his dog with special photos to commemorate the occasion.
New York photographer Brit Worgan took Jonathan Graziano and his seven-year-old pug, Noodle, to Central Park for an engagement-style photo shoot. The two have known each other for a month now, and as they celebrate their first Valentine's Day together, Jonathan tells Barkpost, "The moment I looked into those big bug eyes, I knew that Noodle was the pug of my dreams."
In the photos, Jonathan and Noodles can be seen frolicking through the famed park, snuggling, laughing, and sneaking in a few puppy smooches. The love is apparent in Jonathan's gaze and Noodle's deadpan stare, giving hope to all the single ones out there.
5

The "hold my head" parody of the "follow me" photo fad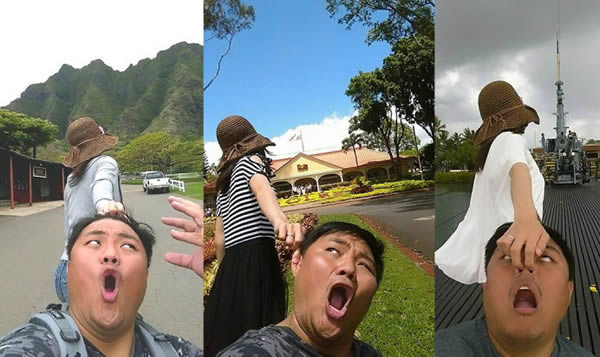 Photographer Murad Osmann's wildly popular "Follow Me" project features photos of his girlfriend leading him by the hand to exotic locations around the world. Now, some folks over in Taiwan are parodying the style with a strange new meme called "Hold My Head."
Designer Forrest Lu of Taichung, Taiwan, snapped a series of photos showing his wife Agnes Chien leading him around the world by the hair, ear, and nostrils.
6

The couple who replaced their best man with a cardboard cutout after he was deployed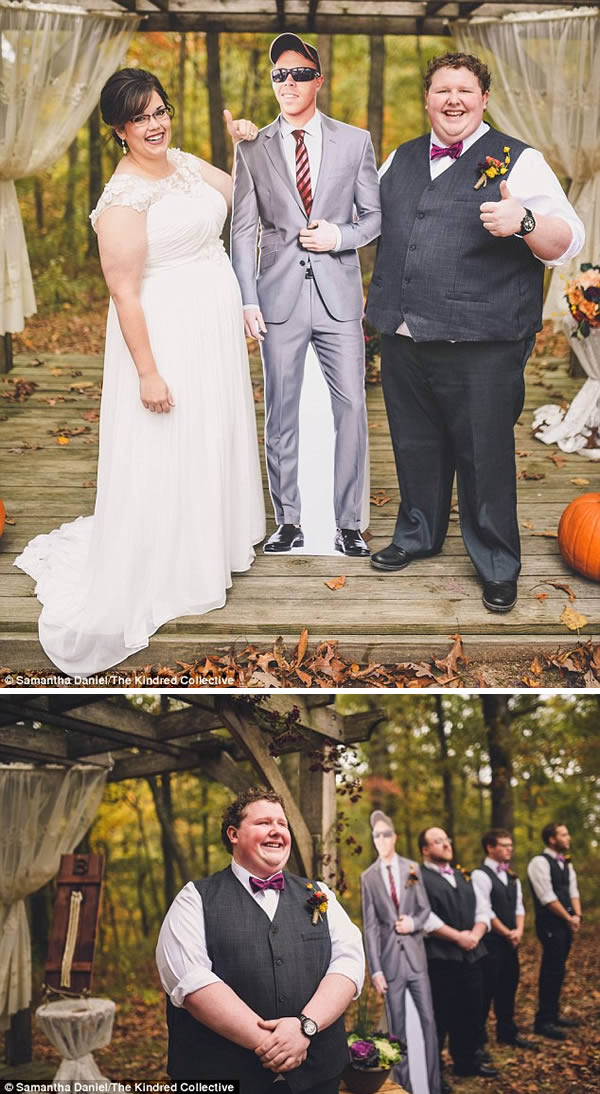 A best man who was deployed to the Middle East before his best friend's wedding was replaced with a cardboard cutout so that he could still be part of their big day.
After Travis and Kelsey Blankenship learned that Robbie Wells was going to be deployed with the Army National Guard before their wedding, not having him at the altar was not an option. So, the Arkansas couple devised a way to represent him on their special day—they found a picture of his face and photoshopped it onto a life-size cardboard cutout body of actor Daniel Craig.
In what started out as a joke, their photographer, The Kindred Collective, made sure the couple's photos included Wells' cutout. While he was not able to be there in person, he still fulfilled one of his duties, which was delivering his speech. Kelsey had Wells record the speech to surprise her husband on their wedding day.
"He is in probably 60-70% of our pictures," Kelsey said.
7

The couple who posed with a "baby" burrito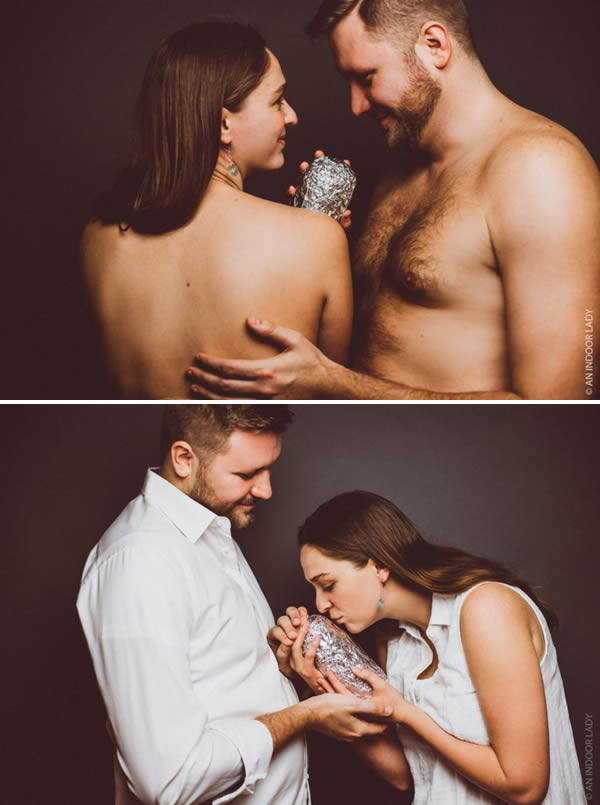 Austin-based stand-up comedians MK Paulsen and Ella Gale thought it would be amusing to mock the preciousness of family portraits new parents often take after welcoming a baby into the world. They recreated many popular poses in those photo shoots with a burrito.
On a blog dubbed Burrito Makes Three, the proud "new parents" display the images with their tortilla-wrapped bundle of joy. You'll also find a set of baby's first Easter images taken on a sunny day in a pretty meadow.
8

The couple's puppy photos that mock every new baby shoot in your Facebook feed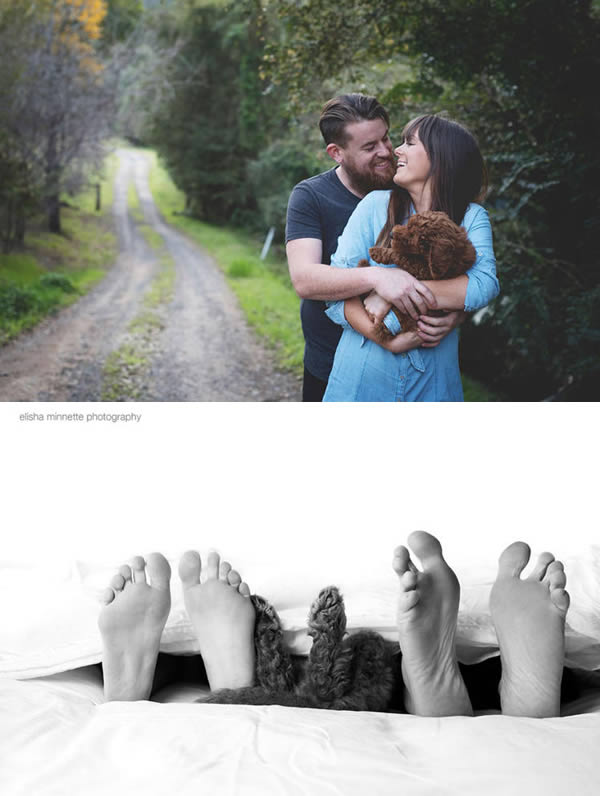 In 2015, Australians Abby Lee and Matt Kay shared their new bundle of joy—a poodle/golden retriever mix named Humphry—by parodying those newborn photo shoots that clog up our Facebook feeds with advertisements for procreation.
Lee and Kay enlisted pro photographer Elisha Minette to take the photos, which expertly parody baby pictures. The concept alone is funny, but the accuracy of the details take it to the next level. (The proud looks on the "parents'" faces, and the positioning of the puppy's paws, for starters.)
Best of all, there's nothing mean-spirited about the project, which means it's safe to link to on Facebook without rubbing your new-parent friends the wrong way. They have enough to deal with already.
9

The all male motorcycle dealership that mocked ads with their own sexy photos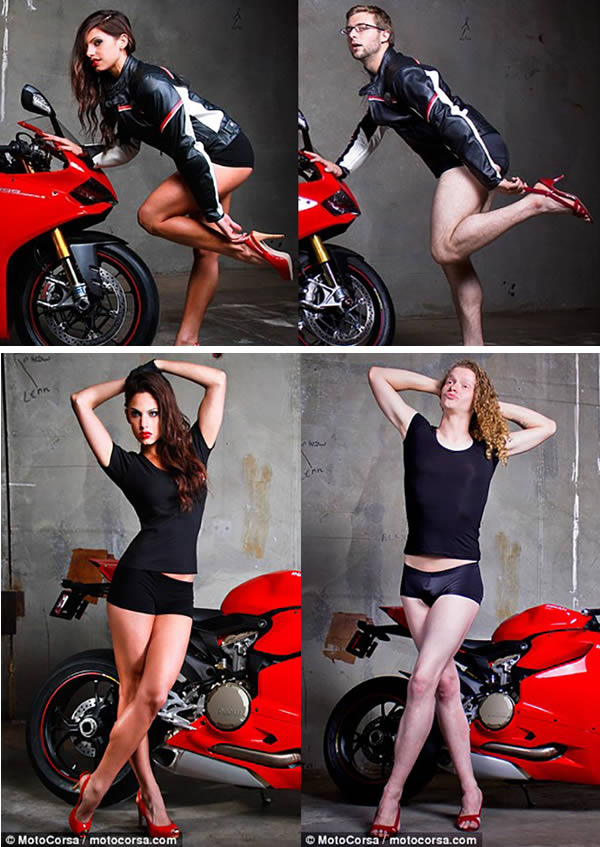 It's not too uncommon for an automotive dealership to hire a gorgeous female model in a bikini to grab the attention of onlookers and potential buyers.
When Portland, Oregon's MotoCorsa hired model Kylie Shea Lewallen to pose seductively alongside various bikes including a Ducati 1199, the male staff decided that they could do it better, and their recreations are hilarious.
10

The dying man who took wedding photos with a love doll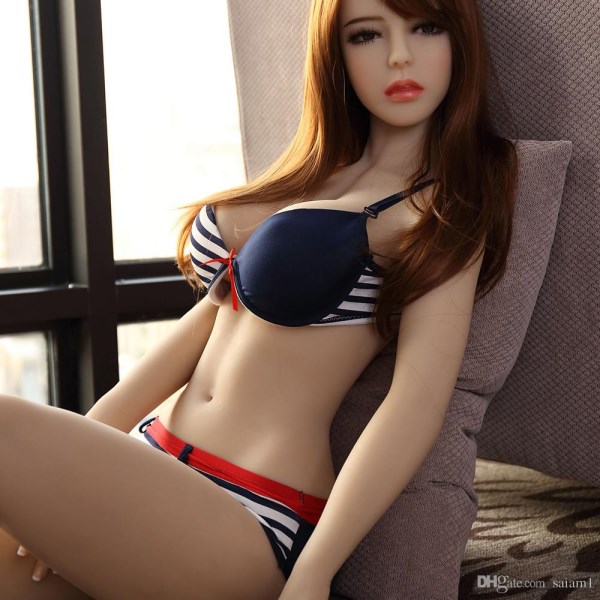 An unidentified 28-year-old man in Beijing is reportedly dying of cancer, so he staged a photo shoot in which he pretended to marry a silicone "love" doll.
The "newlyweds" appear in a series of surprisingly tender wedding photographs—hugging in front of a sunlit window reflected romantically in a mirror and staring lovingly into each other's eyes. His blushing "bride" was treated to all the trimmings of a traditional wedding, including a makeup artist and a selection of dresses to pose in.
In one of the images, an extravagant white gown with a flowing train has been fanned out to one side of the couple as the young man kneels before his new "wife." In another, in which the doll wears a lilac dress decorated with sequins and precious stones, the young man embraces his bride from behind as they stand in front of a large sunlit window.