1

The loving husband who listed all the reasons he loves his wife who is battling depression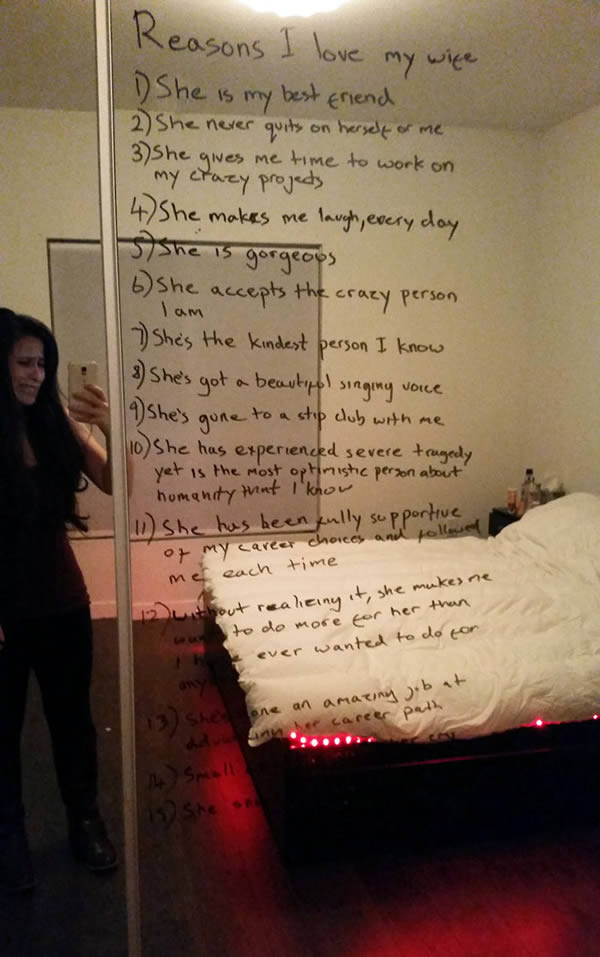 Tim Murphy, a Los Angeles-based engineer, surprised his new wife Molly with a beautiful love note. Molly, who suffers from depression, had just returned from a trip to San Francisco and was feeling particularly blue. When she flopped down on her bed, she noticed Tim has written a 15 point love note, "Reasons I Love My Wife" on their bedroom mirror:
1. She is my best friend
2. She never quits on herself or me
3. She gives me time to work on my crazy projects
4. She makes me laugh, every day
5. She is gorgeous
6. She accepts the crazy person I am
7. She's the kindest person I know
8. She's got a beautiful singing voice
9. She's gone to a strip club with me
10. She has experienced severe tragedy yet is the most optimistic person about humanity I know
11. She has been fully supportive about my career choices and followed me each time
12. Without realizing it, she makes me want to do more for her than I have ever wanted to do for anyone
13. She's done an amazing job at advancing her career path
14. Small animals make her cry
15. She snorts when she laughs
2

The husband who left an awful note to his wife — until she found the second piece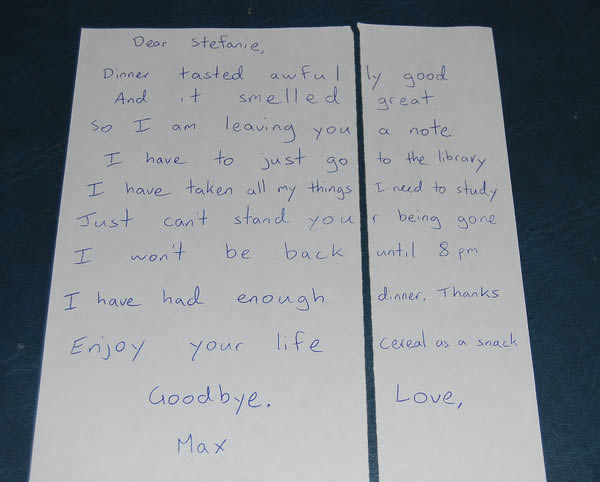 "Dear Stefanie,
Dinner tasted awful... so I'm leaving you.
Goodbye."
It's hardly the love letter a wife expects to find from her new husband. But that's exactly what happened to a friend of Reddit user proudlyhumble when she returned home one evening. Until she found the second half of the note and all became clear.
Romanticism apart, this was one hell of a creative note.
3

The man who asked his wife what was on her mind and got this drawn response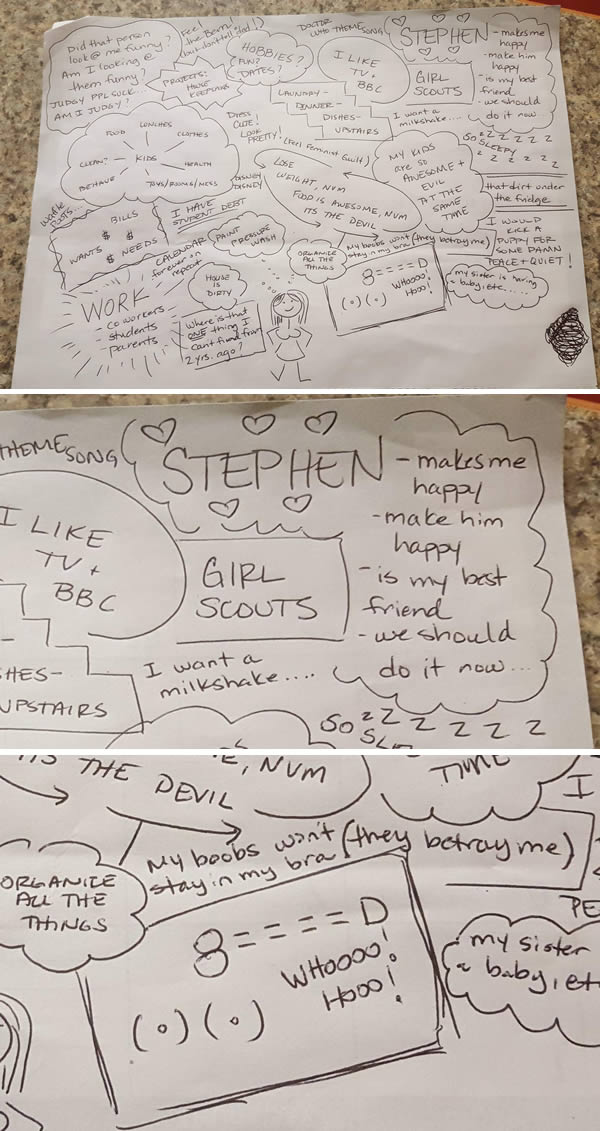 A professor in college once said in class that the biggest challenge for a woman was to answer "nothing" when her boyfriend asks what was she thinking. That was not the case for Redditor bpwwhirl. He posted this diagram with the comment: "Asked my wife to draw me a picture of what is on her mind. This is her response."
The short answer? She's got a LOT going on, from the practical ("house is dirty") to the random ("Disney Disney") to the very random ("waffle poots.")
Her erratic and exhaustive thoughts have struck a chord online, where they have been viewed over 1.6 million times.
4

The husband who surprised his wife with the ultimate unbreakable symbol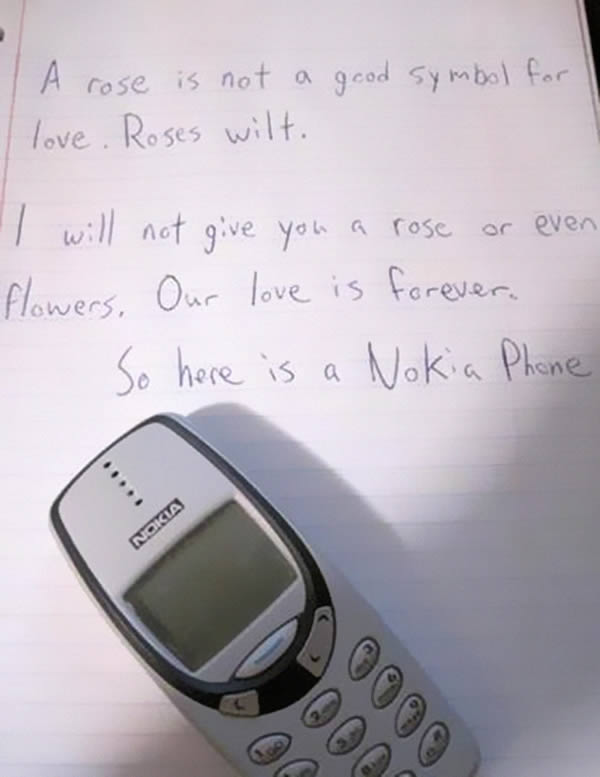 A good relationship is forever, and a Nokia phone was built to last. This Redditor decided to combine the two in an awesome love note.
5

The guy who wrote down all the reasons his wife cried for a month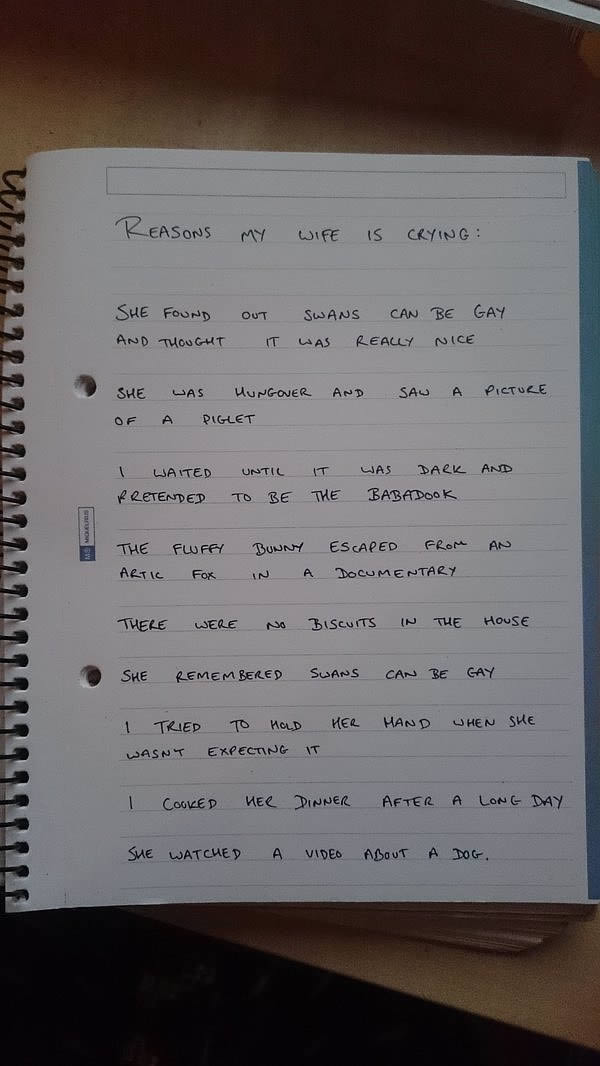 Aaron Gillies and his wife Lex have been married for a year. In that time, Gillies has observed his wife's tendency to cry at just about anything and everything. For a month, the London-based comedy writer kept a list entitled, "Reasons My Wife Is Crying."
The resulting notebook is hilarious — "she was hungover and saw a picture of a piglet" (aw) to "I waited until it was dark and pretended to be the Babadook" (duh). One commenter wrote, "To be fair, I'm a grown ass man, and that one might even make me cry."
6

The husband who surprised his wife on her birthday with a Facebook hunt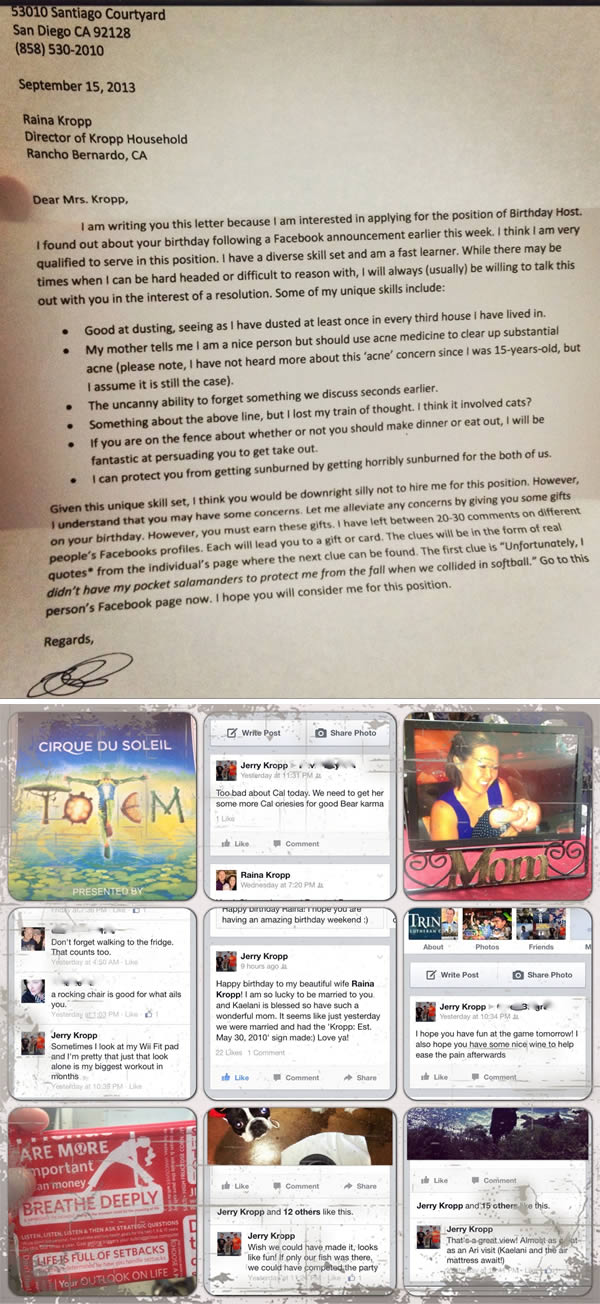 Rather than buying a cliché birthday gift, one husband sent a very original letter to his wife with a gift hunt included.
This is how she describes it:
"Inside that envelope, I found the following cover letter from my wonderful husband. I asked, "Did you make up this return address?" He laughed and asked me to think about it. That is when I realized Santiago Courtyard is the location we got married on the grounds of the Rancho Bernardo Inn. And duh, the 53010 was the date we got married. Very clever indeed.
At the end of the letter, I was given a clue and told that he had left multiple comments on the Facebook profiles of our friends and family. I had been given a birthday scavenger hunt! I quickly opened my iPad and started my fun present adventure.
Through the course of it, I received my favorite flowers (orchids), gift cards to two of my favorite stores, an adorable framed photo and tickets to Cirque Du Soleil."
7

The husband who wrote a romantic love letter to his "hero" nurse wife (and earned unwanted legion of female fans)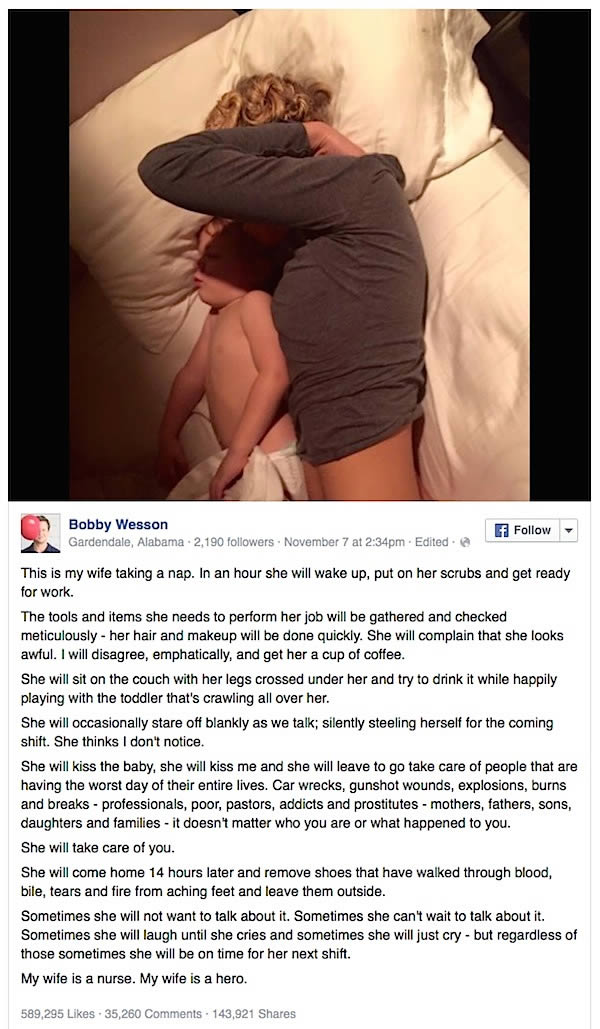 An American nurse has unexpectedly become an online star after her husband posted a touching photo and love letter about her on Facebook. Rayena Wesson, a trauma nurse from Birmingham, Alabama, was sleeping alongside her son when husband Bobby snapped a picture of her. He posted it on his Facebook page alongside a personal message in which he praised her dedication to helping others and called her his "hero."
The post has since earned over 880,000 likes and 189,000 shares, and led commenters to share their appreciation of the often-unrecognized work of nurses. Rayena's husband became an online sensation he was forced to record a message advising female fans to stop propositioning him.
8

The romantic husband who wrote love letters to his wife every day for almost 40 years
A devoted husband believes it doesn't have to be Valentine's Day to show someone how much you care. Bill Bresnan has written a love letter to his wife every day for the last 38 years. The caring 74-year-old has sent more than 10,000 cards and letters to wife Kirsten, also 74, since they first started dating. All the letters are signed, "I love you, my darling" with an infinity sign.
Most of the letters have been filed chronologically and put in boxes in the attic of their New Jersey home. Bresnan began the tradition by writing on napkins and pieces of paper he once gave hs wife when they commuted to work together.
The couple says they have never had an argument during their marriage and try to resolve any problems before bed. Awwww, how sweet!