1

#BriefMessage campaign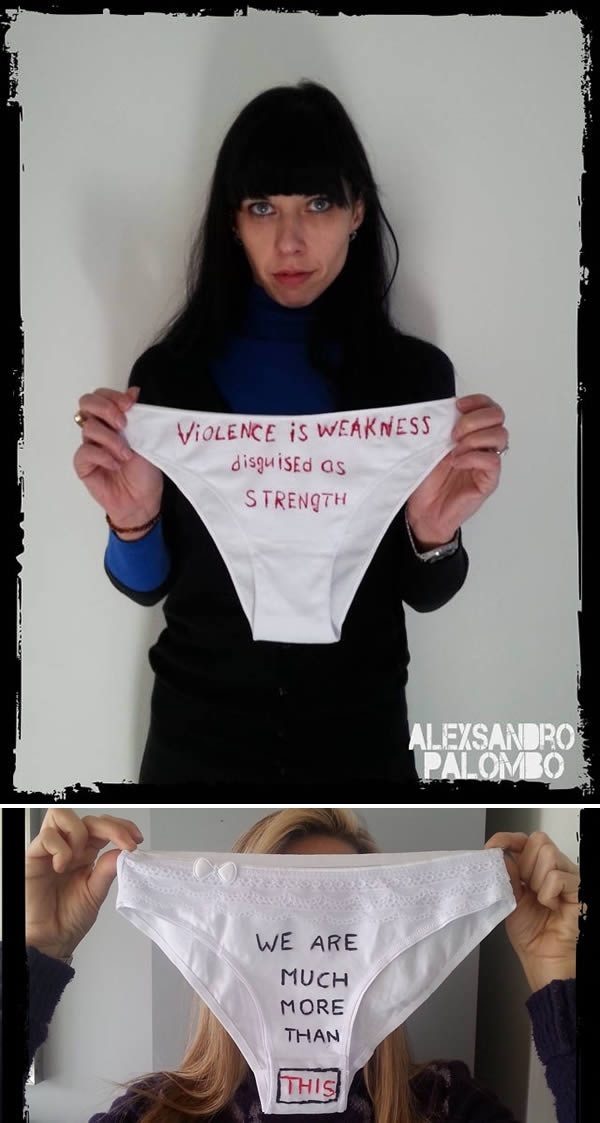 According to the World Health Organization, 35 percent of women have experienced a form of violence in their lifetime. Because of this, and in honor of International Women's Day (March 8th), artist aleXsandro Palombo wanted to give women a voice.
Palombo's work often centers around human rights and social issues. This project, the #BriefMessage campaign, is no different.
He asked women on several social platforms to write an empowering message against violence against women and compiled his favorites in a photo series.
2

Feminist Messages on Sanitary Pads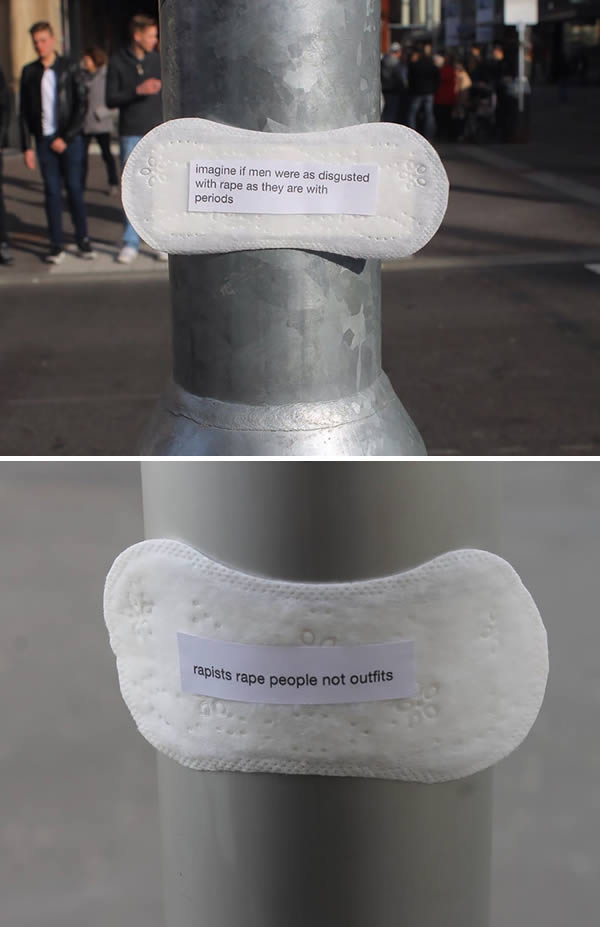 Feminism is always worth talking about, but it's sometimes hard to grab people's attention. Elonë, a woman in Karsruhe, Germany, solved this problem by using a controversial medium – sanitary pads – to drive home her message about gender equality and the elimination of rape culture. She chose International Women's Day (March 8th) as the perfect day to reveal her message.
She has already attracted the attention of thousands of supporters and critics alike from around the world, including people who want to apply her project in their own cities as well. Some of her most popular photos with the pads have been shared thousands of times. She says she was inspired to create the series by a tweet that read "imagine if men were as disgusted with rape as they are with periods."
3

Feminist Shoots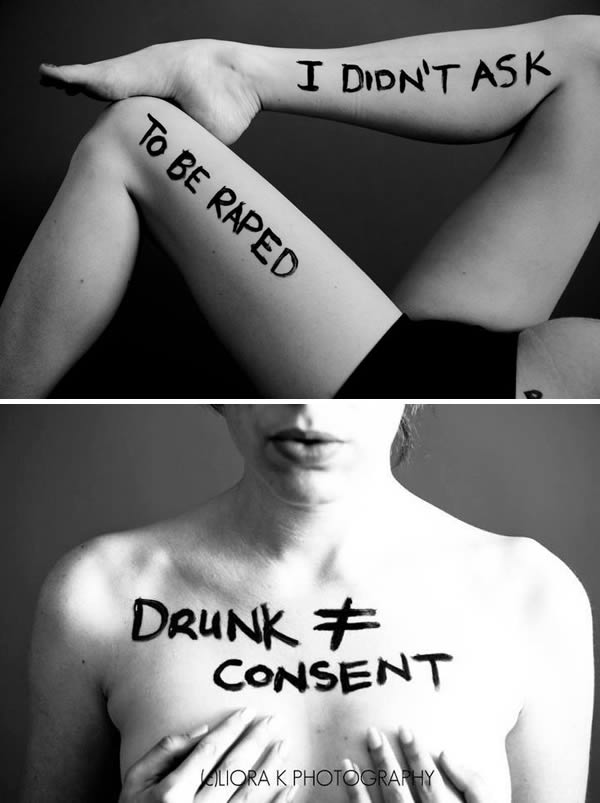 Here is a set of photos taken by Liora K Photography out of Tucson AZ which display everyday women with a message written on their body, which she calls her "feminist shoots."
Why on an exposed part of a woman's body? Because we can… and to make a point that our bodies are exactly that – OUR bodies – not the government's, not society's or religion's.
4

SlutWalk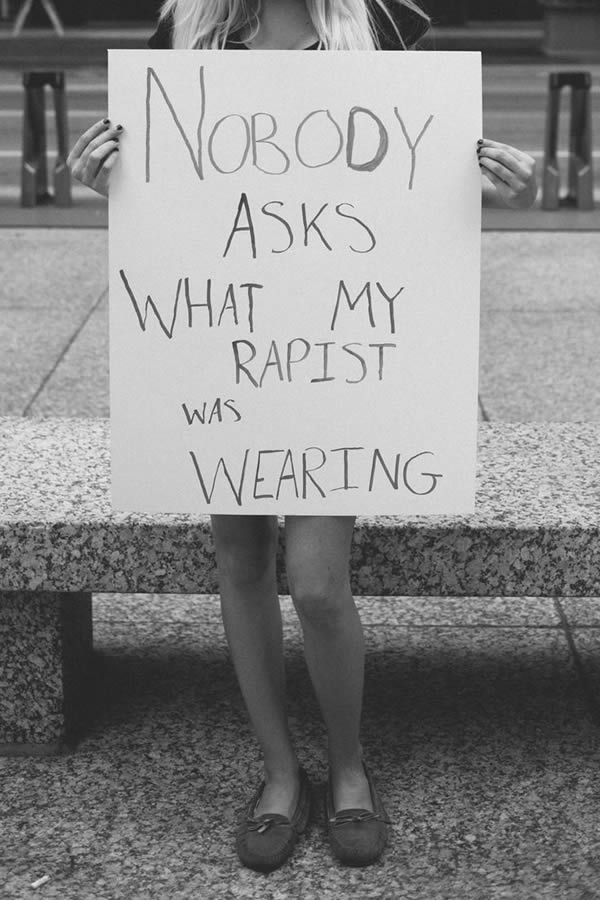 Slut Walk Chicago 2013 was the third annual SlutWalk. The first event in Chicago was organized in 2011 as an homage to the original SlutWalk, which launched in Toronto after a police officer from that city made international headlines when he said "women should avoid dressing like sluts in order not to be victimized."
In an interview with DNAinfo Chicago ahead of Saturday's protest, organizer Vera Kim Mikrut said the event aims to "help [victims] find a voice and show that rape culture is a real thing." The march is part of a still-growing international movement that counters myths and stereotypes associated with sexual assault.
5

Project Unbreakable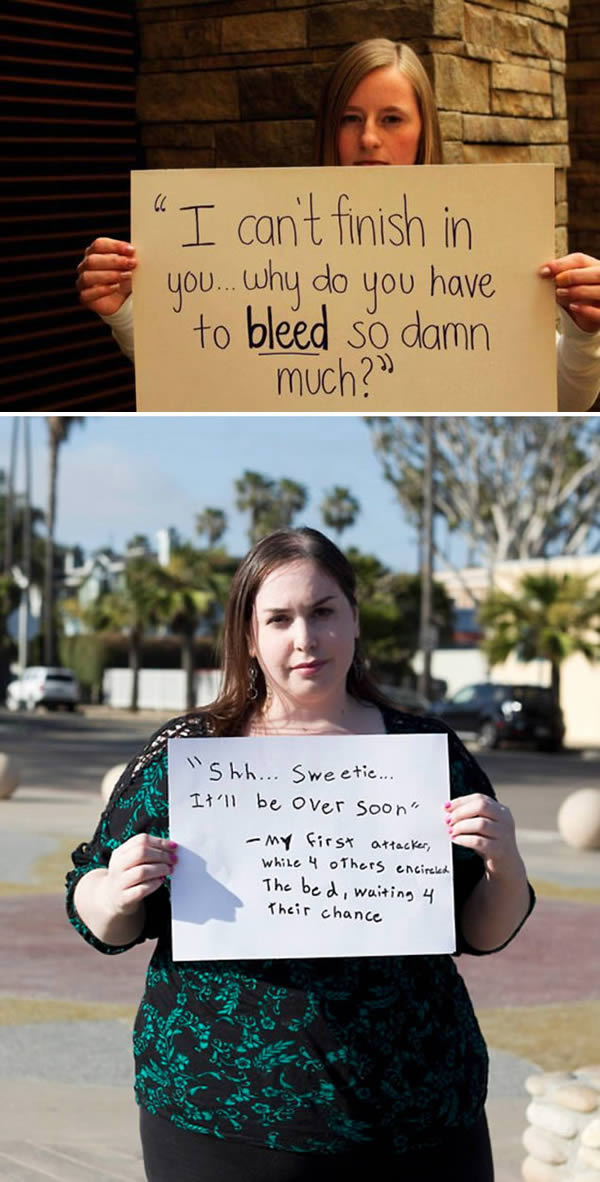 A 21-year-old photography student at the School for Visual Arts has embarked on a project designed to give a voice back to victims of sexual assaults by empowering them with the words of their attackers.
Grace Brown is in the midst of a campaign that uses photos of sexual assault victims holding cards with things their attackers said to them in an effort to raise awareness of the issues victims of sexual assault face both during and after the crime.
Brown began the campaign - called Project Unbreakable - in October 2011, when she was just 19, and has captured images of hundreds of victims of sexual assaults.
6

Project Unbreakable (male version)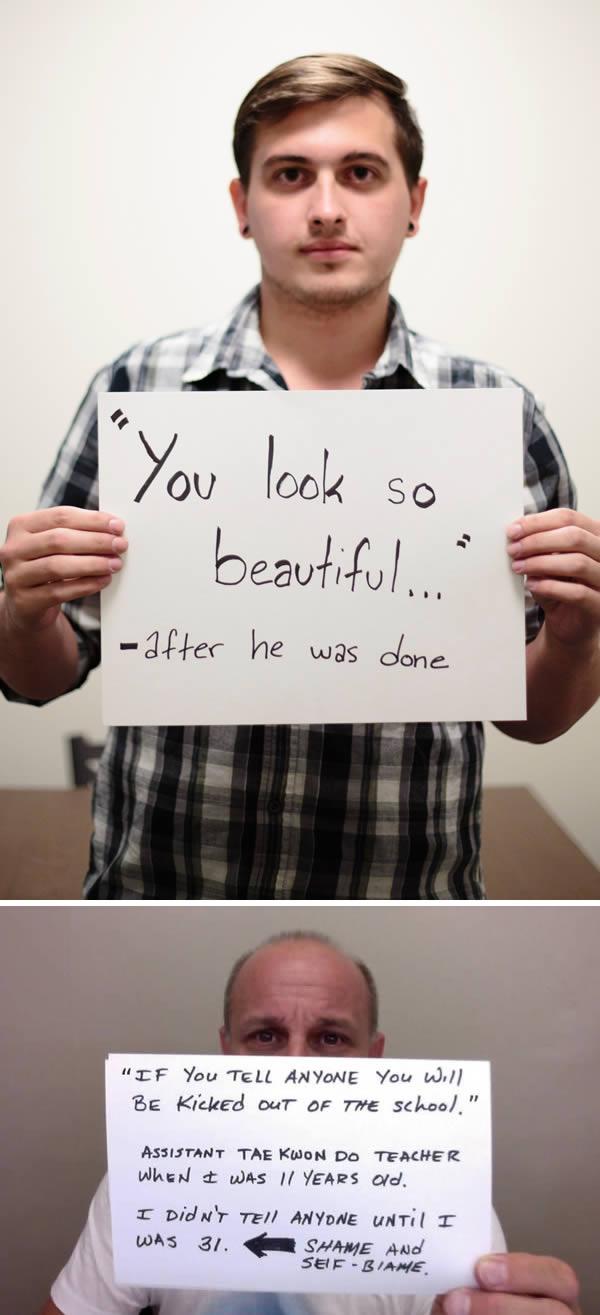 7

"I need feminism because..."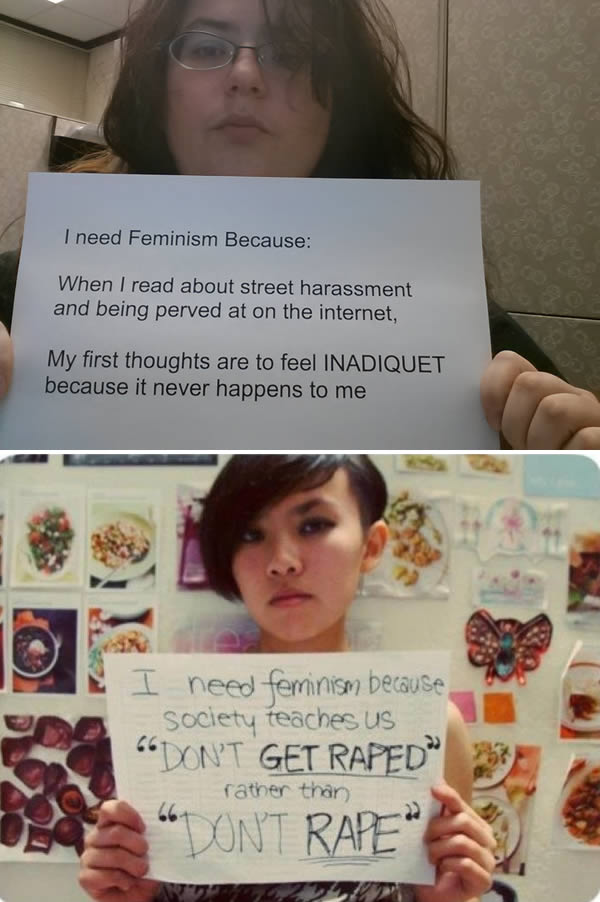 A campaign by students in Cambridge to raise the profile of feminism has been phenomenally successful. The project revealed just how frustrated many students are by sexist attitudes and how willing they are to work together to combat them.
They took up the challenge to complete the sentence "I need feminism because..." over a period of three days in April 2013. More than 700 people took part in the campaign. Their messages ranged from global and political to funny and personal. Examples ranged from "rape is used as a weapon of war around the globe" and "today in the UK there are 4000 girls in forced prostitution" to "I love baking and my dad does too" and "some of my friends will laugh at this."
The images were an immediate hit on Facebook and got half a million shares in two weeks. When 60 of the most striking images were edited into a Tumblr social blog site, the post was re-blogged over 230,000 times and re-tweeted around the world. Taken up in the mainstream press, the images led to a surge of interest. The French newspaper Figaro translated a dozen slogans into French. The Huffington Post reported that the campaign had spread to Malawi and Australia. Cosmopolitan magazine gave the campaign a thumbs-up. The Guardian carried an article by a 17-year-old soon-to-be Cambridge student who organized a feminist society at her school in Cheshire.
8

Stands With Survivors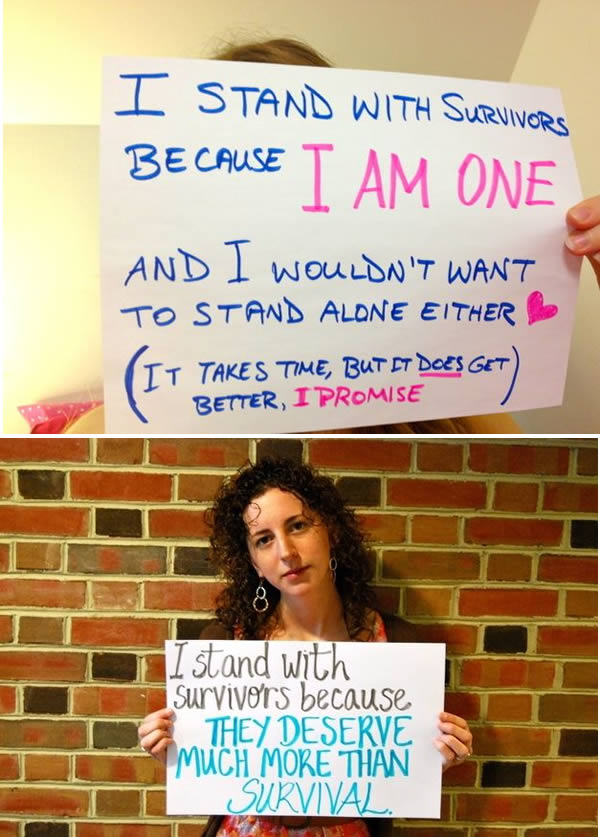 Dozens of students and faculty members at the College of William & Mary in Williamsburg, Va., have come forward on a Facebook page to show support for victims of sexual assault, including a W&M athlete who recently lost her rape case.
Hannah Boes, the project's creator and an English and psychology senior, told BuzzFeed she was inspired by the popular "I'm a feminist because..." Tumblr.
9

Surviving in Numbers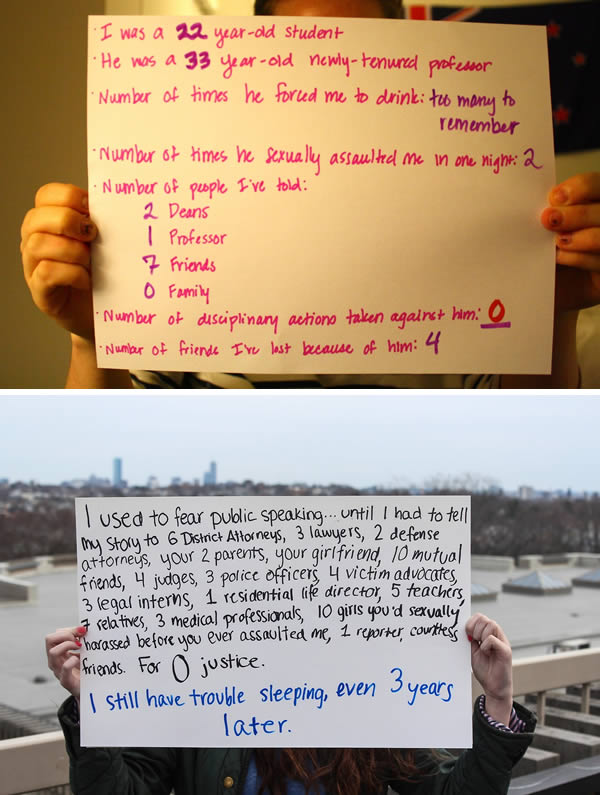 Three years after she was sexually assaulted in her car during high school, Ali Safran posted a sign on a fence that read: "Three years ago on this date, I was sexually assaulted here. Coming back to this spot still evokes nausea, but I return here to make a point. Sexual assault is preventable."
Ali then asked people to write out their stories on posters once again, and had their photos taken holding their signs over their faces. The powerful images have been posted on her Tumblr.
10

30 Secrets In 30 Days Challenge

Every once in a while, Flickr groups create a 30 Secrets In 30 Days challenge. For 30 days in a row, group members reveal a secret, or little known fact about themselves, and post a picture to illustrate the secret.
Flickr user bex011087 decided to write her secrets on her own body. She took the opportunity to share her personal experience as a rape victim to celebrate Sexual Assault Awareness month.