1

Cap'n Crunch Delights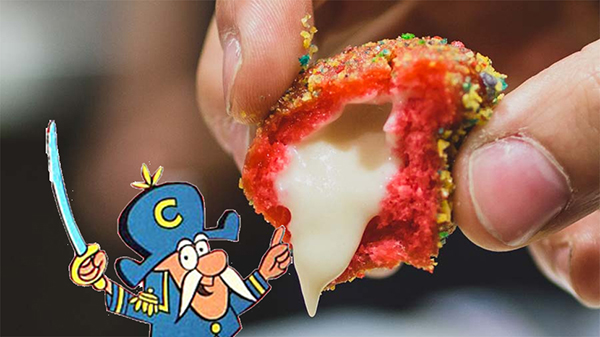 Does the world really need deep fried Cap'n Crunch balls loaded with cream? Taco Bell thinks so.
The fast food giant has rolled out Cap'n Crunch Delights, which combine the best part of Cap'n Crunch cereal – the berries – with cream-filled doughnut holes. The result is a bright pink pastry filled with cereal milk-flavored cream.
The company is testing the donut holes at stores in Bakersfield, California. If the tests are successful, the donuts will hit Taco Bell stores nationwide. This state fair fare will be available throughout the day, not just at breakfast. Does it come with an insulin chaser?
2

The Mac 'n Cheese Big Daddy Patty Melt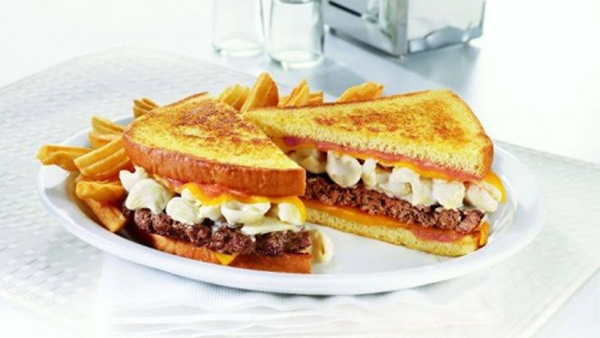 This Denny's restaurant mashup appeared in 2011. The Mac 'n Cheese Big Daddy Patty Melt consisted of "a hand-pressed beef patty topped with new creamy Mac 'n Cheese, melted cheddar cheese and zesty Frisco sauce on grilled potato bread." Along with the side of fries, this hedonistic entree packed in 1690 calories and 99 grams of fat.
3

The Double Donut Burger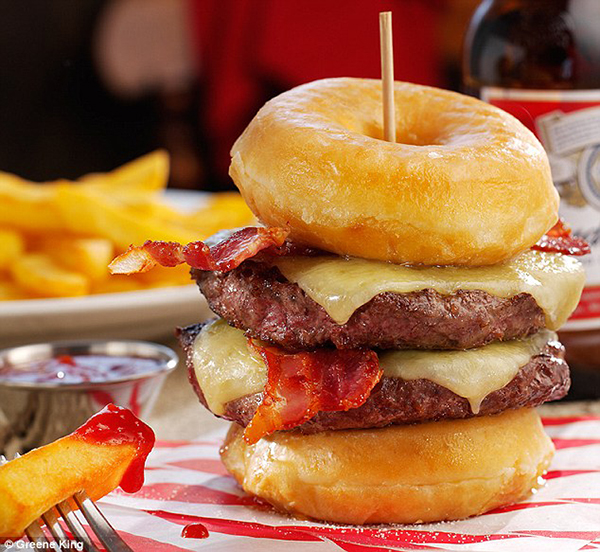 The Double Donut Burger is laden with so much fat, salt and sugar it has been described by its critics as a "heart attack on a plate."
Served by a chain of "family friendly" restaurants – the Hungry Horse pub restaurants in the UK – the donut burger consists of two beef burgers topped with melted cheese, four rashers of smoked streaky bacon and barbecue sauce, served between two sugar-glazed ring donuts.
The 1,996 calories in the burger are 98 percent of the total that a woman should consume from all meals in an entire day. There is 53g of saturated fat, well above the 20g daily allowance for women, and 30g for men, and 8.2g of salt – double the daily maximum that should be eaten by a child and above the 6g limit recommended for an adult.
Mel Wakeman, senior lecturer in Applied Physiology at Birmingham City University, criticized the burger, saying around three hours of continuous running should just about burn the burger off your waistline.
4

The Waffle Taco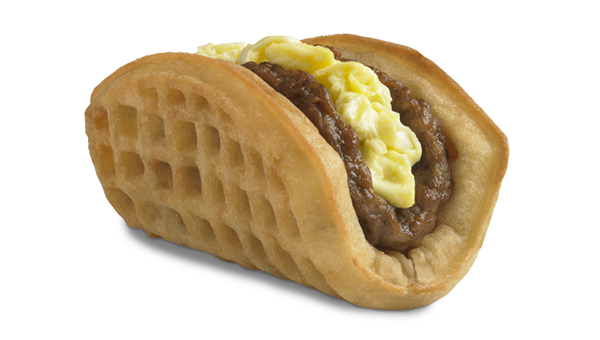 In an effort to compete with fellow fast-food chains, Taco Bell debuted its new breakfast menu on March 27, 2014. The "star" of this new category of dishes is the Waffle Taco. The taco consists of a waffle shell that encases scrambled eggs, cheese, bacon or sausage, and gooey syrup.
The taco does not have a nutrition fact label on the chain's website. The only nutrition information available regarding the Waffle Taco, is the ingredients statement. Regardless, we know it has 30 grams of fat, with 20 percent saturated fat (2.5 times more fat than a Snickers bar, not considered the breakfast of champions). Furthermore, there is only 1 gram of fiber, considerably less than what we need as part of a healthy breakfast.
5

Doritos Crunchy Crust Pizza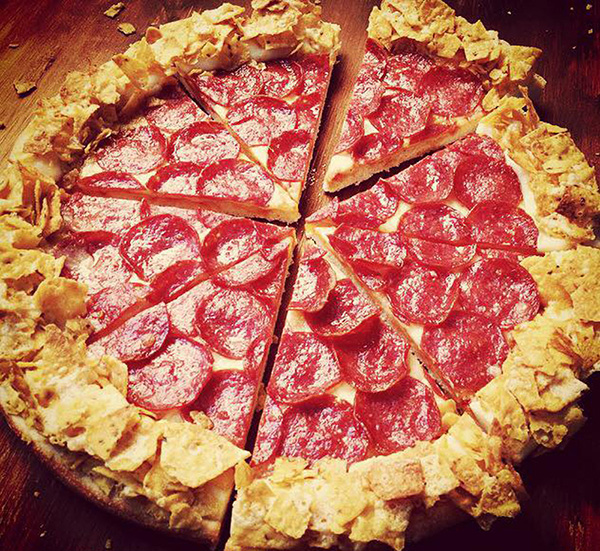 Only available for a limited time in Australia, Pizza Hut's Doritos Crunchy Crust Pizza was unleashed upon an unsuspecting public in January 2014. The pizza crust was topped with Doritos and a layer of mozzarella cheese holding everything together. It's every kid's dream, and every adult's heart attack.
6

Bacon Wrapped Crust Deep! Deep! Dish Pizza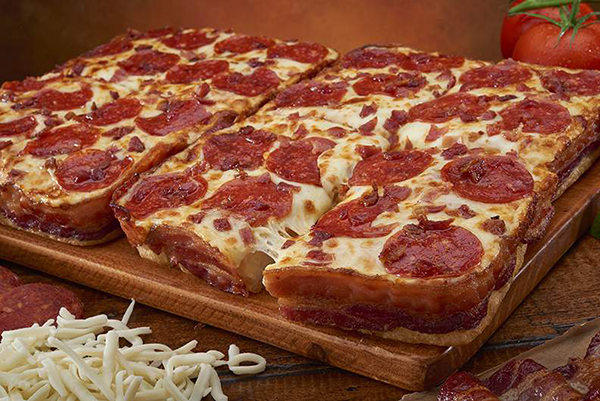 Bacon lovers rejoice! Little Caesars has rolled out its Bacon Wrapped Crust Deep! Deep! Dish Pizza™. That's right, over three feet of thick cut bacon hug one humongous deep-dish pizza.
According to the powers that be, this pizza isn't nearly as bad for you as other dishes that exist in the fast food world, but we'll let you be the judge – it's still 450 calories a slice. There is also 830 milligrams of sodium, 23 grams of fat and 40 milligrams of cholesterol. Ouch!
7

KFC Double Down Dog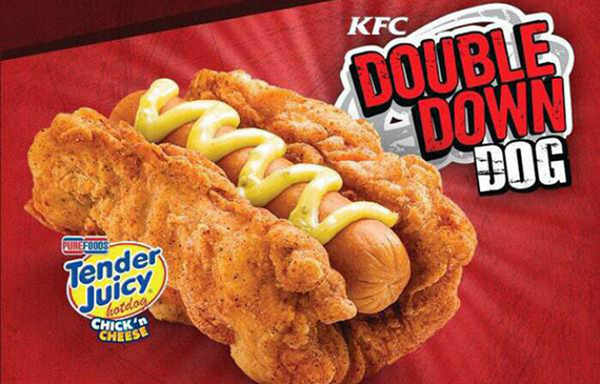 The KFC Double Down Dog was only available in the Philippines in January 2015 – and even if you live there, participating chains were limited to selling only 50 Double Down Dogs per day.
The fried chicken fast food chain has now theoretically answered their own question of "what's grosser than gross" with the Double Down Dog, a hot dog with cheese sauce and a molded fried chicken bun. I don't think we have to tell you why it's unhealthy, just look at the thing!
8

Peeps Flavored Milk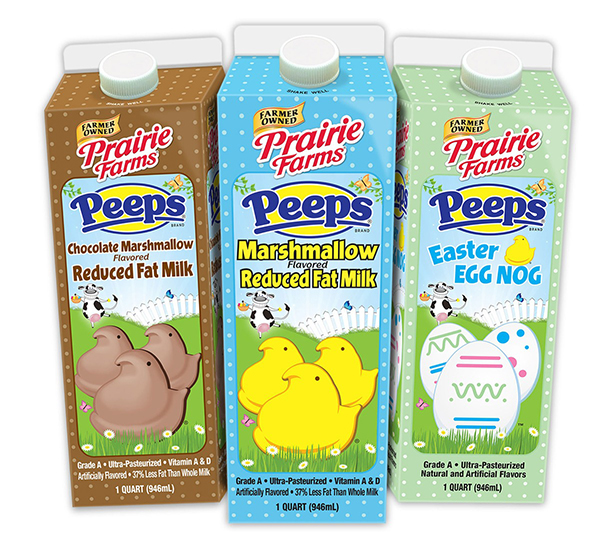 What is more of a sign that Easter is fast approaching than the appearance of Peeps?
Just in time for peak Peeps season, Prairie Farms Dairy is releasing Peeps-flavored milks in the flavors of chocolate marshmallow, marshmallow and Easter eggnog (unfortunately, it's non-alcoholic). But don't get too crazy – even though the marshmallow and chocolate marshmallow flavors are made with reduced fat milk, each cup has a whopping 37 grams of sugar.
Liquid Peeps are available for a short time and have a limited rollout in the midwestern U.S.
9

The "Buffalo Crunch" Donut
Canadian donut chain Tim Hortons has taken a very deep dive into fast-food mashup territory with this "Buffalo Crunch" donut, which was served exclusively at the New York State Fair in 2014.
The donut consists of a pull-apart yeast that's dunked in Buffalo sauce and crusted with crushed-up chips. It combines a staggeringly high number of junk-food influences (Buffalo sauce, tortilla chips, doughnuts) while still managing to make sense. The corn-chip strips in the center are decorative and the donut comes in mild and hot varieties – mild is "toned down" with Ranch dressing.
Will the "Buffalo Crunch" donut become a menu item in this newly Burger King-owned donut chain? Stay tuned!
10

The Garbage Plate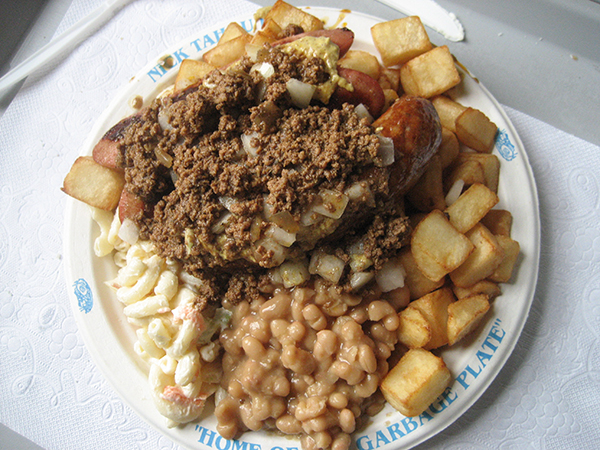 The garbage plate is the oldest food mashup on our list. It originated at Nick Tahou's restaurant in Rochester, New York, which has been open since 1918.
The plate consists of a foundation of baked beans and/or macaroni salad with either home fries or French fries. On top, a choice of two cheeseburgers, hamburgers, red hots, white hots, Italian sausage, chicken tender, haddock, fried ham, grilled cheese, or eggs. The crown jewel on this mountain of food –onions, mustard and Nick's signature hot sauce, which is a ground meat chili like you'd get on a Michigan-style Coney dog.
Although there are different variations on the plate across the U.S., Tahou's holds the trademark to the one and only Garbage Plate, aptly named by college kids in the '80s after a few too many celebratory drinks, after rolling into the restaurant asking for "one of those plates with all the garbage on it."
Health.com named the Garbage Plate the fattiest food in the state of New York.