1

Primark Padded Bras for 7 year olds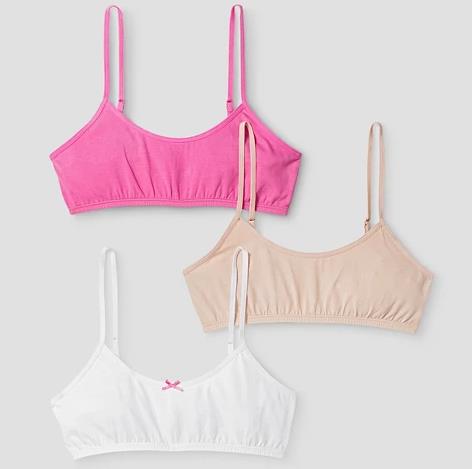 In 2010, UK fashion retailer Primark caused a wave of public outrage when it emerged that they were selling padded bras and bikini tops for little girls. The £4 bikinis, one in pink with gold stars and the other black with white spots, were sold for girls, aged seven to eight.
The products sparked calls for a boycott of the store and were widely condemned by those opposed to the sexualization of children, including parents groups and the British Prime Minister David Cameron. After a whole lot of angry recrimination, Primark not only stopped selling the clothing, but pledged to donate any profits they had made from this sexual targeting of children to charity.
2

Dive Into "High School Musical" Pants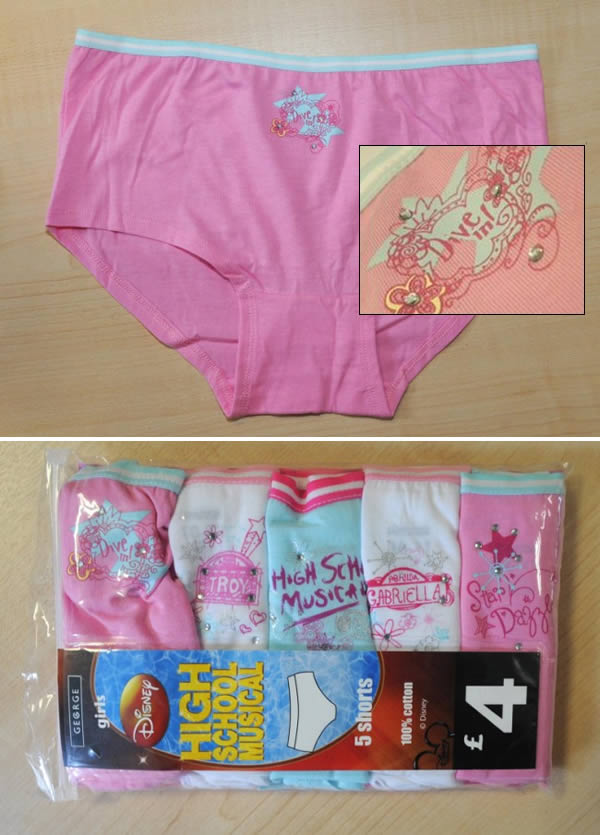 In 2008, knickers for young girls made to promote the film High School Musical 2 were withdrawn after a complaint that they were sexually suggestive.
Sue Relf bought the underwear for her seven-year-old granddaughter at Asda in Broadstairs, Kent, and took them home to find the words "dive in" on them.
Disney apologized for any offense, and said a genuine oversight had led to the words being used out of context.
3

"Fisting" Kids Shirt at Walmart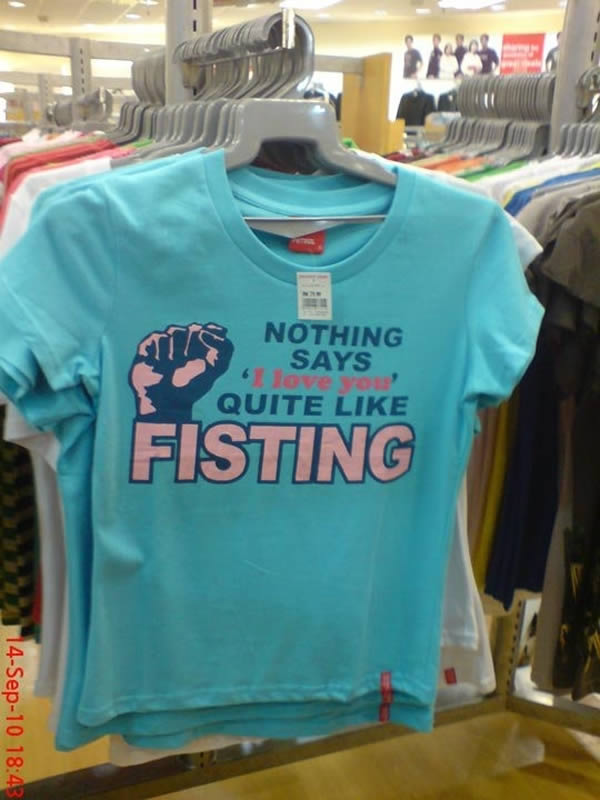 "Nothing say I love you like fisting." This shirt was spotted in the kids section at Walmart in 2010. I think they meant "fist bump."
4

Nipple Pasties on Toddler Tees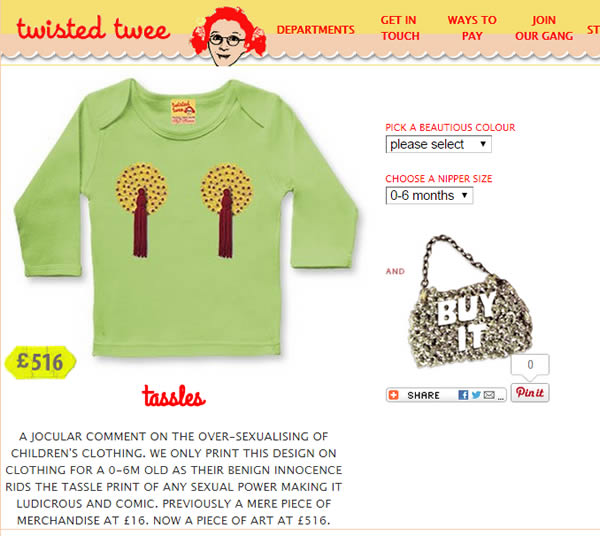 There are fewer things that can get a mama more riled up than inappropriate clothing. Twisted Tee, based in the UK, is offering up "non-traditional" clothing for babies and young kids. It's their "tassel t-shirt", tailored for infants and young girls, that really got people talking. As you can see, this t-shirt has – ahem, well –  mock nipple pasties on it. What's more is that the t-shirt is marketed to parents and grandparents of babies and young girls (sizes 0-6 to aged 4) to "liven things up."
While the messages of the clothing may be lost on some of the kids, it will be apparent to older siblings or of course, adults.
5

Pandas Having Sex Pajamas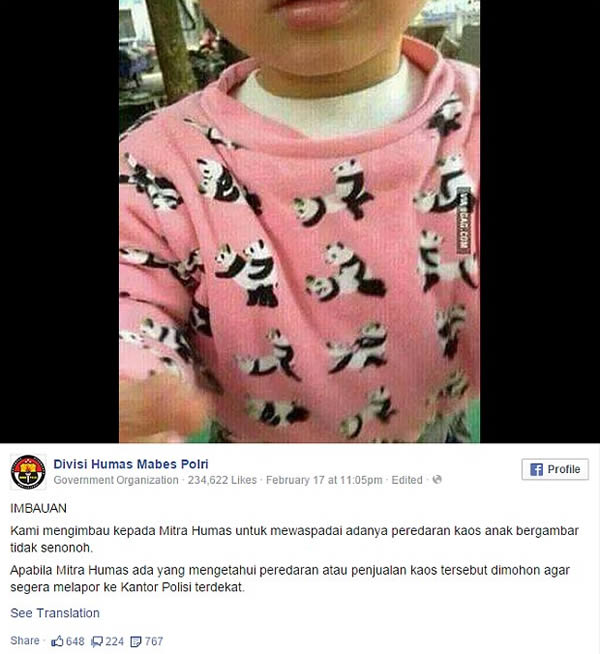 Indonesian Police have called on people to help them ban a child's top that shows pandas acting out human sexual positions.
Police are urging the public to report any sightings of the offending PJs through a post on Facebook: "We appeal to the partners of the Police Public Relations division to be aware of the existence and circulation of children's t-shirts with indecent illustrations.
"Any partners who know of such t-shirts being circulated or sold are kindly requested to immediately report them to the nearest police station."
But it seems Jakarta's finest may have been fooled. For all those who know their viral images, the image has a watermark for 'www.9GAG.com' – a website well-known for its memes and funny photoshopped images. Furthermore, the picture may be over 18 months old.
6

Offensive Mickey Mouse Shirts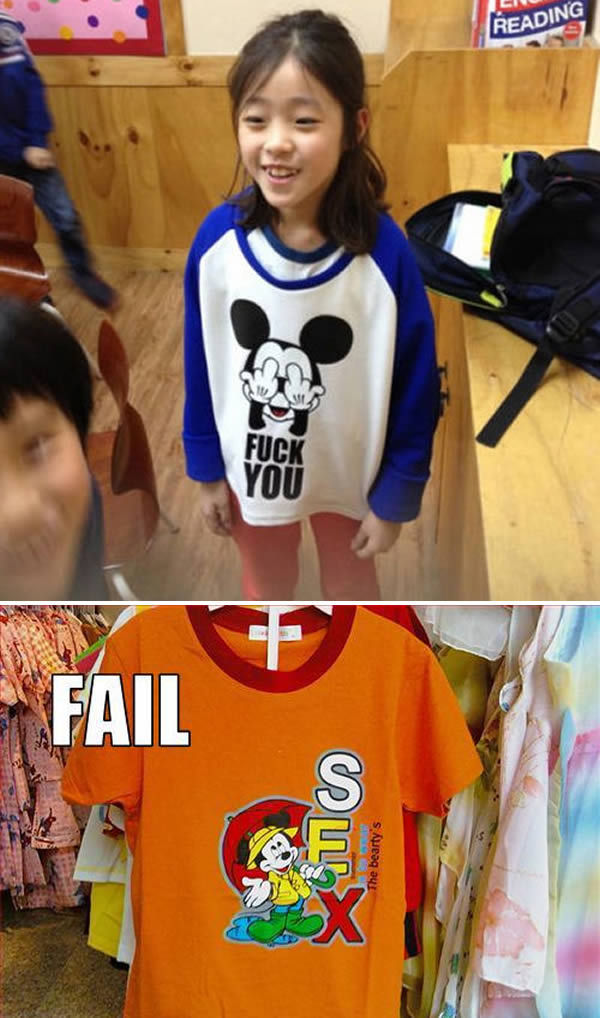 Unfortunately, The Walt Disney Company can't control all Mickey's counterfeit merchandising, so it's not rare to find kids dressing in one of those shirts shown above. But parents should know better.
7

Racist Monkey Shirts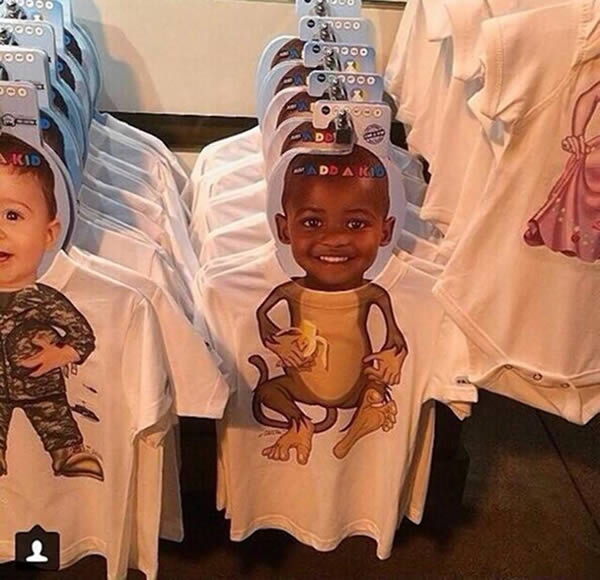 In 2014, a children's clothing line was under fire after a T-shirt featuring a monkey's body was paired with a cardboard cutout showing an African-American boy's face.
The controversial combination seen in a photo uploaded to Twitter created ire and prompted a quick defense by the company, Just Add A Kid, which is chalking it up as "a total misunderstanding."
"We are looking into all the situations that occurred around this little incident," company co-creator Lowell Cohen told the Daily News by phone. "We're looking at the vendor, we're speaking to our employees."
The T-shirts, designed by the clothing line, feature cartoon character bodies ranging from surfers, cowboys, princesses, angels and various animals and occupations. In a later statement, the company said the pairing was "not authorized, condoned or tolerated" by the company.
It appears to ultimately be each vendor's decision in how they pair the cardboard faces — featuring various ethnicities — to the designs.
8

Target's "Sexist" Baby PJs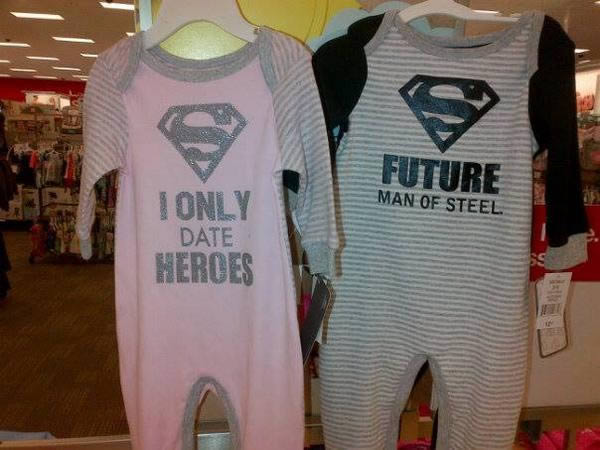 Hundreds of people have denounced Target for selling "sexist" baby pajamas after a university professor posted a photograph of the clothing on social media.
The boy clothing features a Superman logo and the line "Future Man of Steel," while the girl item has the same logo but the line: "I Only Date Heroes."
"It seems kind of ridiculous to talk about who an infant girl is going to date," said Aimee Morrison, an associate professor of English at the University of Waterloo.
The photograph was taken in 2014 at a local Target store by Morrison's friend, Christine Logel, an associate social development professor at the university. Logel was out shopping for toys for her two daughters, aged 3 and 8, when she saw the sleepers made for three-month-olds.
9

Fake Chest Hair Shirt For Boys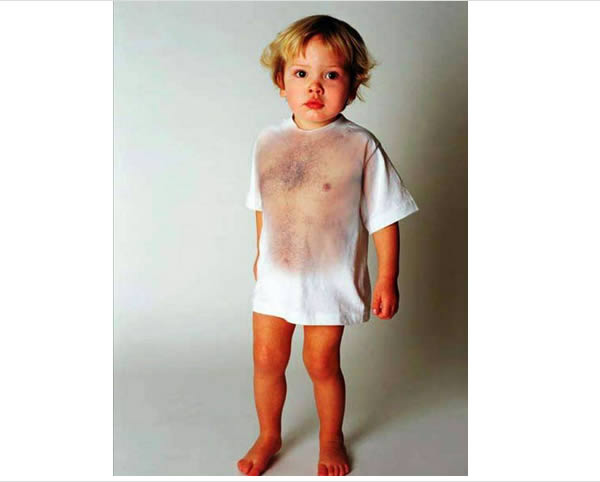 We are used to seeing sexualized clothes for girls, such as nipple pasties on shirts or padded bikini bras as shown above, but apparently boys are now also being targeted with these types of outfits. TrendHunter recently posted this "hilarious" kiddie chest hair t-shirt that gives children and babies the manly look that they no longer have to wait for puberty in order to achieve. "Now, babies really can look like their daddies, inside and out!"
10

Corset Onesies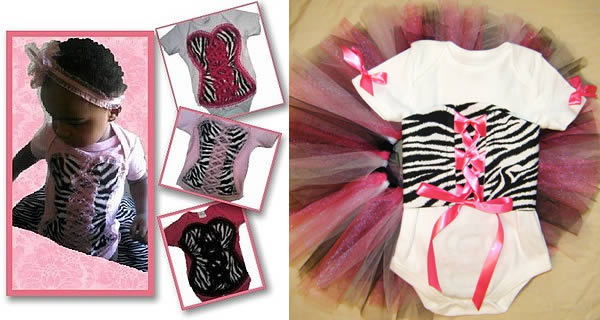 Corsets for little girls? TinyHaute Couture's cotton onesies with fur animal-print inlays and lace appliques certainly made a statement, but it doesn't look like it was one moms were willing to buy. The all-in-ones, the creation of a mom who was seeking the perfect Valentine's Day outfit for her daughter, caused outrage among parents and the company stopped selling them.
11

Sexualized Christmas Shirts for Girls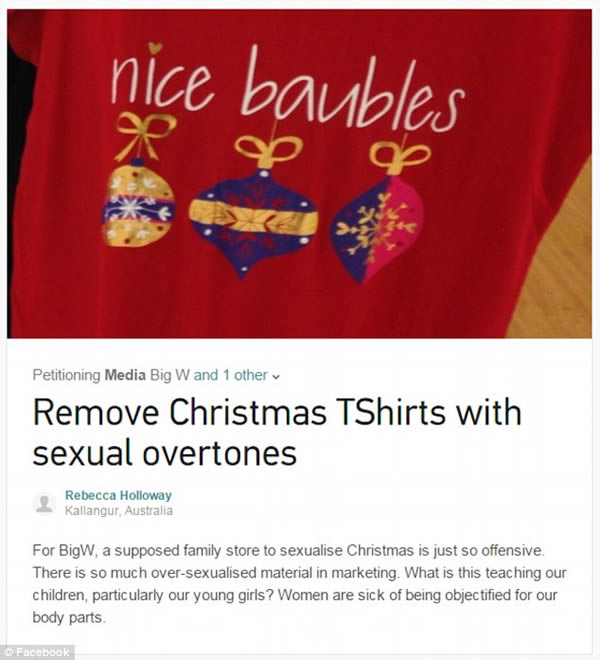 In 2014, Retail giant Big W came under fire for selling novelty Christmas shirts with inappropriate slogans that activists claim sexualize young girls. The festive shirt, with the slogan "nice baubles," targeted the attention of one outraged shopper, who started a campaign to have it removed after spotting it in a Big W store. Collective Shout spokesperson Coralie Alison spoken out against the sale of the shirts saying that the product could be harmful to young girls.
Big W drew attention earlier in the year for introducing the controversial "Scratch and Sniff" underwear line, which also drew outrage from parents and shoppers alike. The range, which was removed by the chain after a torrent of complaints were lodged, featured scratch "panels" in the clothing which released a sweet scent when activated.