1

The artists who transformed London Royal Children's Hospital with murals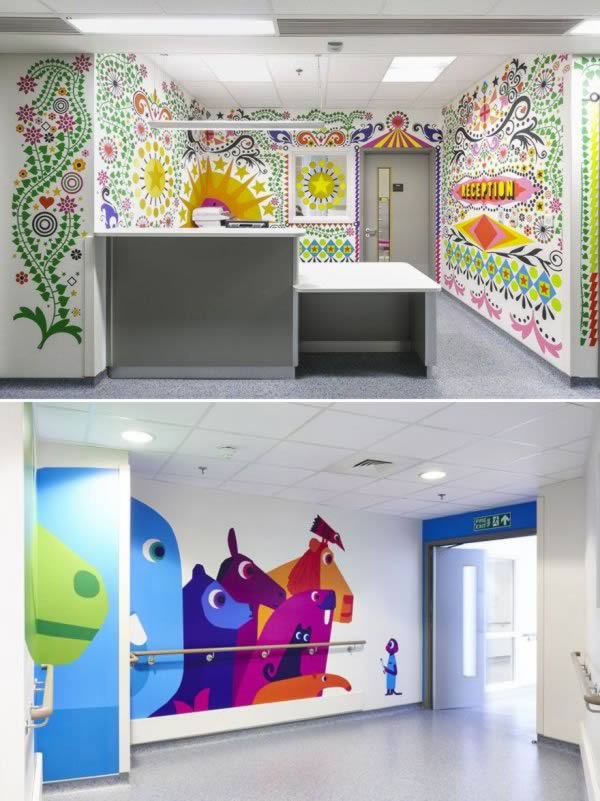 A British arts collective called Vital Arts, an organization whose goal is to bring art to Britain's hospitals, has transformed London Royal Children's Hospital into a visual feast for little eyes. Mural after mural, some embellished with parts affixed to give them dimension and life, now meet the eyes of patients and their guests.
What was once a grim, institutional paint job is now full of vibrant color. If the designs put one smile on the face of a sick child or parent in distress, the artists have made a positive impact.
2

The pirate-themed CT scanner in a New York children's hospital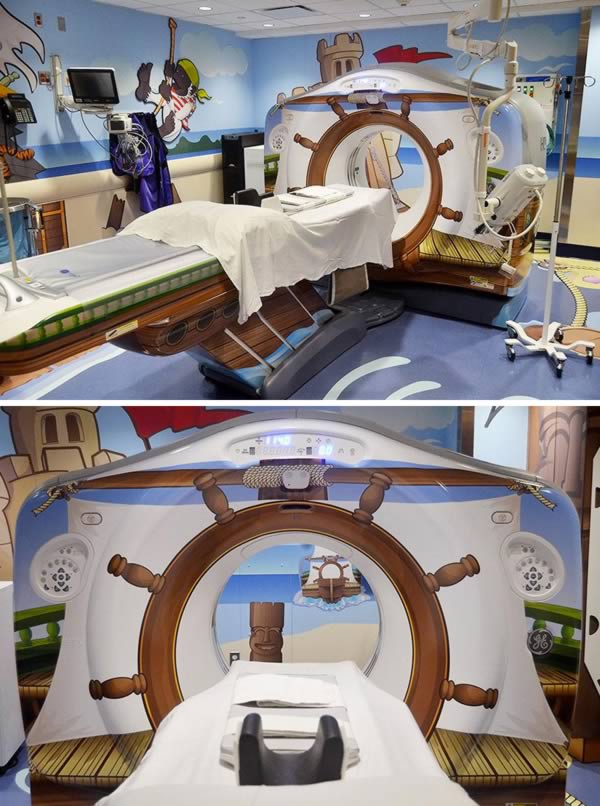 We all know that having to go to the hospital can be a bit of a daunting experience, especially for a child.
Thankfully, New York-Presbyterian Morgan Stanley Children's Hospital was well aware of this and decided that they needed to do something to help their young patients to relax and feel more at home.
So, instead of just buying a machine that would deliver a smaller dosage of radiation, the hospital decided to give the it a complete makeover. No the room is fully decked out in pirate decor.
3

The windows washers who dresses as superheroes to cheer up hospitalized children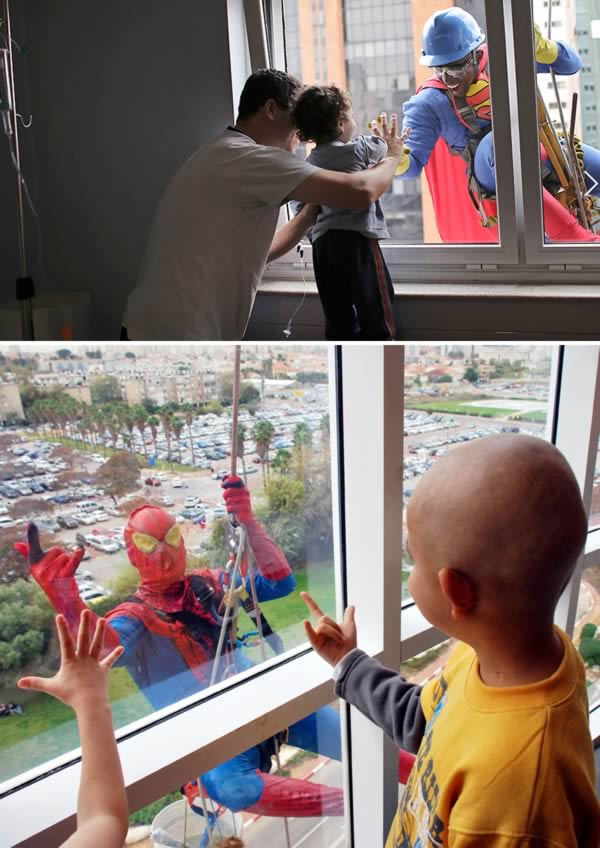 What's that? Is it a bird? Is it a plane? No – it's Superman! And he just happens to be dangling from the façade of the Hospital Sabará Infantil in São Paulo. He's also brought along his friends, Batman and Flash from the DC Comics universe. The three masked men them have come not to rid the world of evil, but rather to clean the windows.
The management staff at Hospital Sabará Infantil came up with the idea to commemorate Children's Day, which is celebrated on October 12th in Brazil. On Children's Day, it is customary for parents to give their little ones presents.
To make the day fun for the hospital's young patients – many of whom are gravely ill – the window washers dressed up as Batman, Captain America & Co. to carry out their risky job and waved to the kids as they cleaned the glass façade of the building.
The Brazilian hospital wasn't the first and won't be the last to implement this idea. It has been replicated all over the world in several hospitals and the smiles on the children's faces are heartwarming.
4

The hospital that put newborn babies in Christmas stockings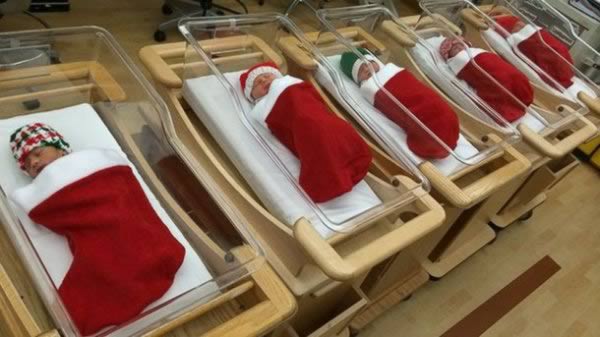 Babies born on December 25th are the best Christmas gifts of all! When they're born at the Magee-Women's Hospital in Pittsburgh, Pennsylvania, nurses put them in Christmas stockings. They're not hung over fireplaces –  that would probably be carrying the Christmas theme a little too far – but this is a nice gift to the tired and anxious parents of newborns.
5

The artist who created an interactive display at a children's hospital in London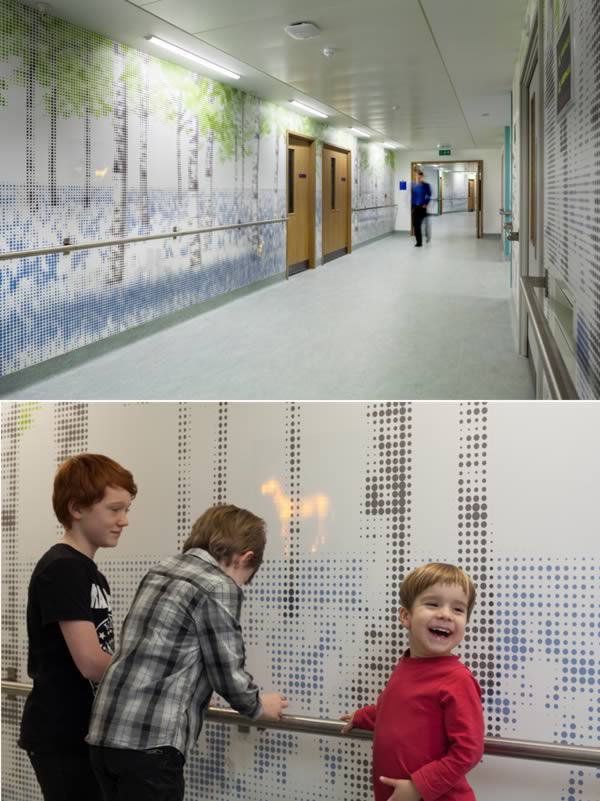 Children in the hospital need every distraction they can get. Enter artist Jason Bruges. He created an interactive display at the Great Ormond Street Hospital in London. Animals appear on the wall with the touch of a finger.
The work has been installed on the surgical floor of the hospital's new Morgan Stanley clinical building, the first part of the Mittal Children's Medical Centre. "Nature Trail" covers corridor walls and is composed of two main elements; integrated LED panels and bespoke graphic wallpaper. LED panels are embedded into the wall at various heights in order to be accessible at eye level of patients moving along the corridors.
Across these surfaces are abstract "animal movements," which are interactive animated patterns of light that reveal themselves through the trees and foliage of a forest. The artwork consists of 70 LED panels, with a total of 72,000 LED lights.
6

The Japanese hospital that looks like a wild funhouse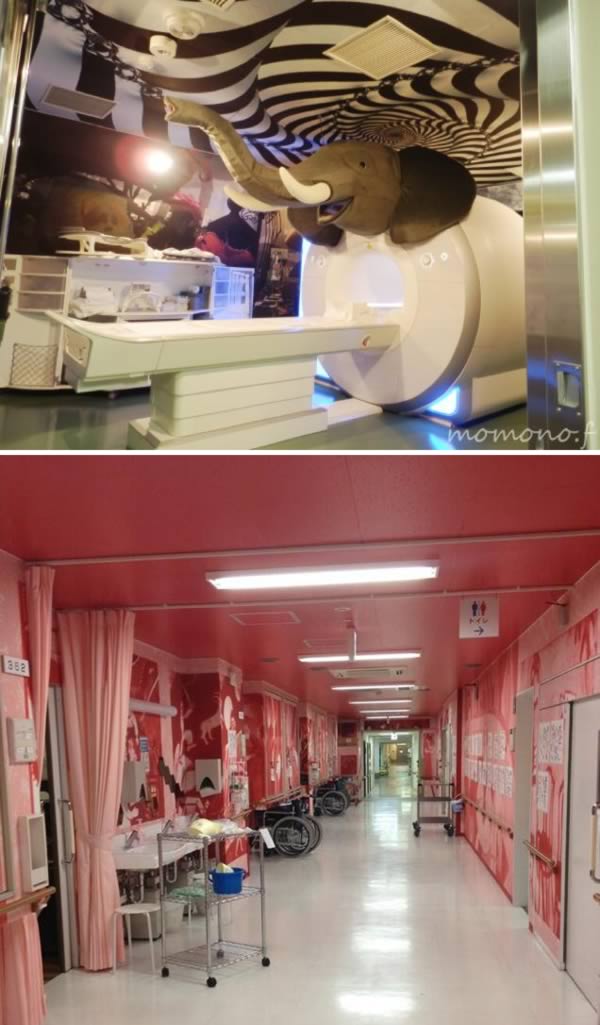 Say hello to possibly the strangest and coolest medical facility in all of the world –  Edogawa Hospital!
Located in Tokyo, this building completely eliminates all those eerie feelings you get when you enter your average hospital. IAt Edogawa, it's hard to be sure if you're here for medical work or just visual entertainment. The odd, colorful, cheery, and graffiti-like artwork certainly stands out more than the employees, but that's not be a bad thing!
From the outside, Edogawa looks like a normal, nondescript hospital. However, upon entering, you start to wonder if you came to the right place. Never fear – the hospital floor map, which is a treasure map, reassures you that you've found the proper destination.
And no, Edogawa isn't a just for kids. It's a full blown hospital that handles cardiology, orthopedics, and much more.
7

The hospital that turned their radiology room into a themed series to easy patients minds and discourage sedation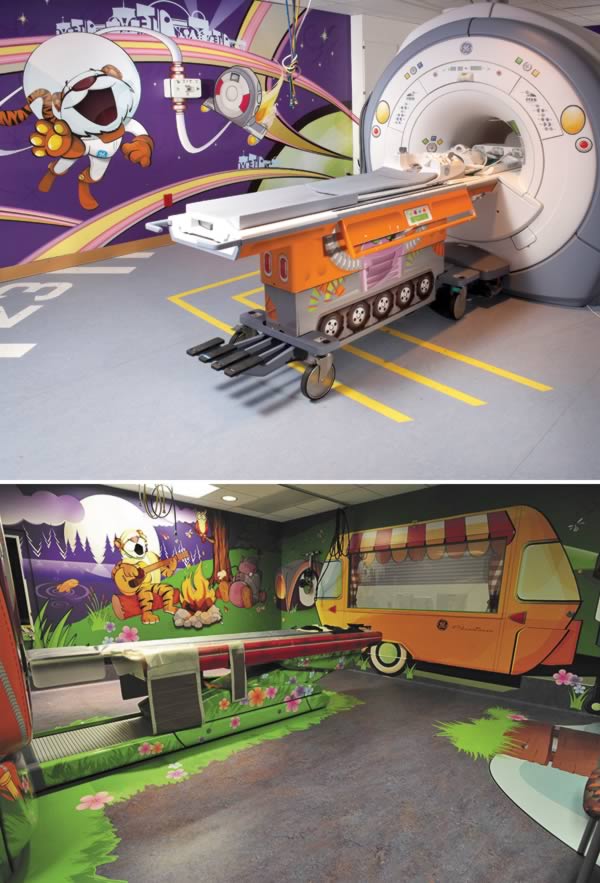 The Adventure Series-themed radiology department rooms at Children's Hospital of Pittsburgh of UPMC were designed with younger kids in mind, but even older patients find them relaxing and enjoyable.
That's the whole idea of the Adventure Series – besides MRI and radiation, other decorated departments include emergency CT (Coral City), PET/CT (Cozy Camp), nuclear medicine (Jungle) and CT (Pirate Island).
The nine decal-decorated rooms, which include lovable animal characters like Tilly the Tiger and Haley the Hippo also are called distraction rooms. That's because they are supposed to distract and engage the imagination of children who might otherwise be so nervous or frightened that they would need sedation to keep them still for their tests or radiation treatments.
The rooms include CD players (a former musical therapist composed themed music), DVD players, aromatherapy that makes the rooms smell like their themes (Cozy Camp smells woodsy), and hospital staff who get into the spirit of each room. In Pirate Island, for example, they wear pirate hats.
8

The Brazilian hospital that rebranded chemotherapy as superhero serum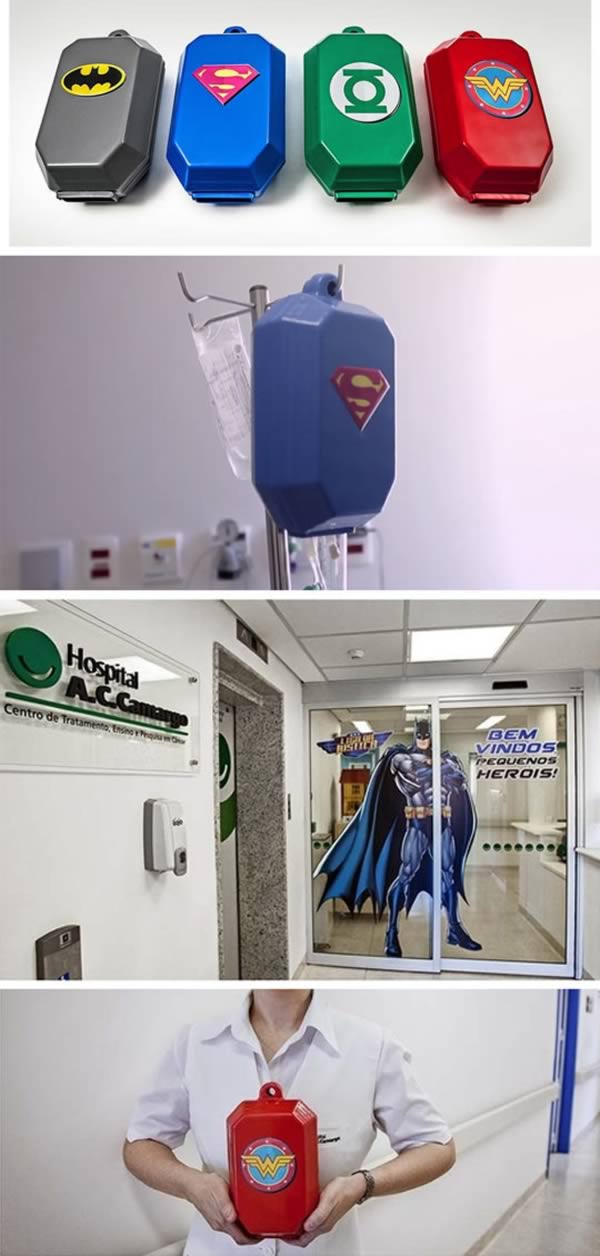 Chemotherapy is never fun, but A.C. Camargo Cancer Center in São Paulo is trying to make it easier for children to accept the treatment. They're rebranding it as "superformula," and are using comics to help kids understand chemo.
The cancer center is working with ad agency JWT, which also works with Warner Bros. The idea is to help children believe chemotherapy will ultimately make them better.
The cancer center is not just covering the chemo cases with superhero logos; they're also giving pediatric patients comic books in which the heroes experience something similar to cancer and must receive a like treatment formulated by doctors. And just like in the comics, the cases for the treatment bags look close to the cases the kids get over their own chemo bags.
9

The child cancer patient who taped "Please Send Pizza" on a hospital window and got an amazing response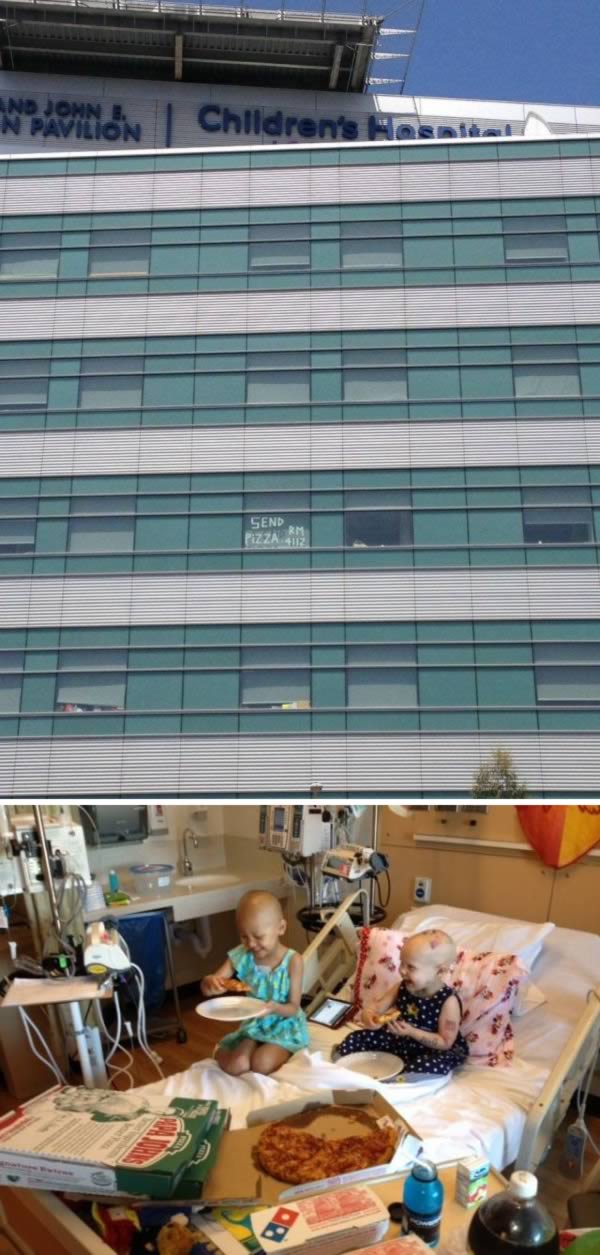 During 2013, two-year-old Hazel was undergoing treatment for neuroblastoma at Children's Hospital in L.A. As a lark, her family helped her tape a "Please Send Pizza" sign in her window. Nothing happened for a couple of days, that was until Redditor ashortstorylong spotted the sign in the hospital window and took a picture. The image soon made Reddit's front page and went viral on social media. One thing led to another, and the fourth floor of the hospital received dozens of pizzas – enough, in fact, for everyone! And that's when I really, really love the Internet.