1

The Sony Pictures Hack: Hackers warn the potential release of a movie may cripple a major film studio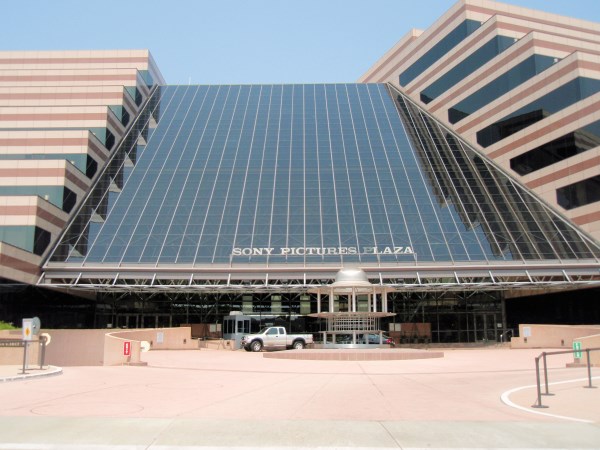 As of this writing, details from the Sony hack are still emerging, but U.S. officials have confirmed that North Korea was "centrally involved."
North Korea indeed has motive. The Communist country is rumored to be furious with Sony Pictures due to the release of The Interview, a comedy in which Seth Rogen and James Franco play characters who attempt to assassinate North Korean leader Kim Jong Un. In fact, a message from the hackers demanded that Sony "stop immediately showing the movie of terrorism which can break the regional peace and cause the War."
What we know so far:
• On Monday, November 24, 2014, Sony Pictures employees discovered that their corporate network had been hacked. The attackers took terabytes of private data, deleted the original copies from Sony computers, and left messages threatening to release the information if Sony didn't comply with their demands. Sony's network was down for days as employees had to resort to using whiteboards and good old fashioned pen and paper to do their jobs.
• Confidential information has been leaked to the public. Highlights of which include: employees' salaries (16 of the company's 17 top-paid executives are men), nasty Hollywood hardball emails (Angelina Jolie has been referred to as "a minimally talented spoiled brat," and comedian Kevin Hart has been labeled a "whore" for requesting more money to promote one of his films on his social media account), and illicit movie downloads including Annie, Mr. Turner, Still Alice and To Write Love on Her Arms have been made readily available on file sharing sites.
• The hackers, who call themselves the "Guardians of Peace," promised to release a "Christmas gift" of "larger quantities of data" that will put Sony Pictures "into the worst state." Following this post, the hackers promised a 9/11-type terrorist attack saying, "We will clearly show it to you at the very time and places 'The Interview' be shown, including the premiere, how bitter fate those who seek fun in terror should be doomed to. Soon all the world will see what an awful movie Sony Pictures Entertainment has made. The world will be full of fear. Remember the 11th of September 2001. We recommend you to keep yourself distant from the places at that time."
North Korea has officially denied a role in the attack, and while there are some similarities to attacks made on South Korean banks in 2013, Wired writer Kim Zetter has argued, "nation-state attacks don't usually announce themselves with a showy image of a blazing skeleton posted to infected machines or use a catchy nom-de-hack like Guardians of Peace to identify themselves."
Sony has since canceled the release of The Interview.
Editor's note: Sony released the film online and in some theaters on Christmas Day, 2014.
2

The Max Headroom Incident: Unknown perpetrators with advanced knowledge of broadcast technology take over a station's signal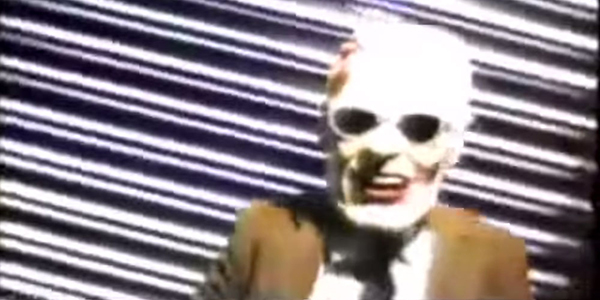 In November 22, 1987, during an episode of Dr. Who, a still-as-yet unidentified hacker took over WTTW-11 Chicago's (a PBS affiliate) broadcast, replacing a brief section of the evening's programming with a creepy montage of a masked Max Headroom figure spouting bizarre statements at the camera. The perpetrators, who would have had to not only possess expert knowledge of broadcast technology, but also have access to sophisticated and expensive television broadcast equipment, appeared to be youngsters. Their identities were never discovered, despite an exhaustive search by the FBI.
In late 2010, an unidentified Chicago resident posted a story on a public forum, proposing that he knew the identities of the Max Headroom Incident (the official name given by investigators) culprits. Click on the source below for the lengthy story.

3

The Wank Worm: Hackers with a political agenda infiltrate NASA computers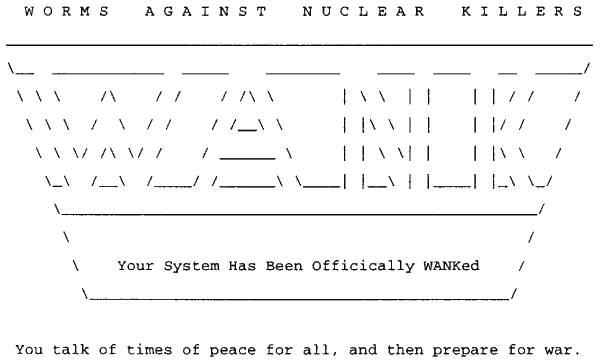 On October 16, 1989, at the U.S. Aeronautics and Space Administration in Greenbelt, Maryland, aerospace scientists logged onto their computers, and were hit with a banner from reading "Your computer has been officially Wanked. You talk of times of peace for all, and then prepare for war."
The WANK (Worms Against Nuclear Killers) worm was believed to be part of a protest to stop the launch of the plutonium-fueled, Jupiter-bound Galileo probe. Computers at the U.S. Department of Energy and NASA worldwide had been penetrated by the anti-nuclear WANK (WORMS AGAINST NUCLEAR KILLERS) worm.
Once inside NASA's system, the worm traveled through the network of interconnected computers, crawling through any holes in the security system. While the worm attack did not stop the shuttle launch, the recovery from the attack did require a massive expenditure of money and effort. Some believe Melbourne-based hackers, Electron and Phoenix, were responsible for the hack, but no one was ever brought to justice.
Wikileaks founder Julian Assange has claimed the WANK worm attack was "the origin of hacktivism."
4

The Celebrity Nude Photo Leak: iCloud is hacked and a trove of celebrity photos are made public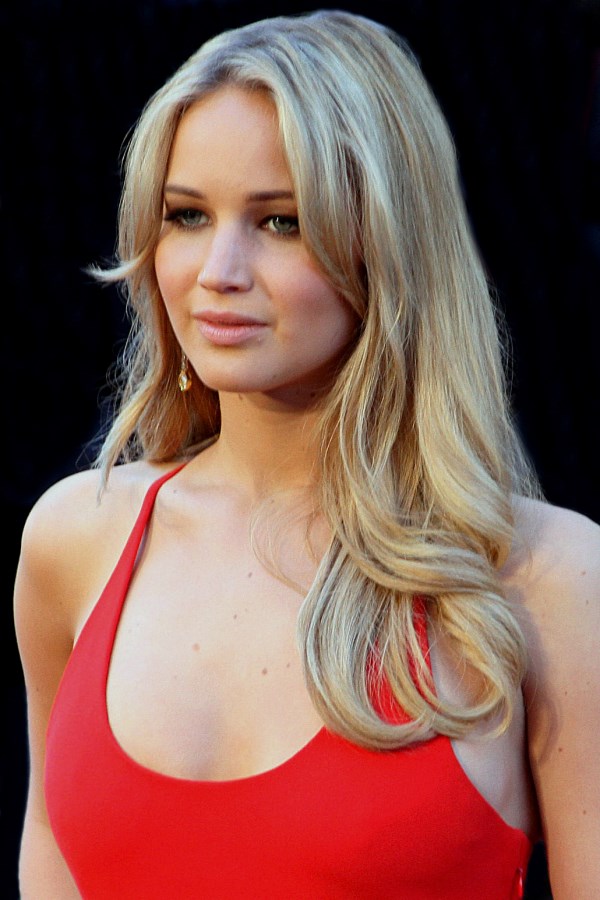 Who is OriginalGuy and how did he gain access to so many private photos of the rich and famous? When shocked internet users on underground forums tracked down the person believed to be behind the leak, his explanation was startlingly simple: iCloud.
Theories were bandied about on the 'net as to who the culprit initially was. Some thought a "brute force" hack recently unveiled by Russian security researchers was to blame, while some other wondered whether venue Wi-Fi at the Emmy Awards had been compromised. But the truth is far more disturbing – the leaked photos don't originate from a single hack, but instead from a collector who gradually added to his haul over months before suddenly deciding to post it online.
OriginalGuy was a well-connected figure in underworld porn forums who hoarded the photos for months, and is known as a regular contributor to AnonIB and 4Chan threads. However, his real identity is still not known. He has been reported to be on the run from the FBI, lying low in a "hideout," searching frantically for a lawyer, and "defiant," threatening to release more photos unless he gets paid off.
But, wait – is he a real person after all? Some claim OriginalGuy is "a loose gang of hackers working independently and trading to create the collection." Whoever he or it is, OriginalGuy may have more to fear from internet sleuths than the FBI.
Take, for example, the case of Bryan Hamade, who learned the hard way that sleuths on Reddit, 4chan and other sites decided he was OriginalGuy. As rumors spread worldwide that that the culprit was found, threats were made to Hamade and his family. Hamade acknowledged obtaining some of the pictures and trying to hawk them for bitcoin, but he denied he was OriginalGuy saying, "I am not behind this...I saw a lot of people posting the actual leaks and bitcoin addresses and I've read a lot about bitcoin and how they are valuable and I thought, 'Oh cool I'll get free bitcoins. I am just an idiot who tried to pull one over on 4chan and lost big time and stupidly left this identifying information. They took my proof and back traced it — it isn't remotely true. I am not a hacker. I have no idea how the hell someone could hack into all those accounts."
5

The Malaysian Airlines Hack: One day after flight MH370 disappears, hackers infiltrate investigator's computers
Not only has Malaysian Airlines flight MH370 disappeared into thin air, the Malaysian government is investigating the alleged hacking of computers and email accounts of officials involved in the search for the missing flight.
The hackers siphoned off classified information related to the plane a day after it disappeared on March 8, 2014 and transferred the data to a location in China. 30 computers belonging to those involved in the international search for the jet were infected by malware. The malware was disguised as a news article about the disappearance of the plane, and sent to ranking officials, he said.
Interpol is reportedly working with the agencies with the investigation, but so far the culprit has not been identified.
6

Climategate: Thousands of emails between scientists regarding climate change are released on the internet by anonymous hackers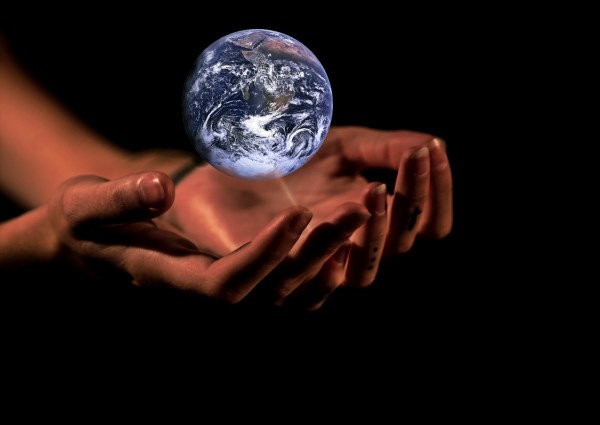 In 2012, an investigation into the unauthorized publication of thousands of sensitive scientific e-mails from the University of East Anglia's Climatic Research Unit was closed by the Norfolk Constabulary after admitted that it could not identify the hacker.
It was concluded that the hacking was a "sophisticated and carefully orchestrated attack" on the university's digital data files by an unknown outsider operating remotely on the Internet.
Dubbed "Climategate," the leak, which occurred in 2009, set off an incendiary battle over the integrity of some of the world's leading climate scientists and their research. Some of the e-mails contained provocative language about those who question the prevailing scientific view that the global climate is heating up because of the burning of fossil fuels and other human activities.
Detective Chief Superintendent Julian Gregory, a senior police investigator, said that despite an exhaustive two-and-a-half-year inquiry, there was no realistic prospect of finding the offender or offenders.
7

The Public Utility Hack: A public utility's control system is infiltrated by hackers who guessed its password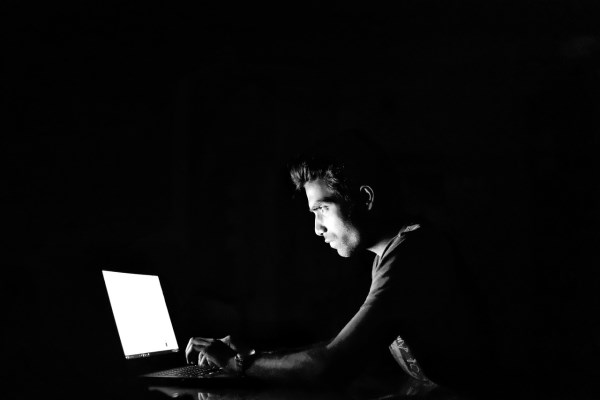 The U.S. power grid and other crucial infrastructures have been infiltrated a whopping 79 times in 2014. One such instance was reported by the Department of Homeland Security, who announced in May that hackers recently targeted and compromised a public utility's control system. While they didn't say where it happened, they did say it happened within US borders.
HS did say that it thinks the hackers broke into the utility's control system by accessing an internet portal that employees use to sign on remotely and likely guessed every possible password combination until they found one that worked. While these types of attacks are more frequent, there has not yet been an incident that has caused a major disruption – yet.
8

The Craigslist Hack: The popular classified ad site is redirected to a rapper's domain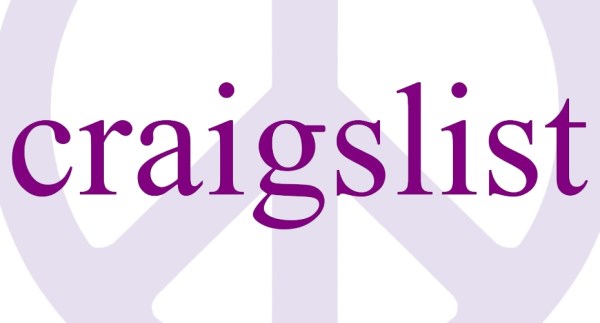 On November 24, 2014, Craigslist went down for hours after a hacker used a DNS attack to hijack the website. Craigslist's Jim Buckmaster explained in a blog post, "The craigslist domain name service (DNS) records maintained at one of our domain registrars were compromised, diverting users to various non-craigslist sites."
Instead of arriving at the usual Craigslist classifieds, users were directed instead to DigitalGangster.com before being led to a partially finished animated short called "Introducing Neals" on YouTube. The registrant name and organization was also changed to "steven wynhoff [at] LulzClerk."
While there's a Steven Wynhoff on Twitter, authorities are not sure that he had anything to do with the Craigslist hack. There's also mention of Wynhoff on some Bitcoin forums; some call him a "sociopath" and others accuse him of imitating other hackers.
Eyes are also on YTCracker, the hacker-turned-rapper that made "Introducing Neals." YTCracker is also the guy behind DigitalGangster.com. The third strike is the timing – 15 years prior to the Craigslist hack, a 17-year-old YTCracker broke into NASA's Goddard Flight Center and vandalized it. YTCracker, however, denies involvement in the latest hack on Craigslist and said it could have been an employee.