Safaris are all about having close encounters with wild animals, but for these people the encounter was a little too close.
1

The couple who was saved from an elephant attack by saying 'sorry'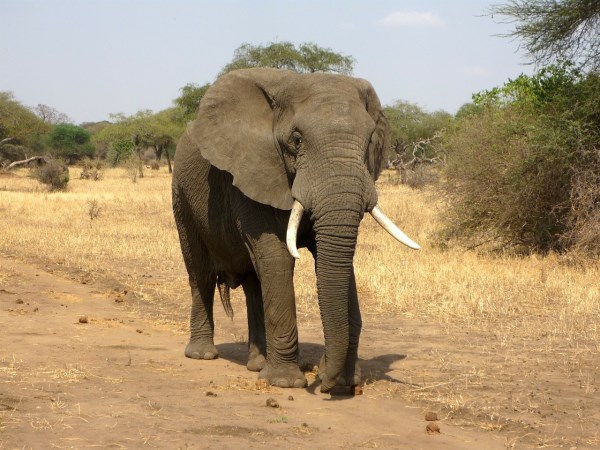 In September 2014, a young Zimbabwean couple survived being gored and trampled by elephants – and they say it was all down to the power of one word: Sorry.
Hayley Simleit, 28 and Dylan Taylor, 27, were walking in the bush near the safari lodge they help run in Chirundu, western Zimbabwe, when they were suddenly attacked by a young bull elephant.
The elephant straddled the already injured Ms. Simleit and bent its head down in an attempt to gore her. Her fiancé leapt on its head in an amazing act of bravery, but the animal then turned on him. Gored in the neck, with six fractured ribs and convinced he was about to die, Mr. Taylor shouted over and over again: "Sorry."
A whole herd of up to 12 elephants gathered and without knowing why, Mr. Taylor started to speak to the elephants. Just one word – sorry – repeated again and again. That was when the tempo of the attack changed.
The elephants tossed him on to an anthill. A waiting bush taxi was able to pick him up and the couple survived. "People have said to us afterwards that if an elephant wants to kill you, it will," Mr. Taylor said.
2

The elephant who tossed a British tourist's car during safari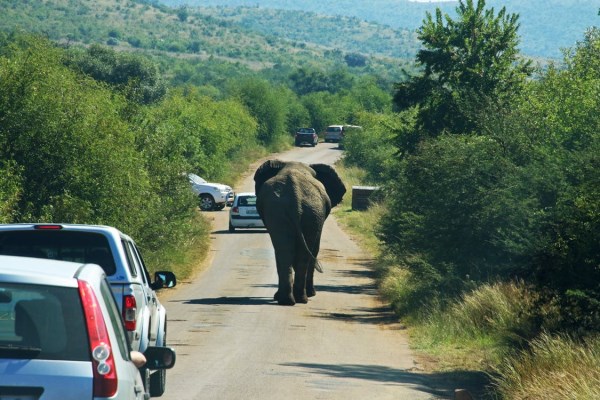 On December 2013, a British woman was injured after a male elephant charged her car in Kruger National Park in South Africa. Video taken from a following vehicle shows the animal facing off with the car for a few moments before flipping it several times with its tusks.
One of the passengers in the car was British teacher Sarah Brooks, who was admitted to hospital following the attack, but later discharged.
William Mabasa, general manager at Kruger, said one of the elephant's tusks stabbed Ms. Brooks in the thigh. A South African man she was with was reported to have suffered less serious injuries.
The elephant, which is reported to have shown aggressive behavior before, was put down for posing a threat to tourists.
3

The impala who sought refuge from cheetah by leaping into tourists' car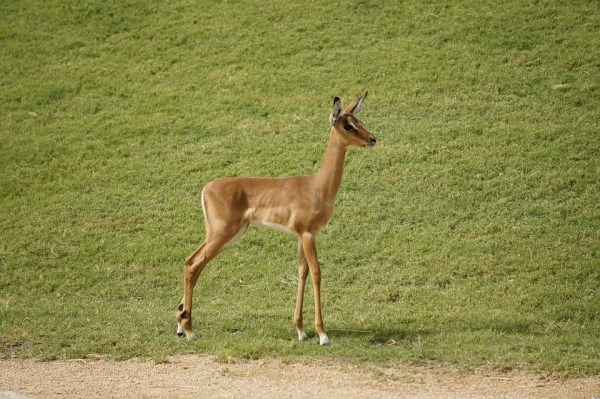 In 2013, an impala was captured on camera sensationally escaping two cheetahs - by leaping into a car full of tourists. The terrified animal appeared to be a seconds from death when an unexpected window of opportunity appeared.
Samantha Pittendrigh, 20, filmed as the impala leapt through the passenger-side window of a Toyota Prado. In the confusion, one of the passengers managed to open a door and the impala is seen just seconds later trotting across the road to freedom in full view of the cheetahs, who abandon the chase.
The footage was captured in Kruger National Park, South Africa, where park rules state you must stay inside your vehicle at all times.
4

The tourists who got stuck in their hatchback when an elephant got frisky on South African safari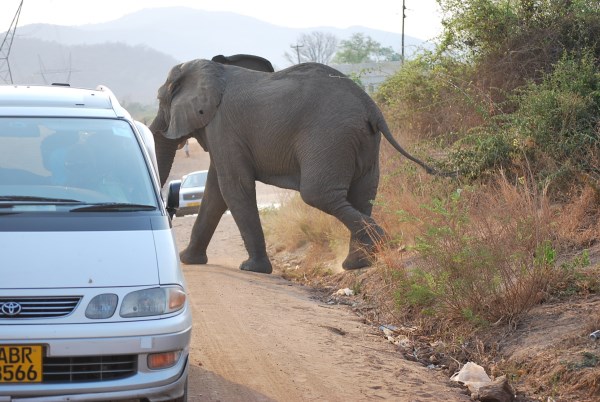 This is the moment a bull elephant on musth - when its testosterone levels can reach 60 times greater than normal - decided to get closely acquainted with a parked hatchback.
The two terrified occupants of this VW Polo found themselves in the wrong place at the wrong time as a giant elephant stooped down to rub itself against the vehicle's roof and bonnet. The incredible images were taken by Armand Grobler, 21, a field guide and lodge manager, in Pilanesburg National Park in South Africa in August 2014.
After the elephant was finished the car was left with four blown tires and a broken chassis.
Elephants frequently use logs, small trees and rocks to relieve an itch or remove parasites - but with the car so close to hand, it was a chance too good to pass up.
5

The British vacationers who came face to face with lions after accident while on safari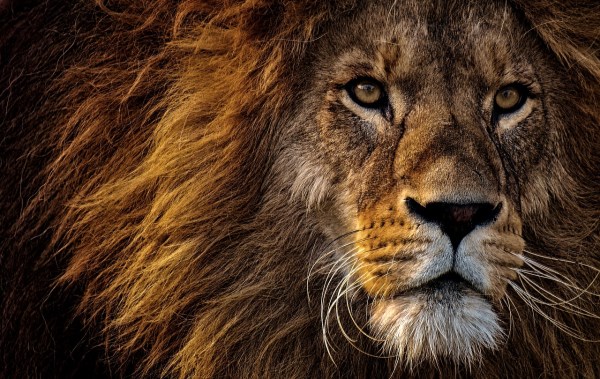 Four British couples sued the privately-run Sanbona Wildlife Reserve near Montagu in the Western Cape of South Africa for £590,000 (US 1,000,000) after their truck overturned and left them face to face with a pride of lions during a holiday in 2009.
One man, Richard Cornish, who was on his honeymoon with his wife Sandy, spent a month in the hospital after suffering from internal bleeding and the others – who include two company directors – have allegedly suffered significant loss of earnings after receiving treatment for post-traumatic stress disorder.
Lions surrounded the vehicle, which tipped over sideways as the driver Natasha Van der Merwe hastily tried to reverse down a steep slope. The tourists claim she had driven too close to the animals and then delayed calling for help once the open-sided vehicle turned over.
The group also claimed the lions approached them as they scrambled to their feet close to the crashed vehicle, while Miss Van der Merwe panicked and cried throughout the ordeal. They were eventually rescued by another game vehicle half an hour later, which had tracked the lions and drove them back to safety.
6

The woman who was mauled to death by lion while having sex during a safari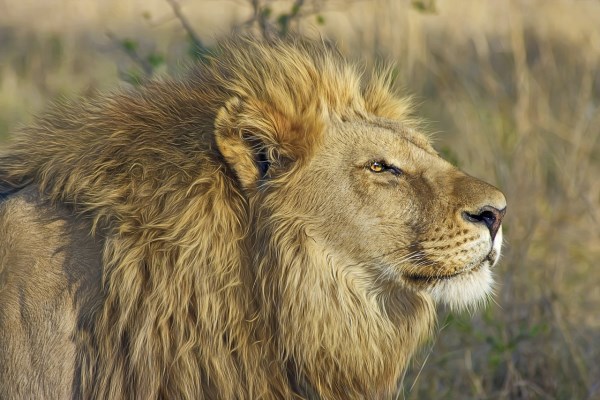 In 2013, a woman named Sharai Mawera was killed by the king of beasts while having sex in the bushes in Kariba, a popular African safari destination.
According to the boyfriend (who was unnamed), he heard a loud roar and instinctively ran and tried to flag down passers-by. The only problem was he was naked and wearing only a condom, so it was reported that people thought he was crazy. The woman, known as Mai Desire, was killed before the police could arrive.
Lions often attack and kill people in the area, and the local authorities have been warning people to not venture into concealed areas no matter how horny they are.
7

The woman who was gored by rhino after posing for photo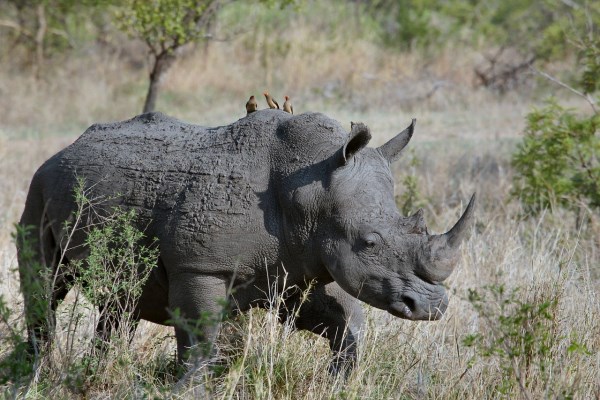 A photograph shows Chantal Beyer, 24, and her husband just a few feet away from two white rhinos, which on average weigh 4,000-5,000 pounds. A few seconds later, one of the rhinos attacked. The rhino's horn penetrated Beyer's chest from behind, causing a collapsed lung and broken ribs.
Game park owner Alex Richter reportedly told a group of visitors it was safe to get out of the safari vehicle to take photos, and he even used food to coax the rhinos closer. He also reportedly suggested Mrs. Beyer "stand just a little bit closer" to the massive bull rhino, moments before it attacked.
Mrs Beyer, a bachelor of commerce student from Johannesburg, was taken to hospital where she made a full recovery.
8

The man trampled to death by an elephant during Kenyan honeymoon safari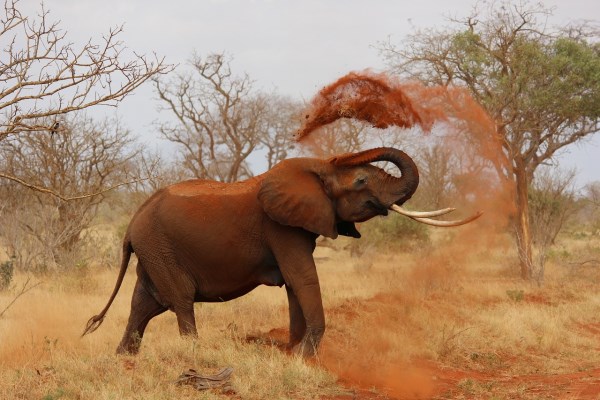 In 2006, a British man on a honeymoon safari in Kenya was trampled to death in front of his newlywed wife by a stampeding elephant.
Patrick Smith, 34, from London, was with his wife, Julie, on an early morning walking safari in the Masai Mara game reserve when he was struck by the elephant in what has been described as a "tragic accident." Mr. Smith, an IT worker with the Reuters media group, where his wife also worked, had only been married for a week before his death.
The couple were on foot with an escort 200 miles from their camp at the time. It remained unclear whether the animal had indeed been startled or whether it was a "rogue" member of the herd that had struck without any apparent reason.
Although humans are occasionally killed by elephants, it normally occurs where tourists encroach the land used by them. The group –  including the honeymooning couple – were thought to have taken all sensible precautions. When tourists are taken on walks through the bush, they are accompanied by rangers armed with rifles.