It's been reported over 1 million Russians (and counting) now have dash cams installed in their cars. Their initial purpose was to help stamp out police corruption. They have also been called "Russia's last hope for civility and survival" for the everyday Russian citizen who often faces perilous roads and questionable people on his/her daily commute.
Check out these 9 unbelievable moments caught on Russian dash cam videos.
1

The man who was assaulted by cartoon characters
We don't know if this video was staged and we don't care – it simply ranks as one of the strangest Russian dash cam videos we've seen thus far.
What we do know – in September 2014 a driver in Chelyabinsk got more than he bargained for after pulling over a vehicle in a fit of rage when four cartoon characters (Sponge Bob, Scrat, Mickey Mouse and Luntik) jumped out. They kicked and punched him as he lay helpless on the street before speeding off into the night. The men in the car recording the mishap howled with laughter throughout.

2

The man who pulled out of his garage just as a tornado hits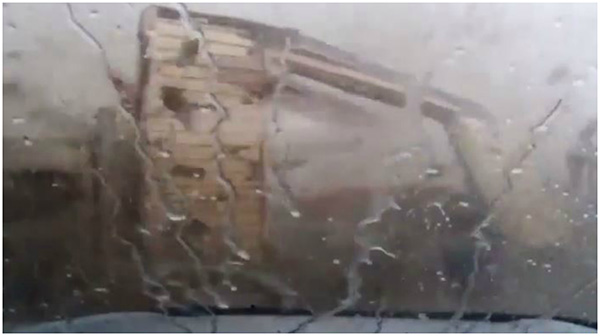 The man in this dash cam video must know how lucky he is after narrowly escaping a tornado that destroyed his garage in mere seconds.
On August 29, 2014, a man pulls out of his garage as a tornado bears down on the town of Bashkiria. He tries to make it down the road, but the winds and rain pick up. With his visibility now greatly diminished, he decides to head back home, and just as he's about to pull into his garage, it's reduced to rubble.
3

The cows that were hit by a car while having sex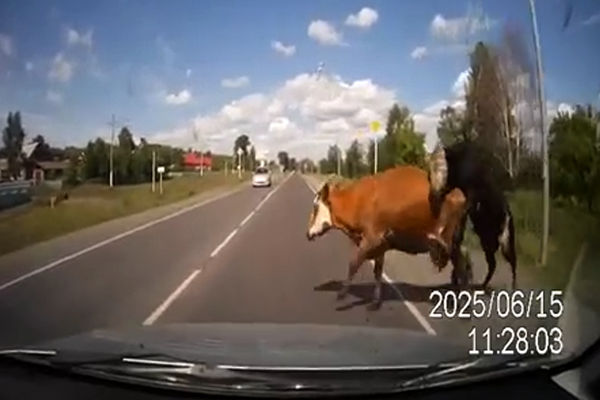 Andrei Komarov uploaded his "Knocked Down A Cow" video to YouTube in June 2013 after his car crashed into two cows having sex on a busy road.
The cows were uh... in the moment when they were hit by Komarov. The female is seen being thrown into the air and landing on the car bonnet, smashing the window. She slides off and walks away, seemingly unhurt. The male wasn't hit and follows her as Komarov surveys the damage to his car.
Komarov captioned his YouTube clip with an unamused "I hate Russia." The situation could have, however, turned out much worse. As one commenter on MSN noted: "[The driver's] seriously lucky that the gargantuan animal didn't land in his lap."
4

The biker who collided with a car and stuck his landing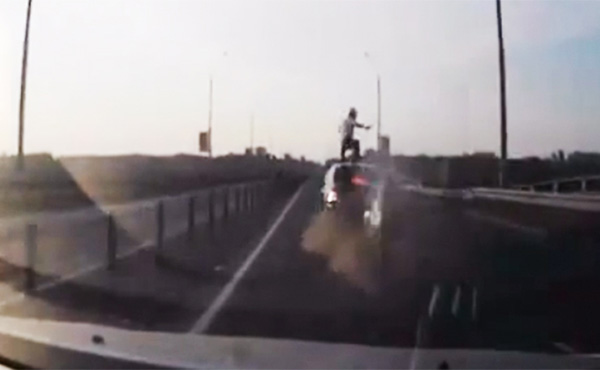 In August 2014, dash cam video of a motorcycle crash appeared on YouTube with the best possible ending. While some claim it's fake (we don't know for sure either way), it's still nothing short of amazing.
A motorcycle rider rear ends a car attempting to change lanes and is sent flying over the top of the auto. Like something out of a big budget Hollywood production, the biker lands the flip and calmly jumps down from the roof when the car stops.
5

The meteor that exploded over Murmansk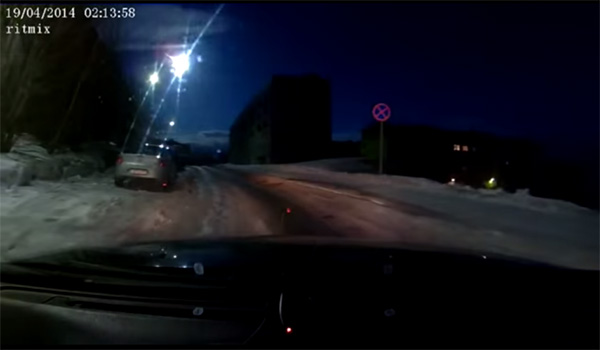 Footage of what appears to be a meteor screaming across the dark Russian sky was recorded by dash cams near the town of Murmansk on Saturday, April 19, 2014 at approximately 2:10 a.m. Although the fireball was spotted just days before the annual Lyrid meteor shower, which peaked on April 21 and 22, 2014, officials stopped short of identifying the object a meteorite.
In 2013, a meteorite exploded near Chelyabinsk and injured some 1,200 people.
6

The man who was hit by a car during a road rage incident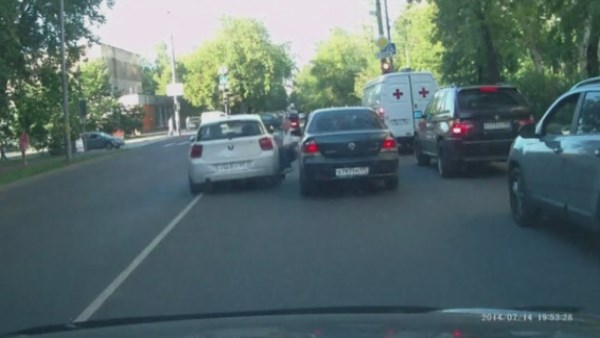 In July 2014, a 58-year-old motorist was mowed down after confronting a man who was tailgating him in Moscow.
The Nissan-driving victim got out of his car at a red light to ask Igor Kalmykov (driver of the BMW) why he was tailgating him. Kalmykov gave no answer. Instead, when the unnamed driver turned his back, Kalmykov accelerated and mowed the man down.
Kalmykov got out of his car to inspect the damage before speeding off as the injured man writhed in agony on the street. He is believed to have been detained by police for questioning pending expected criminal charges.
7

The high speed car chase that spawned a knife and shovel fight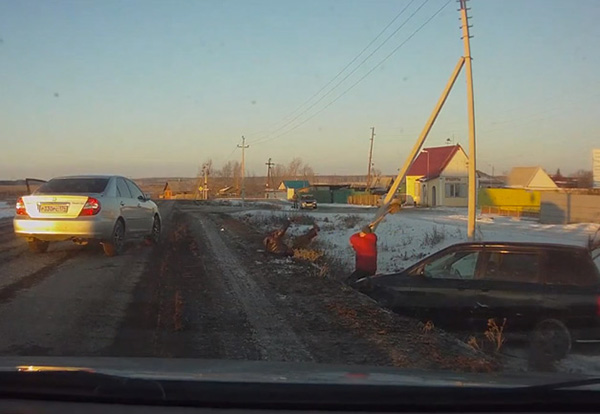 Check out this high speed car chase that devolves into a knife and shovel fight.
This dash cam video – recorded at the end of 2013 – shows a Toyota Camry chasing a Mazda MPV at a high rate of speed. The Camry consistently tries to get in front the MPV, and succeeds driving it off the road at about the three-minute mark. Hilarity ensues when the knife wielding Camry driver is surprised by his shovel carrying adversary in an awkward showdown worthy of a Three Stooges movie.

8

The tank that inexplicably flipped over by the side of the road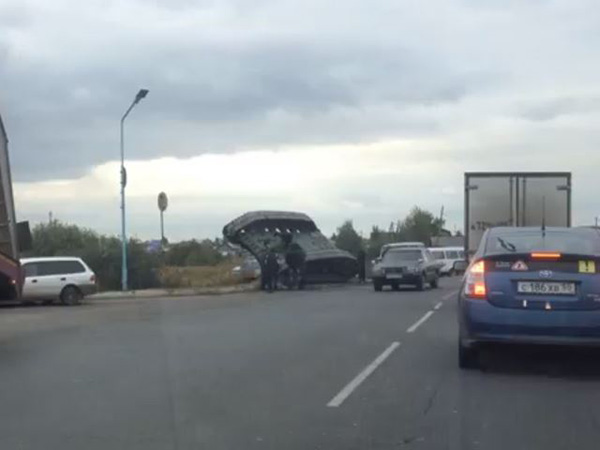 This dash cam appears to have captured a Soviet-era T-72 tank that was flipped over with its tracks facing upward. As the car passes, we see a few soldiers and civilians pondering the possibilities of righting this 45.7-ton behemoth.
9

A compilation of dash cam videos that show random acts of kindness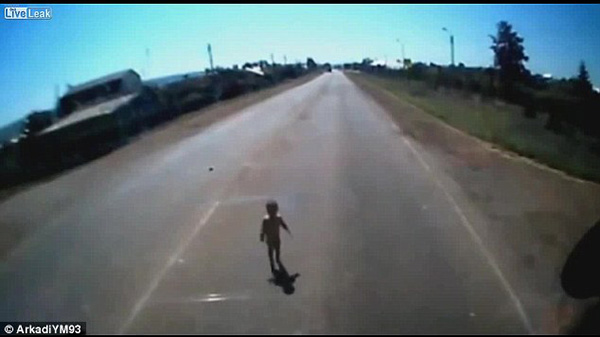 Dash cam cameras don't only capture the worst of humanity or carnage from the latest accident. In many instances, they are privy to some heartwarming moments, as this compilation video of good Samaritans doing what they do best shows. Enjoy!