1

Beach Library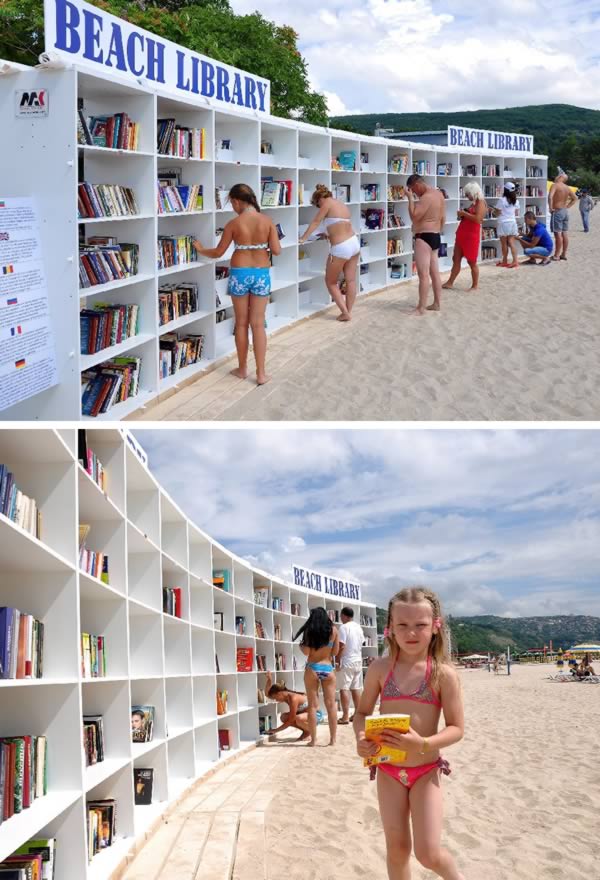 Surf. Sand. Library… wait, library? Yes, you heard it right. Those are three words that usually don't go together, but there's no reason why they shouldn't. Herman Kompernas built a library on the sandy beach of the Bulgarian Black Sea resort of Albena and stocked it with over 2,500 books in 10 languages.
Guests are invited to borrow the books (for free) and leave their own for others to read. This has to be the most relaxing library in the world.
2

Library on a Public Bus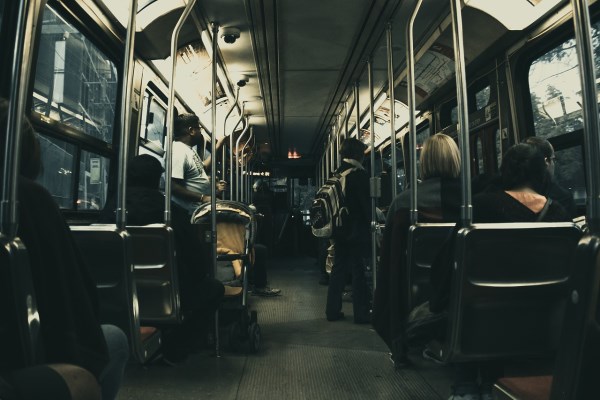 Brazilian bus collector Antonio da Conceição Ferreira, 42, is an example of how a little cooperation and generosity can make a big difference in people's lives.
11 years ago, he was inspired by his love for reading to create Culture on the Bus, transforming the bus he rides into a small library.
A current resident of Brasilia, Brazil's capital, Antonio offers about 15 titles on a shelf inside the bus everyday and lends those books to passengers of the line. Besides being a distraction to help pass the riding time, the mobile library is a way to offer culture to people.
When he started, Antonio carried a cardboard box full of books to the bus and wrote down the names of the passengers who took them out. Today, he no longer cares if people return the books – the idea is that the books are passed from person to person. Moreover, Antonio dreams of expanding the project to all the bus lines of the Federal District.
3

Mailbox Library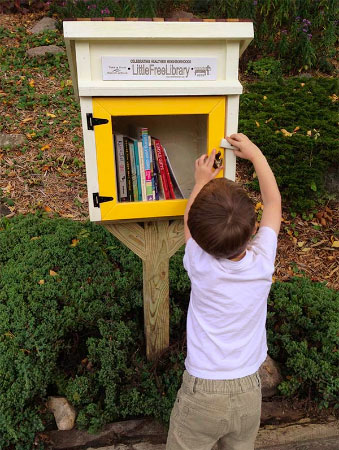 Running a library is easier than you think. All you need is a box on a stick and a bunch of books to set up a Little Free Library of your own, a front-yard stash that lets you share your love of reading with the community.
The idea behind the Little Libraries really couldn't be simpler – take everything people love about libraries and strip out rest – namely the rent costs, the shushing, the late fees, the library cards, the local weirdos looking at porn on shared computers and the schoolkids poring over boring books nobody else reads.
There are 300 or 400 Little Free Libraries in operation across 24 states and eight countries — according to co-founder Rick Brooks. If you want to find one, the website (littlefreelibrary.org, of course) maintains a map of library locations.
Want to start your own? They also have instructions on how to order or build the perfect tiny book hutch. Happy lending!
4

Phone Booth Library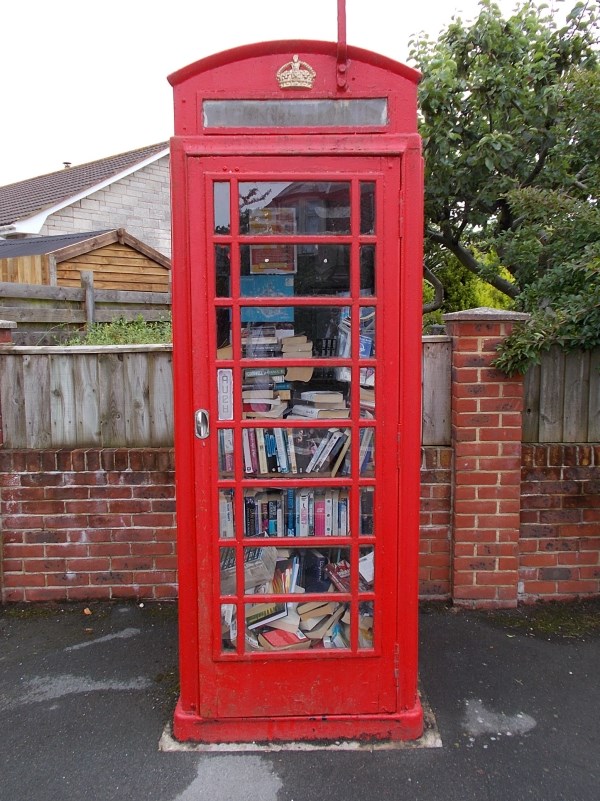 When British Telecom wanted to take away the iconic red phone booth in the southern England town of Westbury-sub-Mendip, the locals sprang into action. The rescued phone booth has become one of the smallest libraries in the world, and it's all run by volunteers.
The Westbury-sub-Mendip library is open 24 hours a day and has a light inside for midnight browsing. The selection of 100 books, CDs, and DVDs comes entirely from the private libraries of the townsfolk. They bring in books they've read and swap them out for books they haven't yet read.
Periodically, volunteers check to see what products are moving and what aren't. The books most read get shipped off to a local charity shop and replaced with new books. It's a lot like the library you have in your town, except more efficient and significantly more compact.
5

Mule Library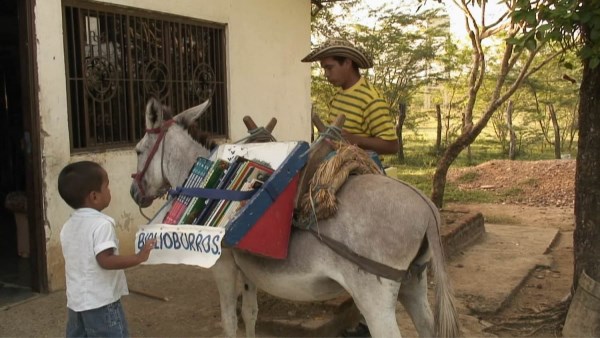 In 2009, in the mountains of Trujillo state, Venezuela, the University Valle del Momboy started an unusual service – biblio-mules, These mobile libraries on mules' backs deliver books to the peasant children.
6

Booth Library
Installed in New York's Nolita neighborhood in 2013, this temporary outdoor shelving unit also functions as a Free Little Library. The library's clever design protects the books from the elements while allowing people to duck under a cover to see what's available.
The library was designed by Venezuelan design firm Stereotank as part of a collaboration with the Architectural League of New York and the Pen World Voices Festival, who selected 10 designers to build miniature free libraries in downtown Manhattan.
7

Outdoor Library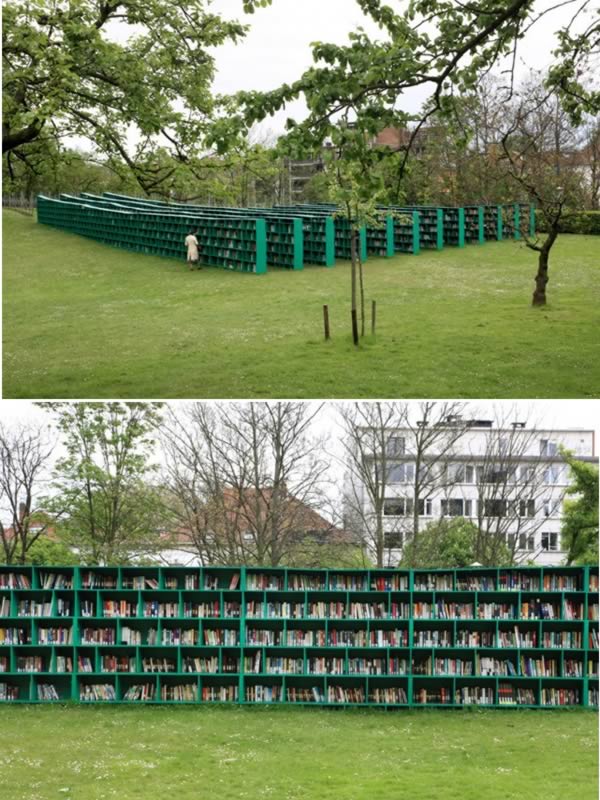 In 2012, Italian artist Massimo Bartolini developed an expansive outdoor public library entitled Bookyard for Belgian art festival, TRACK: a contemporary city conversation in Ghent.
Bartolini employed his creative and mixed media talents to develop a set of twelve bookcases installed in St Peter's Abbey Vineyard, Sint-pPietersplein 14, (the establishment originated during the Middle Ages).
The sweeping shape of green shelves was constructed on a small grassy field, then moves up the gradual slope of St Peter's Abbey in line with their vines.
The units were filled with books for sale by the public libraries of Ghent and Antwerp with the profits of these items benefitting the institutions.
8

Book-Shaped Library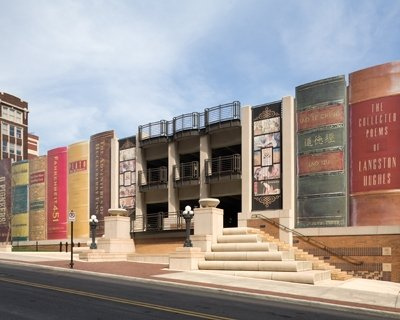 This is the only "conventional" library on this list, but what makes it unique is its facade. This innovative design was pioneered to inspire the people of Kansas City to get their noses into a good book and at the same time, revitalize the downtown community.
The most striking feature is "The Community Bookshelf" made up of 22 classic titles picked by the locals which acts as the library's parking lot.
The architectural bookshelf runs between Wyandotte Street and Baltimore Avenue, along the south wall of the Central library's parking garage. It's definitely the only time you'll ever park inside a giant copy of Romeo and Juliet.
9

War Tank Library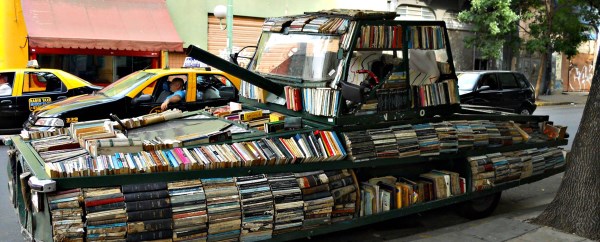 Activist-artist Raul Lemesoff's "Arma De Instruccion Masiva", or "Weapon of Mass Instruction," may seem militant, but it's actually a peaceful mobile library.
The artwork/vehicle serves a very serious function; with around 900 books on the car's "shelves" at any given time, Lemesoff provides free reading materials to anyone inclined to pluck one from the collection. As he tours through Argentina's urban centers and rural communities alike, the artist views his work as a mission "to contribute to peace through literature."
The distinctive structure at the center of "Weapon of Mass Instruction" is highly symbolic. The vehicle consists of a tank-inspired frame over a 1979 Ford Falcon — a vehicle which was popular with the armed forces of the military dictatorship at the time. Where the vehicle once brought military oppression, it now brings literature of all genres in a collection constantly replenished through private donations.
10

Library on Wheels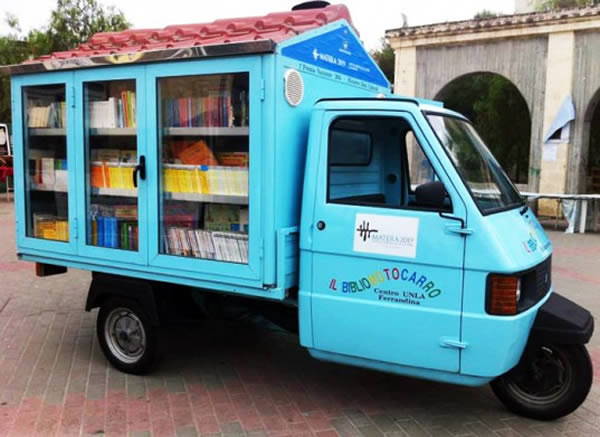 Antonio La Cava, a retired Italian schoolteacher, decided that after 42 years of teaching, he could do even more to spread the love of reading to children. So, in 2003, he bought a used Ape motorbike and modified it to create a portable library that houses 700 books. He's been traveling in the "Bibliomotocarro" ever since.