1

The American family who is building a doomsday castle to survive the apocalypse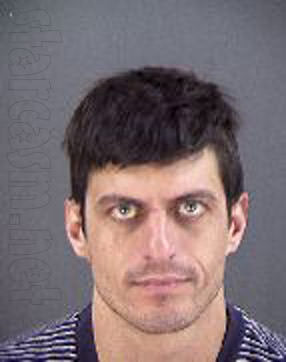 Brent Bruns believes the apocalypse will be triggered by a strong electromagnetic pulse (EMP) that will take out the entire power grid and plunge mankind back into the Dark Ages. To prepare for the inevitable, he and his family have built a fortified castle atop a large foothill deep in the woods of South Carolina, complete with a drawbridge, portcullis and an underground bunker. The family is also learning to use medieval weapons including crossbows and catapults that will protect them from marauders and scavengers.
Brent Sr., a retired infantry officer, got into doomsday prepping back in 1999. Convinced that the predicted Y2K computer glitch would unleash chaos and bring about the end of civilization as we know it, he wanted to ensure his family's safety if everything went dark. When that didn't happen, Brent put the whole thing out of his mind for a couple of years because he didn't want people to think he was crazy. Eventually he got back to the original plan, only this time he has his whole family to help him.
Brent and his family are now stars of National Geographic Channel's Doomsday Castle, a non-scripted reality show that premiered on August 13, 2013.
2

The Chinese man who built his own version of Noah's Ark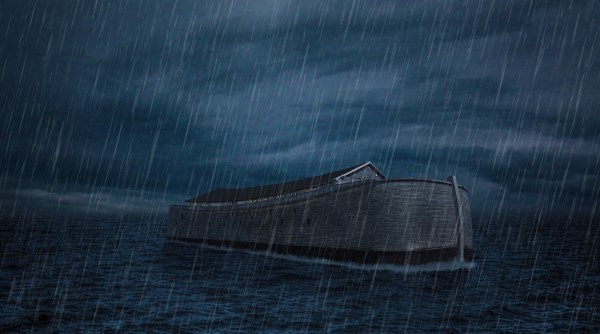 Worried about the 2012 Mayan apocalypse, a man in China spent his life savings on the construction of his very own version of Noah's Ark.
Lu Zhenghai, from the Xinjiang Uyghur Autonomous Region in northwest China, spent about $160,000 on the boat. The vessel, designed by Lu himself, measures about 65 feet in length and weighs about 80 tons.
Lu said he began building his ark in 2010 out of fear that an impending doomsday flood would threaten he and his family's survival.
Chinese news website FMN reports that Lu's ark was built with 10 tons of timber and 60 tons of steel. Due to a lack of funds, however, it has yet to be completed. It's a good thing for him that the apocalypse never happened.
3

The $ 2 million condos in Kansas dubbed the most luxurious way to sit out the apocalypse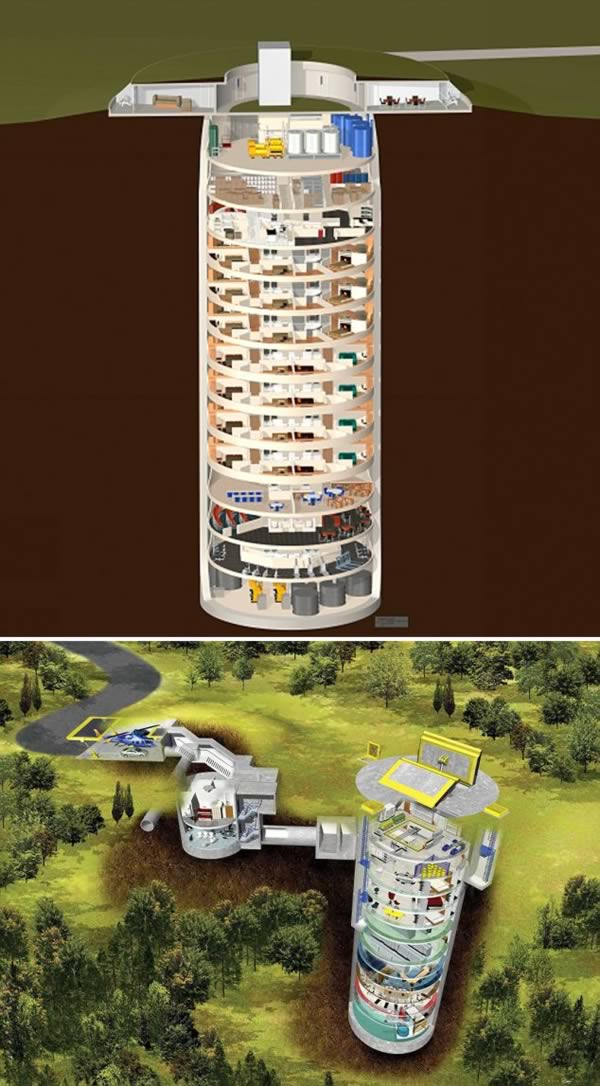 They has been billed as the most luxurious way to sit out the apocalypse - and now there is a waiting list for the $2 million condos being built in an abandoned missile silo in Kansas. Perhaps the buyers know something we don't.
These luxurious units come with all mod-cons, as well as a pool, a movie theater and a library – oh, and a guarantee that they will survive doomsday if and when that fateful day comes. The condos sit deep below the Kansas prairie in the shaft of an abandoned missile silo and are meant to withstand everything from economic collapse and solar flares to terrorist attacks and pandemics. So far, four buyers have thrown down a total of about $7 million (£4.4m) for havens to flee to when disaster happens or the end is nigh.
Developer Larry Hall is retrofitting three more Cold War-era silos when this one fills up. Built to withstand an atomic blast, even the most paranoid can find comfort inside concrete walls that are nine feet thick and stretch 174 feet (53 meters) underground.
4

The $60,000 corrugated pipe bunker that was created to survive doomsday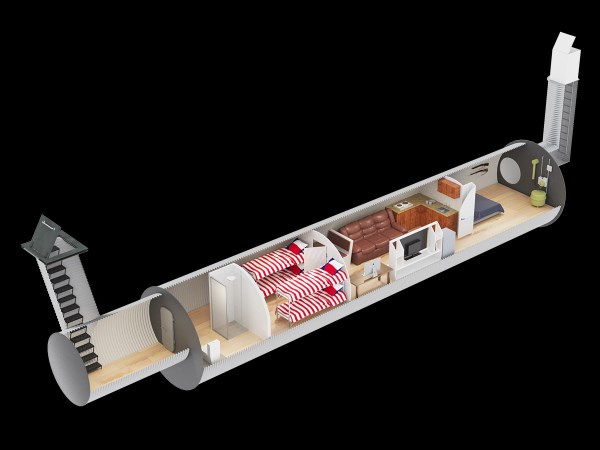 If you can't afford the $2 million luxury condos above, you certainly have other options. The $60,000 Atlas Survival Shelter, can still save you from tornadoes and other disasters.
Sold by Al's Army Navy Store in Altamonte Springs, FL, the 32'×10' Doomsday Bunker is made from corrugated pipe and is designed to be buried 20 feet underground. Store assistant manager Jeremy Ross said that this survival shelter is meant for people who are "just kind of preparing for something."
The Atlas Survival Shelter comes complete with bunk beds that have under-the-lid storage, an escape hatch for emergency attacks, mudrooms with a lockable laser cut interior door, countertops, a kitchen with a sink, low voltage electric lights, electric outlets and a toilet. If that doesn't impress you much, you can also go for the optional flatscreen TV, shortwave radios, camera surveillance, 300-5,000 gallon water tanks, 100-500 gallon fuel storage tanks, DVD player, power-generating exercise bicycle, red oak cabinets and beds, solar panels, restroom facility or an electric toilet with tank.
5

The vault created to preserve seeds in case of a major catastrophe
The Svalbard Global Seed Vault is located in the remote Arctic Svalbard archipelago of Norway, only 810 miles away from the North Pole.
The seed vault is designed to be sort of a Noah's Ark for seeds. This facility stores seeds from as many varieties of plants as possible in case they are all wiped out during a major catastrophe.
The original cooperative between the Norwegian government, the Nordic Genetic Resource Center and Global Crop Diversity Trust (GCDT) gained the initial push needed to build the vault. An additional $9 million in funding was received from The Bill and Melinda Gates Foundation and countries including Brazil, Australia, Norway, United Kingdom, Sweden, India, Columbia and even Ethiopia for construction.
6

The luxurious underground house in the Swiss Alps that doubles as a bunker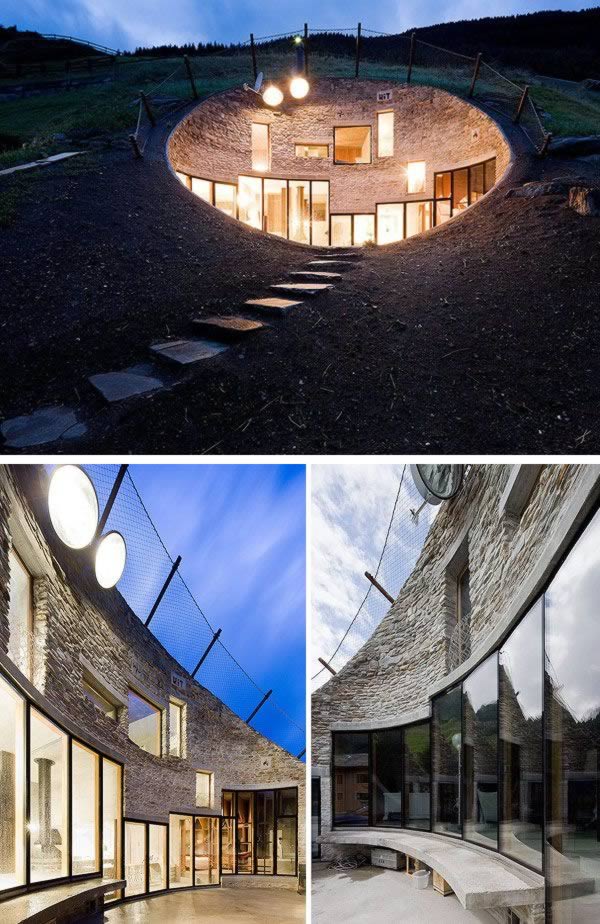 Vals in the Swiss Alps is the setting for this amazing underground vacation home known as Villa Vals. Architectural design studios SeARCH and CMA are behind this wonderful design concept.
The only way that it was possible to build such a contemporary property within this area of outstanding natural beauty was to completely integrate the construction into the landscape. The entrance hall to the property is actually a separate traditional wood shed which is connected to the villa by an underground tunnel.
The villa can accommodate up to ten people and is available for vacation rental through the Villa Vals website.
7

The survival shelter that claims to be the most secure real estate in the world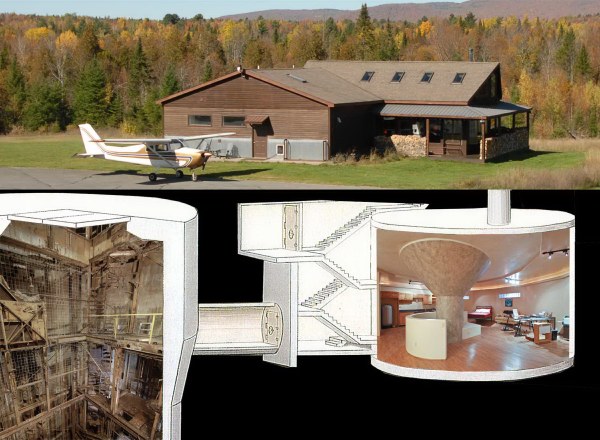 During the late 1950's and early 1960's when the Cold War was in full effect, the U.S. government built hundreds of Atlas-F missile silos to prepare the country for an attack that never came. Today, most of these silos lie abandoned and filled with water – monuments to a bygone era of American history left to waste.
Thanks to two entrepreneurial cousins, Bruce Francisco and Gregory Gibbons, one of these silos located in beautiful Adirondack State Park near Lake Placid, NY is finding new life as a luxury home, safe haven and getaway complex accessible by plane or car.
Above ground, the Silohome features a hangar and spacious open living room with a fireplace and a wraparound porch. Below ground in what was once the launch control center is now two levels and features 3 bedrooms, 2-1/2 baths, and an open living area and kitchen adjoined by a spiral staircase. Past the former LCC, nine additional levels protrude further underground, making up the 12,000 square feet that was actual missile storage space. The home also includes 20 acres of land with another 78 acres available as 10 approved building lots.
The Silo House is on the market for $1.76 million for those taking their doomsday preparations seriously.
8

The bunker constructed under a luxury resort

During the Cold War the United States government maintained a top-secret underground bunker in the mountains of West Virginia. Built under The Greenbrier luxury resort, the facility was designed to serve as an emergency shelter for the members of the House of Representatives and the Senate in case of nuclear attack.
Compromised by an investigative reporter in 1993, the bunker is now open to the public. Once referred to as code name "Project Greek Island," it remains a sobering reminder of how America lived with and prepared for the possibility of a Soviet nuclear attack.
9

The luxury home that boasts a bunker 26' underground with fake grass and simulated night and day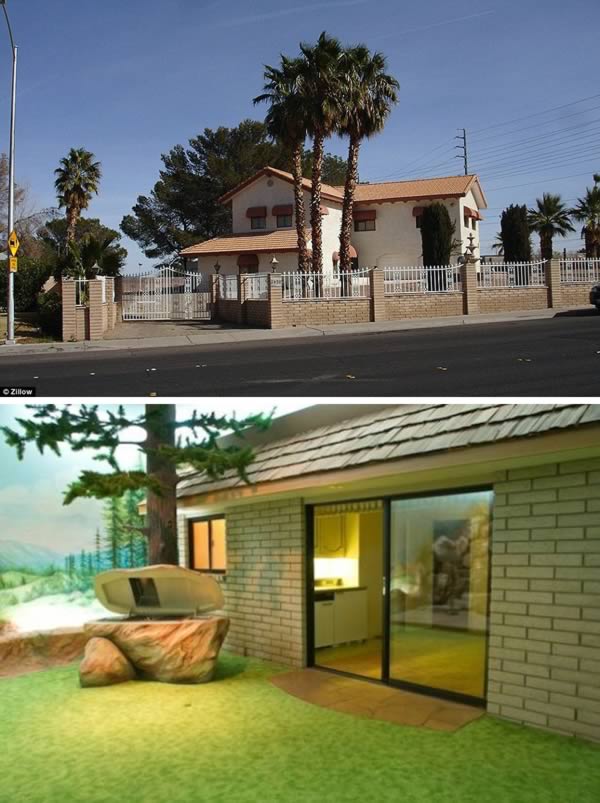 From the street, 3970 Spencer St. near Flamingo Road in Las Vegas looks like any other American home. It's what lies beneath that would pique your interest. This home features a 15,200 sq. ft. underground living area that is reminiscent of the 1999 film Blast from the Past, in which a family lives in a fallout shelter for 35 years.
The house built by businessman Girard "Jerry" B. Henderson is essentially a time capsule from the 1970s. Mr. Henderson showcased his subterranean home in style with pink kitchen trim, pink toilets, green AstroTurf, fake trees and a painted backdrop depicting rolling hills in the countryside.
There are even a host of activities for you to pass slow time with while waiting for any (nuclear) dust to settle. The "garden" includes a four-hole putting green, a swimming pool, two hot tubs, a sauna, a dance floor, a bar, a BBQ grill (disguised in a rock) and adjustable light settings for different times of day. The stars still come out at night!
After Mr. Henderson and his wife died in the 1980s, a relative took over the place. The most recent owner lost the home through foreclosure and it is currently on sale for $1.7 million.
10

The billionaire's bunker that is equipped with panic suite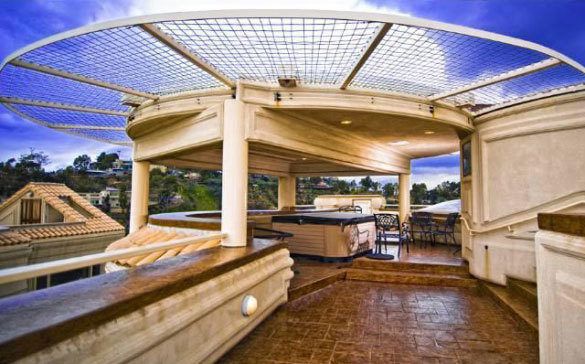 Al Corbi's residence in the Hollywood Hills has the requisite white walls covered in artwork and picture windows offering breathtaking views of downtown Los Angeles, but it has more in common with NSA headquarters than with the other contemporary homes on the block. The Corbi family doesn't need keys (thanks to biometric recognition software), doesn't fear earthquakes (thanks to steel-reinforced concrete caissons that burrow 30 feet into the private hilltop) and sleeps easily inside a 2,500-square-foot home within a home –  a ballistics-proof panic suite that Corbi refers to as a "safe core."
Al Corbi is the founder of security mega-firm SAFE (Strategically Armored Fortified Environments) and his Los Angeles residence serves as a show house for prospective clients.