1

The New York Police Department asks its followers for photos and is flooded with police brutality pics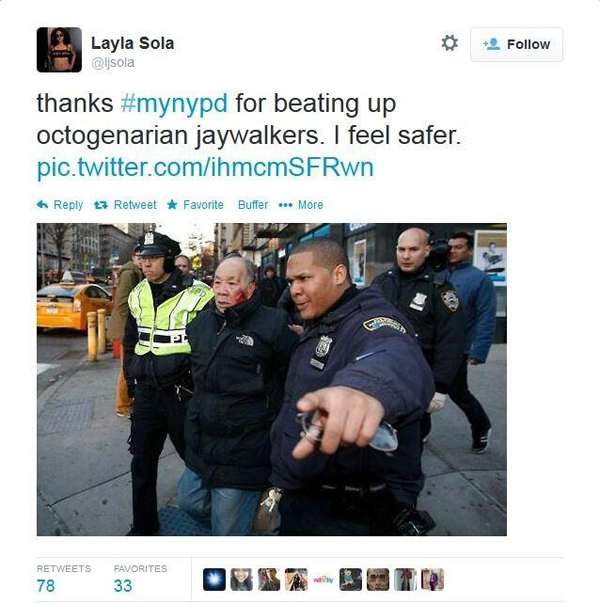 The NYPD got far more than they bargained for when they took to Twitter asking people to post pictures of themselves interacting with New York's Finest using the hashtag #myNYPD.
The request was innocent enough, but instead of happy pictures of cops posing with tourists, Twitter erupted with hundreds of photos of police brutality. 10,000 people an hour were posting to #myNYPD with more than 110,000 members of the Twitterverse responding.
NYPD Commissioner Bill Bratton actually seemed to be pleased with the response and said, "I kind of welcome the attention. We really broke the numbers. Send us your photos, good and bad. I am a strong supporter and advocate of social media."
The Twitter backlash spread to other police departments including Los Angeles, Seattle, San Francisco, Oakland and Denver.
2

Singer Susan Boyle's PR team is embarrassed by accidental adult party invite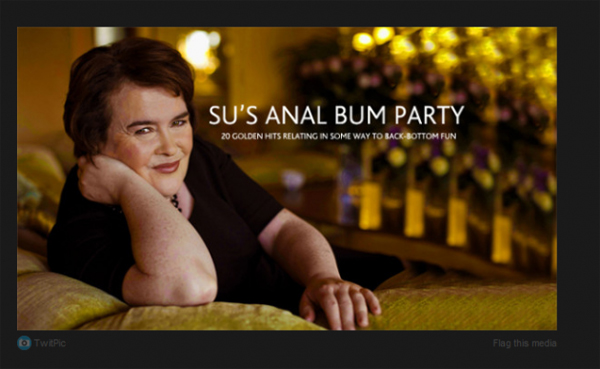 In 2012, singer Susan Boyle and her PR team were left red-faced after an unfortunate choice of hashtag was used to promote her new album, Standing Ovation.
The hashtag read #susanalbumparty. Twitterers realized that while it was supposed to read "Susan album party," it also had another meaning (see the above photo).
The singer's PR team declined to comment and immediately deleted the tweet.
3

US Airways sends out pornographic image in response to complaining customers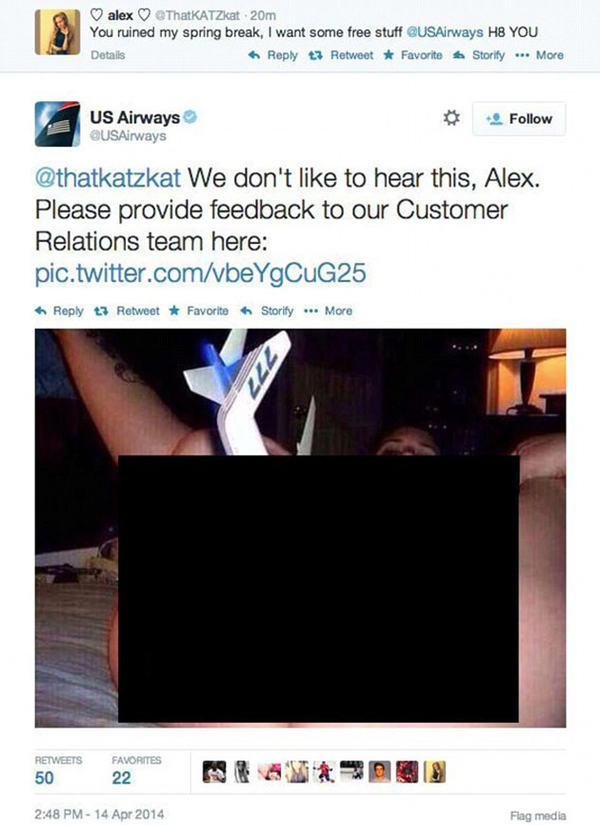 US Airways has been forced to apologize to customers after it responded to complaints on its official Twitter page with a pornographic image.
When a young female complained about the airline ruining her spring break, the airline replied: "We don't like to hear this, Alex. Please provide feedback to our Customer Relations team here," with a link to a pornographic image of woman performing a sex act with a model Boeing 777. It later emerged the same image went out to other users as well.
Many of the airline's 420,000 followers quickly responded, expressing everything from disgust to anger to amusement.
This PR fail became hugely popular among Twitter users and was the top trending topic in the U.S. It received more comments and retweets than the news of the Pulitzer Prize award breaking at the same time.
4

J.P. Morgan cancels Twitter Q & A after getting thoroughly trolled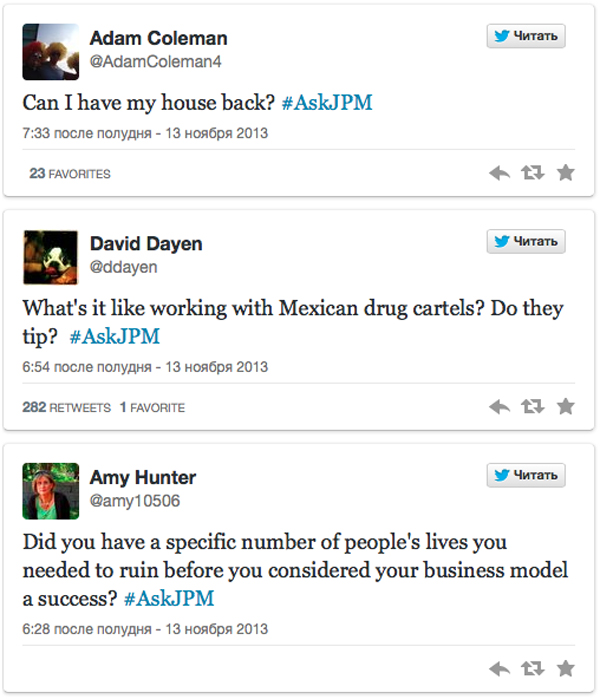 Banking behemoth J.P. Morgan Chase & Co. received a Twitter tongue-lashing after asking followers to send questions to an executive using the hashtag #askJPM.
The online forum was intended to give college students the opportunity to communicate with a senior executive, but instead drew 6000 taunting tweets in less than 6 hours after the original post.
Questions such as "Can I have my house back?" and "Is it true 'JPM stands for 'Just Pay More'?'' littered the company's feed before JPM pulled the plug on the whole campaign.
"If you're in the banking industry with what's happened over the last five years, it might not be a good idea to go out and solicit comments on social media," said Brad Adgate, a senior vice president at marketing firm Horizon Media Inc. in New York. "They are paying all these fines and billions of dollars to the federal government. I question the timing of this."
5

Posh supermarket Waitrose is ridiculed for its upscale image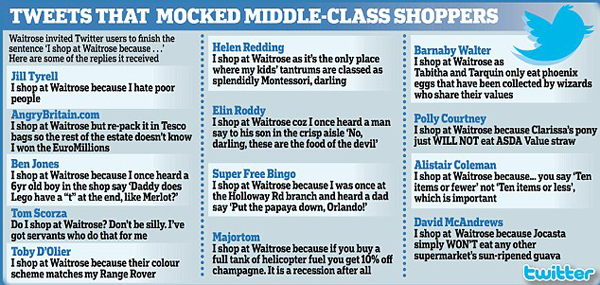 In 2012, British supermarket giant Waitrose made the mistake of underestimating the power of social media when it asked Twitterers to finish the sentence "I shop at Waitrose because…"
Waitrose higher-ups no doubt expected to see positive tweets, but were instead met with ridicule for the company's upmarket image. Regardless, the comments were a huge draw and it's uncertain whether the campaign was a failure or triumph.
6

Qantas airline contest draws thousands of angry Tweets from disgruntled flyers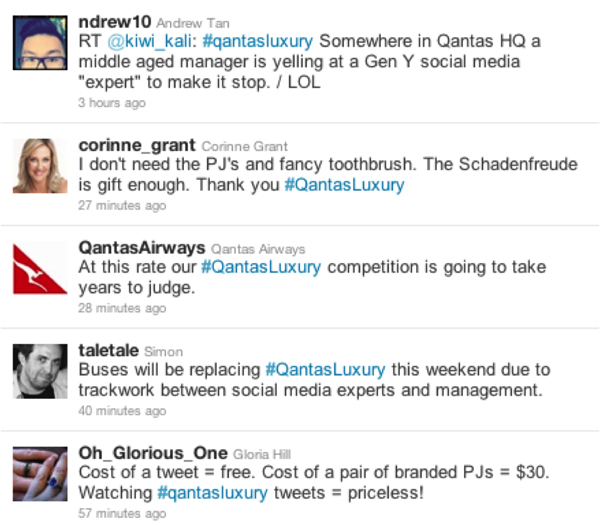 Australian airline Qantas was shocked and surprised by the angry tweets it received after asking followers for entries to a competition with suggestions for dream in-flight experience.
The airline posted this seemingly innocent tweet: "What is your dream luxury inflight experience? (Be creative!) Answer must include #QantasLuxury."
Hundreds seized the opportunity to respond with sarcasm, but most Tweets came from passengers unsatisfied with the state of the airline and had experienced travel disruptions first-hand. "#Qantasluxury was being abandoned at Heathrow for 4 days in the snow with no customer support while trying to get home to 8mo pregnant wife!" and "#QantasLuxury is dressing your staff in t-shirts that say 'We're Sorry' and believing that makes up for missing a friends funeral" are just two examples of the general tone of the comments.
The PR campaign could not have been launched at worse time for Qantas – it came just a day after the airline and its unions broke off contract negotiations and Qantas grounded its fleet, stranding thousands of angry customers.
7

Entenmann's random tweet puts the company in Twitter's crosshairs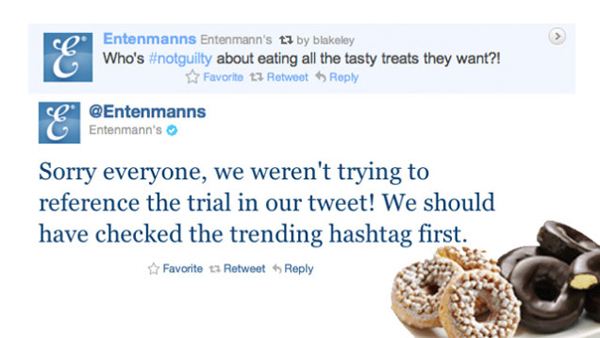 When Casey Anthony was found not guilty in the death of her daughter, angry Twitterers took to the web to rant against the injustice done to little Caylee.
What does baked goods giant Entenmann's have to do with the Casey Anthony verdict, you ask? Well, the company's social media person either thought it would a funny comment on the outcome of the trial or just didn't read the news that morning – Entenmann's jumped on the trending #notguilty hashtag and posted a Tweet asking, "Who's #notguilty about eating all the tasty treats they want?"
Needless to say, this backfired and Twitterers railed against the company's timing and insensitivity.
Entenmann's apologized by saying, "Sorry everyone, we weren't trying to reference the trial in our tweet! We should have checked the trending hashtag first" and then followed up with, "our #notguilty tweet was insensitive, albeit completely unintentional. We are sincerely sorry."
8

Starbucks holiday cheer campaign is highjacked by tax protests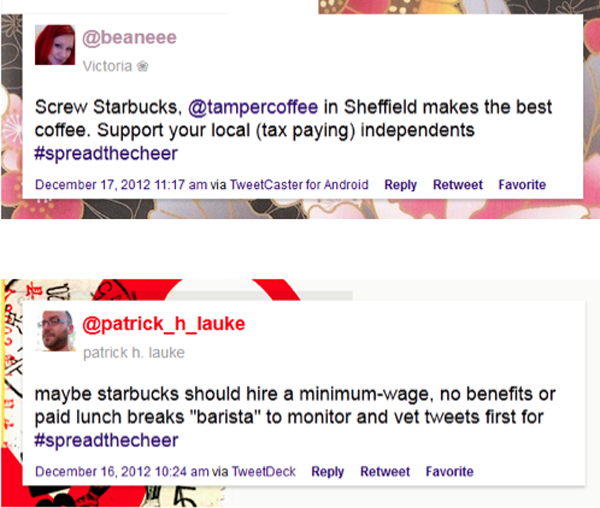 Back in 2012, Starbucks fell victim to a Twitter PR campaign gone wrong. When the coffee giant asked customers to send some holiday cheer using the hashtag #spreadthecheer, it received a slew of tweets criticizing the Starbucks' low tax rates in the United Kingdom.
The tweets weren't restricted to Starbucks' tax policies either. Starbucks' labor practices were also taken to task after the coffee chain threatened to cut paid lunch breaks, sick leave and maternity benefits for thousands of its British workers.
How could things possibly get worse? The often profanity laced tweets were displayed on a huge screen at London's Natural History Museum where the company sponsors an ice rink.
A Starbucks' spokesperson apologized to anyone who had seen the offending messages by the ice rink saying, "As a family-friendly, responsible company we are committed to ensuring that our publicly displayed content is appropriate for all audiences and profanity filters have been in constant operation since the ice rink opened…we will continue to work closely with the twitter wall moderator to ensure that all content is consistently reviewed before published."