When street artists look for a gallery to show their artistry, they naturally turn to abandoned buildings, where they are free to paint from floor to ceiling and visitors can view their works for one low admission price – free. Check out how street artists renovate abandoned buildings, one mural at a time.
1

Hanksy and friends add some color to an abandoned brownstone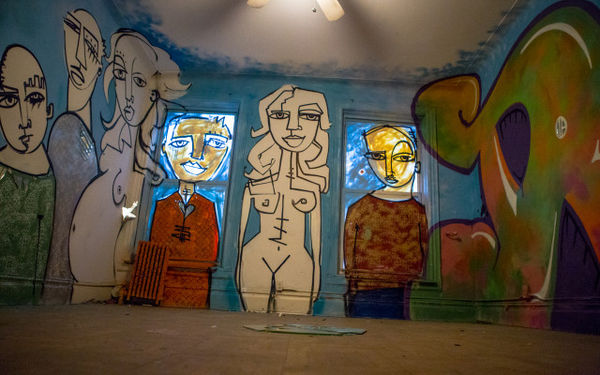 Renowned street artist Hanksy thought it was a shame that an abandoned brownstone in Manhattan was going to waste, so he invited a few friends to join him in turning the multilevel building into a gallery.
Guests who were invited to attend the gallery were told how to find the building by locating a particular mural out front, and those who were lucky enough to be invited to the event were treated to a building full of colorful works by the likes of Royce Bannon, B.D. Wong and ELLE that filled every room of the house.
2

Abandoned paris nightclub turned into stylish gallery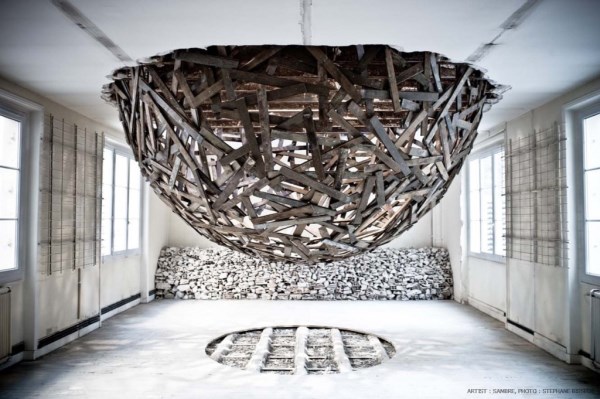 Parisian nightclubs are pretty stylish affairs, so it's only appropriate that when a night club is abandoned in Paris it should be turned into an equally stylish art gallery.
That's exactly what happened to the Les Baines Douches night club, where 50 practitioners of both street art and fine art added signature pieces to the interior and created their own pop up gallery.
Many of the works incorporate elements of the building's deconstruction into artists' pieces. Each piece also gets its own room which is rather unique among normally chaotic street art galleries.
3

Nikita Nomerz gives abandoned buildings a face of their own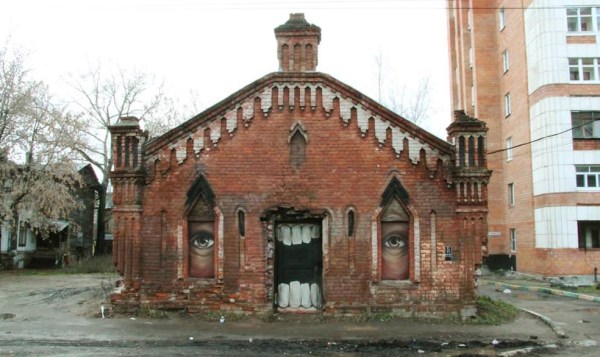 Russian artist Nikita Nomerz took the idea of refacing abandoned buildings literally when he started adding faces to a bunch of abandoned structures in Nizhniy Novgorod.
Nikita even gave facial features to old steel drums, fallen trees, and facades – anything laying around the abandoned buildings got its own face.
Nikita's works are not always confined to one building, but many of his faced buildings are on the same lot, forming a kind of outdoor street art gallery of comedic characters.
4

100 artists turn an abandoned building into a gallery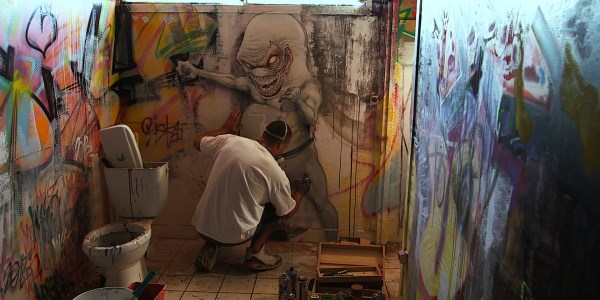 Gallery owner Mehdi Ben Cheikh came up with the bright idea of reclaiming an abandoned 10-story building in Paris by inviting 100 artists to create works within the building, turning the whole thing into a very unique street art gallery dubbed the Paris 13 Tower.
With 36 apartments to artistically renovate and over 4500 square meters to use as a canvas, street artists left nothing room uncovered, creating color and pattern motifs that would actually look pretty sharp inside any home in need of an interior design makeover.
5

Detroit parking garage turned into multi-level gallery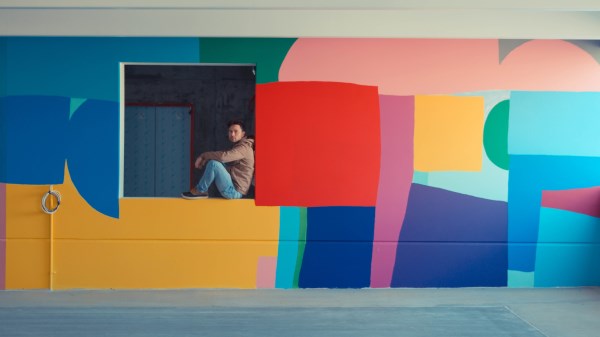 The Z Project is an underground art initiative striving to bring new life to abandoned buildings around Detroit. Their biggest, most colorful endeavor so far is the transformation of a ten story parking garage into an art gallery.
The pieces cover walls within the parking garage levels, and in the future they will be painted over and new art will be put up, that way the gallery will continue to allow different street artists to proudly display their works.
6

The Baltimore Slumlord Project turns eyesores into works of art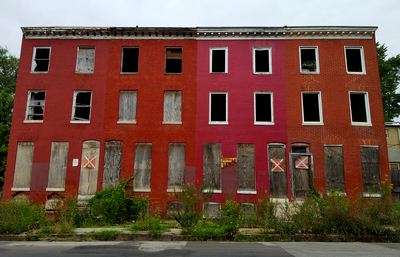 Baltimore, Maryland is full of derelict buildings which are nothing but eyesores to the community, so a group of residents decided to turn these abandoned relics into something the locals can be proud of.
They let street artists add much needed color to the crumbling structures in hopes of bringing attention to the fact that slumlords are letting these buildings decay.
They call their beautification efforts The Slumlord Project, and they're turning the entire neighborhood into one great big art gallery, one building at a time.
The exteriors are painted with large murals, or wheat pasted posters, many of which feature inspirational messages and imagery to remind the residents not to give up the fight.
7

Abandoned Italian psychiatric hospital haunted by street art spirits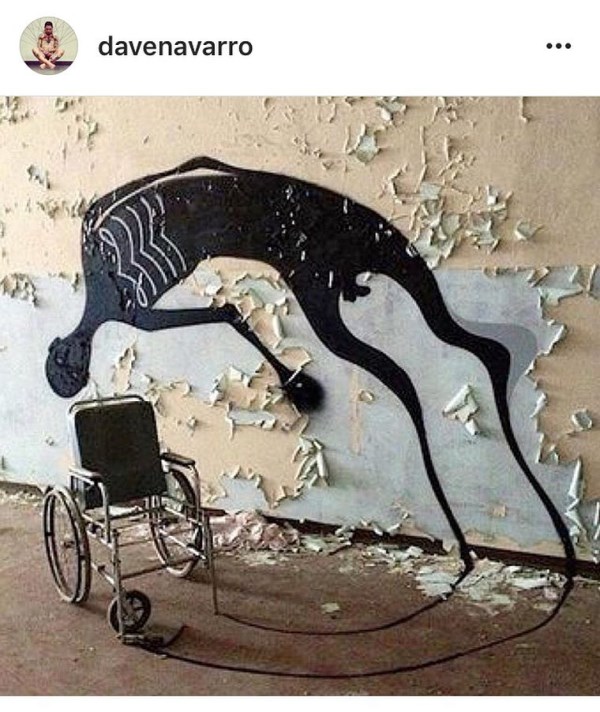 Brazilian street artist Herbert Baglione was on vacation in Italy when he came across an abandoned psychiatric hospital just begging to be turned into a gallery, so he began painting shadows of the former residents on the walls.
Herbert's creepy shadow themed art seems to fit right in with the wheelchairs, crumbling walls and medical equipment left behind when the building was vacated. The spectral figures can be seen throughout the hospital, so it's no longer left abandoned!
8

Washington, D.C. building goes from spy tech to street art
Street artists got the chance of a lifetime in southeast Washington when they were given the green light to turn an abandoned building into an underground art gallery – on the outside.
The building was home to a company that worked with spy satellites for the U.S. government, but was vacated when the city's industrial sector moved uptown, so street artists were given the outside of the building to do with as they saw fit until it comes down.
Since December 2013, artists like Kelly Towles and Jasper Wong have been painting massive murals on the side of the main building and in the parking lot, turning what was once the site of urban decay into an outdoor art venue. Vistors can watch as their city gets a much needed facelift.
9

Urban explorers discover a Batman graffiti gallery in Belgium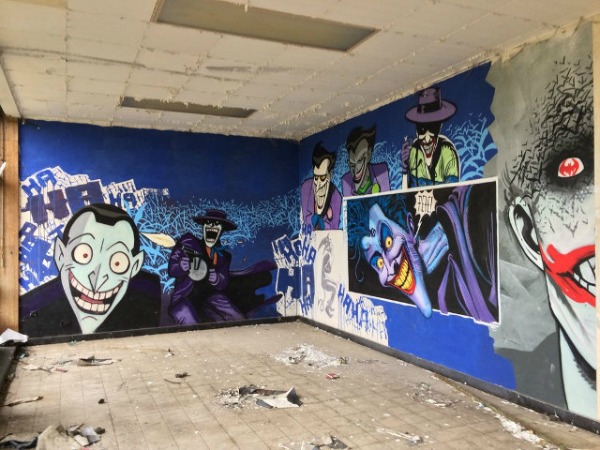 The Caped Crusader is alive and well in Europe, thanks to street artist PETE ONE and the amazing Batman-themed graffiti pieces he painted all over the walls of an abandoned building in Ronse, Belgium.
PETE ONE has some serious artistic skills, painting spot on versions of Batman: The Animated Series characters alongside stylish versions of the Joker and the Dark Knight himself.
PETE ONE chose to put an abandoned building to good use, perhaps inspiring other street artists to help him build up his superhero-themed street art gallery.
10

French artists use an abandoned buildings as canvases for optical illusions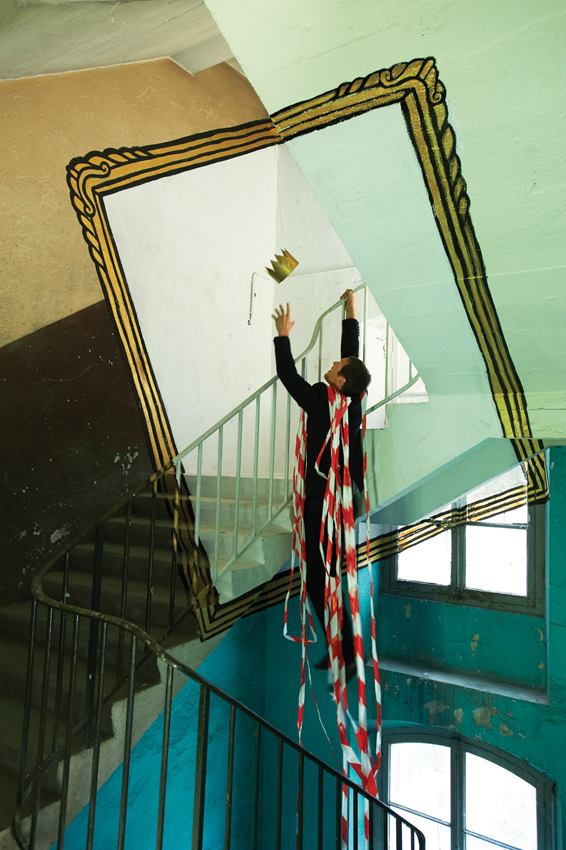 Street art takes many forms, from graffiti murals to fine art pieces, but French artists Ella and Pitr chose optical illusions for their trippy interior murals, created to bring attention to their rundown neighborhood in Saint-Etienne, France.
When viewed from the proper perspective, each painted room gives the illusion of a framed picture. Depth and dimension come to life when someone is standing in just the right place in the middle of each mural.
The dilapidated buildings serve as a unique canvas that locals can now visit and trip out on.
11

Graffiti artists + unlimited paint = One colorful warehouse gallery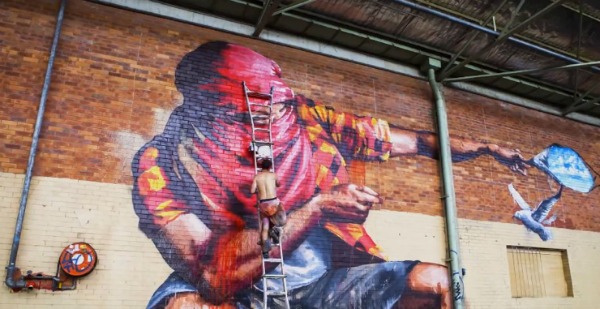 What happens when you give street artists access to an abandoned warehouse and supply them with an unlimited supply of paint?
You get a warehouse full of amazing paintings, that's what.
When the artists collectively known as SOFLES were offered an entire warehouse as a canvas and all the paint they could possibly need, they went a little crazy. With a little help from some very tall ladders, scaffold towers and a unified vision for the overall design, members of SOFLES covered the walls with 25 foot tall characters, bold lettering, and wall-to-wall street art awesomeness.