1

Artist's Shit, Literally!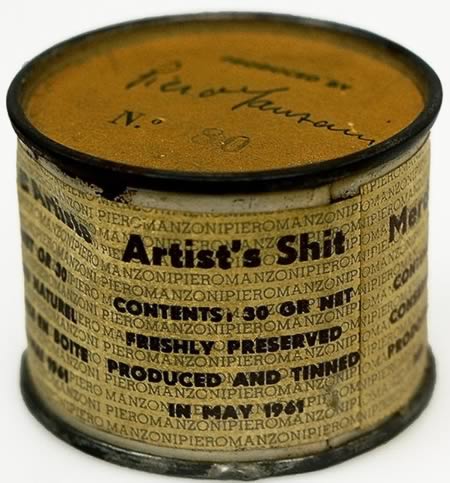 Artist's Shit ("Merda d'artista") is a 1961 artwork by the Italian artist Piero Manzoni. The work consists of 90 tin cans filled with feces, each weighing 30 grams and measuring 4.8x6.5cm, with a label in Italian, English, French, and German stating:
Artist's Shit
Contents 30 gr net
Freshly preserved
Produced and tinned
in May 1961
At the time the piece was created, Manzoni was producing works that explored the relationship between art production and human production.
A tin was sold for €124,000 at Sotheby's on May 23, 2007; in October 2008, tin 083 was offered for sale at Sotheby's with an estimate of £50-70,000. It sold for £97,250. The cans were originally valued according to their equivalent weight in gold — $37 each in 1961 — with the price fluctuating according to the market.
2

Non-Existent Art, Sold for $10,000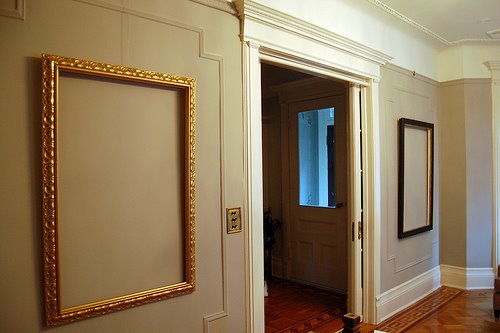 The Museum of Non-Visible Art is an organization that hosts and sells art that exists only in the imagination of the artist. Or, as the people behind the museum prefer to call it, "non-visible." In 2011, a woman paid $10,000 for a piece entitled "Fresh Air." Now that sounds perfect for that big blank wall in your office, right? In case you're worried that you're getting ripped off, the museum assures you that its works are completely real.
3

Piss Christ (a Crucifix Submerged in a Glass of the Artist's Urine), Sold for $15,000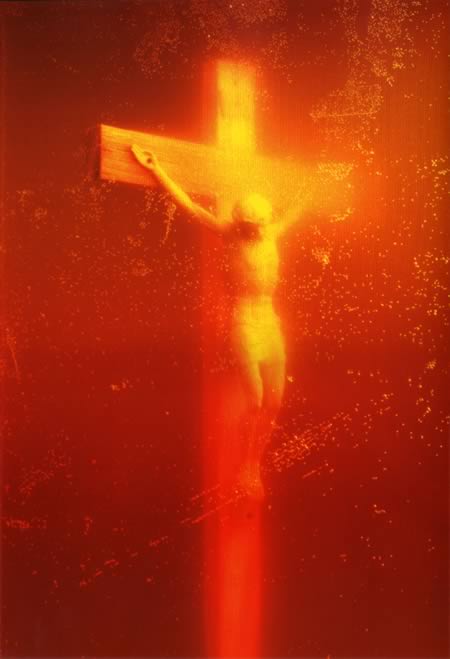 Piss Christ is a 1987 photograph by the American artist and photographer Andres Serrano. It depicts a small plastic crucifix submerged in a glass of the artist's urine. The piece was a winner of the Southeastern Center for Contemporary Art's "Awards in the Visual Arts" competition, which was sponsored in part by the National Endowment for the Arts, a United States Government agency that offers support and funding for artistic projects without controlling content.
The piece caused a scandal when it was exhibited in 1989, with detractors, including United States Senators Al D'Amato and Jesse Helms, outraged that Serrano received $15,000 for the work, plus $5,000 in 1986 from the taxpayer-funded National Endowment for the Arts. Serrano received death threats and hate mail, and lost grants due to the controversy. Others alleged that the government funding of Piss Christ violated the separation of church and state. The work was vandalized at the National Gallery of Victoria, Australia, and gallery officials reported receiving death threats in response to Piss Christ.
4

Red Mirror, Sold for $ 750,000 Gerhard Richter is a German visual artist, regarded as the top-selling living artist. In October 2012, Richter's Abstraktes Bild set an auction record price for a painting by a living artist at £21m ($34m). This was exceeded in May 2013 when his 1968 piece Domplatz, Mailand (Cathedral square, Milan) sold for $37.1 million (£24.4 million) in New York.
But what caught our attention was this piece, "Mirror," which sold for $750,000. While we recognize the value of the other works by Gerhard Richter, it is difficult to understand the value of this, isn't it? It's really just red paint in a slight gradient on a mirror. Perhaps the collector who bought it just wanted to see themselves in a bit more color when looking in the mirror.
5

NYC Garbage Cubes, Sold for $50 Each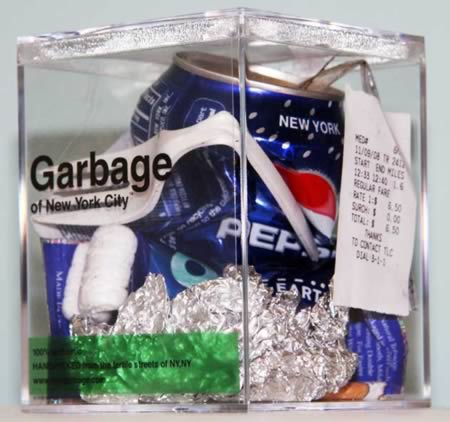 Well, you know what they say — one man's trash is another man's...errr...expensive sculpture.
Anyone can buy a souvenir of New York City, but since 2001 you can own another important artifact of the city: its garbage. Artist Justin Gignac started selling NYC garbage after his co-workers belittled the importance of packaging design. Gignac decided to show them how persuasive good packaging design can be in a purchase decision.
The cubes initially sold for $10, but Gignac raised the price to $25 when people started perceiving the containers as souvenirs from New York. When he raised the price to $50-$100, people began viewing the square chests of trash as art.
Gignac has also produced a number of pricier special edition cubes that include garbage from Obama's Inauguration and Opening Day at Yankee Stadium. Discarded trash from one-time events gets a second life in these branded cubes, becoming valuable artifacts of an event that will never happen again.
6

Onement Vi, Abstract Art Sold for $43.8 Million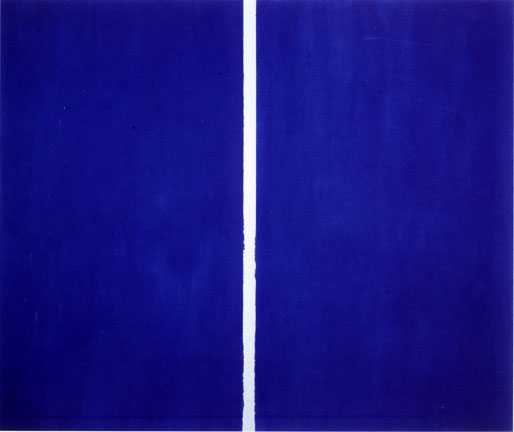 This painting by New York abstract artist Barnett Newman sold for a record $43.8 million at Sotheby's in 2013. Onement Vi, a 8.5ft by 10ft dark blue canvas with Newman's distinctive "zip" running through the center, was painted in 1953. It is the last of six pieces that the artist created for his Onement series. Four of the oil on canvas paintings are now owned by museums.
We are not saying that it's a bad painting, but $43 million for a blue canvas does seem like a lot.
7

My Bed (Artist's Bed Covered with Soiled Bedsheets and Menstrual-Stained Underwear), Sold for $150,000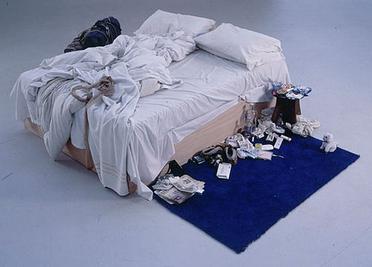 My Bed is a work by the British artist Tracey Emin. First created in 1998, it was exhibited at the Tate Gallery in 1999 as one of the shortlisted works for the Turner Prize. It consisted of her bed with bedroom objects in an abject state, and gained much media attention, particularly over the fact that the bedsheets were stained with bodily secretions and the floor had items from the artist's room (such as condoms, a pair of knickers with menstrual period stains, and functional, everyday objects, including a pair of slippers). The bed was presented in the state that Emin claimed it had been when she said she had not left it for several days due to suicidal depression brought on by relationship difficulties.
My Bed was bought by Charles Saatchi for £150,000 and displayed as part of the first exhibition when the Saatchi Gallery opened its new premises at County Hall, London. Saatchi also installed the bed in a dedicated room in his own home.
8

Venus de Milo Statue Made of Excrement, Sold for $45,000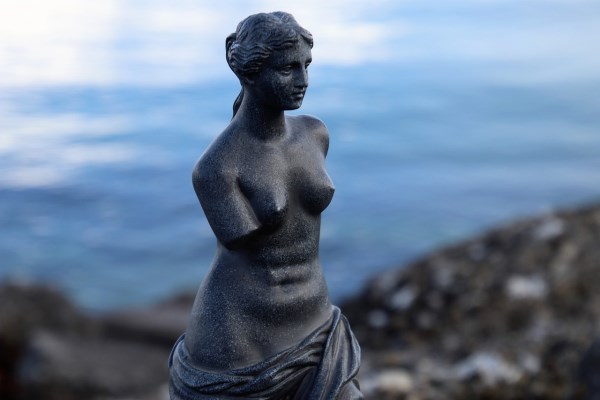 Zhu Cheng, one of China's most famous and talented sculptors, has helped nine of his art students create a replica of Venus de Milo out of excrement. As you can see in the photos, the excrement-made Venus de Milo is encased in a transparent box to protect it and make sure that the smell of crap doesn't drive everyone away from the exhibit at the Henan Art Museum in Zhengzhou city, China.
But the most unbelievable thing about this "shitty" statue of Venus de Milo is that it was actually purchased by a Swiss art collector for a staggering 300,000 yuan ($45,113). Talk about spending money on crap, right?
9

Rhein II, Sold for $4.3 million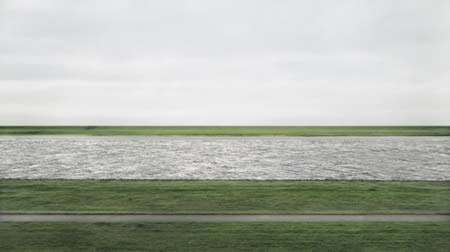 Called "Rhein II" and taken by Andreas Gursky, the picture above is the world's most expensive photograph. Sold in 2011 at Christie's for $4.3 million, Rhein II broke the previous record for the price of a photograph, which was set by Cindy Sherman's "Untitled #96? at $3.89 million. The auction doesn't explain why such a seemingly simple, somewhat boring picture would be sold for such a high price, but hey, art is art.