1

Man Dresses Up as Disney Princes & Princesses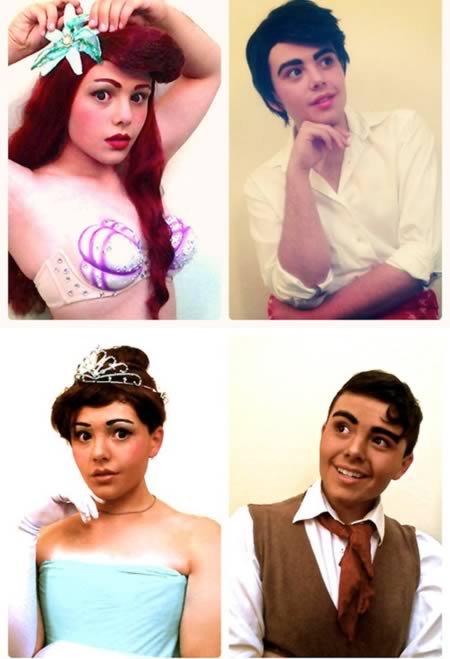 Richard Schaefer is a costume design student at the Fashion Institute of Design & Merchandising. Here he is dressed up as different Disney princes and their respective princess in a series called Prince to Princess Transformation.
2

Disney Princesses Portrayed as Miley Cyrus

Italian designer Michele Moricci created this series of Disney princesses drawn as Miley Cyrus.
3

Disney Princesses with Historically Accurate Clothing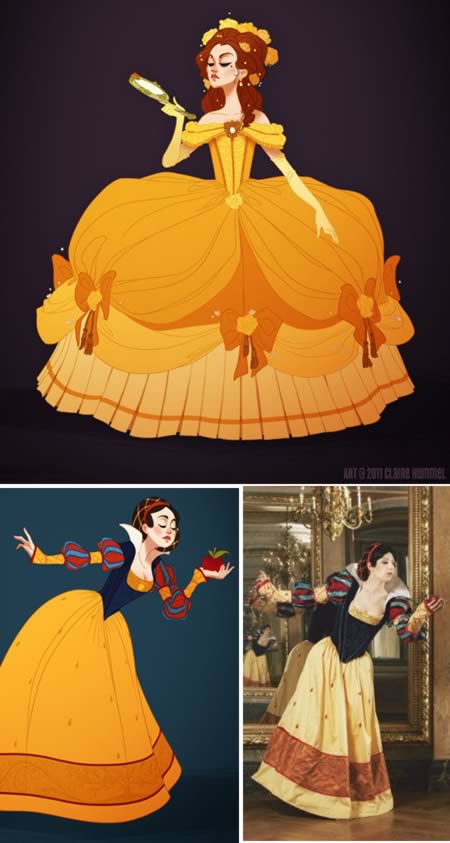 Illustrator Claire Hummel has taken a look at the Disney princesses with a historical eye, from Snow White's 16th-century German setting to Belle's late 18th century French environment. She found that the clothes they wore didn't match up to the historical settings very well and decided to set things straight.
DeviantArt cosplayer Tsu-yaa decided to take things one step further on Claire's Snow White drawing and turned it into an actual dress.
4

Disney Princesses Texting

If Disney princesses and their princes were tech-savvy and exchanged words via iMessage on their iPhones, what would they say?
MissMaceyMouse created an entertaining series of fictional screenshots that feature the texts of Cinderella, Snow White, Aurora, Ariel, Mulan, Belle, Pocahontas, Tiana, and Rapunzel.
5

Real Role Models Portrayed as Disney Princesses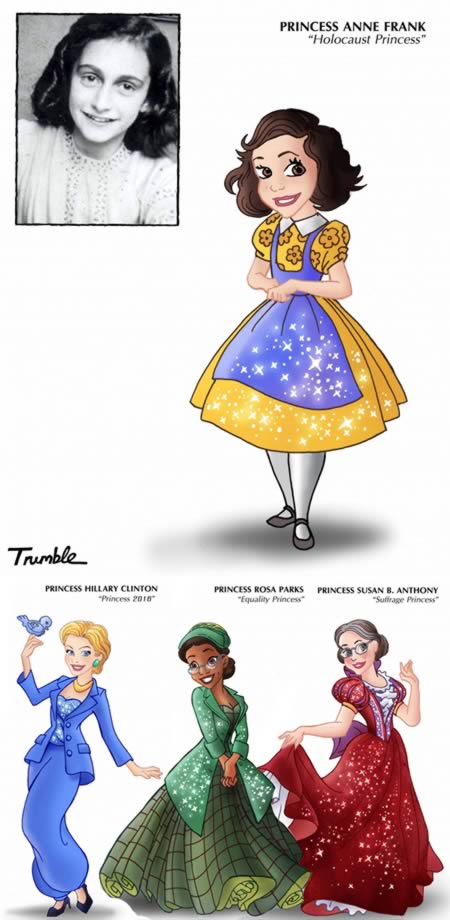 When artist David Trumble saw the sexy makeover that Disney had given "Brave" Princess Merida, he was appalled, and decided to use his artistic skills to show his concern. "I wanted to analyze how unnecessary it is to collapse a heroine into one specific mold, to give them all the same sparkly fashion, the same tiny figures, and the same homogenized plastic smile," he claimed. "I decided to take 10 real-life female role models, from diverse experiences and backgrounds, and filter them through the Disney princess assembly line." The results were perky princess versions of amazing women like Ruth Bader Ginsberg, Harriet Tubman, Susan B. Anthony, Marie Curie, Malala Yousafzai, and Gloria Steinem.
6

Disney Princesses as Vogue Cover Models

DeviantArt Dante Tyler created mock-up Vogue covers featuring Disney Princesses as models. With Pocahontas as a fierce Beyonce look-alike and Snow White talking about living with seven men, you have to wonder how far removed the marketing plans for Vogue and Disney really are from one another.
7

Disney Princesses Portrayed as Zombies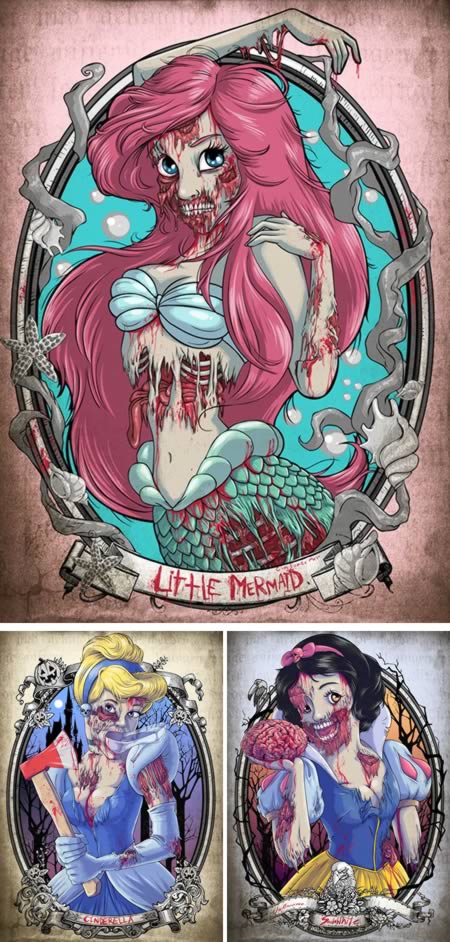 We've seen plenty of zombie crossovers and Disney Princess crossover art, but we've never seen those fairy tale gals looking so gruesome!
These elegantly disgusting illustrations of Ariel the Little Mermaid, Cinderella, and Snow White were created by Witit Karpkraikaew, aka Clocktowerman.
8

Disney Princesses Portrayed as Outlaws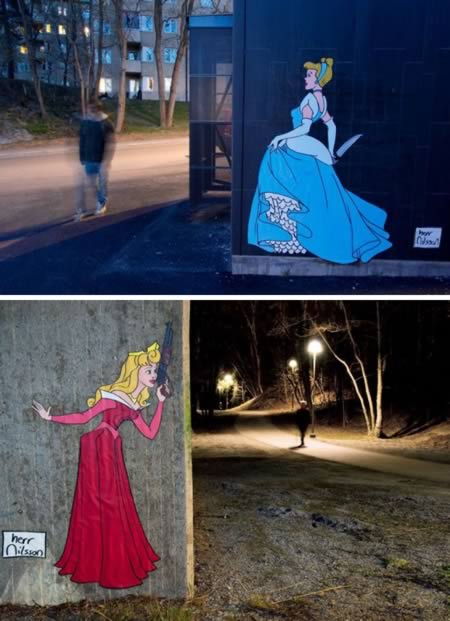 Not all princesses are nice. Herr Nilsson, a street artist in Stockholm, painted Snow White, Cinderella, and Sleeping Beauty lying in ambush for unsuspecting pedestrians.
9

Disney Princesses Depicting the Seven Deadly Sins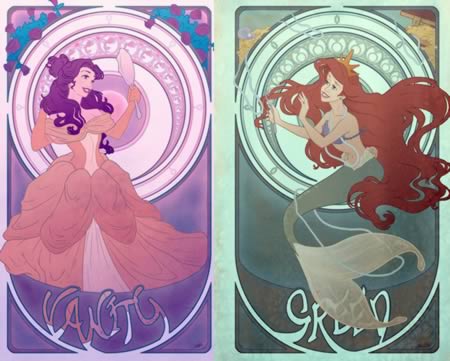 Artist Chris Hill has created portraits of your favorite Disney Princesses, re-imagined as the sins they embody – from sloth to envy, vanity to lust – and we have to say that we totally see it. Some pairings are more apt than others, since we think that Jasmine was never really wrathful, it was more like naughty, but Belle does look into that mirror an awful lot, doesn't she? On the whole, it's an illuminating project from a talented illustrator.
10

Disney Princesses with Updated Outfits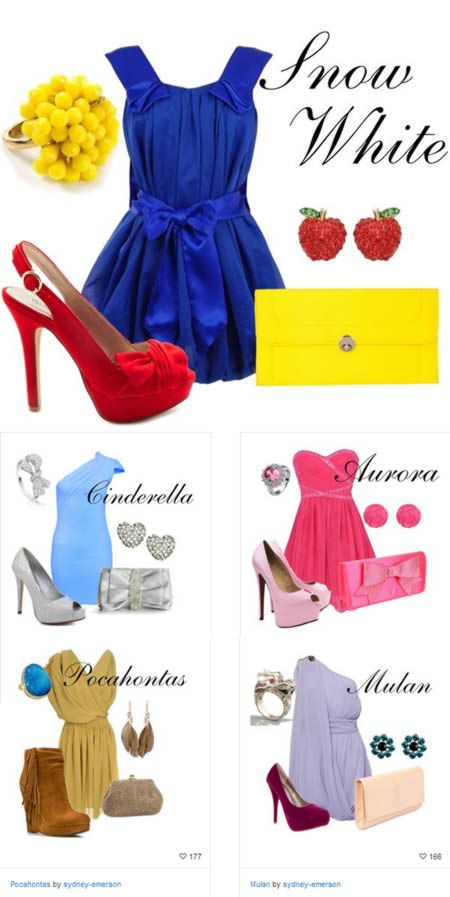 What would Disney princesses wear if they were cast in modern times? Sydney Emerson of Polyvore has some pretty good ideas, and her selections are simply perfect. I just love Snow White's earrings.