1

Pac-Man Ghost Bookshelf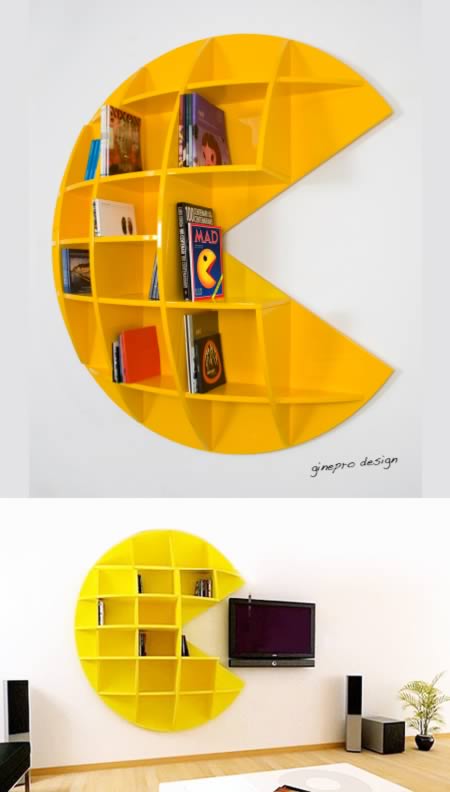 Italian designer Mirko Ginepro is responsible for the brilliance behind the Puckman bookshelf. The unit is made out of varnished wood and is, of course, painted in a golden yellow reminiscent of the 80?s cult videogame Pac Man. The Puckman shelf (yes, Puckman is correct, not Pacman) is custom made to order, so you can choose a size and alter the color as you wish to accommodate a large television or to match the decor of a specific room. We like the set up where the Puckman shelf is adjacent to the television it, because it really puts the shelf and its character into perspective. Don't you agree?
2

Chewbacca-Inspired Sofa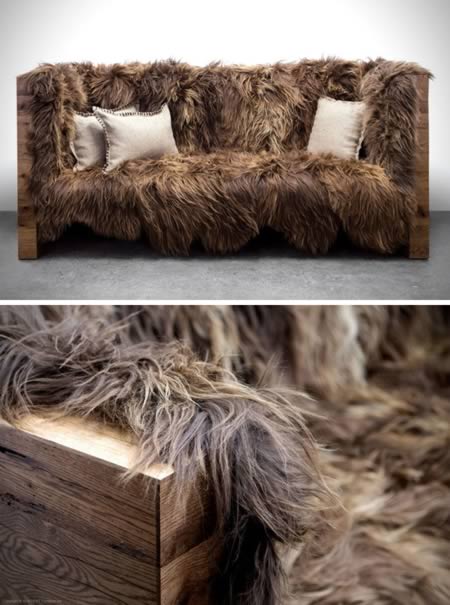 Chewbacca has always been one of our favorite characters from the Star Wars universe. So when we came across this Long Wool Sofa from the design team at New York-based Sentient, it was love at first sight.
Okay, so it's not technically inspired by the beloved wookie (it's not even licensed by Star Wars), but who cares about technicalities? This sofa features a base that is constructed from reclaimed American oak boards, and it has been drenched in what appears to be actual wookie skin, although it's actually long wool Icelandic sheepskin. The sheepskin is extremely soft to the touch, will keep you warm all through the winter season, and let's be real - it would look completely badass in any bachelor pad. Each sofa is made to order (they even ship internationally), and is designed by Nersi Nasseri.
3

QWERTY Keyboard Sofa Concept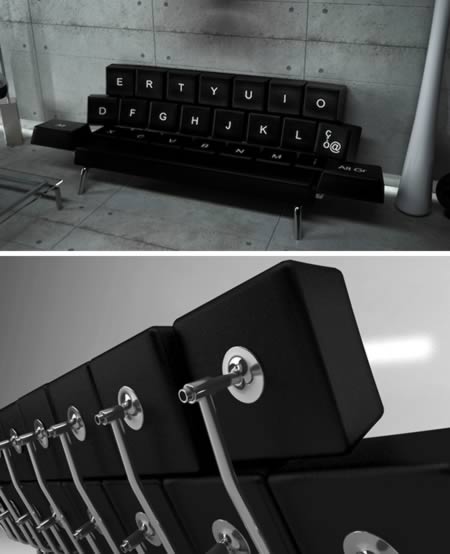 Take a gander at this QWERTY couch concept design by Zo-Loft. Each "key" is an individual cushion, and the sofa is designed to fold flat like a sofa bed. I'm not sure how comfortable it would be as a bed, or even as a sofa since it's not totally flat, but style isn't always comfortable.
4

Star Wars Bunk Bed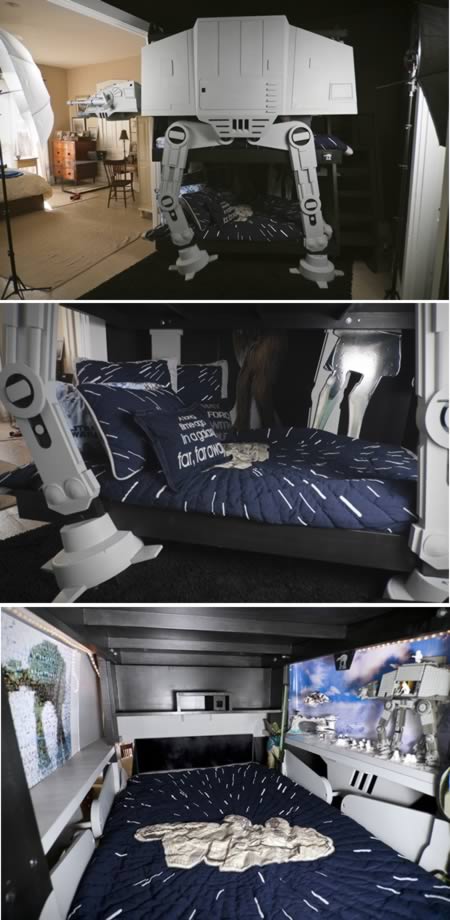 Jonathan had some issues thanks to space restrictions in a new home. As a solution, he came up with the idea for the most amazing triple bunk bed ever, Imperial Walker style.
5

Mario Shelves

Dennis has an amazing girlfriend named Judith. She built these awesome Mario-themed shelves, and an end table for their apartment. Check out the warp pipe, built out of garbage cans that serve as a table to keep their cell phones organized and charged, and the clock, which features the scene from the Game Boy video game Super Mario Land. Judith, who is a mechanical engineering student in Germany, is also working on a Koopa shell for the shelf.
6

Polaroid Toilet Paper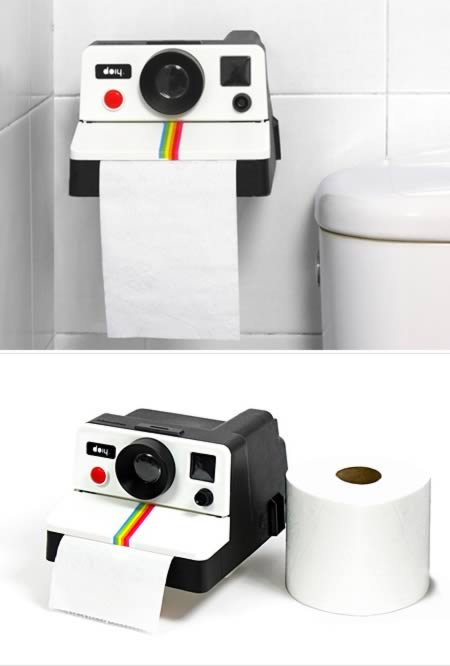 There is one thing that everybody agrees we always want instantly, and I'm not talking about photos. T POLAROLL, a unique toilet paper holder, looks just like those old cameras, and dispenses TP just as quickly.
7

Gamer Living Room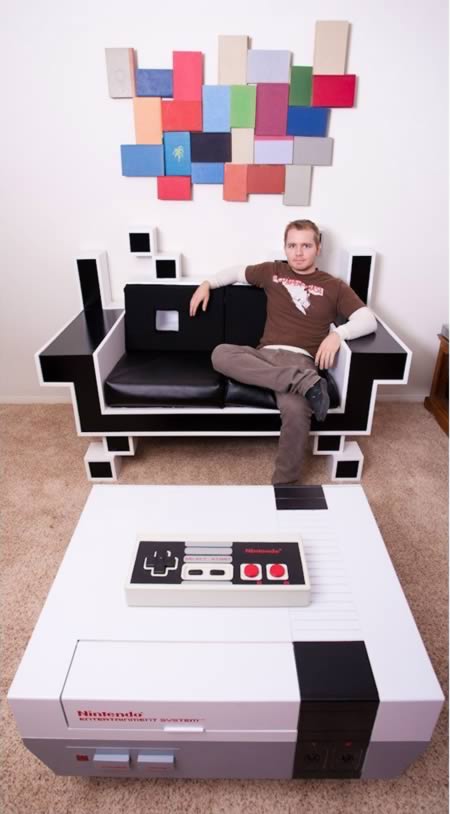 This guy went all in with this Vintage book photo album wall art, Space Invader couch, NES coffee table (Nintable), and jumbo lap-sized working wireless NES controller. It's amazing.
8

Doctor Who TARDIS Fridge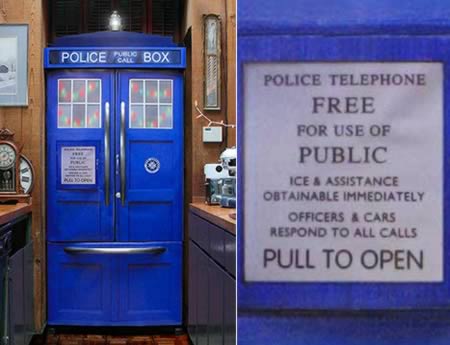 Artist Joy Alyssa Day created a special kit that you can attach to your fridge and transform into a good TARDIS replica. The Doctor Who kit includes a skin that attaches to the front of your fridge, and if you have a cold water dispenser on your refrigerator, there's a stiffened "phone door" that swings open when needed.
9

Ouija Board Coffee Table & Rug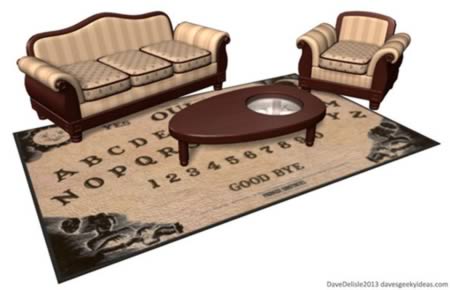 Why not invite spirits into your home to haunt the ever living hell out of you and your family. Here's a conceptual Ouija board coffee table and rug that was designed by Dave Delisle, who clearly does not understand that GHOSTS and FURNITURE are things that should not be mixed.
10

Rubik's Cube Dresser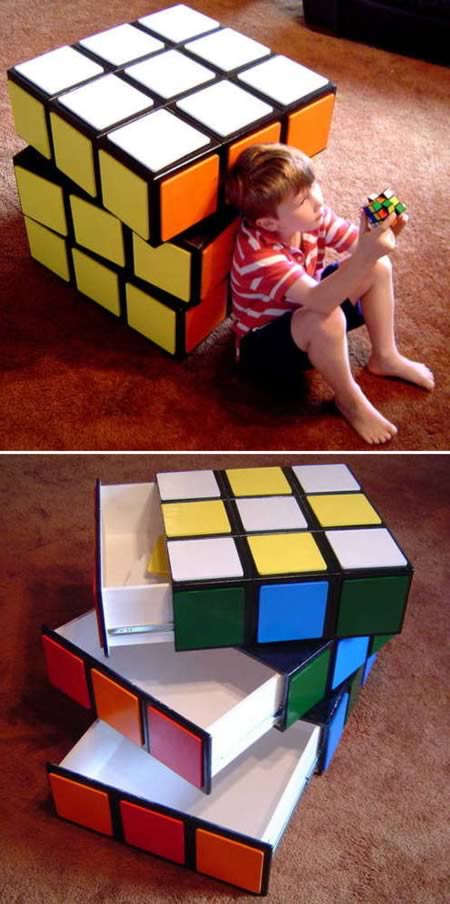 No geek list is complete without a Rubik's Cube item, and this Rubik's Cube-shaped chest of drawers is truly brilliant. The quality of the work is amazing, and it actually rotates and turns (at least on the X-axis). Most importantly, its creator and designer shares step-by-step instructions to show you how it was put together so you can make one yourself! Even if you'll never make one of these, it's definitely worth checking out the article to see how it was designed and assembled.