In today's increasingly web-oriented, digital world, it's easy to forget that posting photographs and other sensitive information can come back to haunt you. Between the dangers of sexting, virtual relationships gone awry, and general overexposure, the internet can become a very inhospitable place for some people. Read on to learn how the following individuals all suffered real-life consequences for uploading racy photographs online, and remember, the internet is forever.
1

Firefighter and Single Mom Loses Job Over Topless Shower Pics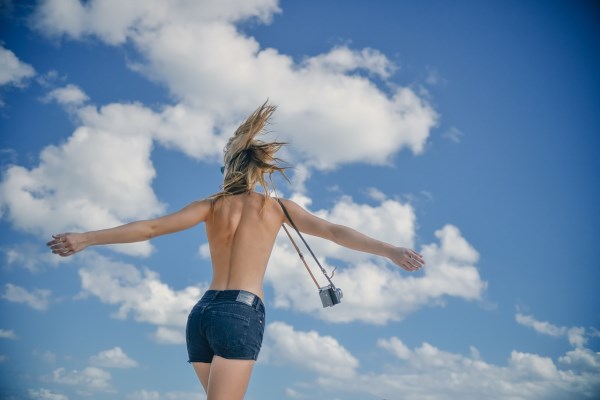 In 2013, twenty-six year-old Firewoman Clare Deloughrey posed for a series of racy photographs for a photographer friend. In the pictures, Deloughrey is shown coming home from her job as a volunteer firefighter, smoke detector installer, and safety counselor in her uniform with black soot on her face. She then slowly removed her uniform, showered, and tried on sexy lingerie while the photographer snapped hundreds of photos, some of which were topless. The images were then put online on the photographer's website, where a fellow firefighter happened to see them and alerted their employer.
Deloughrey's employer, Greater Manchester Fire and Rescue Service, immediately launched an investigation and eventually fired the young mother of one. Their complaint was not that Deloughrey had posed nude for the pictures, but that their logo had been featured in some of the images and they feared that their brand had been used without permission.
Though Deloughrey complained that the decision was sexist because male firefighters often pose shirtless for calendars and other promotional materials, legally her employer was in the right. A spokesperson for the fire department replied to Deloughrey's accusations of sexism with the following statement, "What our staff do in their private lives is a matter for them – however when they do so using our brand, they are representing our organisation. It would not matter if they are male or female, paid or unpaid, we would not want our brand used in any commercial venture without our permission."
2

Florida Teacher Fired After Her Side Job as a Swimsuit Model is Discovered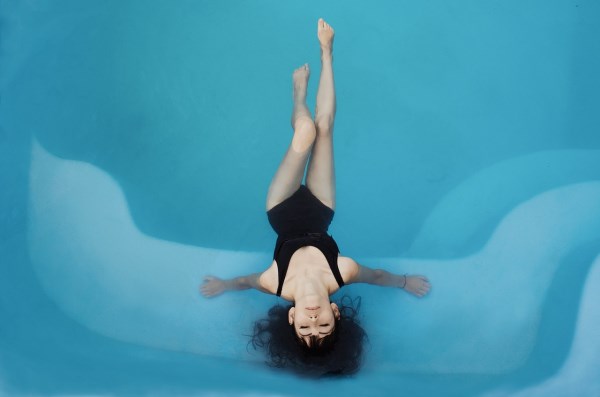 Until April of 2013, twenty-six year-old Olivia Sprauer was an English teacher at Martin County High School in West Palm Beach, Florida. During her off hours, Sprauer was also a lingerie model for xxxtremevisionradio who went by the name "Victoria Valentine James." Sprauer's photos were very racy, but not nude, and often featured her posed provocatively in skimpy g-strings and bikini tops.
A wife and mother of two small children, Sprauer had been planning to resign from her teaching position at the end of the school year in order to focus more on her modeling career and growing family, but the school district beat her to it. On April 29th, Sprauer was called into her principal's office and shown photographs from one of her modeling gigs. The administration asked her if the photos were indeed her, and when she affirmed that it was her in the pictures she was immediately fired.
Sprauer's family, friends, and students soon rallied around the young woman, posting words of support and encouragement on her Facebook page.
3

Britain's Only Female Soccer Mascot Fired Over "Booty Photos"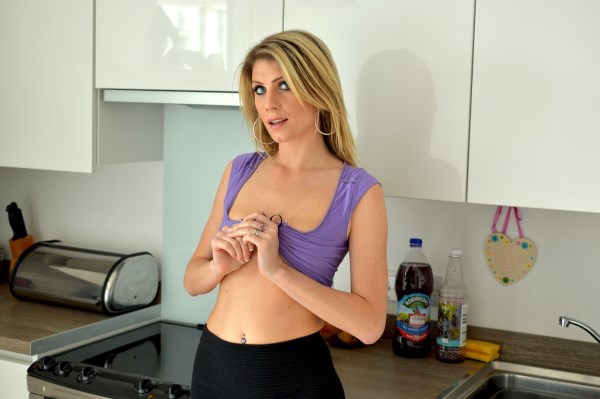 A forty year-old mother of three, Tracy Chandler never intended to bring shame upon her family or her employer, the English soccer club Doncaster Rovers, when she posed in lingerie alongside the furry head of the team's mascot. Chandler had been Britain's only female mascot and had played the role of "Donny Dog" for four years when she posed for the photos in a shoot to benefit the child abuse charity NSPCC. When the soccer club found out about the racy photo, Chandler was unceremoniously dumped as the mascot with little explanation.
When Chandler and others complained about the firing, especially since the soccer club had allowed male players to pose nude for a calendar benefiting the same charity a few years earlier, the club eventually reconsidered their hasty decision and offered Chandler her job back.
4

Austrian Ballerina Fired After Posing Nude for Men's Magazines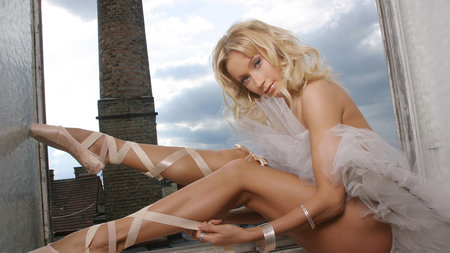 In 2010, Russian prima ballerina Karina Sarkissova caused shockwaves in Austria's high society when her employer, the Vienna State Opera, announced that they were firing her due to nude photos that had appeared in two pornographic men's magazines. Sarkissova had posed naked for the American magazine Penthouse several months prior to baring all for the Austrian magazine Weiner.
The opera had reprimanded Sarkissova after the first instance, but she ignored their warnings and posed for the second magazine just a few weeks later.
The cover of Weiner showed a topless Sarkissova with the caption, "The ballerina nude, the ballet as we love it." Vienna State Opera director Dominique Meyer is quoted as saying, "The ballet corps has been shocked by these new images which appeared in the sex section." As for Sarkissova, the ballerina has said that she felt discriminated against as a result of the scandal.
5

Special Education Teacher Fired for Posting Suggestive Pics from His School Email Account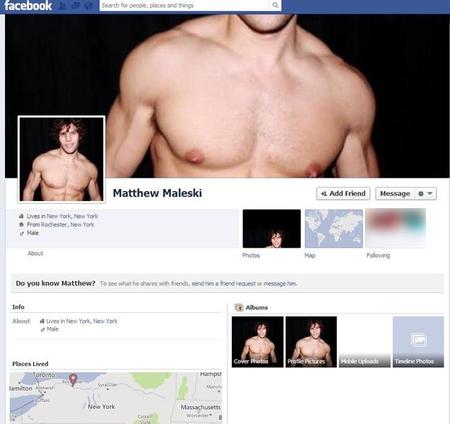 Thirty-two year-old Matthew Maleski was an Occupational Therapist and Special Education teacher at Public School 183 on the upper East Side of New York City for more than a year before school administrators fired him over racy images and bad decisions. Maleski not only used a shirtless photo for his public Facebook profile, but another teacher discovered that he had replied to Craigslist sex ads using a gmail account that was shared by several teachers at the school. Maleski had apparently used the gmail account to send sexual chat messages to strangers on Craigslist, and he had also attached a photo of himself wearing only his boxer shorts.
After doing a little bit more digging, administrators learned that Maleski had also posted a video on YouTube of himself gyrating to club music while wearing little more than his skivvies. The video includes two other male dancers, both of whom are mostly nude and have names like "Pornstar" and "Joey Jinx." All of the images and videos that they discovered were free to the public and easily found with even the most basic search terms. Maleski lost his $56,048 a year position and issued a very contrite apology to his co-workers and students.
6

Florida Police Sergeant Resigns After Getting Caught Sending Pornographic Pics of Herself in Uniform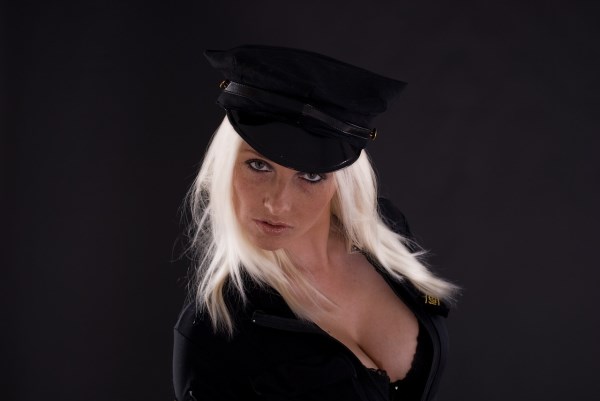 For seventeen years, Sergeant Penny Dane, a Florida mom of two, worked for the Daytona Beach Police Department. During her time on the force, Dane had been reprimanded twice; once for using her work computer for personal use, and another time for going tanning while on the clock. However, both of those minor offenses pale in comparison to what her fellow detectives discovered that she had been up to while wearing the squadron's uniform.
In May of 2013, Dane accused a co-worker of sexual harassment, which lead to an investigation within her department. During the investigation, authorities discovered two hundred and forty-seven pornographic images that Dane had taken of herself, some of which were of the sergeant in her police uniform. Authorities were also shocked to discover that Dane had been uploading these lewd photographs to pornographic and virtual sex websites, and she had also been sending them to a man whom she'd met on a sex site.
As it turns out, Dane had been visiting these sex sites from work for years. Computer files dated back to 2009. She frequented one particular site called Red Light Center, an "adult-only 3D Virtual Environment based on the Red Light District in Amsterdam." Apparently, Dane was fond of engaging in virtual sex while at work, in her office, while wearing her police-issued uniform and badge.
Dane resigned from her position amidst the scandal, and her employers are campaigning to keep her from ever working in law enforcement again.
7

Manhattan High School Guidance Counselor Fired After 17 Year-Old Images Resurface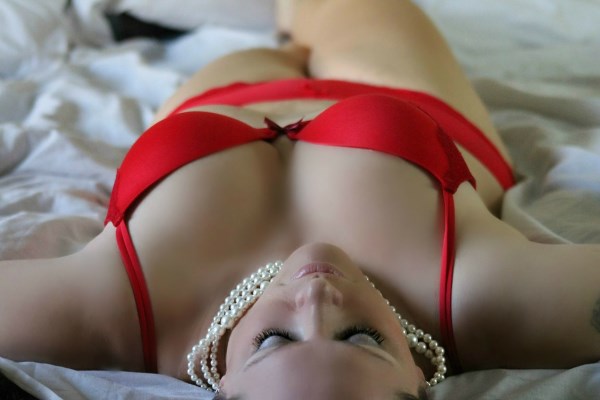 When former lingerie model Tiffany Webb decided to pursue a career as a Guidance Counselor in Manhattan, she was up front with the New York Department of Education about her past as a scantily-clad underwear model. Over the years, Webb gained notoriety in her school district for being a dedicated and approachable counselor who was respected by both students and peers alike, and her former life as a sex kitten didn't seem to matter. In fact, in the twelve years that Webb worked for the Murry Bergtraum High School for Business Careers, she had been questioned by the Department of Education several times about images that still surfaced online periodically, but each time she was cleared to return to work with students.
All that changed in 2012 when a student brought an image of Webb, taken when Webb was about twenty years-old, to the former principal of the school. The principal then decided that the photos were too easily accessible to students, and she filed a complaint with the DOE that lead to Webb's termination. Webb was fired just days away from achieving tenure in the school district.
Webb, who says that most of the images online have been heavily Photoshopped and manipulated, often placing her face on other bodies, has filed a lawsuit against he Department of Education in the Brooklyn Supreme Court. She claims that she was wrongfully terminated and discriminated against sexually. She also charges that the DOE violated her First Amendment rights. She has taken a teaching job in New Jersey for now, but she seeks reinstatement of her job, back pay, and punitive damages.
8

Subway Workers Get "Fresh" at Work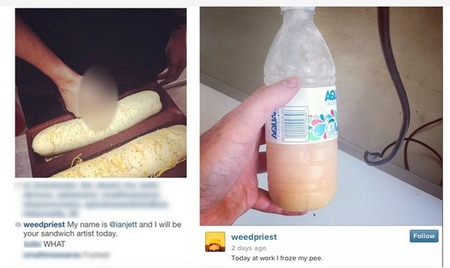 With over thirty-eight thousand locations in one hundred different countries, Subway Sandwiches is largely considered to be the world's largest restaurant chain. One Subway chain, however, had local customers in central Ohio reeling after two Sandwich Artists were caught doing disgusting things at work and then posting pictures of their escapades on Instagram.
One photo shows a male worker placing his genitals on a loaf of bread, and another photo shows a water bottle filled with yellow liquid along with the caption, "Today at work I froze me pee." Both men were immediately fired, and the restaurant was closed down for a day in order to throw out all of the bread and sanitize the entire kitchen. Still, local residents say that they will have a hard time ever eating at that particular Subway restaurant again.
Subway spokespeople reminded the public that this was an isolated incident and it was swiftly and definitively dealt with, adding, "These actions are not tolerated and the franchisee took immediate action to terminate the two employees involved."
9

Fetish Model Fired from Two Separate Jobs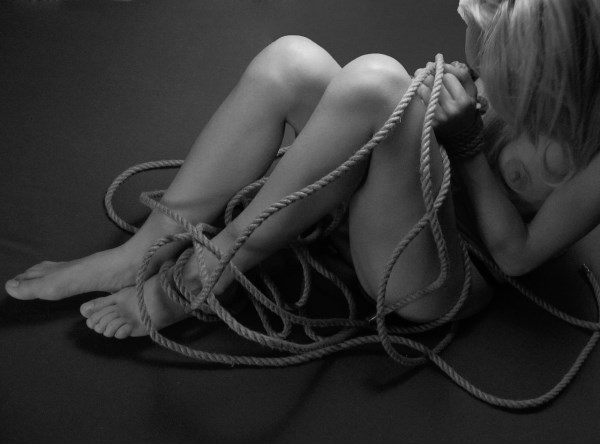 A Harrisville, Pennsylvania woman who poses nude for website and print publications as a fetish model has been fired not once, but twice, due to her side job. Sarah Hunter was fired from her jobs as a restaurant hostess and a bartender all in two months time, and she claims that this isn't the first time she has been discriminated against because she works in the adult entertainment industry.
"I know plenty of very educated, very intelligent women, myself included, who get into the sex industry because it's what they enjoy, it's what they like and they're good at it," Hunter said. "But that doesn't, in any way, make someone less capable of doing any other kind of job."
Since Pennsylvania is an "at-will employment state," employers can come up with a variety of reasons to fire people, as long as it's not discriminatory. Hunter plans to continue to look for work outside of the entertainment industry, while still modeling on the side.
10

Geraldo Rivera Fired After Posting a Naked Selfie
Even famous people are not exempt from the judgment of their employers. Longtime Fox News Anchor Geraldo Rivera is the latest celebrity to feel the wrath of public opinion when he stood naked in front of his mirror and snapped a bizarre self-portrait. Rivera posted the photo, in which he is totally nude save for a small white towel shielding his private parts, to his Twitter page with almost fifty thousand followers. He captioned the image, "70 is the new 50."
The picture quickly went viral and the general consensus was that the image was in poor taste. Apparently, the administrators at the Catholic higher learning institution Duquesne University in Pittsburgh, PA agreed. The school had secured Rivera to moderate a prestigious panel discussion about the fifty year anniversary of the assassination of President John F. Kennedy. The university revoked their invitation and fired Rivera from the job after the anchorman's strange selfie went viral on the web.
Duquesne University spokeswoman Bridget Fare explained, "We warn our students not to put anything inappropriate on social media because of potential consequences. You could consider this teaching by example."