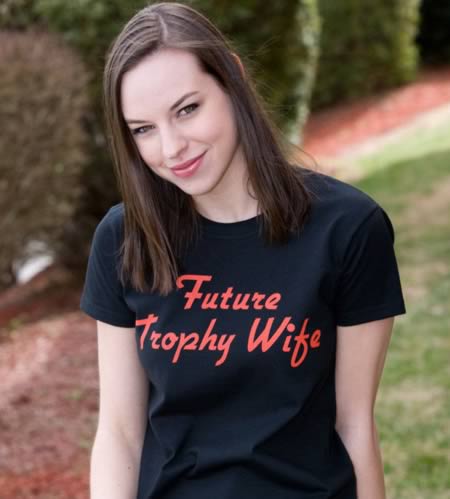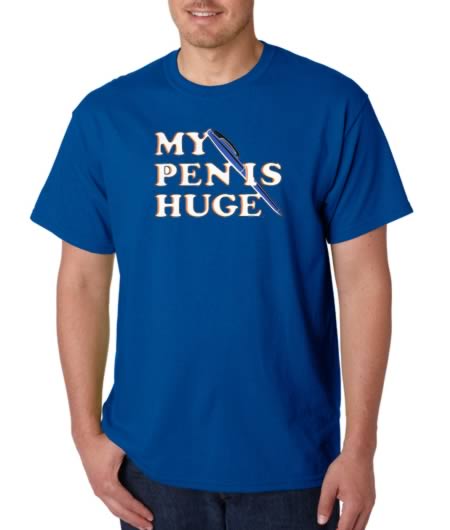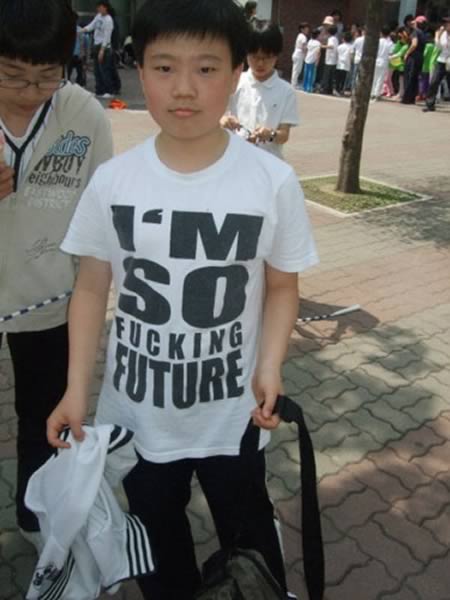 That's not very encouraging.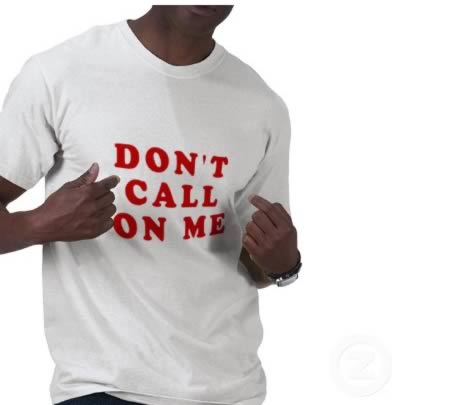 Didn't read before class? This shirt is perfect for you. Then again if I were your teacher I would definitely call on you just for having this shirt.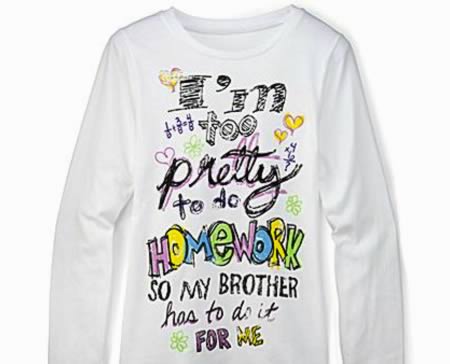 "Worst tee ever," "too stupid for words," "gross" and "repugnant" were a few of the descriptions that flew around on Twitter when JC Penney started selling a T-shirt reading:
"I'm too pretty to do homework so my brother has to do it for me" on its online store.
The long-sleeved white cotton shirt was part of the back-to-school line and intended for girls ages 7 to 16. But the online world quickly declared it inappropriate and sexist, and over 1,600 people signed a petition asking the retailer to stop selling the garment.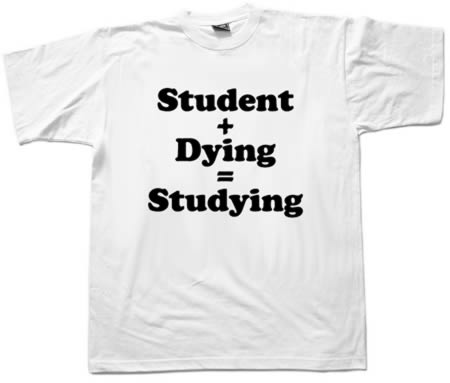 With this shirt you are guaranteed an A+ in Logic.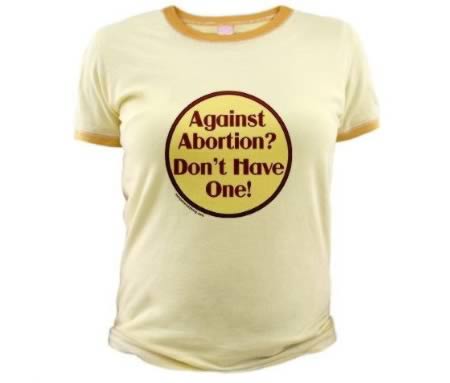 Wearing a pro abortion t-shirt ($24.00) isn't going to increase your popularity with that Christian teacher.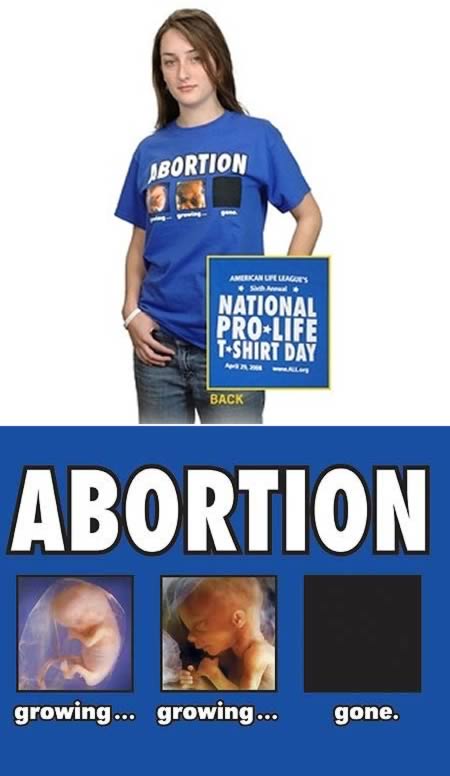 But being against it won't be very helpful either. A lot of students wearing this shirt on National Pro-Life T-Shirt Day were asked to change them. The shirt displayed two graphic pictures of a fetus growing in the womb.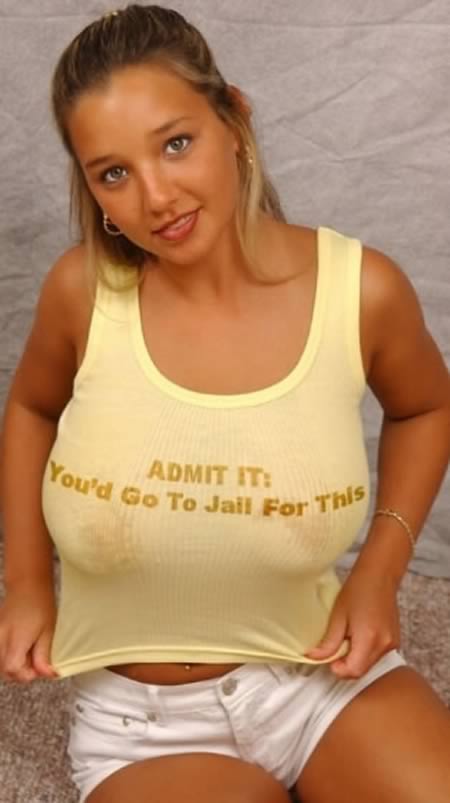 Some teachers are bad, but the parents who allowed their kids to go to school dressed like this aren't helping either.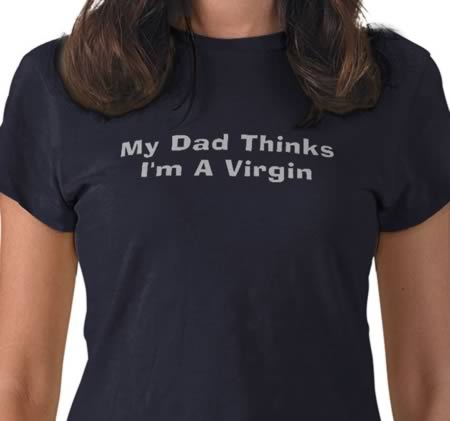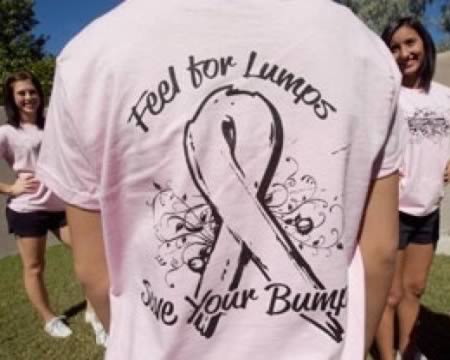 This cheerleading squad at Gilbert High School was told they could not wear their pink T-shirts to raise money for breast cancer awareness during the school's football games, because the administration finds the shirts display an objectionable slogan. The shirts, which say "Gilbert cheer" on the front and "Feel for lumps, save your bumps" on the back, were bought for the 56 freshman, junior varsity and varsity cheerleaders for $470, said Gayleen Skowronek, the cheer booster-club president. The girls had planned to wear the shirt at a football game as they cheered and then walk around to collect money from the crowd.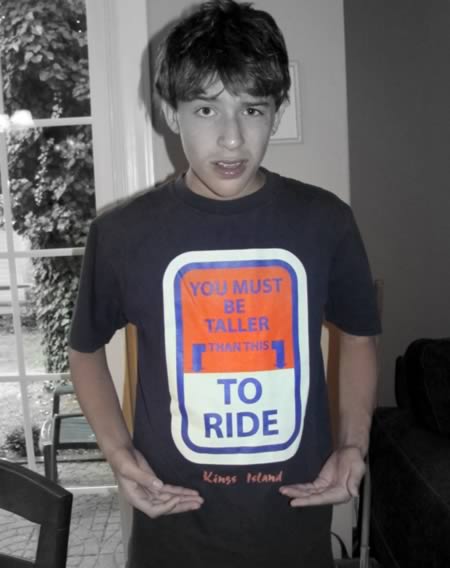 Be careful - harmless t-shirts can also be inappropriate if you have a teacher with a dirty mind. For instance, this innocent King's Island t-shirt caused a young kid a lot of embarrassment.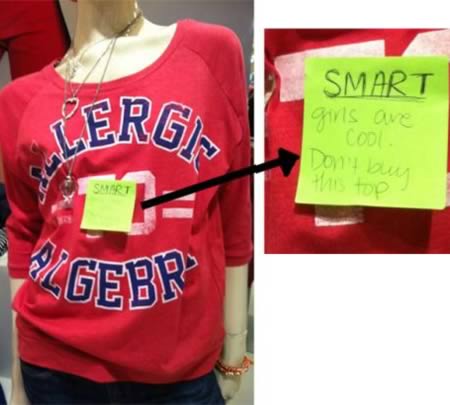 Over at Reddit a user posted a photo of a Forever 21 tee with the words "Allergic to Algebra" emblazoned across the front. The user stuck a green Post-it Note reading "Smart girls are cool. Don't buy this top" onto a mannequin sporting the T-shirt.
Forever 21, a Los Angeles-based retailer that's popular with teens, is selling the tee for $12.80. This isn't the retailer's only shirt implying that girls are stupid and uninterested in school. The words "Skool sucks" are boldly written across one shirt and another reads "I love school" on the front and "Not…" on the back. Of course, you won't find any similar T-shirts in Forever 21?s men's line. Can you imagine the retailer selling shirts for boys proudly stating, "I suck at long division"?