1

The 35-year-old fit "grandaddy"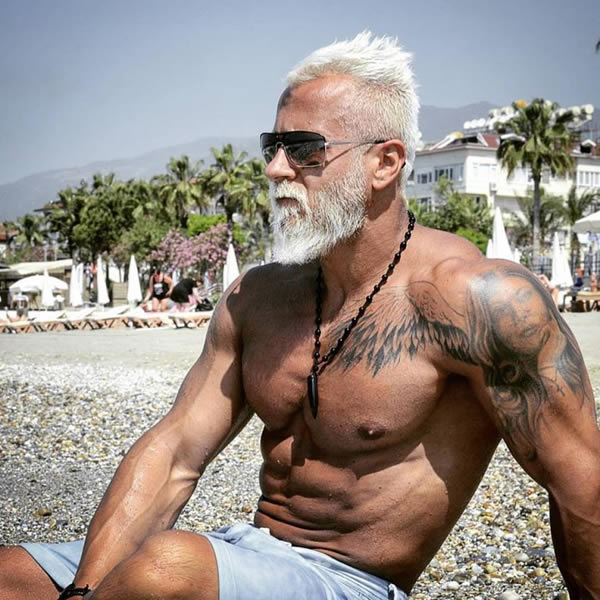 Some people spend a fortune trying to keep themselves looking young, but one Polish social media star admits he only found success after making himself look at least ten years older than he is. Meet Pawel Ladziak, aka "The Polish Viking."
Pawel often gets mentioned as one of the hottest-looking men over 40 and admits that some people who see his photos think that he's around 60-years-old. And who can blame them? After all, he must be pretty old for his hair to have gone completely white, right? Well, Pawel Ladziak is only 35-years-old and dyes his hair and beard white to maintain this older look, and he credits this transformation for his social media success.
Pawel's hair started going gray years ago. He didn't like the "salt and pepper" look, so at one point he decided to dye his hair and beard completely white. He had been active on sites like Instagram and Facebook for a while, but it was only after he started posting photos sporting the old, but incredibly fit, look that he became famous. People were intrigued by this seemingly elderly man and his enviable physique, and before he knew it, Pawel became an influencer with over 330,000 followers on Instagram.
2

The Instagram experiment that went viral using only stock photos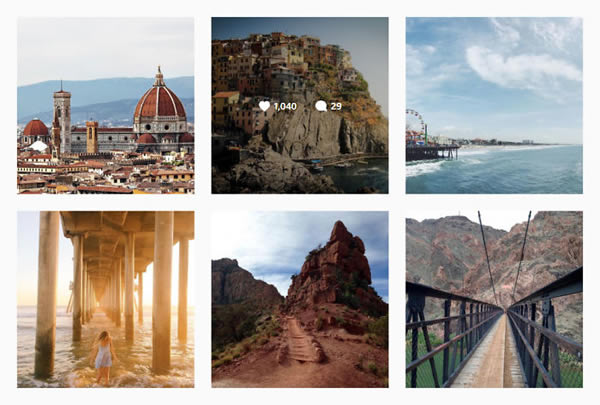 Instagram marketing is now a $1 billion dollar industry, and you don't need a cute dog or a book-worthy lifestyle to get into the game. According to an investigation by marketing agency Mediakix, anyone can fake their way into signing lucrative contracts with brands.
The agency created two fictitious Instagram accounts: 1) "a lifestyle and fashion-centric Instagram model" and a 2) "travel and adventure photographer." For the first account, Mediakix hired a model and generated the content through a one-day photo shoot. Introducing Alexa Rae, or (calibeachgirl310).
The second account was dedicated to Amanda Smith, (wanderingggirl), and this time Mediakix went even further. The entire feed was composed of free stock photos of random places across the world and blonde girls, always facing away from the camera.
In the end, the two accounts have secured four paid brand deals total, two for each account. Setting up both accounts cost Mediakix around $1,000. Easy, right?
3

The Rich Kids of Instagram star who was busted renting a bedroom via Flatshare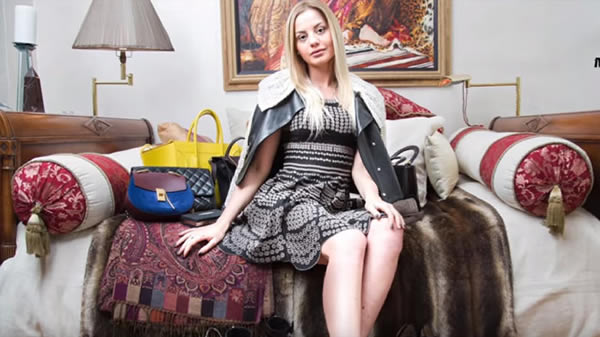 Russian socialite Julia Stakhiva is a rising social media star who recently appeared on British reality TV show, Rich Kids of Instagram. But she just made her Instagram account private after a wave of online abuse, following a column by The Guardian's Marina Hyde which punctured her image by revealing that she was renting a bedroom in London through SpareRoom.
Hyde's mother-in-law owns the flat itself, and Hyde claims Stakhiva used the unit for some photo shoots while her landlady was away, and she's accusing Stakhiva of fabricating her lifestyle to achieve fame.
4

The beauty blogger accused of faking her destination posts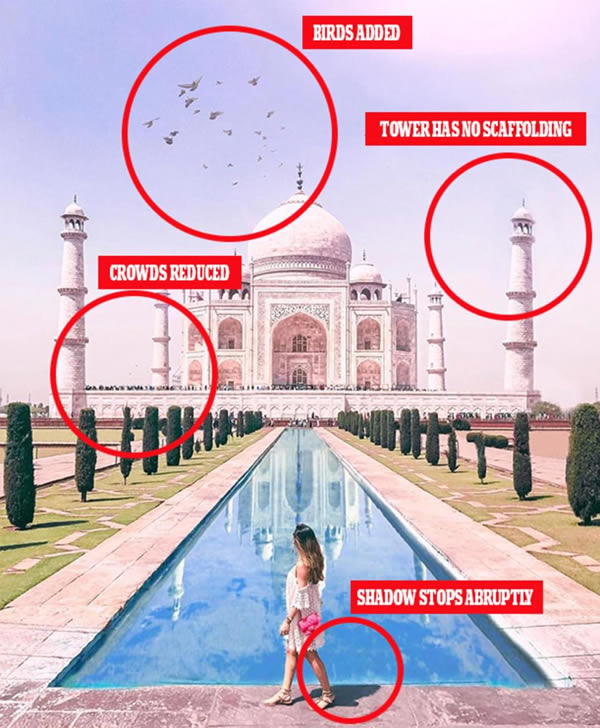 When beauty blogger Amelia Liana went to the Taj Mahal, there wasn't another tourist in sight. The ivory-white World Heritage Site was deserted of all but Liana and a flock of swooping white birds overhead. She stood in front of the long reflecting pool that stretches out from the iconic building and stared off into the distance. It was a rare and beautiful moment of solitude at one of the Seven Wonders of the World.
Over the last month, social media has been ablaze with individuals accusing Liana of faking her pictures. In particular, critics claim she is cutting out pictures of herself and pasting them onto separate pictures of locations and landmarks. Some claim she edited out the tourists in her Taj Mahal picture, while others allege she pasted herself on to a picture of the site. She has also been accused of putting a fake sunset into a plane window and, in one bizarre example, editing a photograph taken at Heathrow's Terminal 5 so that the background features planes in Heathrow's Terminal 2. In the most questionable picture, Liana appears to have Photoshopped her bed with a picturesque view of London.
5

The ad agency that created a fake Instagram star to make a point about addiction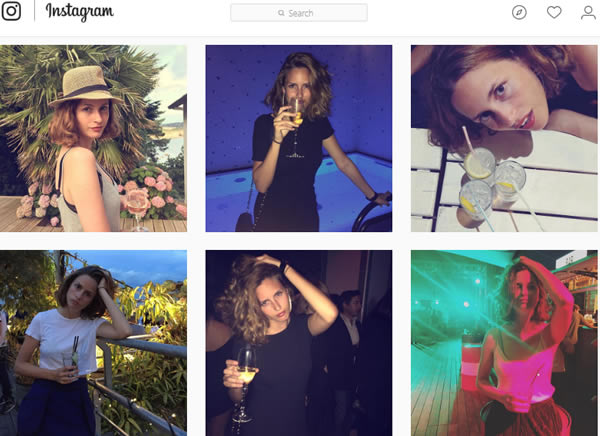 She was a beautiful, fun-loving Parisian with a life her Instagram followers envied. Or so they thought.
Twenty-five-year-old Louise Delage posted a few photos each day over the course of several weeks. The posts attracted over 60,000 followers. But what Delage's fans didn't know is that she didn't exist. This fictitious woman was the creation of an ad agency. Why? The answer is in the photos.
Almost all of the 149 posts on Delage's Instagram had alcohol in them. Addict Aide, a French organization that provides resources to help fight addiction, commissioned the agency to create the "Like My Addiction" campaign. The goal was to give people a better understanding of how difficult it can be to notice signs of alcoholism.
6

The Instagram model who may not be a real person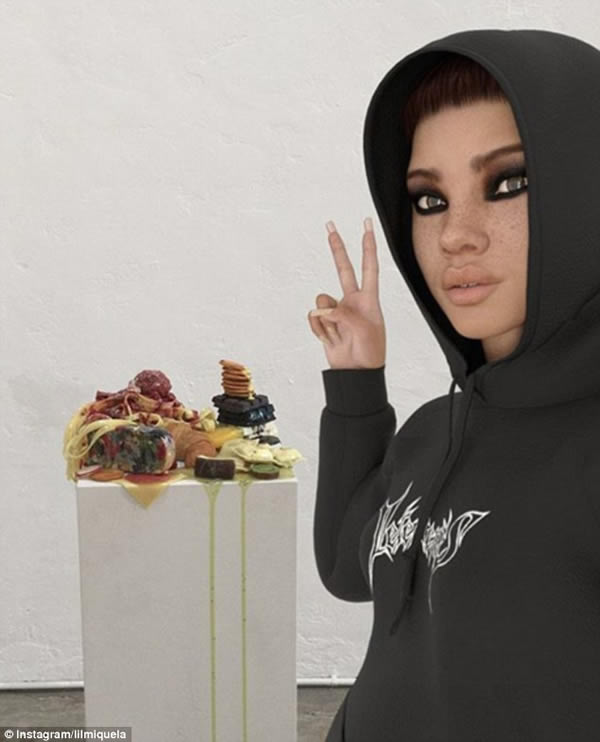 Instagram model Lil Miquela has nearly 78,000 followers, but a brief look at her page raises one massive question—is she real? With perfect, almond-shaped eyes, cartoon-style lips, and extremely smooth skin, many commenters say she looks more like a Sim (from The Sims video game) than a human being.
There's something off about her eyes, right? And what's with the texture of her skin? Fans are split on whether she's a real person who heavily edits her pictures or a complete fabrication. Many of them are asking Miquela to post a video to prove she's real. There's also a theory that a graphic designer runs the account. But so far, she has maintained a mysterious silence which has left some feeling frustrated.